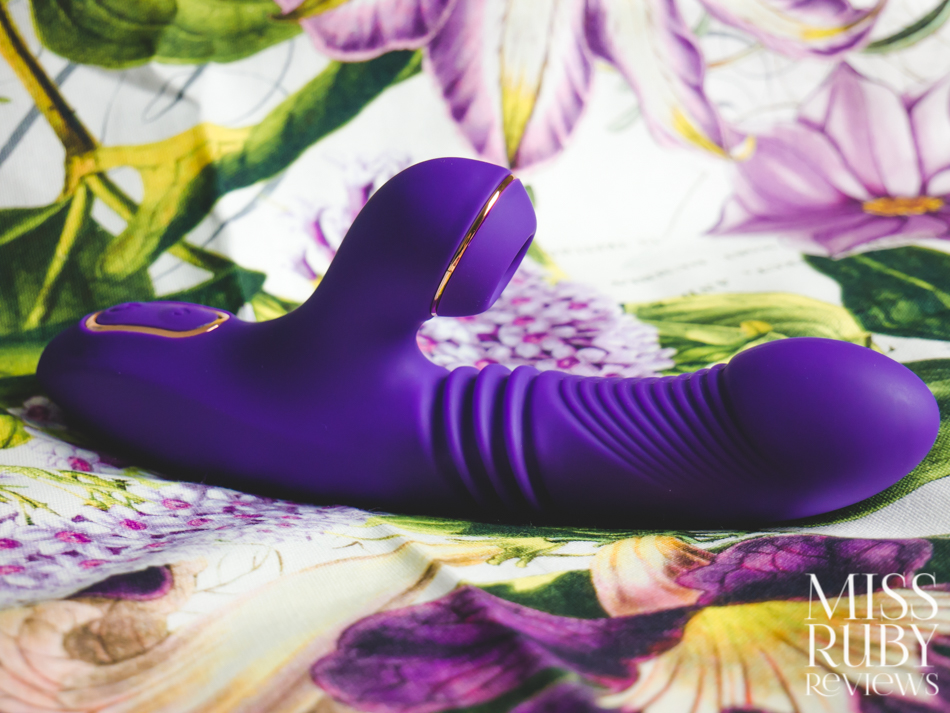 Thrust, wiggle, warm AND have suction? The Blush Lush Iris is ambitious. Read on for my Blush Lush Iris review!

Design | 360° View | How to Use | Packaging | Material and Care | My Experience | Overall
Design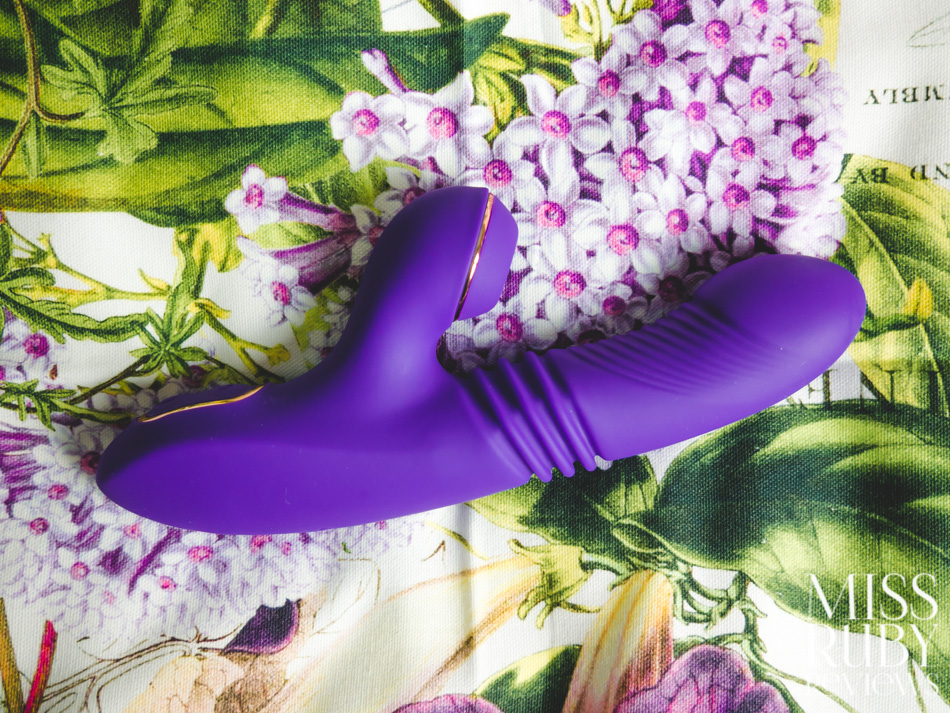 The Blush Lush Iris is a toy that's trying to do it all. While it's designed for dual stimulation like any other rabbit, this is no conventional rabbit.
Thrusting G-spot arm
First off, it thrusts its internal arm to provide G-Spot stimulation. HULLO! I love self-thrusting toys. Fun Factory made this concept mainstream with its pricey Stronic line, and self-thrusters are becoming more common with brands like Velvet Thruster and Blush attempting it too.
This toy thrusts forward nearly 1cm, then also wiggles its shaft so you get some circular motion.
The G-spot arm is fairly rigid and straight, but includes lovely bumps and a large rounded head for G-spot targeting.
Heating
Second, that lovely thrusting internal arm also heats up. If you haven't tried a self-heating sex toy before, you're missing out. A heated toy is a lot sexier than a chilly cold one.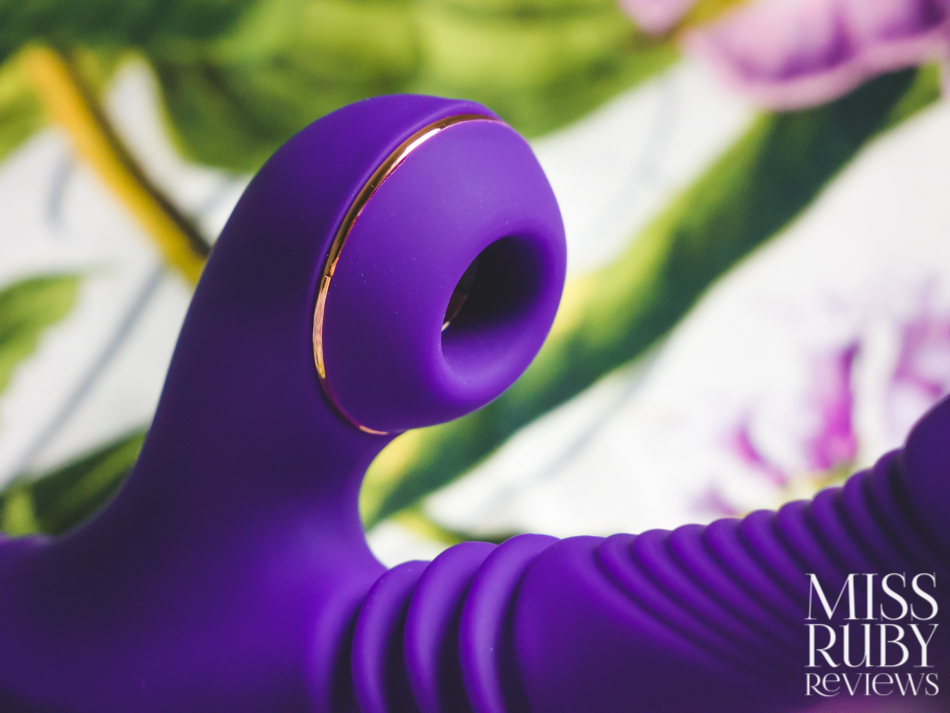 Vibrations?
Does this toy vibrate? No, the Blush Lush Iris doesn't vibrate. This was confusing to me because (a) it's called a vibrator and (b) the packaging says it has "7 powerful vibrating functions and a thrusting motion," but literally I cannot find any way to make this vibrate. If a reader figures this out, PLEASE comment to let me know, but I think it just doesn't vibrate at all.
Air pulsation
While I can't find any vibrations, the Blush Lush Iris does have 7 modes of air pulsation (clitoral suction), which is its third main feature. The clitoral arm is firmly planted above the base (the center of the suction hole lies about 1″ from the main shaft). There's no flexibility to this arm, so if your clitoris lies much further than 1″ away from your vaginal opening, you'll have trouble getting everything to align perfectly.
Look/Feel
The Blush Lush Iris only comes in one colour, which is a downside for me. While many people like dark purple, purple is the most overused colour in the sex toy industry, and I would have preferred ANY other colour in the world. Even just having a light pastel purple would have been a little more unique. Better yet, it could have been a deep red, a soft peach, or an emerald blue!
This toy sits sturdily in your hand. The silicone is a lovely matte, silky texture. The ABS plastic gold accents, which could have felt tacky, actually look pretty good.
I have noticed that (using my fingernail) I can easily peel up the silicone coating along the edges of the ABS gold trimmings. It's not a huge deal because it snaps back immediately, but it's a little disconcerting when I think about the potential lifetime of this toy. Hopefully, that won't cause issues down the road!
360° View
Click and hold the image above to move it around.
How to Use the Blush Lush Iris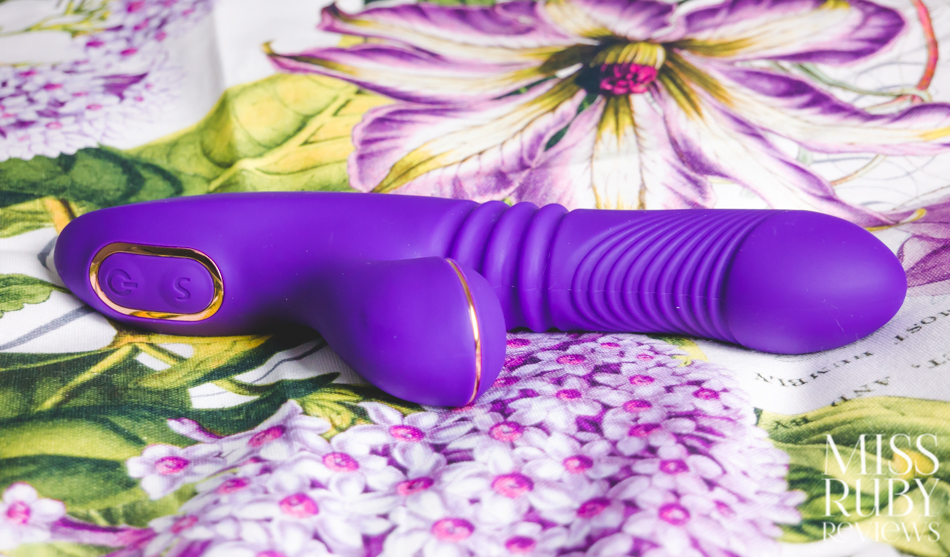 Before using your Blush Lush Iris for the first time, charge for 4 hours.
To activate the air pulsation (clitoral) function, press and hold the S button at the base.
Continue pressing S quickly to go through the different speeds. I count 7 suction speeds.
To activate the thrusting and warming function (G-spot), press and hold the power button.
Continue pressing the power button quickly to cycle through the G-spot functions. I count 7 modes in total (2 steady thrusting states, and 5 patterns).
To turn either of the functions off, press and hold that button.
Packaging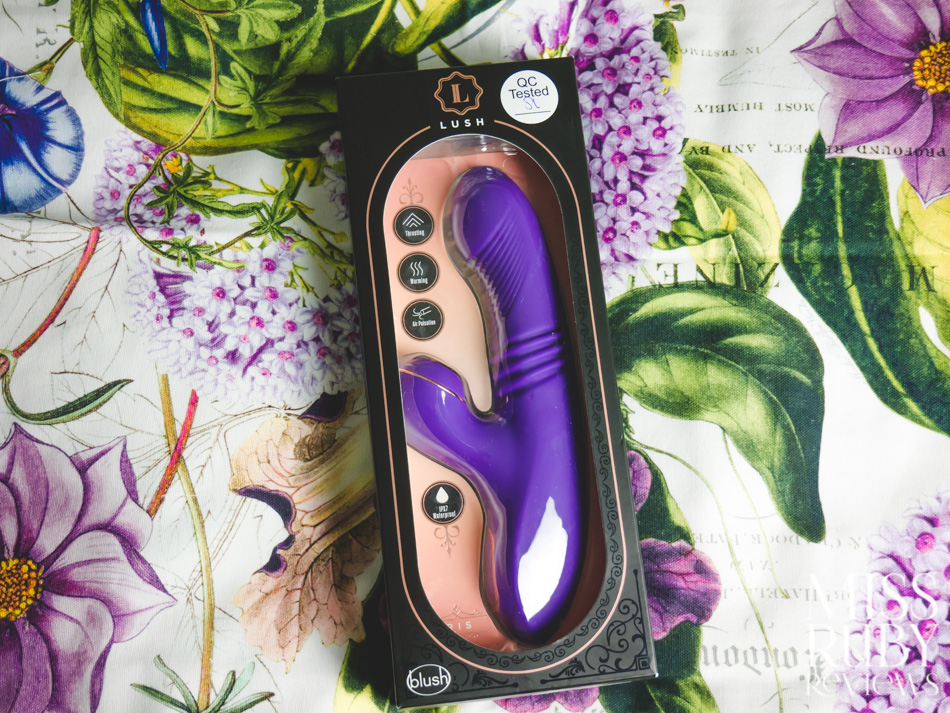 The Blush Lush Iris comes packaged simply in a black box. It has a plastic window to show you the toy, so this is definitely not discreet packaging (which can sometimes be a problem, though certainly not for me). While not super luxurious or distinguished, this packaging does the job well enough.
Inside the box, you receive the Lush Iris, the magnetic USB charging cable, and a sheet of instructions. There's no included storage pouch. If you really want a dedicated pouch, you'll want to grab something like the Sugar Sak.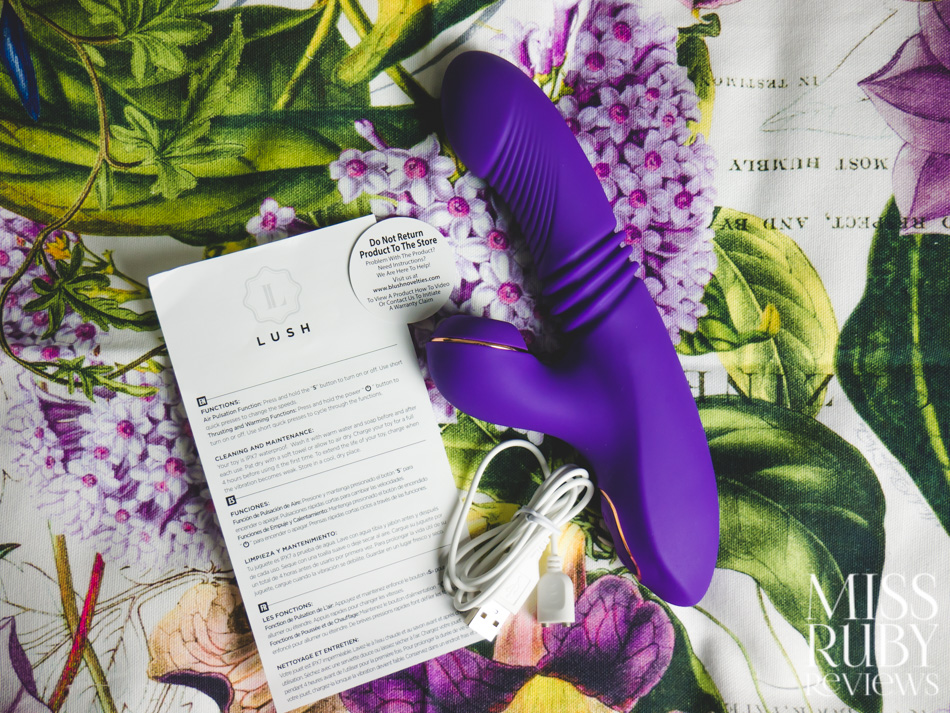 Material and Care
The Blush Lush Iris is coated in silicone, making this toy free of toxins (like phthalates, latex, or fragrances) and non-porous for safe sterilization. For decoration, there is some gold-coloured ABS plastic trimming as well. In other words, this toy is bodysafe (woohoo!).
The Blush Lush Iris is also waterproof. Blush recommends washing it with warm soapy water before and after each use. Allow to air dry before storage.
To charge, connect the magnetic USB charging cable (included) to the two metal pins at the back of the base. Plug that into your computer or a USB wall adaptor. While charging, a purple LED light will flash. Once it's fully charged, the light goes steady.
My Experience with the Blush Lush Iris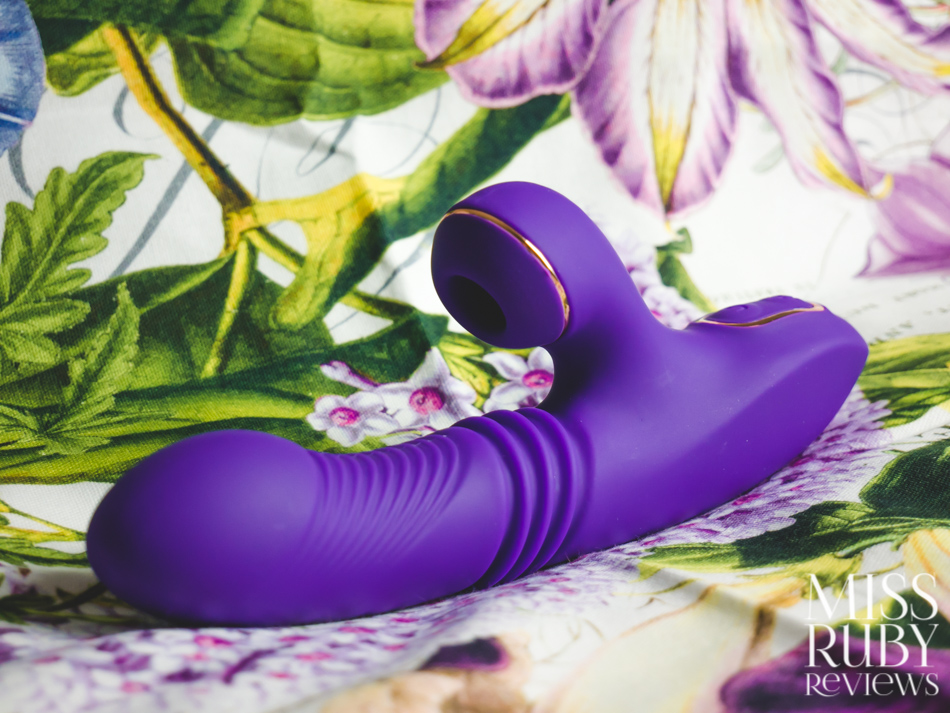 I've fluffed a lot at you about what the Blush Lush Iris DOES. But when it comes down to it, how does it FEEL?
Okay, let me try to judge each feature individually.
Thrusting sensation
The Blush Lush Iris' self-thrusting is a win for me. While the thrusts are shallow, for this price that's understandable. What makes the thrusts really great though, are those wiggles.
See the video below so you can see what I mean:
The head inches itself deeper into your G-spot, but it also deliciously circles your G-spot at the same time. Circle stimulation on the G-spot is a tried and true fantastic pleasure mechanism, and I'm thrilled this has it.
Coupled with the warming feature, and the textured shaft, I'm just super loving these thrusts.
The thursts do feel very shallow though, and slow. What do you do if you want something that thrusts deeper? Save your money for a Velvet Mini Thruster (review here). Those babies thrust deeply at a whopping speed of 125x/minute.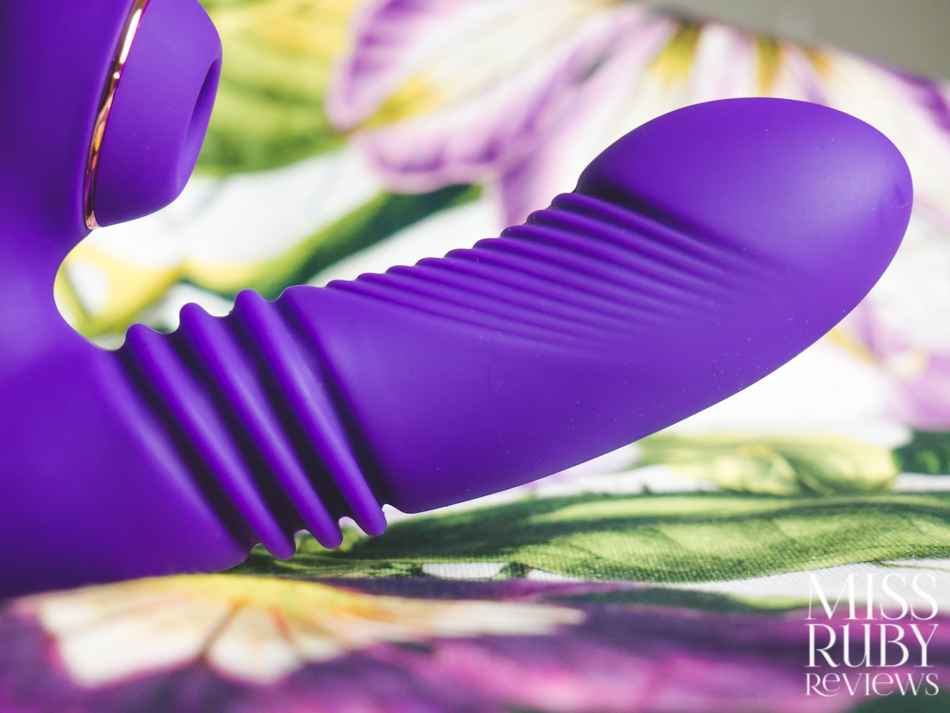 Sucking sensation
Here's where things get rough for me.
I adore suction stimulation (otherwise known as Air Pulsation or Pressure Wave) for the clitoris. It tends to be a magical, powerful, and consistent way to get to orgasm, and I've already tried nearly 20 pressure wave toys.
Usually, I have no trouble with suction. But I'm quickly realizing that's probably because I can usually maneuver and place my suction toys against my clitoris easily.
The suction arm on the Blush Lush Iris, however, is rigidly placed at a certain angle from the main shaft, at a certain length. When choosing this toy, I obviously did not give that enough thought. What this means is that once the internal G-spot shaft is at a great angle, I can't independently position the clitoral arm. This is an issue with almost all rabbits — they are never one size fits all (except the We-Vibe Nova, that is).
So basically I haven't been able to get this thing on my clitoris during play. My clitoris is further than 1″ away, so when the shaft is in, I can't position the hollow opening correctly.
SOooooo measure yourself before purchasing this.
Though I couldn't get it on my clitoris during play, I can, of course, test it against my finger. Thoughts? If this aligns well with your body, your clitoris will get solid suction. It's not as powerful as some of my favourite dedicated pressure wave toys (like the Womanizer Liberty or We-Vibe Melt) but it's still thuddy and decently strong.
Anything else I wanna complain about?
The noise. While the clitoral arm is pretty quiet, the thrusting G-spot shaft is high-pitched and noisy. I put this in my bedroom, closed the door, and walked into my hallway, and I could very clearly hear it. So keep that in mind if you have roommates.
Overall – Blush Lush Iris review
My thoughts on this toy are a mixed bag.
I'm grumpy that it doesn't vibrate at all, when the name and packaging led me to believe it did. The clitoral arm would have been pleasant if it was longer, or at least flexible, but it was too short and inflexible for my particular body. I wish it was quieter and came in different colours.
The G-spot shaft is pretty swell though, and that saves this toy for me. It heats, thrusts, and swirls, and that's something I can support.
You can buy the Blush Lush Iris at SheVibe! At the time of posting, it's $71.99 USD.

See below for my Blush Lush Iris review summary.
Blush Lush Iris review summary
Overall thoughts - 7
7
$71
PROS
Main shaft thrusts and swirls
Self heats
Bodysafe
Waterproof
Rechargeable
Cheaper than other thrusters
CONS
Clitoral arm may not fit all bodies
Noisy
Only comes in 1 colour
Shop Now

Last Updated on November 15, 2020 by Miss Ruby