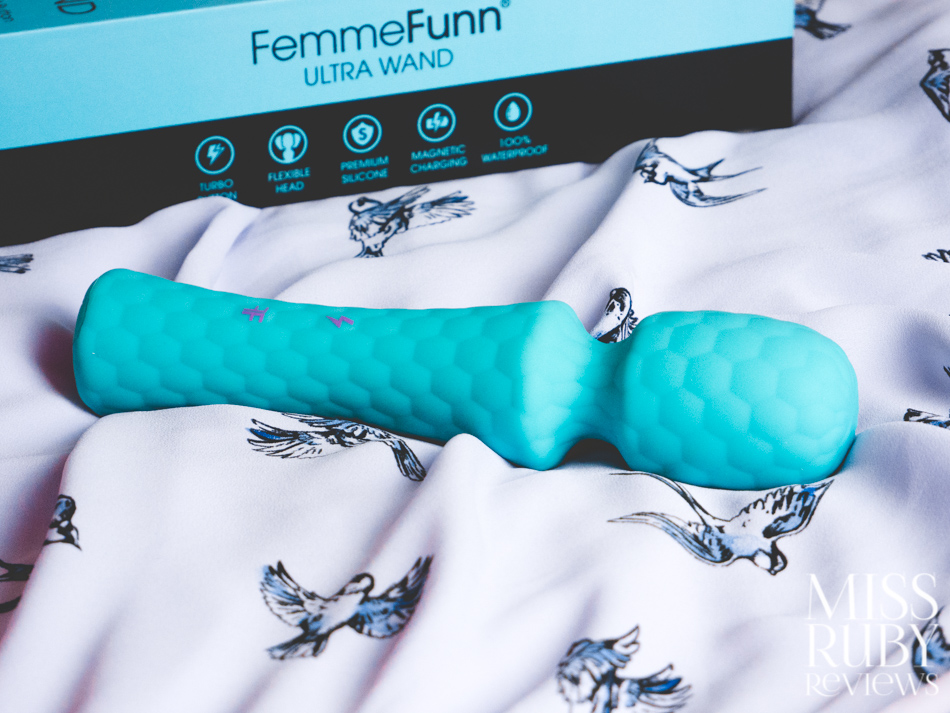 Why spend a fortune when you can just get this and be happy forever? Read on for my FemmeFunn Ultra Wand review!
Design | 360° View | How to Use | Packaging | Material and Care | My Experience | Overall
Design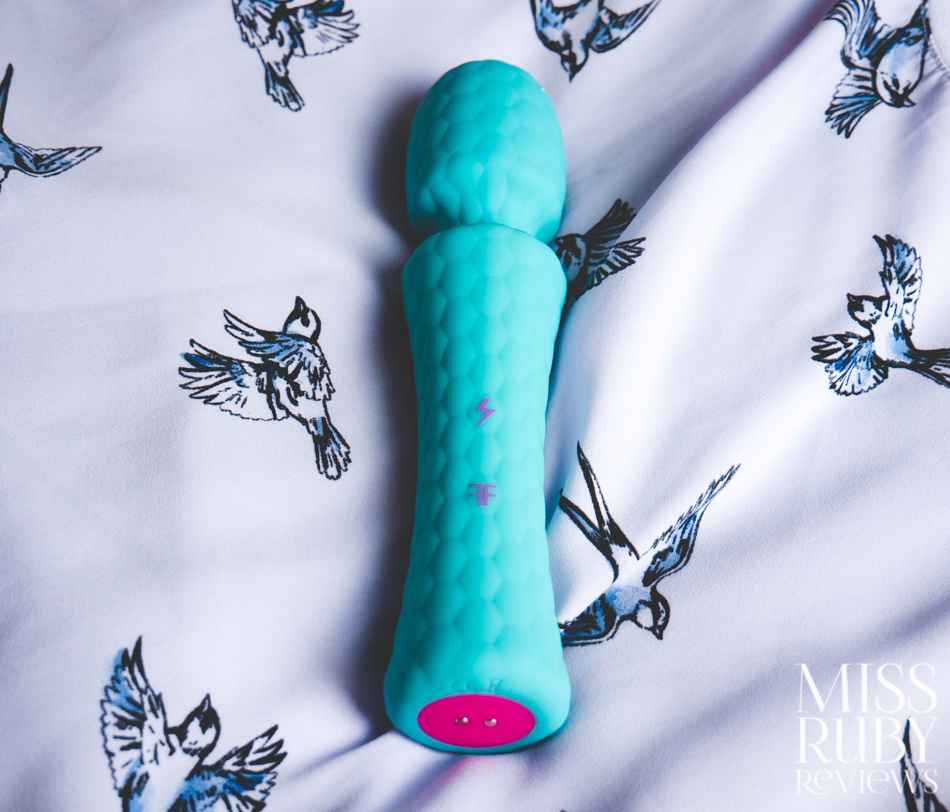 The FemmeFunn Ultra Wand, going by appearances alone, looks unassuming and ordinary.
Measuring just over 8″ long, the FemmeFunn Ultra Wand is light and small as far as wands go. This isn't your home-defense-weapon-sized Doxy Die Cast or Magic Wand. Instead, the Ultra Wand feels petite and airy, small enough to fit in a small bedside table drawer or amongst your socks.
The FemmeFunn Ultra Wand is a wand-style vibrator, meaning it's designed for fairly broad stimulation. A firm oblong head meets a bendy neck, which moves down to a firm handle. There are only two buttons (power and boost mode). At the very bottom of the base, there are two metal pins for charging.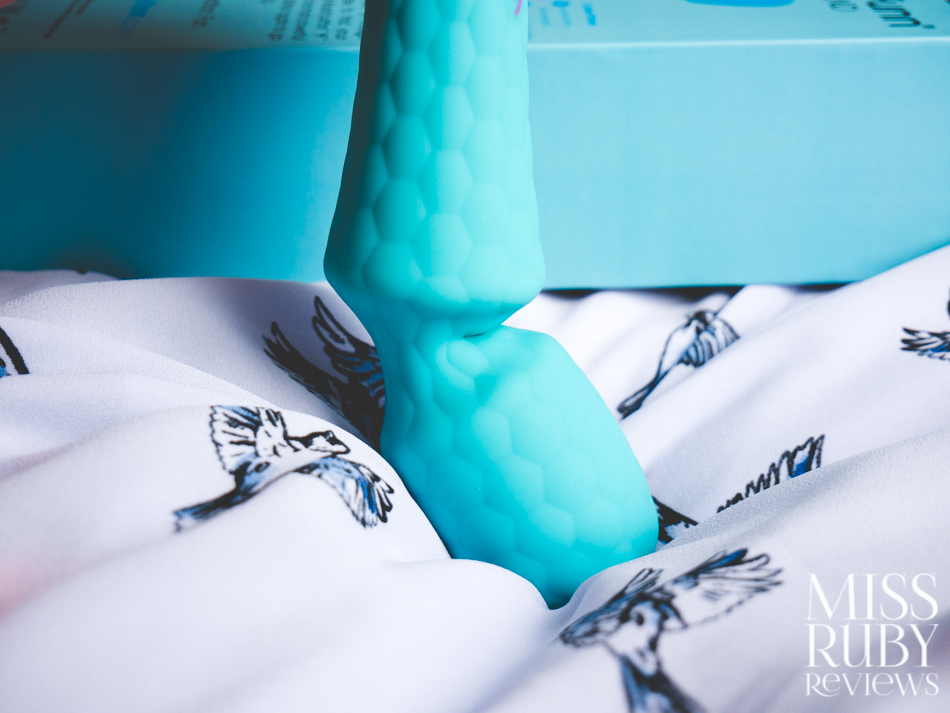 Design-wise, I think this wand is gorgeous. Its silky silicone coating is decorated with beehive hexagonal designs. I chose my wand in turquoise, which is a vivid summery shade of teal. If you prefer a more traditional colour, it's also available in bright pink or purple.
There's quite a bit of flexibility at the next (pictured above). A lot of people love wands with bendy necks; others not so much. I'm personally not a fan of bendy necks because I like firm pressure, so this was a drawback for me. (But that doesn't stop me from loving this toy).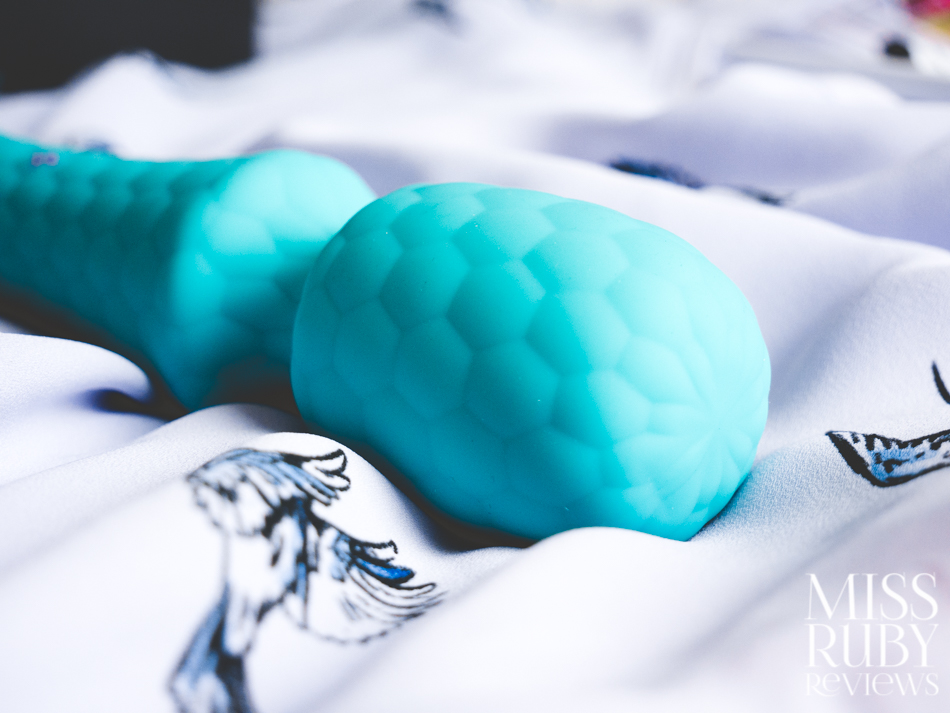 360° View
Click and hold the image above to move it around.
How to Use the FemmeFunn Ultra Wand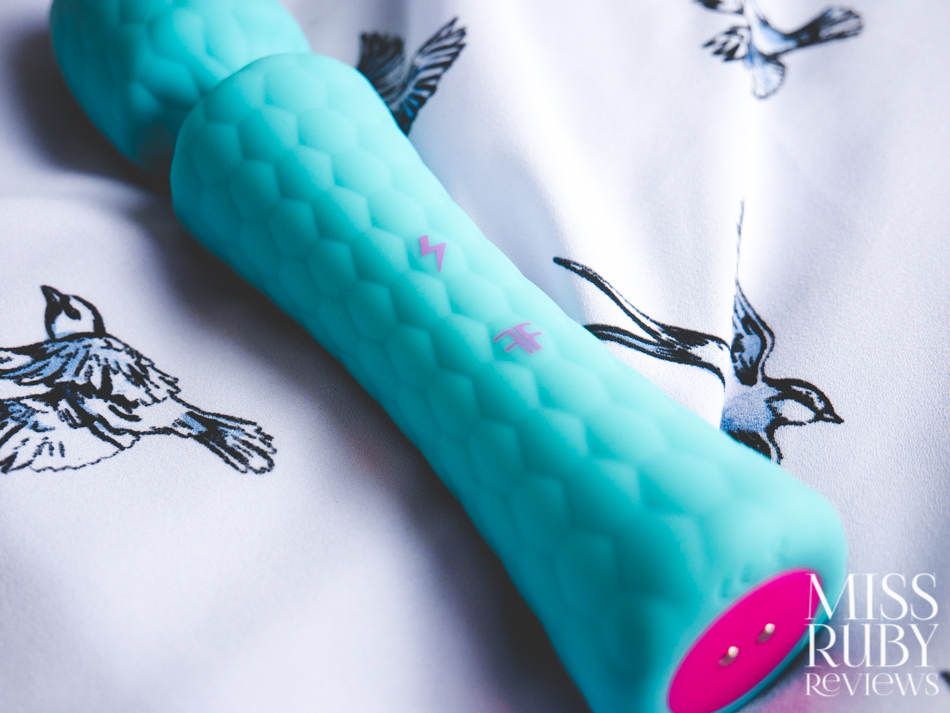 Turn on the FemmeFunn Ultra Wand by pressing the ꟻF button for 2 seconds.
Apply to your body. Though designed for clitoral use, this could definitely be used against the shaft of a penis, or against nipples.
Click the same ꟻF button to cycle through all 10 vibration modes. I counted 3 steady states and 7 patterns.
Press the 🗲 lightning button to activate boost mode. This mode simply switches to the highest strength. Pressing the 🗲 button again will take you back to your previous setting.
To turn it off, press the ꟻF button for 2 seconds.
If your toy won't turn on, it needs charging. Connect the included USB charging cord to the two magnetic pins at the base of the toy. Then plug into your computer or a USB wall adaptor.
Packaging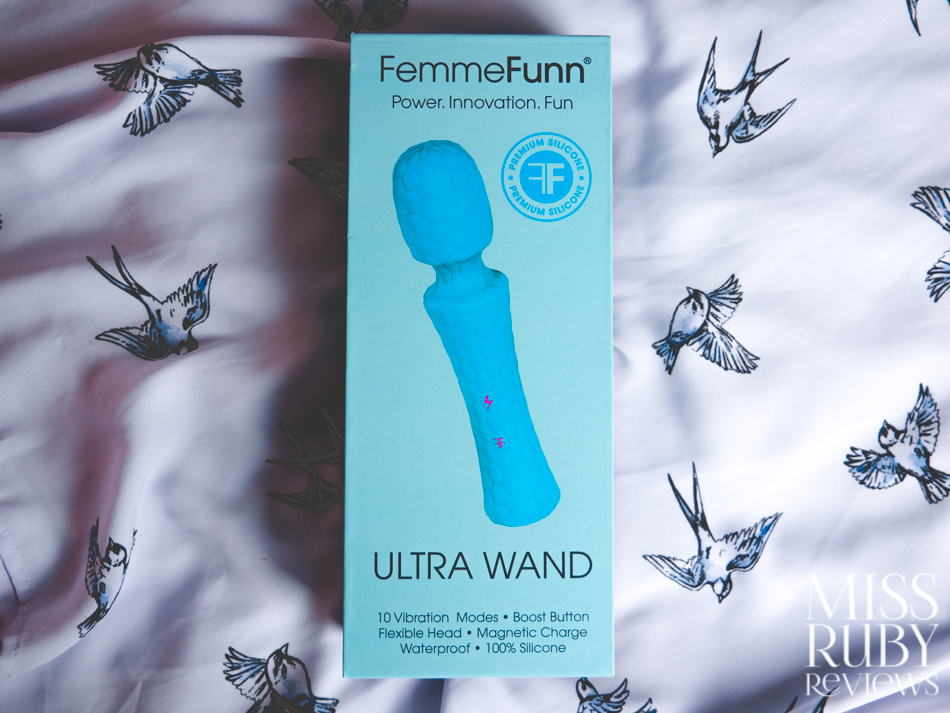 The FemmeFunn Ultra Wand is packaged simply in a turquoise box. If you choose the pink or the purple wand, your packaging will be coloured accordingly. The box feels sturdy and nice (not flimsy).
Inside the box, you receive the FemmeFunn Ultra Wand, the USB charging cable, and a user manual. No storage pouch is included. If you want a dedicated storage pouch, I suggest something like the antibacterial Sugar Sak.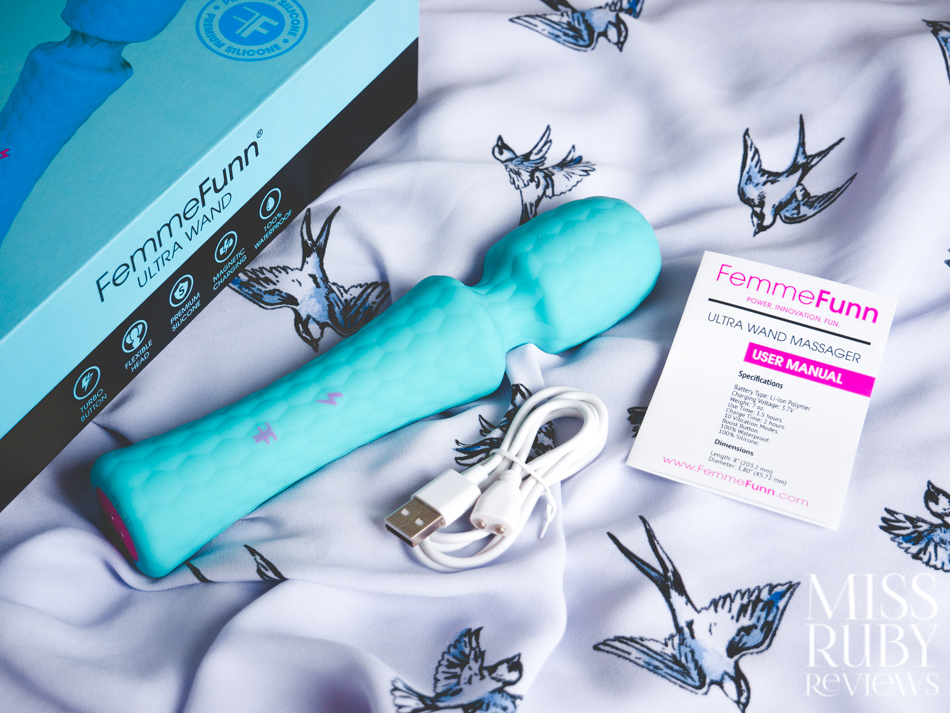 Material and Care
The FemmeFunn Ultra Wand is coated in silky, matte silicone. Silicone is non-porous and non-toxic (free of things like phthalates or latex). This makes it one of the best material choices for sex toys… you can't go wrong with silicone.
Because it's waterproof, the FemmeFunn Ultra Wand can be cleaned by rinsing with warm, soapy water before and after each use. Allow to dry before storing.
If you'd like to use lubricant, opt for a good quality water-based lube like my favourite Sliquid H2O.
The user manual details a 12-month manufacturer's warranty for faults and defects. It's always encouraging to see companies stand by their products like this.
My Experience with the FemmeFunn Ultra Wand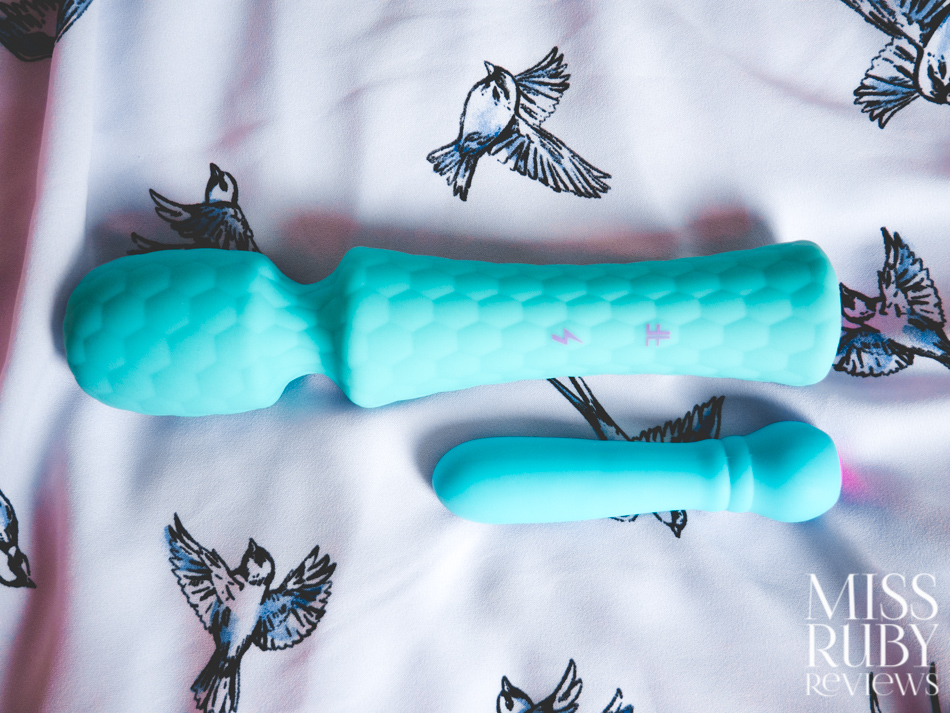 Literally the only reason I wanted to get the FemmeFunn Ultra Wand was that this company created the Ultra Bullet. The Ultra Bullet quickly became one of my most-used toys because of its incredible power, long battery life, and low price point. So, naturally, I've wanted to try anything from FemmeFunn ever since.
Vibration quality
When I first turned on the FemmeFunn Ultra Wand, it rumbled alive in my hands and I was certain that its default first setting was the highest speed. Its first speed is a VERY strong vroom, and if that was the highest it went, I was already thrilled.
But that was its lowest speed. My jaw actually dropped a little when I cycled through to the next two speeds. The FemmeFunn Ultra Wand's top speed is seriously earth-shattering. When I'm using it, I feel it in my kneecaps.
Seriously, this thing can vibrate. I literally will never need more power than this. I found that orgasms with this toy come on really easily and feel fantastic.
How does it compare to the Magic Wand or Doxy? Amazingly, it's in the same playing field. It's not as strong, but the Magic Wand Rechargeable and the Doxy Die Cast are much much pricier and much much bigger than this little toy, so that's easily forgivable. I also find it a pinch stronger than the BMS PalmPower Extreme.
In other words, this is the strongest petite cordless wand I've ever tried.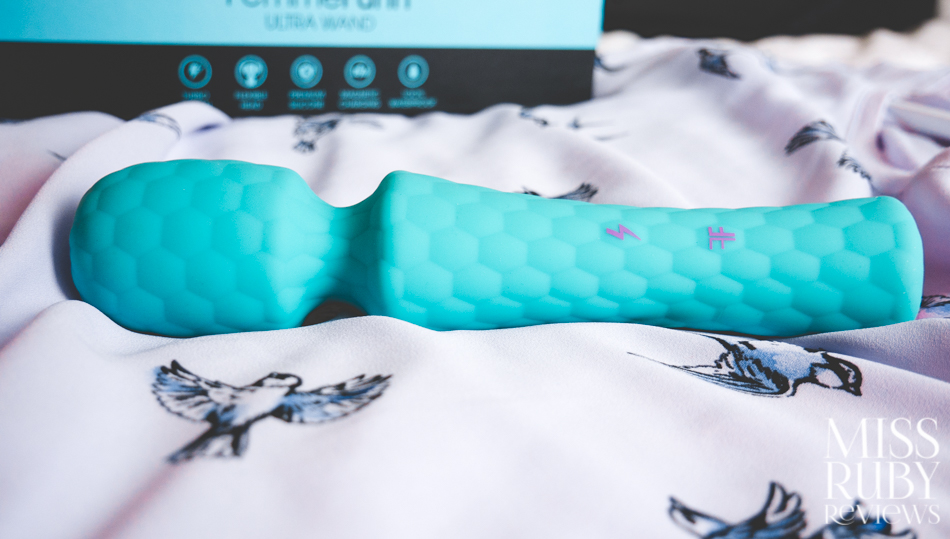 Rumbly vs. Buzzy
Like with the FemmeFunn Ultra Bullet, the Ultra Wand's vibrations have mostly rumble in them, but with some underlying buzz. I don't see this as a drawback. It's a rumble-to-buzz ratio that I respond to really well, and it's not buzzy enough to cause any numbing. While I don't find it as rumbly as the Doxy Die Cast, it's less than half the price of that toy, so I'm not holding any grudges.
Also — the vibrations stay mostly in the head. Very few vibrations travel into or are wasted in the handle.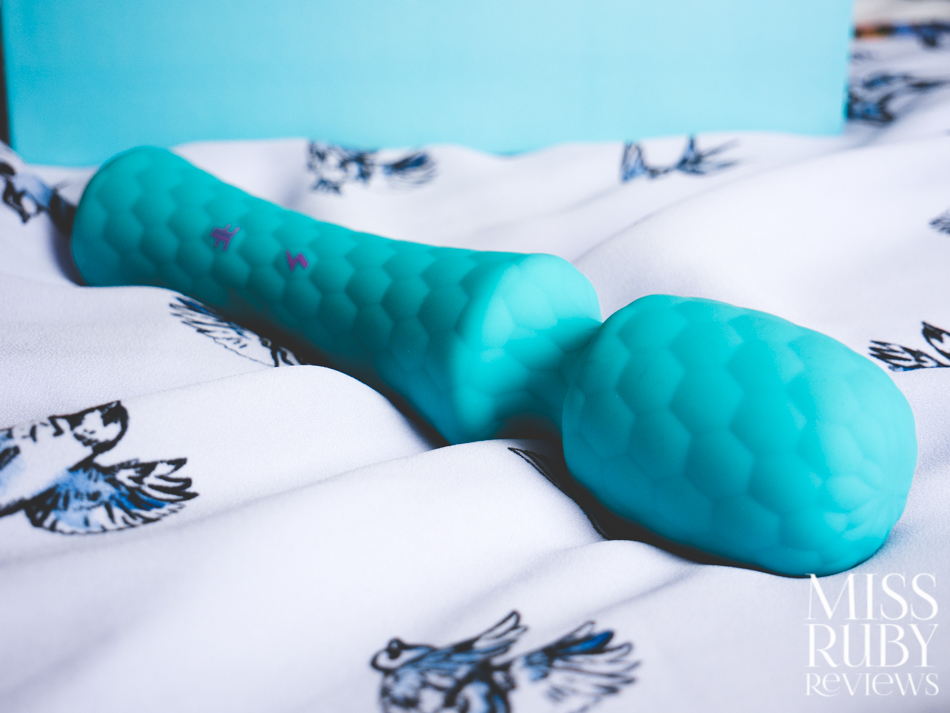 Noise
The FemmeFunn Ultra Wand has one drawback, and that's the noise. For such a tiny little thing, it creates a surprising amount of deep rumbly noise. When I put this thing on top speed and shut it away in my bedroom, I can almost hear it through the door. If you have roommates, you'll want to be careful.
Price
This toy is only $69 USD. That's over $30 cheaper than (my next favourite petite cordless wand) the BMS PalmPower Extreme, plus the Ultra Wand has the benefit of being totally waterproof.
This is a good deal, folks.
Overall – FemmeFunn Ultra Wand review
For a strong, rumbly, cordless, rechargeable, waterproof, and small wand vibrator, the FemmeFunn Ultra Wand is a heck of a deal.
FemmeFunn is really making a name for itself in my books… first the amazing Ultra Bullet, and now the amazing Ultra Wand. Keep it coming, FemmeFunn. I'm quite at my leisure.
You can pick up your own FemmeFunn Ultra Wand at Peepshow Toys! Why do I like Peepshow Toys? They ship internationally, only carry body-safe products, and you can get a 10% discount off your whole purchase with coupon code RUBY. 

See below for my FemmeFunn Ultra Wand review summary.
FemmeFunn Ultra Wand review summary
Overall thoughts - 9.5
9.5
$69
PROS
STRONG
Bodysafe
Rechargeable
Waterproof
Under $100
CONS
On the noisy side
I'd prefer a non-bendy neck
Get Your Own