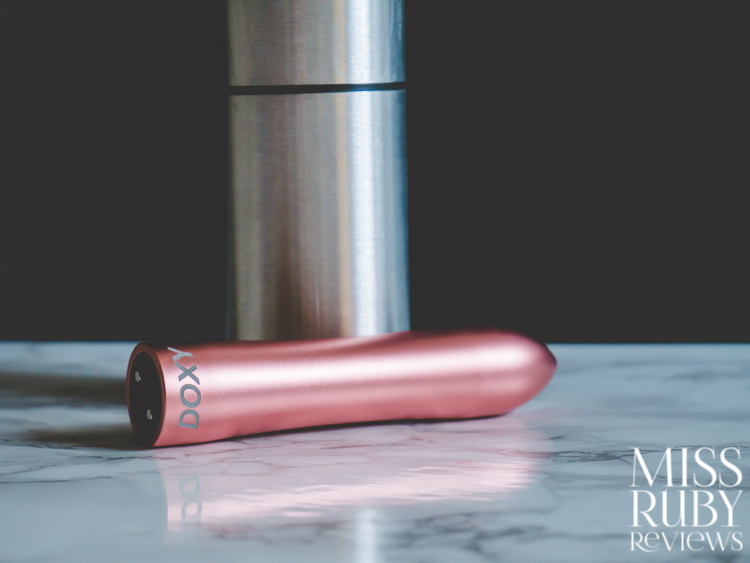 The makers of my favourite Doxy Die Cast Wand have branched out to bullet vibrators! Read on for my Doxy Bullet review!

Design | Accessibility | How to Use | Packaging | Material and Care | My Experience | Overall
Design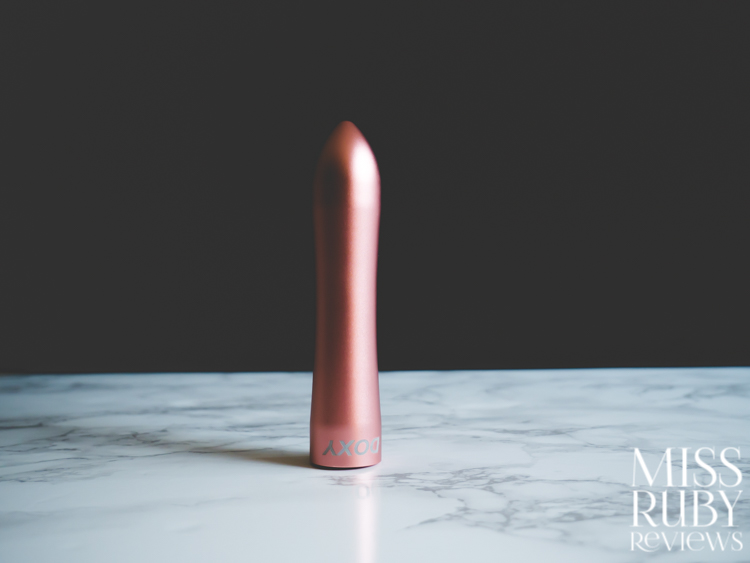 The Doxy Bullet is Doxy's first venture into the world of bullet vibrators. I absolutely adore their wands for their gorgeous designs and powerful, rumbly motors so obviously I had to get my hands on this bullet.
The Doxy Bullet is classical. It has a traditional bullet shape, a single control power button at the base, and a sleek profile. It's made of anodized aluminum, which (along with making it durable) gives it a cold, heavy, and expensive feel.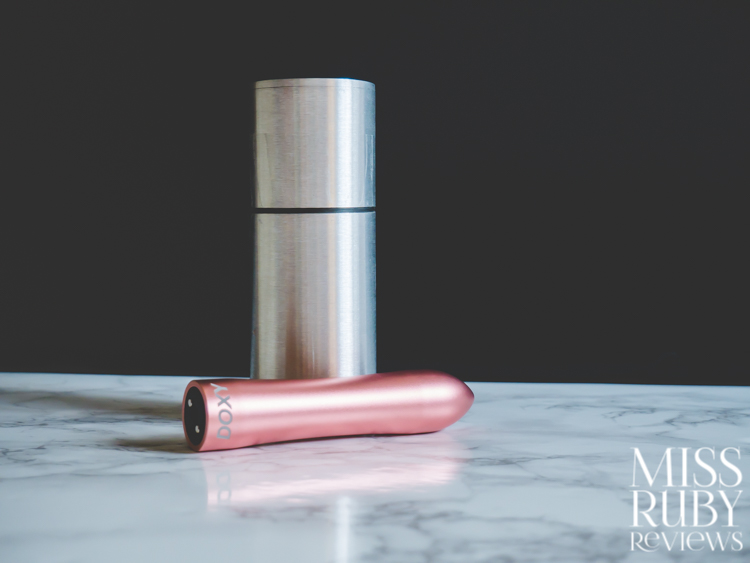 The Doxy Bullet has 2 steady speeds and 5 patterns. It's fully waterproof so you can take it in the shower. It's also USB rechargeable and comes with a beautiful silver aluminum case.
I got my Doxy Bullet in Rose Gold colour. It's a pinkish, coppery hue. If you prefer cool tones, it's also available in Silver.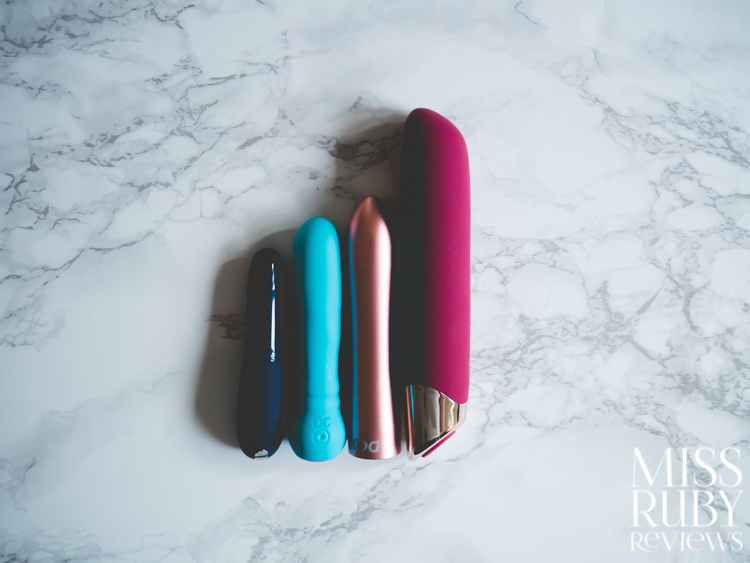 For size reference, above is a picture of the Doxy Bullet alongside three of my favourite bullet vibrators. From left to right: We-Vibe Tango X, FemmeFunn Ultra Bullet, Doxy Bullet, and Rocks Off Chaiamo. As you can see, it's slightly larger than petite bullets like the We-Vibe Tango X.
Accessibility
This section is to help folks determine if they might have any issues using/accessing this toy.
Size: The Doxy Bullet is perhaps a little bigger than your average bullet vibrator. It's 11.7cm tall x 2.5cm wide.
Weight: My scale says this is 80 grams.
Buttons: There is one round button at the base of the vibe. It's 5mm wide and 1mm tall.
Vibration transfer: Vibrations do rattle throughout the entirety of the handle. If you have joint sensitivities (ie arthritis or Carpal Tunnel Syndrome) you may want to look elsewhere.
Price: At $79 USD, the Doxy Bullet is on the mid-to-expensive end for bullet vibrators with similar features. This is the only aluminum bullet I've heard of, though, so I can't provide a price comparison on that.
How to Use the Doxy Bullet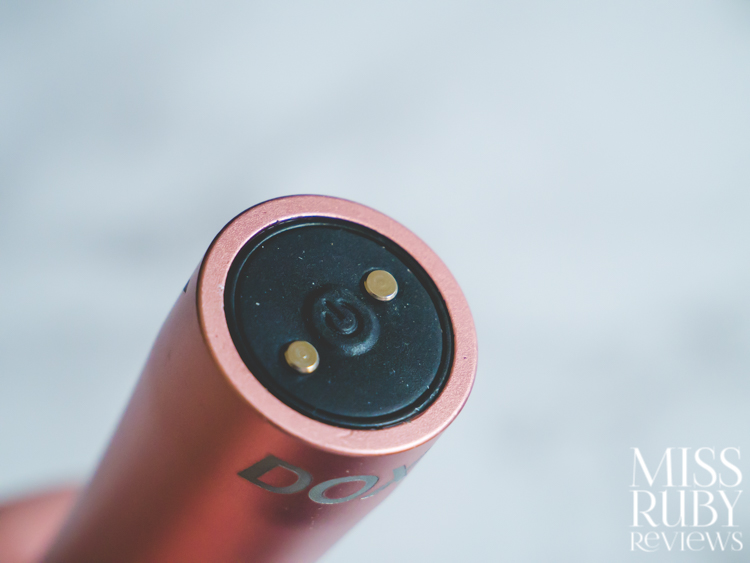 The Doxy Bullet is controlled with a single Power button on the base.
To turn on the Doxy Bullet, hold the power button for a couple of seconds.
Apply it to your body. Though designed for clitoral pleasure, this can be used on other parts (like the shaft of a penis or your nipples). However, this isn't intended for internal use.
Tap the power button to cycle through the 2 steady speeds and 5 patterns.
To turn it off, press and hold the power button for a couple of seconds again.
Packaging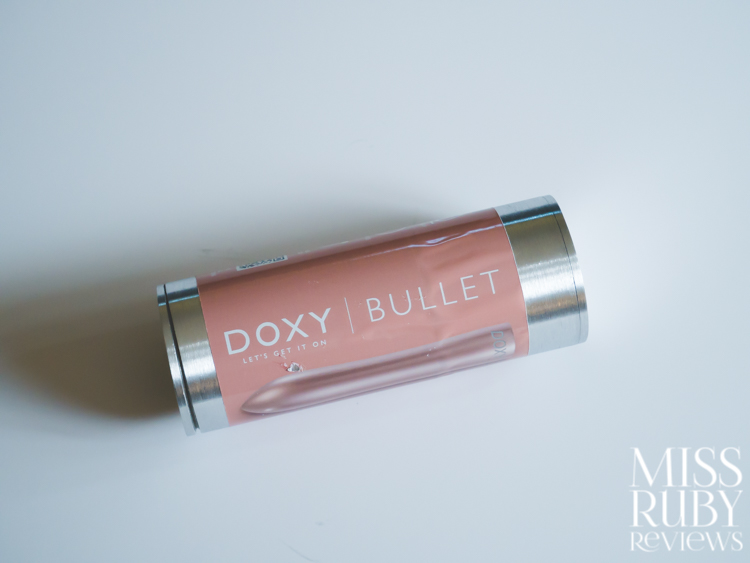 The Doxy Bullet arrives in a solid aluminum storage case. There's a label that you need to peel off to open the case fully. The case unscrews from both ends: one end will reveal the Bullet and the other end reveals the storage cable. The Bullet arrives in plastic cling wrap.
All in all, you receive the Bullet, the charger, and the aluminum storage case.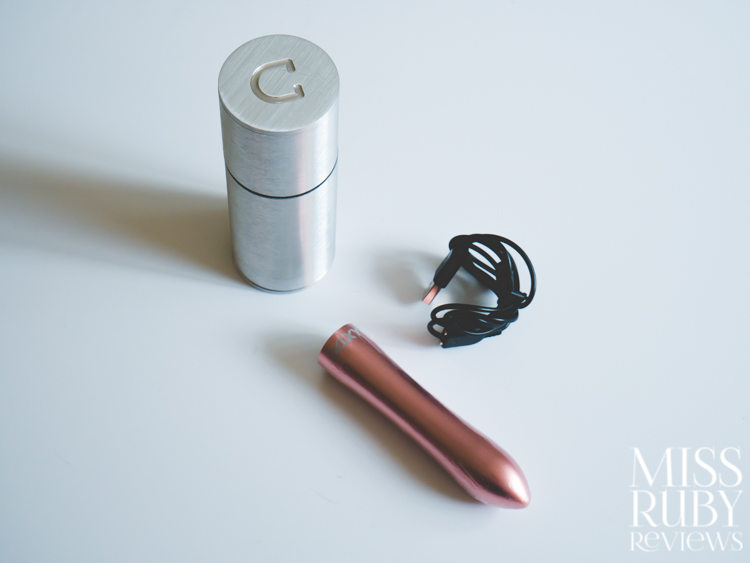 Material and Care
The Doxy Bullet is made of anodized aluminum (with a black silicone power button), making it bodysafe. It feels smooth, cold, and heavy to the touch.
The Doxy Bullet is fully waterproof! Doxy doesn't give any specific cleaning instructions (not that I can find). To clean, I personally rinse the whole thing in warm, soapy water before and after each use.
If you'd like to add lubricant (which I always recommend), try a good quality, water-based lube like my favourite basic Sliquid H2O.
To charge, attach the magnetic end of the charging cable to the two small metal pins at the base. Connect that to power via your computer or a USB wall adapter. A full charge takes about 1hr40min.
My Experience with the Doxy Bullet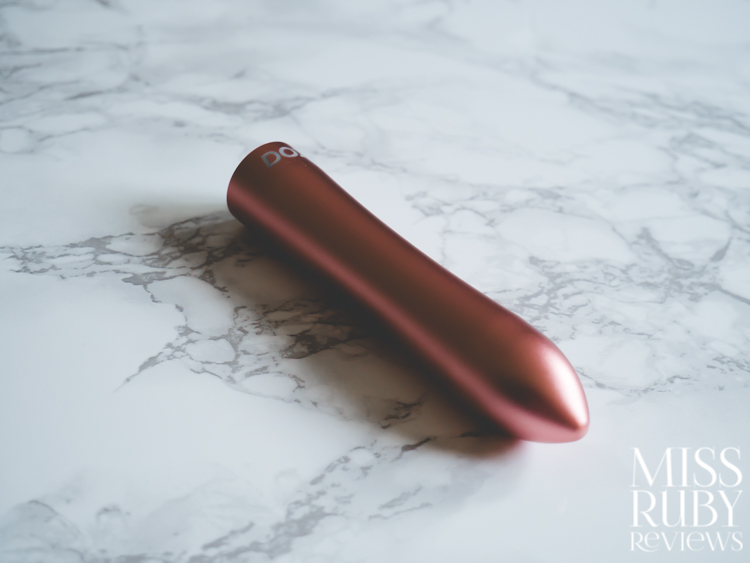 I always like going into toy testing without any prior knowledge of expectations (ie, I don't read reviews). This gives me a blank slate for me to experience a sex toy without bias.
However, I'd be lying if I said I didn't have high expectations for the Doxy Bullet. This brand has given me hundreds of orgasms through their wands (especially through the Doxy Die Cast and the Doxy Number 3R). I LOVE their motors for their deep, rumbly, roar. So I definitely had high hopes for the Doxy Bullet.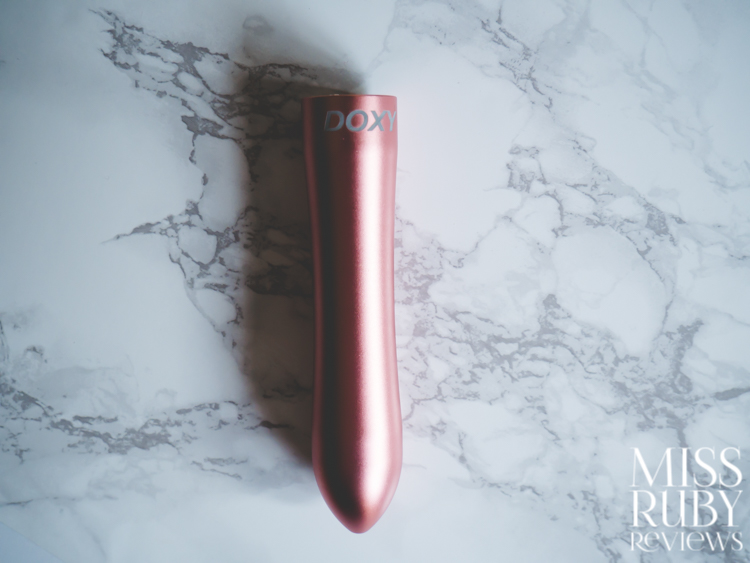 I want to start off by saying that the Doxy Bullet certainly can contribute to my tally of orgasms. I need moderately strong vibrations with a lot of rumble and a hint of buzz, and I can get there with the Doxy Bullet.
But its vibrations are, in the end, a bit lacklustre. The top speed has moderate strength and some rumble, but it was nowhere nearly as strong as I expected from a Doxy toy. It was also fairly buzzy, more than I found comfortable. After each first orgasm during my tests, I was feeling numbed and didn't feel up to continuing. This signals a motor that's too buzzy.
I was also frustrated to find that there are only 2 steady speeds (I'm of the opinion you need at least 3 to get enough variety).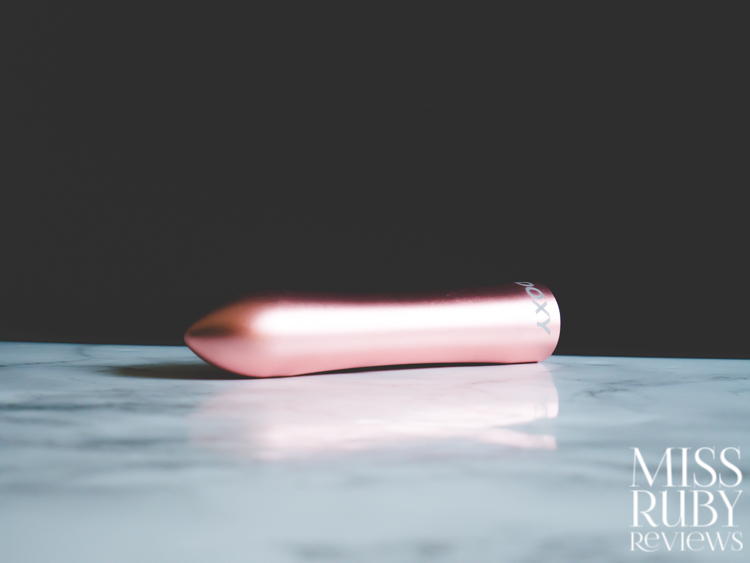 It pains me to say it, but the Doxy Bullet is not all I'd built it up to be in my head. It's okay, but I don't think "okay' is enough to justify the $79 price tag. It should be stronger. It should be rumblier.
In place of the Doxy Bullet, you could go for the We-Vibe Tango X (also $79) or FemmeFunn Ultra Bullet ($49), both of which I personally enjoy more.
I will hand it to Doxy, though — they sure do know how to make a visually pleasing vibrator. This product is just gorgeous.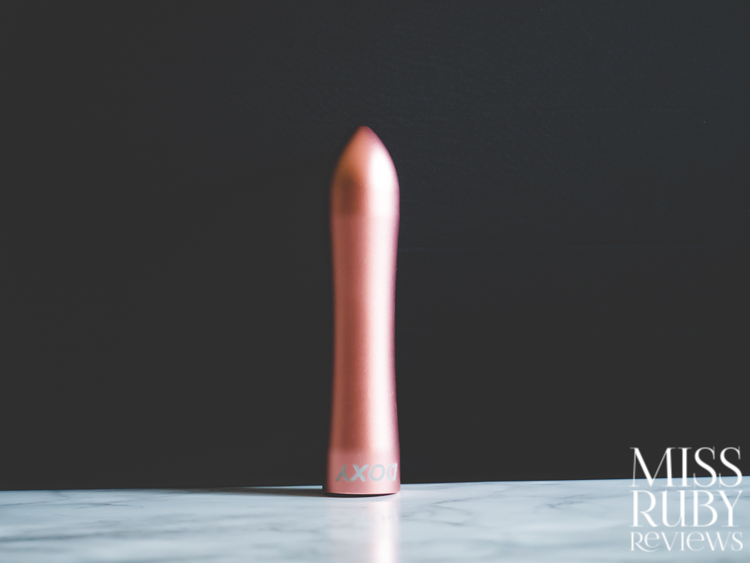 Doxy Bullet Review – Overall Thoughts
The Doxy Bullet is moderately strong, and I like that it's made of metal, is waterproof, and is USB rechargeable. But I expect more rumble and more strength from a toy from this brand, and I found the Doxy Bullet a bit lacking in those departments. If you are really enjoy buzzy vibrations and don't consider yourself a powerqueen, then this still may end up being a great purchase for you, but I personally found it a bit disappointing. I'll continue to recommend the We-Vibe Tango X (also $79) and the FemmeFunn Ultra Bullet ($49) instead!
You can pick up your own Doxy Bullet here! Why do I like Peepshow Toys? They ship internationally, only carry body-safe products, and you can get a 10% discount off your whole purchase with coupon code RUBY. 

See below for my Doxy Bullet review breakdown.

Doxy Bullet Review
Overall thoughts - 7
7
$79
PROS
Beautiful design
Bodysafe metal construction
Waterproof
USB rechargeable
Comes in 2 colour options
CONS
Not as rumbly as I want
Not as strong as I want
Shop Now
Last Updated on March 18, 2023 by Miss Ruby