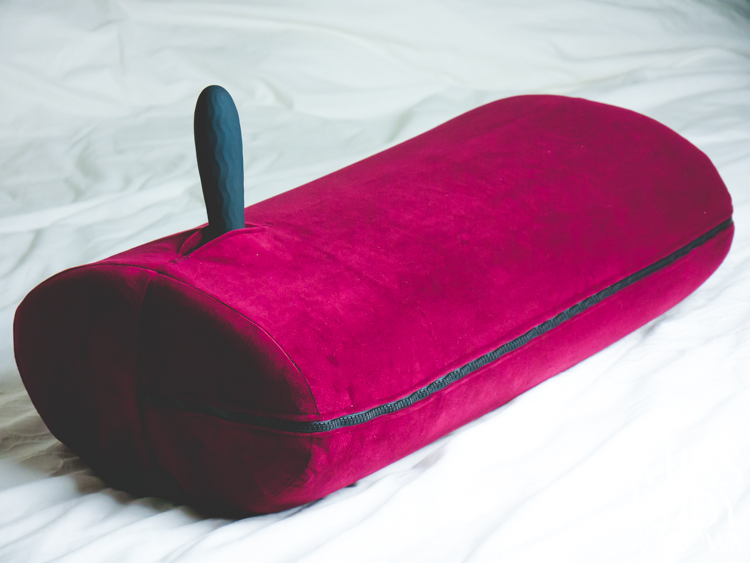 I'm so excited to bring you another Liberator review! Read on for my Liberator Wing review!

---
Design | Accessibility | How to Use | Packaging | Material and Care | My Experience | Overall
---
Design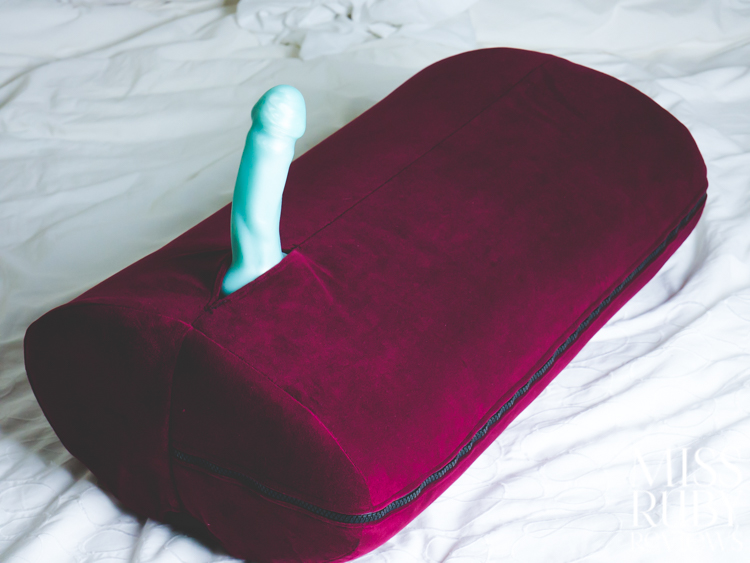 The Liberator Wing is a super-dense foam sex toy mount that doubles as a sex positioner. It holds your toys firmly, you can use it for vaginal and/or anal penetrating toys, and you can use it solo or with a partner.
I was really eager to get my hands on this because it also houses dildos AND clitoral vibrators, which makes this a versatile buy.
The Liberator Wing has two toy-specific holes/crevices:
A small, vertical slit on one side of the pillow that will stand up dildos and G-spot vibrators into an erect position. It's about 7″ deep and is very snug.
A long, horizontal channel that runs down the other side of the pillow and opens up at the corner of the end. (pictured below). This is for clitoral vibrators and wands.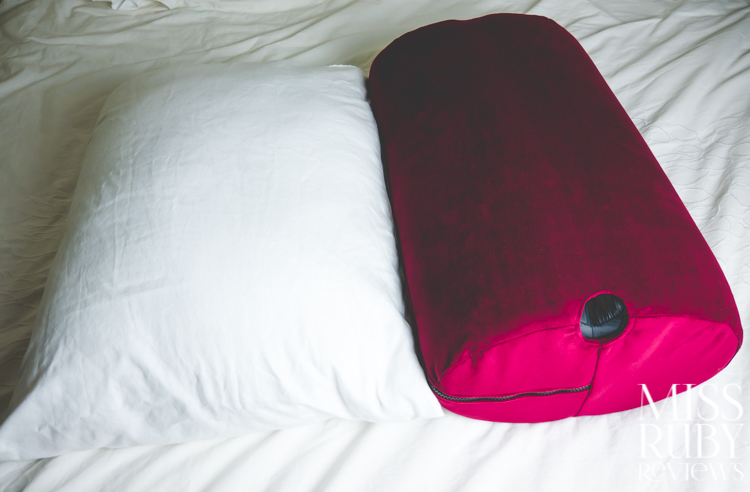 Though not as big as some of Liberator's other products, the Liberator Wing is still fairly large (24″L x 15″W x 9″H). It's about the same size as my king-sized bed pillow (pictured above), but don't be fooled into thinking this is merely a pillow with some cleverly placed holes. The Liberator Wing's "pillow" material is a super-dense foam that's specifically designed to support your body weight, so there's no annoying sinking into the bed.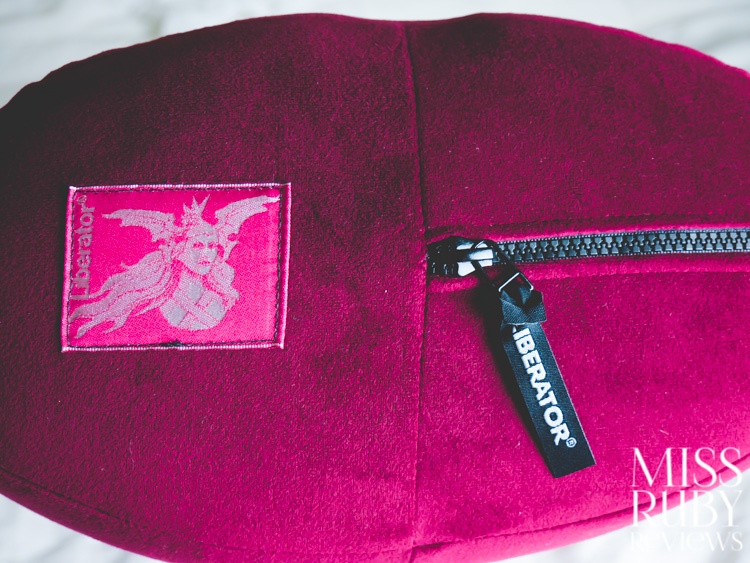 I got my Liberator Wing with a Velvish Merlot coloured cover. It's also available in Velvish Expresso (brown), Velvish Plum (purple), and Velvish Midnight (which I think is a black, but don't quote me). I love the Merlot colour. It's a deep, rich, expensive-looking shade of red. But, if you want something a little more discreet, brown or black might be your best bet.
Accessibility
This section is to help folks determine if they might have any issues using/accessing this toy.
Size: 24″L x 15″W x 9″H
Weight: Though it feels light to hold, my scale weighs this at 1.2 kg so it's actually somewhat hefty.
Maneuverability: The velvish cover is kind of grippy, so the texture itself is easy to cling onto. However, the smallest length is 9″ so it's not easy to pick up with one hand. There are no dedicated handles.
Price: At $116 USD, this is one of Liberator's less expensive items, but compared to a head pillow, it's quite pricey! However, this is a firm, foam construction with a specific design from a top-of-the-line brand. Liberator products are also all made-to-order in Atlanta, Georgia USA.
How to Use the Liberator Wing
The Liberator Wing is pretty limitless when it comes to body positions and toy mounting. Above are some suggestions from Liberator.
Slit hole side:
If you want to use the Wing to hump your dildo, then you'll need one with a 1.25″ to 3″ flared base. Slip the flared base through the small slit on the side (so that the flared base is beneath the velvish exterior but above the black liner).
You can also prop up your G-spot vibrator. Just stick it down deep into the slip and angle it how you prefer. I thought this wouldn't be very secure, but the foam cushion holds your toy in place surprisingly well.
Long channel side:
To use your wand, insert the handle into the channel so that the head pops out. You'll need to put the pillow on the edge of your bed so that the wand's head is at a good height for your clitoris.
To use a clitoral vibrator (ie., a long bullet-style vibrator like the Doxy Bullet), insert it head first into the channel opening, so that the base is sticking out through the hole. Turn it on and climb up/straddle the Wing. The vibrator will make the Wing vibrate on its side and you position your clitoris over it.
Packaging
The Liberator Wing comes vacuum compressed in a cling-wrap type plastic cylinder. The cover and instructions are in a separate bag. I've put a ruler above for scale.
As you peel off the cling wrap (don't cut it open!), it springs into shape (pictured below).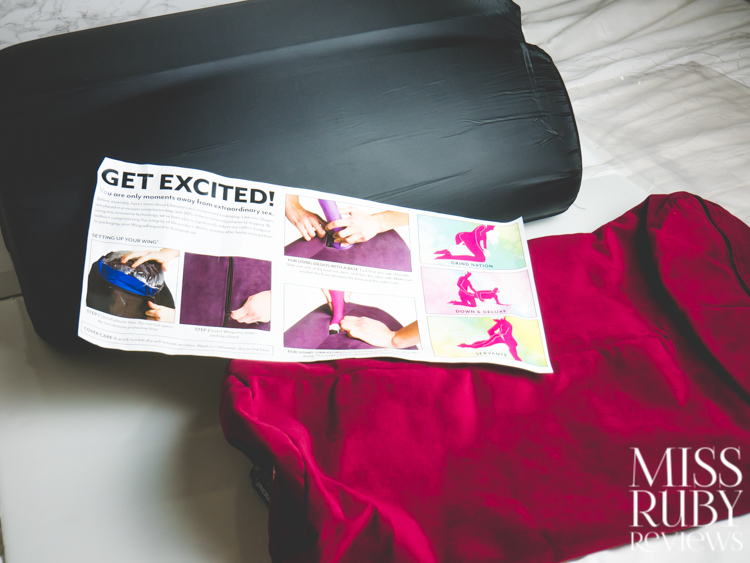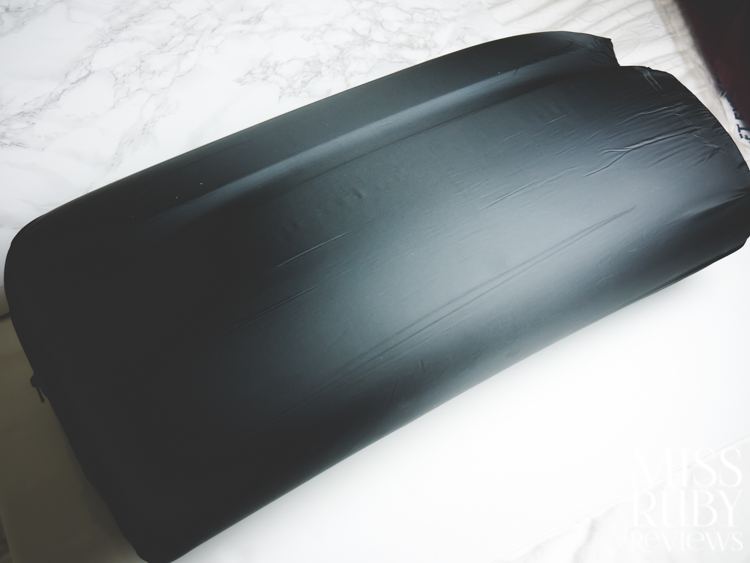 Material and Care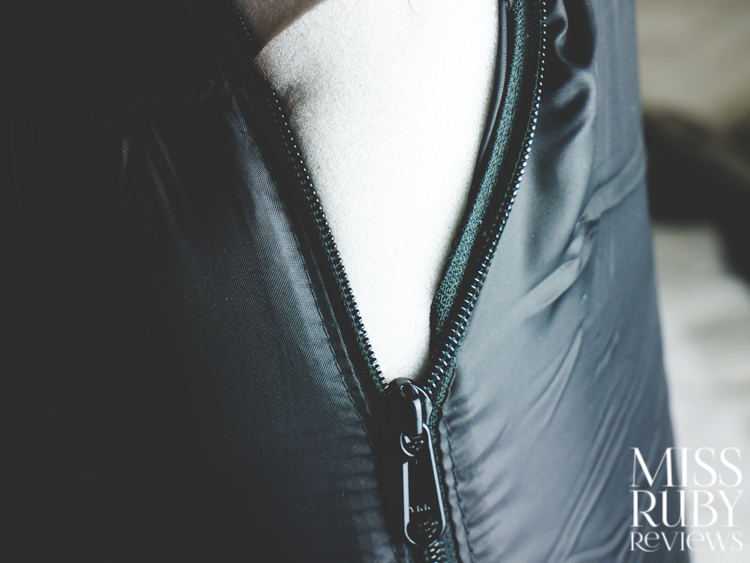 There are three material components to the Liberator Wing:
The coloured cover is a "velvish" exterior made from 100% polyester. It has a thick, velvety feel to it.
The black liner is also 100% polyester and waterproof.
The foam pillow itself is a polyurethane that is strong enough to support body weight.
To clean the velvish exterior, Liberator recommends washing it in cold water and drying it on low heat. I put mine through my washer and dryer separately (in case the red colour ran) and I had no issues with shrinkage or damage.
I didn't wash the black waterproof liner. You're not supposed to even remove the black liner, but I personally chose to unzip the black liner and air out the foam pillow in a spare window (with the window open) to get rid of any lingering off-gassing (I do this with all my foam pillows like pillows and mattresses). It was a tight squeeze to get the black liner back on, but the zipper is strong and I got it back together in one piece.
My Experience with the Liberator Wing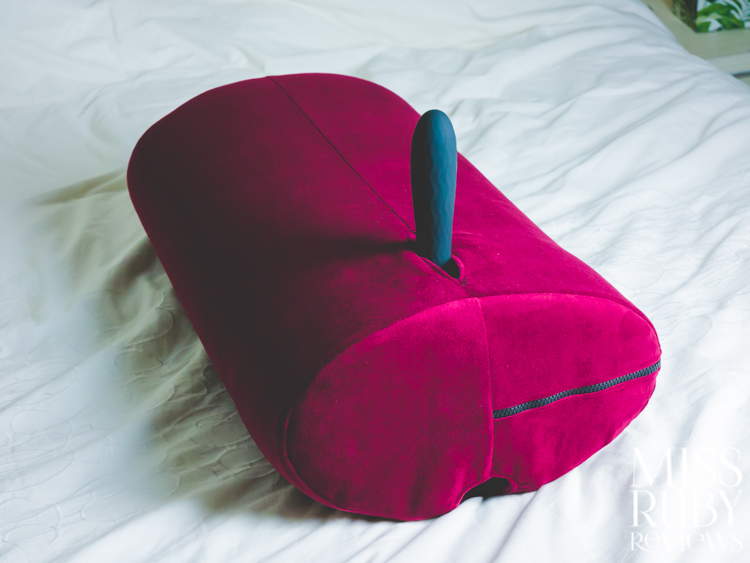 This is the first time I've tried a new Liberator product in 7 whole years. Woohoo!
We already own the Liberator Wedge (review here), which essentially props up your hips for deeper missionary-style sex (or supports your pelvis during doggy-style sex). The Liberator Wing can do these things PLUS prop up your sex toys so you can be hands-free.
When it comes to solo play, the Liberator Wing certainly does make masturbation more fun. I'm fairly clit-centric, so was thrilled to find that the Wing keeps sex toys VERY snugly in place. In the pictures below, I've inserted the GenderX Bullet (first pic) and the Magic Wand Rechargeable (second pic) — there is no annoying movement as I grind against them. There's no impact to the quality of the vibrations and it's incredibly fun to straddle them.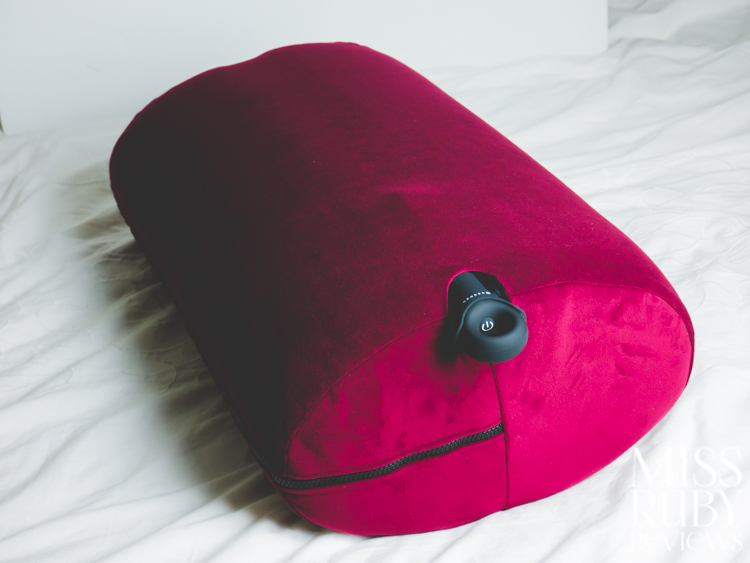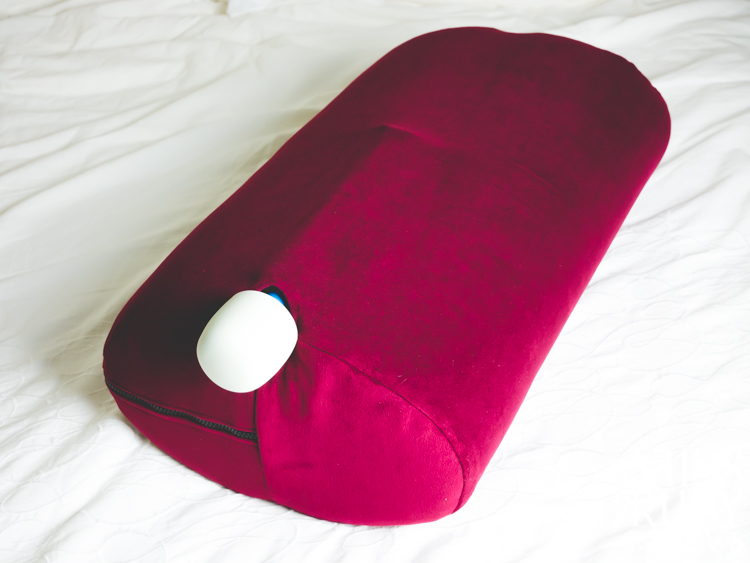 When using wands (pictured above), you can't straddle the pillow itself at the same time. You straddle the head of the wand, which is poking out of the pillow, and then hold the pillow with your arms for balance.
But to be honest, where the Wing really impressed me was in what I call the "erect mode." It props dildos (and G-spot vibrators) up very effectively, and there's just enough wiggle during humping to keep it comfortable.
At first glance, I didn't understand why they put the dildo slit so far to one end of the pillow, but when I used it I realized you need it so far on one side so you have the entire length of the pillow to support yourself with your arms.
Your leg's dimensions will impact your experience. I have fairly long legs (18″ from vulva to kneecap) and I find it perfectly comfortable to straddle and hump. I wouldn't mind it being taller, but it works. If you have very short legs, though, it may be too tall for you to comfortably hump (if you're short and you've tried this toy out, please comment below and tell us your experience!).
If you have a partner(s) and you have a flair for performance, it'll be a huge visual treat for them to watch you play on this.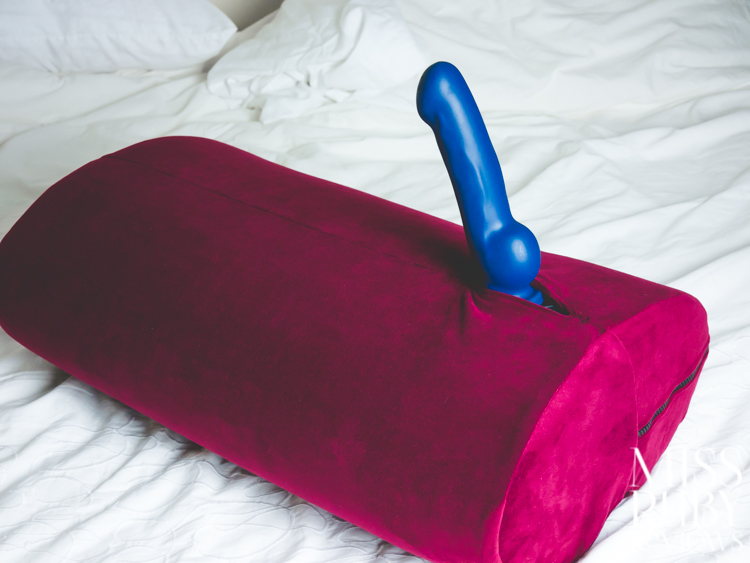 We tried this during partnered PIV sex too, but found the experience lacking. This is 2 inches taller than the Wedge which propped my pelvis up too high for my partner's height (obviously, your experience will vary depending on you and your partners' heights). When I flipped around for doggy style, I found the convex shape uncomfortable because it juts into my belly; if I were thinner, I probably wouldn't find this annoying.  We prefer the Wedge for sex positioning.
Liberator Wing Review – Overall Thoughts
We had a lot of fun with the Liberator Wing. I found it to be an excellent sex toy mount for dildos, clitoral vibrators, and G-spot vibrators alike. I love that it holds toys securely in various ways and that the cover is machine washable (because it gets messy!). We didn't enjoy it as much as a sex positioner; it didn't work with our particular body dimensions as well as the Wedge did. But if you're mainly looking for a sex toy mount (with the option to occasionally use it during sex for positioning) this is an excellent buy!
You can pick up your own Liberator Wing here! Why do I like Betty's Toy Box? Why do I like Betty's Toy Box? They ship discreetly to the continental US for free on all orders over $69, plus you can get 12% off your whole purchase with coupon code RUBY 

See below for my Liberator Wing review breakdown.

Liberator Wing Review Summary
Overall thoughts - 9.4
9.4
$116
PROS
Prop up dildos and G-spot vibes for humping
Slide in clitoral vibrators to grind against
Special dense foam supports body weight
Machine washable cover
Made in USA
CONS
We personally found it awkward for sex positioning
Shop Now
Last Updated on September 26, 2022 by Miss Ruby