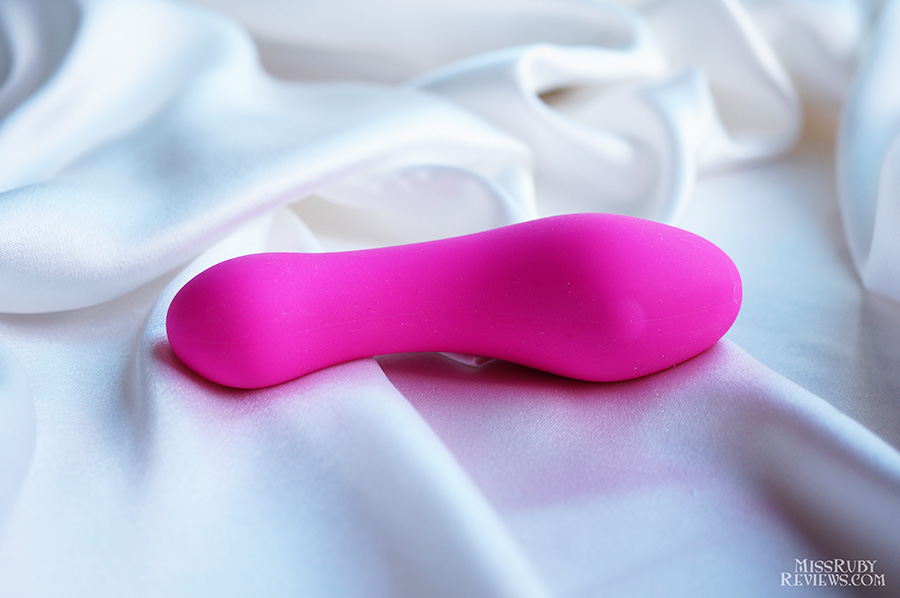 A pink little powerhouse.
Physical Details | Material and Care | Packaging | My Experience | Overall
Physical Details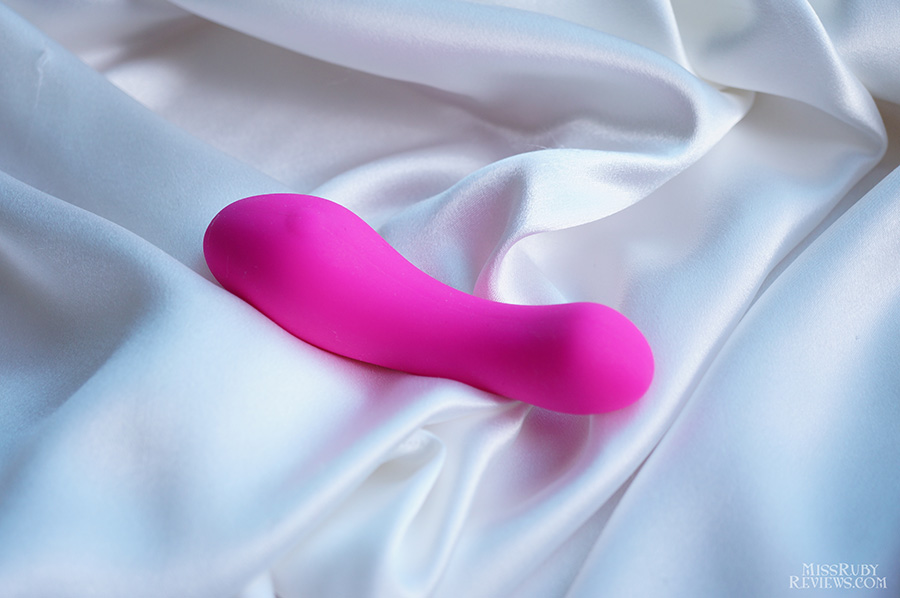 Design:
The Jopen Lust L2 is a small clitoral vibrator. Roughly the same length as the We-Vibe Touch and Tango (scroll down for comparison image), the Lust L2 has gained respect among toy enthusiasts for its relatively powerful motor and its cheap $49 price.
Despite only being offered in pink or purple (ugh), it still holds some uniqueness.  A thick, curved handle narrows and swoops into a thinner, finger-shaped play area. A single function button quietly protrudes from the thicker handle portion. It's an altogether subtle design, one that's recognizable as a sex toy to an experienced eye but will likely leave everyone else clueless. Note that, though bullet sized, it cannot function as a bullet vibe (read: cannot be inserted in bullet-compatible dildos) because of its shape.
The Lust L2 is hard and inflexible. This makes it ideal for applying firm pressure against the clitoris. I looove firm pressure, and I find it frustrating when a toy bends away from me as I try to push it harder against me. Lastly, because the vibrating tip is so narrow, this is a pin-point toy. It'll deliver stimulation directly to the clitoris but cannot simultaneously stimulate the surrounding areas in the way that a wand can.
Vibrations and Sound: 
I have tried a dozen $150+ sex toys that don't vibrate as well as the Jopen Lust L2. Honestly, I'm relieved to find this toy — it's not often I'm able to get my hands on a good vibrator that's under $70. At its top speed, the Lust L2 vibrates with strength (8/10). Moreover, its vibrations definitely err on the rumbly side, meaning that they transfer deeply. As you'd expect from a rumbly toy, the sound is also a deep, soft purr. It's not a loud toy by any means (9/10). While it's audible if you're within the room, it cannot be heard through a closed door or through walls. You'll find no vibration patterns in this toy, though. There are only increasingly strong speeds. While I'm pretty sure that patterns aren't important to many, it's good to know upfront.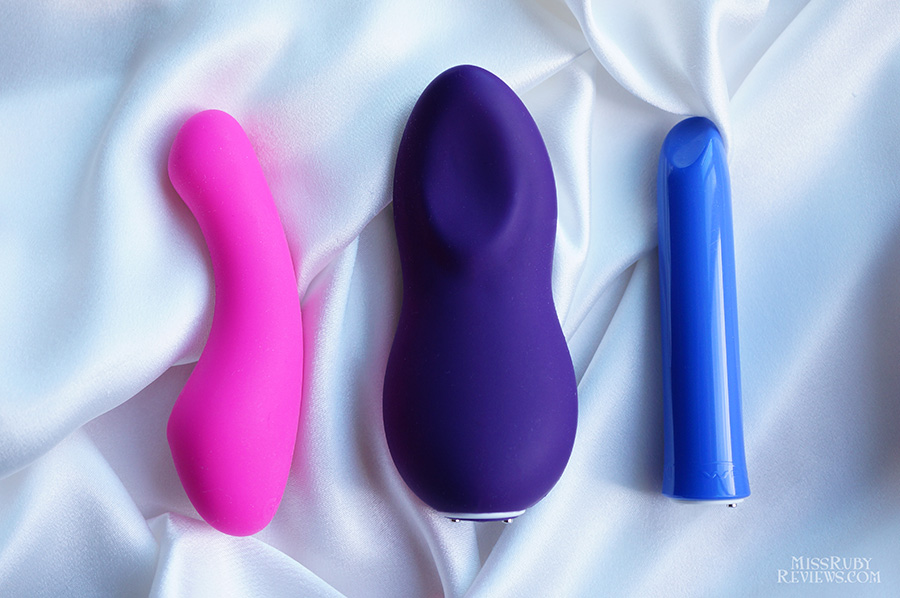 How to use the Jopen Lust L2: 
The Lust L2 arrives travel locked. To unlock it, press the button 3 times. The red light will come on for a second to indicate that it's unlocked. Unlike most vibrators, where you click a button repeatedly to reach the strength you want, you need to press and hold the Lust L2's main button. As you hold the button, the vibrations will intensify; release the button when you've reached the right level. If you give it a short click, it'll turn off. I personally found very frustrating. I kept on accidentally turning it off, and then locking it, meaning I'd need to hit the button three times again. Note that the L2 will be automatically travel locked if you plug it in to charge.
Features: The Lust L2 is rechargeable and waterproof (submersible). It also comes with a one-year warranty, which is always comforting to have.
Material and Care
The Jopen Lust L2 is coated with virtually-seamless pure silicone. Silicone is the best material for sex toys; it's non-porous and free of phthalates.
If you're going to use a lubricant, I suggest that you opt for a waterbased one like Sliquid.
For regular cleaning, I suggest rinsing in warm soapy water. If you're going to share this with another partner, definitely sterilize it: wipe down with a 10% bleach solution and rinse thoroughly.
To charge the Lust L2, use the included USB charger to connect it to your computer or a USB wall adapter.
Packaging

The Lust L2 is packaged in a pinkish purplish bubble-covered box. It's simple and non-pornographic. When you flip open the lid, you receive a product manual and a safety manual (note that these include instructions for several Jopen products, so look for the L2's specific section). The Lust L2 arrives with the USB recharger. Unfortunately, there is no storage pouch. Fortunately, I have a gazillian extra satin drawstring bags from other toys but, if you don't have a home for it, you might want to look into something like the Sugar Sak.
My Experience with the Jopen Lust L2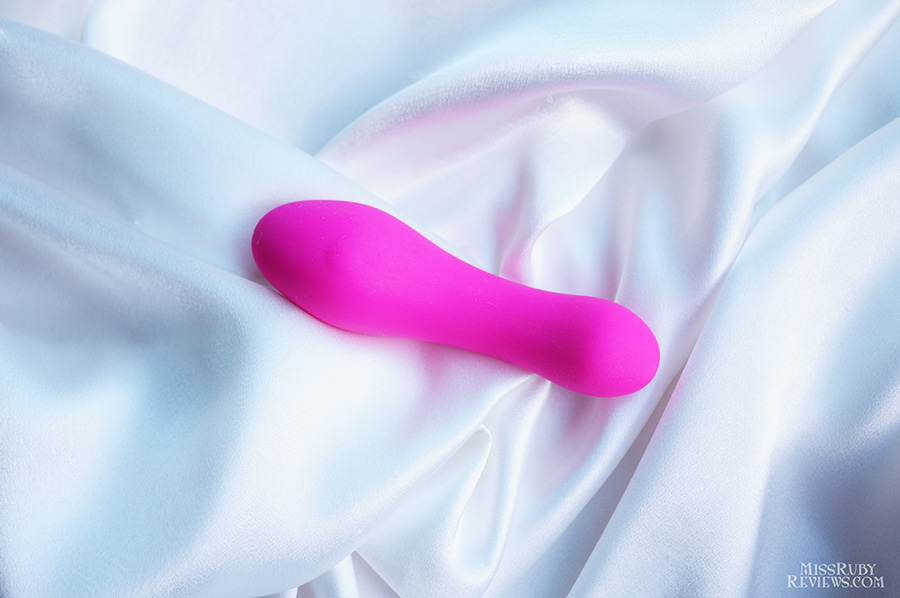 This toy has everything my clitoris needs: rumbly strength and firm, pin-point stimulation. It's not a surprise, then, those orgasms come easily with this toy. I suspect that most users will feel the same way. Unless you know that you need broad stimulation, I think that the Lust L2 is a pretty safe choice.
The only two snags I ran into is (a) that button and (b) the battery charge. Unfortunately, the power button isn't intuitive. I'm so used to clicking once on toys to increase to the next speed…it's second nature, now. But clicking once turns off the Lust L2, which is obviously a bit unwanted in the moment. This kept on throwing me the first two times with this toy (old habits die hard). On the third time, I was getting the hang of it, and immediately remembered to hold down the button to increase. While it's not the end of the world, I would have preferred for the Lust L2 to stick to common conventions.
Also, the battery charge. While the battery lasts around 30 minutes on full blast (more than enough time for me), I find that the battery's shelf life isn't great. Two weeks after fully charging it, I tried to turn it on and the battery was empty and required recharging. Higher-cost vibrators tend to have a longer battery life than this (some toys will hold their charge in wait for months).
Still, these two gripes aren't a deal-breaker for me, and I don't think they should be for you. This toy's strength is something to be respected, and that's what wins me over. I can deal with the finicky controls and battery life; the strong strength means that it delivers good orgasms, which is what I need it to do the most.
Overall
The Jopen Lust L2 is an excellent low-cost clitoral vibrator. It's a safe option if you're looking for something strong but don't want to spend the extra funds for a Tango or a Touch. Waterproof, rechargeable, and body-safe, the Lust L2 is most suited to people who prefer firm, pinpoint stimulation. That button function annoys me to no end, and I wish it came in something other than pink or purple, but I can overlook this because it's so ridiculously strong and inexpensive. Recommended!
To purchase the Jopen Lust L2, head on over to Peepshow Toys! And get 10% off everything with code: RUBY

Last Updated on March 14, 2020 by Miss Ruby