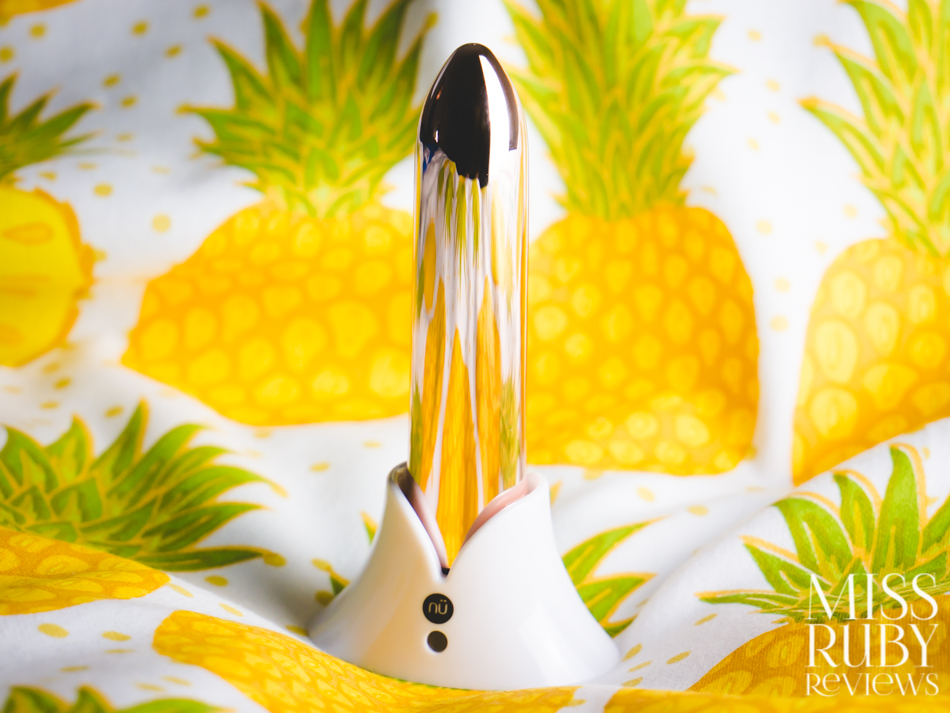 This looks like a rocket being launched. Feels like one too. Read on for my NU Sensuelle Point Plus review!

Design | 360° View | How to Use | Packaging | Material and Care | My Experience | Overall
Design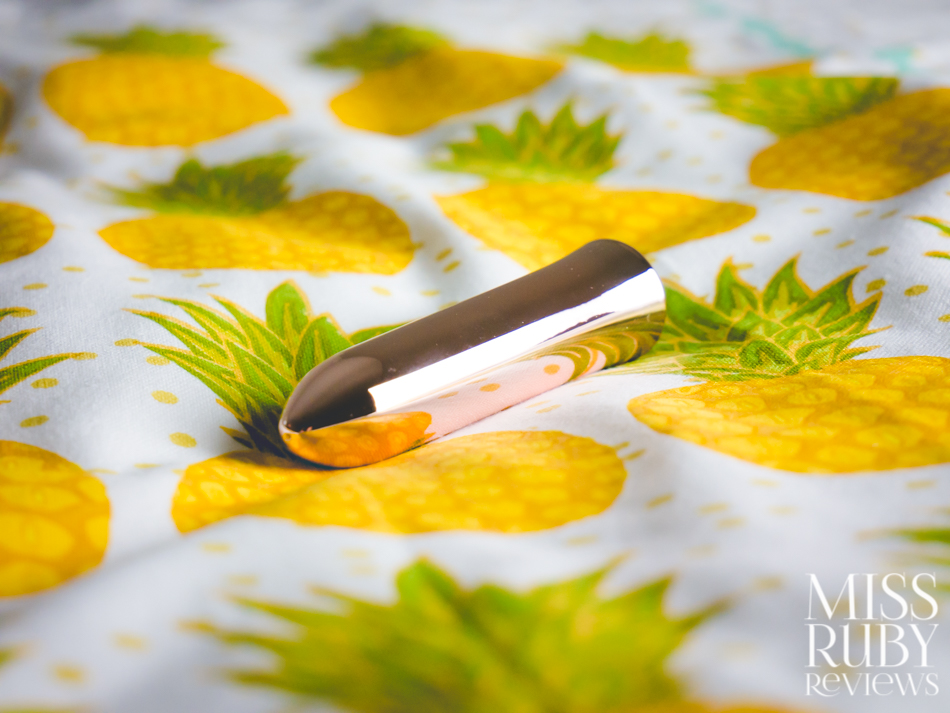 The NU Sensuelle Point Plus is a lovely bullet vibrator whose strength lies in its simplicity.
Design-wise, this toy isn't trying to do anything new or special. It's a bullet, simple as that. This is a tried and true design, a real classic.
Its pointed tip means you can target extremely precise areas, and if that's too much for you, you can opt for the curved slants of the tip, or just the side of the body itself.  The controls are tucked away at the bottom base, in comfortable reach during play. Sleek, streamlined, and weighty, it'll deliver firm, pin-point stimulation.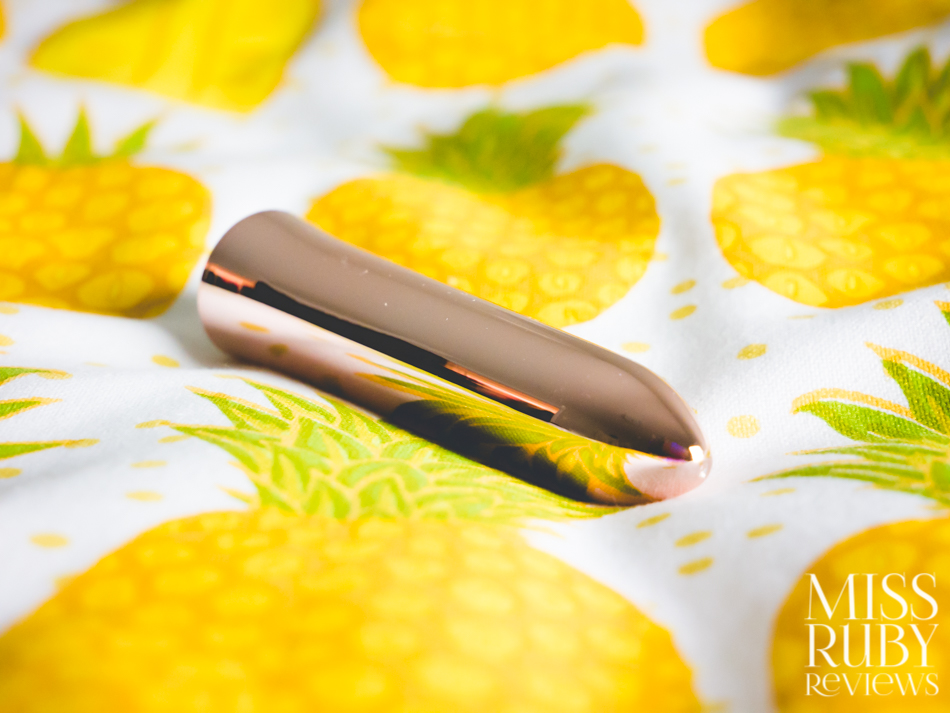 At 3.6″ in length and 1″ at its widest part, the NU Sensuelle Point Plus is one of the larger bullet vibes available on the market, certainly larger than the iconic We-Vibe Tango. It's a good size, though, and fits in the hand well.
I got the NU Sensuelle Point Plus in Rose Gold, which is a pale shiny ABS plastic. It also comes in colourful silicone-coated versions of Navy, Turquoise, Pink, and Purple, giving you a lot of options.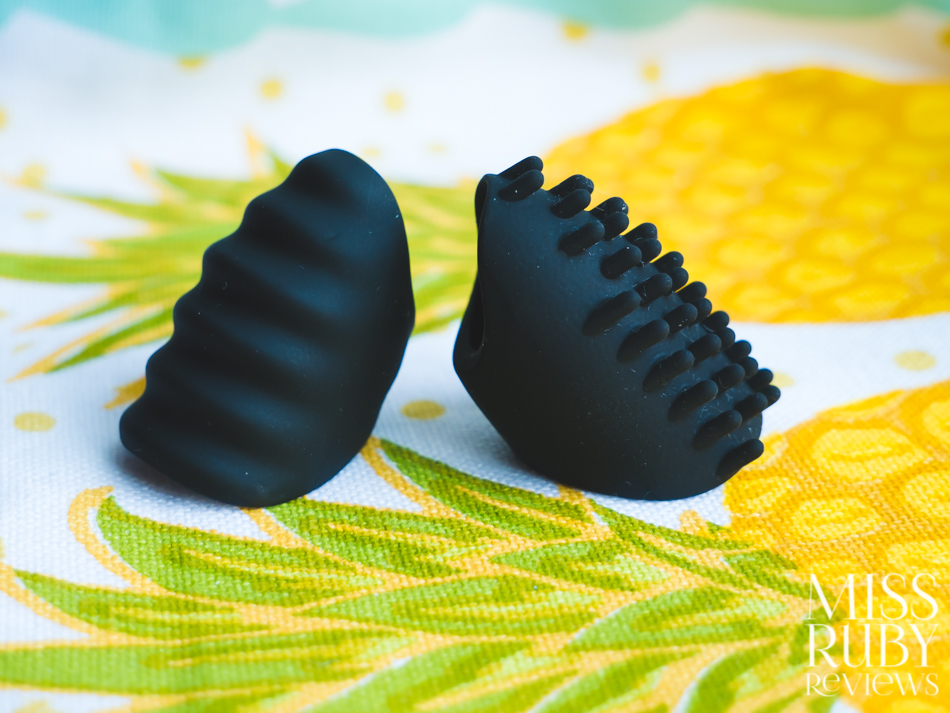 All versions of the NU Sensuelle Point Plus come with two silicone sleeves. These slip over the head of the toy so that you can play around with texture. The first sleeve has gentle waves, and the other has flexible nubby bits.
360° View
Click and hold the image above to move it around.
How to Use the NU Sensuelle Point Plus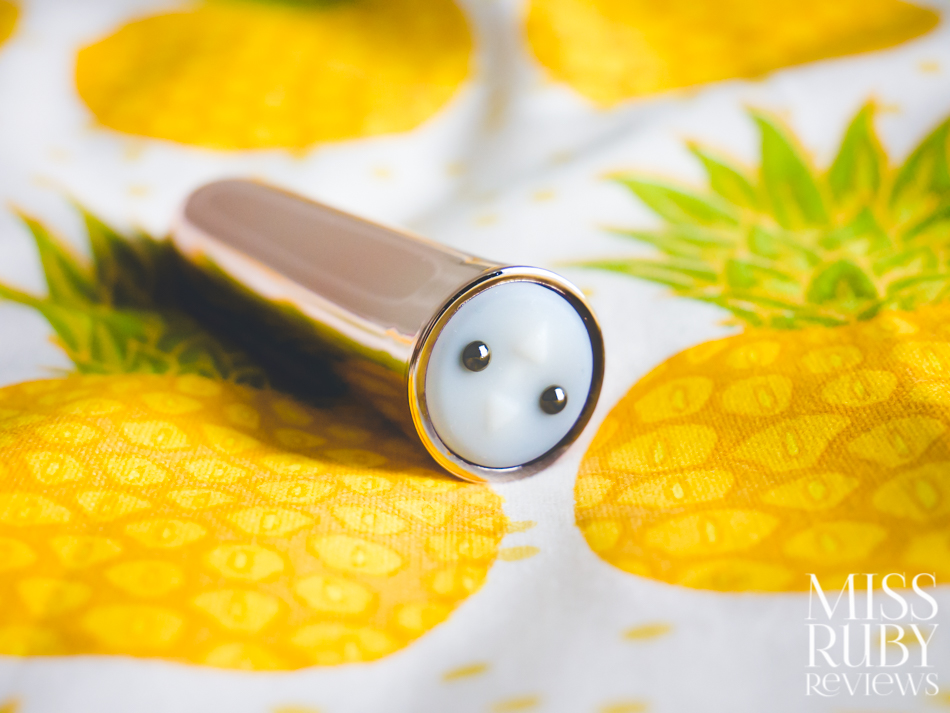 Place one of the two included silicone sleeves around the top of your toy (optional).
To turn it on, press either of the ▲ ▼ arrow buttons at the base of the toy.
Whichever of the buttons you press to turn it on becomes the + increase button, and the other becomes the decrease button.
Flip through the ▲ ▼ buttons to cycle through the 20 different functions (I counted 7 steady states and 13 patterns).
Apply to your skin. Though designed for clitoral use, it could also be used against a penis or nipples. This toy is not intended for internal use though, and don't try to use it anally because there's no flared base.
To turn it off, press the decrease button for a few seconds.
Packaging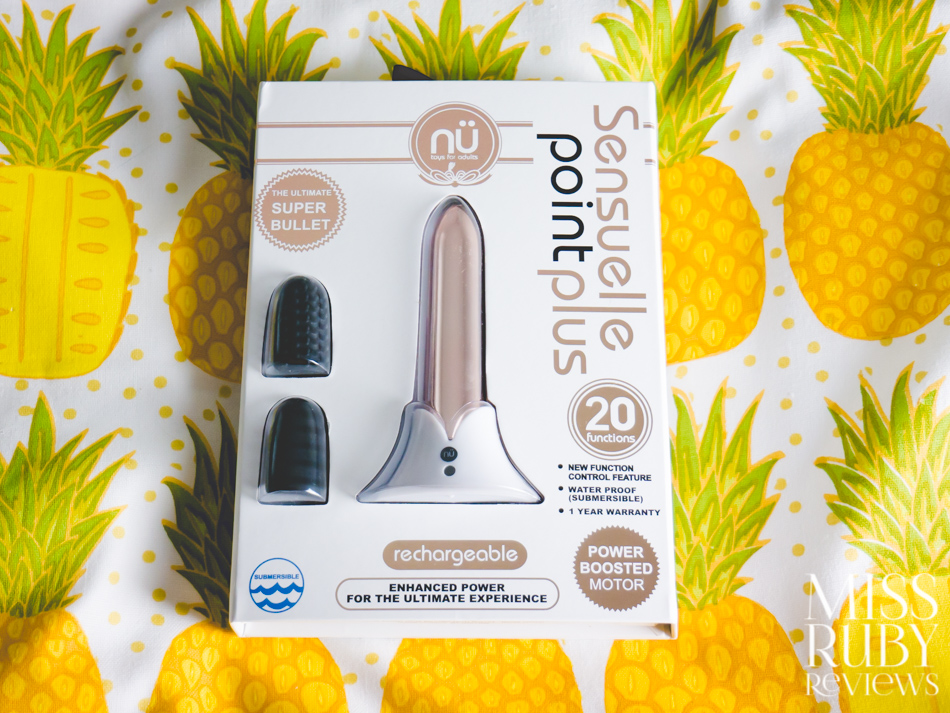 The NU Sensuelle Point Plus is packaged very simply. The packaging isn't going for any design awards, but it does the job well enough.
Inside the packet, you receive the Point Plus, a charging stand, the USB charging cord (which plugs into the stand), a short instruction manual, two silicone textured sleeves, and a white satin storage pouch large enough to fit everything.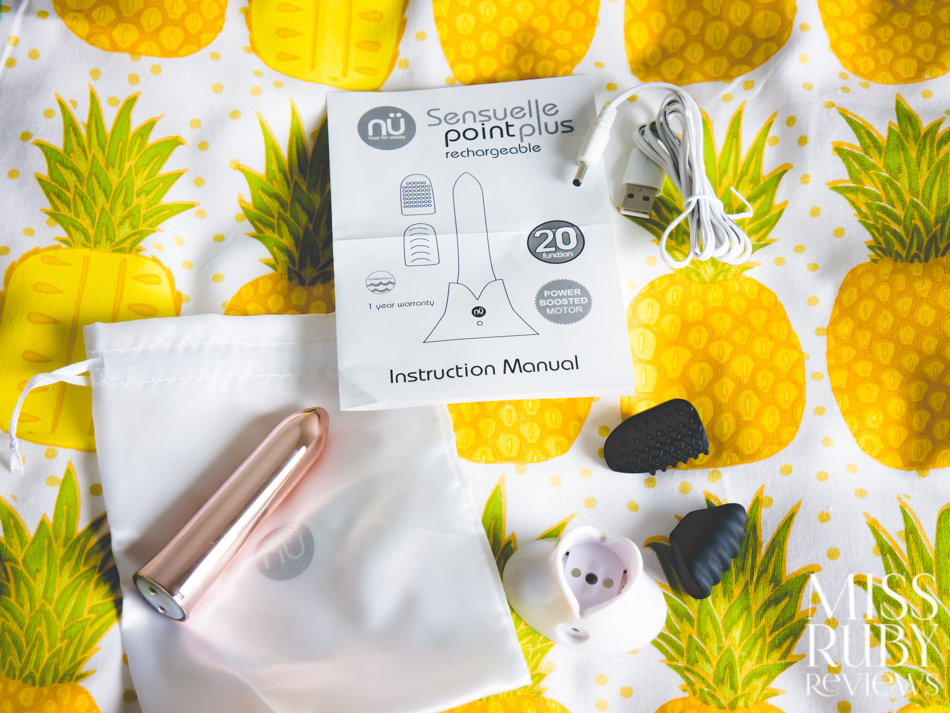 Material and Care
The Rose Gold NU Sensuelle Point Plus is made from ABS plastic, which is a hard bodysafe material. If you opt for any of the other colours, your Point Plus will be coated in silky soft silicone. Regardless of which colour option you choose, the two sleeves included will be silicone.
This toy is waterproof and submersible, according to its box. To clean, NU recommends that you "wipe with warm soapy water, or with a suitable toy cleaner recommend by your retailer."
A one-year limited warranty is included with this toy through the manufacturer, which protects you from manufacturing defects or malfunctions.
To charge your NU Sensuelle Point Plus, place it in the white charging stand (line up the metal pins) and plug in the included USB charging cord. Attach that to your computer or a USB wall adapter. A light will flash when charging, and will become steady once it's fully charged.
You'll get about 1 hour of use for every 2.5 hours of charge.
My Experience with the NU Sensuelle Point Plus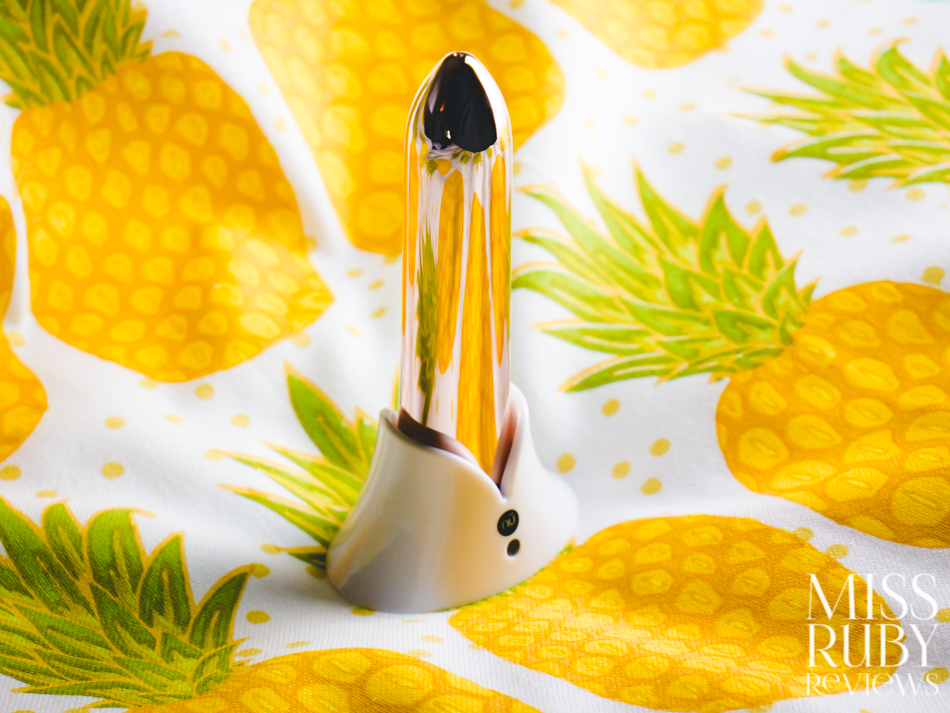 Pros
I've had wand vibrators that can't vibrate as well as this thing. Bullet vibrators, given their small size, are often expected to be weaker than larger toys (especially when they're under $80), but this thing knows how to ROAR.
The first and lowest vibration level is already very strong, and I don't need/can't use the top strength. I have zero qualms about its strength, and think this should be able to satisfy most power queens.
It feels different to the famous/more expensive We-Vibe Tango (it's not as thuddy/rumbly), but very similar to another favourite of mine — the FemmeFunn Ultra Bullet.
(2) Orgasm-wise, this thing delivers. 
In the two months that I've owned it, the NU Sensuelle Point Plus has given me countless orgasms. The battery holds up well and I rarely need to charge it (though maybe that's just because it never needs to run very long before I'm done with it). This has migrated from my review cupboard to my bedside drawer (a rare accomplishment) and I suspect it'll live there for a while.
(3) It's also relatively quiet.
Though it has a high electric-toothbrush-like sound, I can't hear it through walls. So, if you have roommates, just close your door. They shouldn't be able to hear it in your room.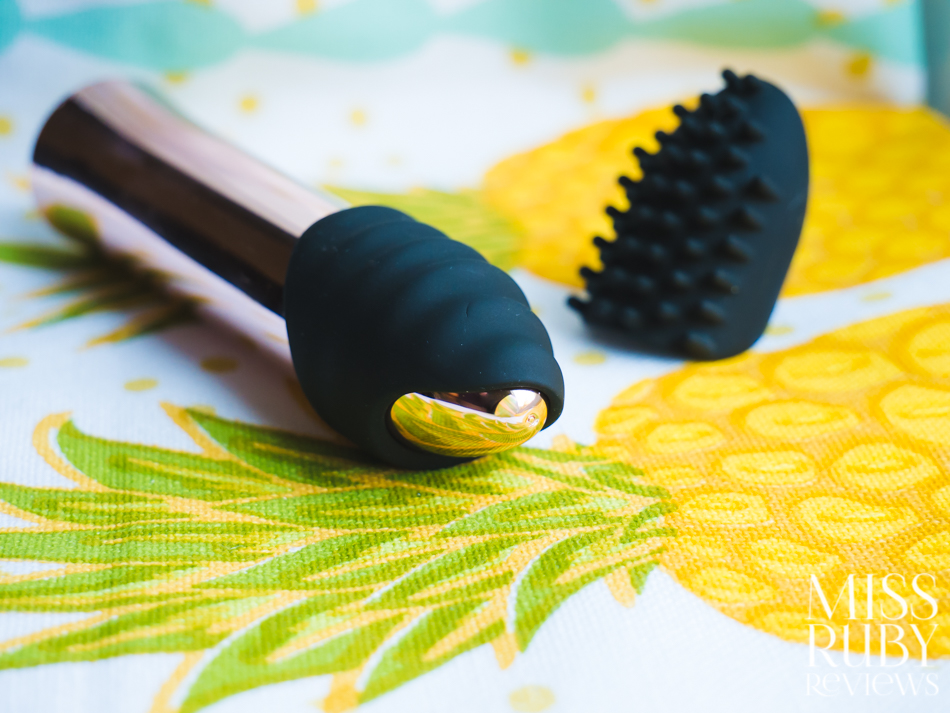 (4) Those sleeves are great.
I absolutely LOVE the sleeves that the NU Sensuelle Point Plus comes with. I find the wavy one suitable for normal everyday use, and then switch it to the nubbly one when I really want a textured experience. I found that the sleeves change the vibration type considerably — they deepen the vibrations, and make them rumblier than without.
I can't speak for the other colour versions of this toy (which are all coated with silicone to begin with), but the raw ABS plastic power of this toy, by itself, is very buzzy and rattley for my taste. But when coupled with one of the sleeves it comes with, the buzz is slashed down.
(5) It has luxury features.
It's waterproof and rechargeable. Its streamlined design makes it super easy to clean. The charging stand is nice for if you want to display it, and it does make it slightly easier to charge (there's really no way it can slip out of place).  There's no travel lock, mind you.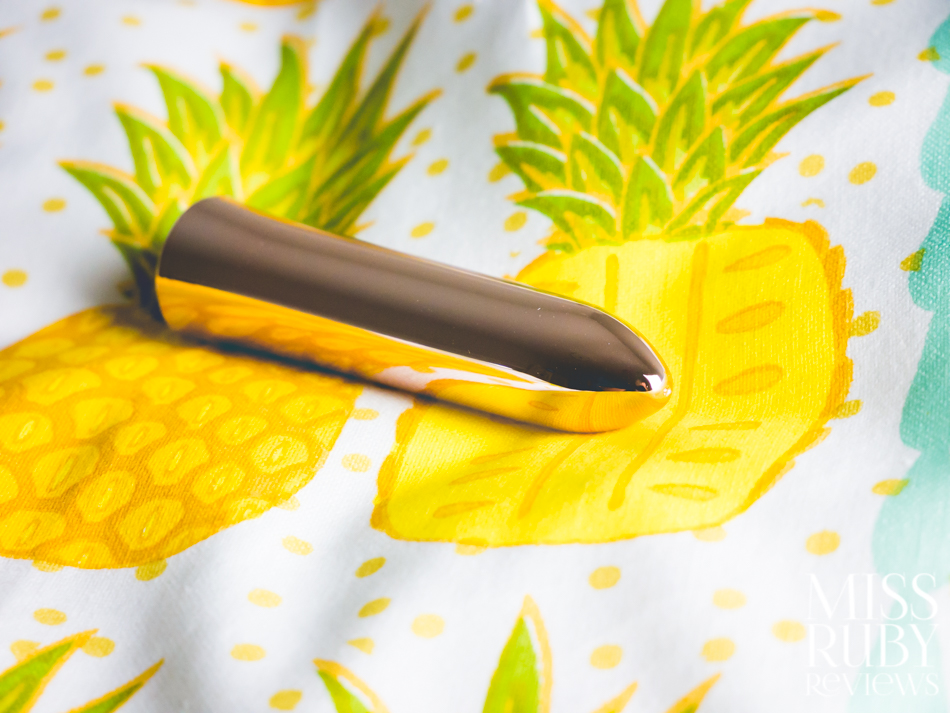 Cons
(1) It might be too strong for some users.
This might be important for some. If you have a very sensitive clitoris, and you're usually happy with the lowest levels of your vibrators, then the NU Sensuelle Point Plus will be too strong for you. This isn't a toy for the faint-of-clitoris. If you want something whose range starts lower, something like the FemmeFunn Ultra Bullet might be better for you.
(2) The vibrations transfer.
Few bullet vibrators can escape this doom. The motor manages to focus most of the vibrations at the top inch of the toy, but vibrations also disperse to the bottom. This means that your hand will feel funny after a few minutes of using it (and you'll probably find it painful if you have arthritis or carpal tunnel).
(3) The vibrations are buzzy.
Again, when I use the sleeves, the vibrations feel deeper/rumblier, but there's no escaping the fact that they're fairly buzzy to begin with. Still, the strength is so high that it overpowers the buzziness for me.
Overall – NU Sensuelle Point Plus review
The NU Sensuelle Point Plus will never win any awards for an innovative fresh design. It's a very basic, classic, bodysafe bullet vibrator. But its simplicity helps it achieve its purpose: orgasms, and plenty of them. It's not trying to do a million things at once — it's just trying to vibrate, and it does that well.
If you're looking for a new staple for a strong bodysafe vibrator, give this one serious thought. Unless you have a sensitive clitoris, this is a pretty fool-proof purchase.
You can pick up your own NU Sensuelle Point Plus at Peepshow Toys. Why do I like Peepshow Toys? They ship internationally, only carry body-safe products, and you can get a 10% discount off your whole purchase with coupon code RUBY. 

See below for my NU Sensuelle Point Plus review summary.
NU Sensuelle Point Plus review summary
Overall Thoughts - 9.6
9.6
$69
PROS
STRONG
Many colour options
Waterproof
Rechargeable
Bodysafe
Sleeves are great
Fairly quiet
CONS
May be too strong for some
Vibrations err on buzzy side
Shop Now