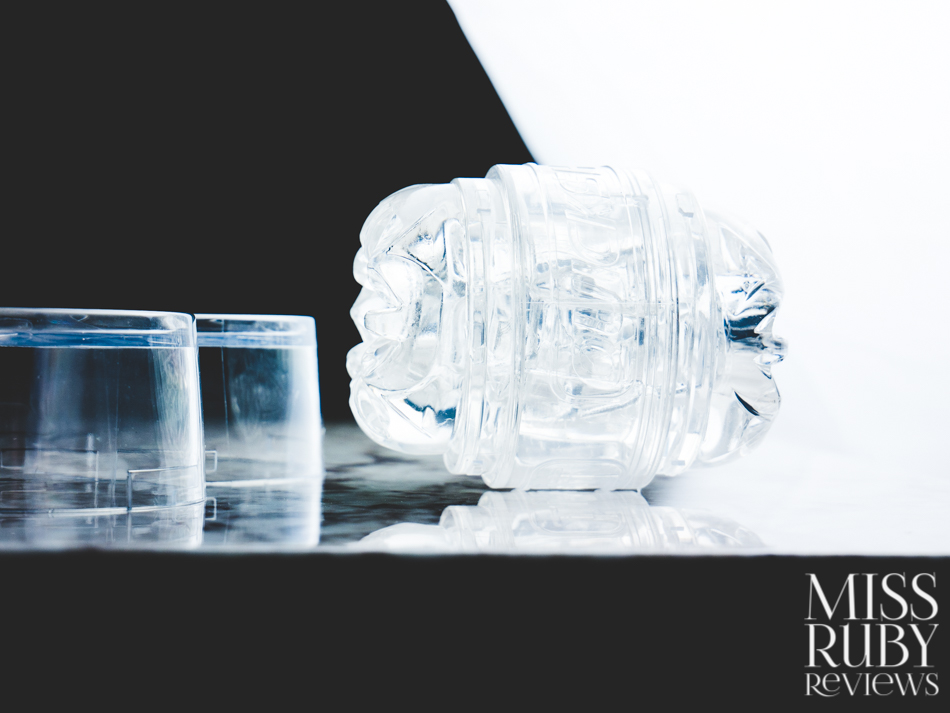 If you or your partner has a penis, the Fleshlight Quickshot Vantage should be on your wishlist. Read on for my Fleshlight Quickshot Vantage review!
Design | 360° View | How to Use | Packaging | Material and Care | My Experience | Overall
Design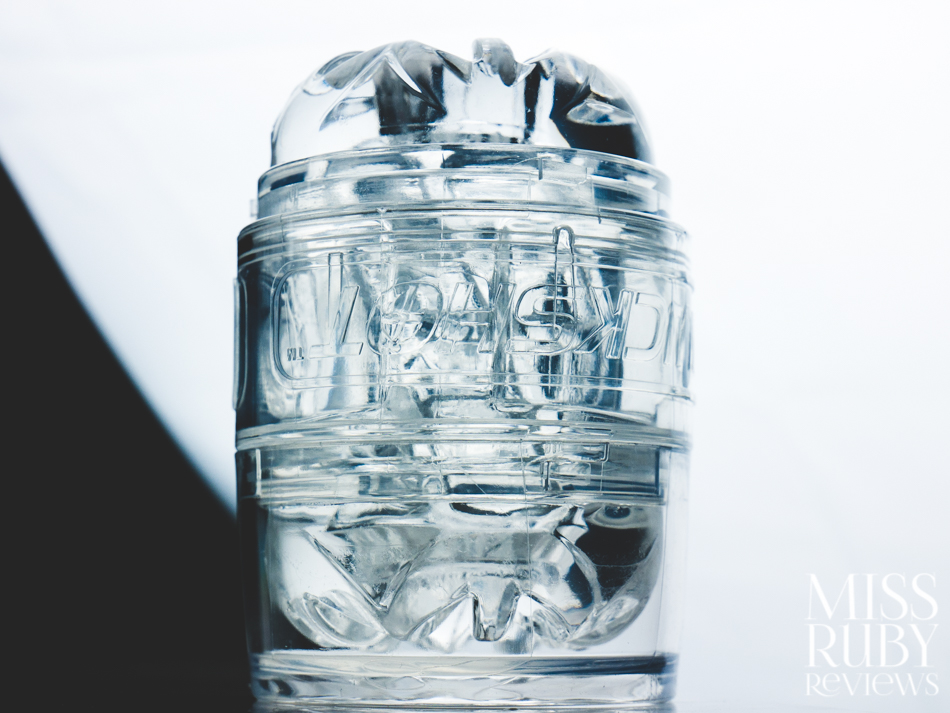 The Fleshlight Quickshot Vantage is a small, stubby, reusable penis stroker/sleeve/masturbator with an innovative design.
A stroker with an insertable length of 3.5″ would usually be on the short side for many, but the Fleshlight QS Vantage is open-ended, meaning that the head of the penis pops out through the other end. Yup, it's like peek-a-boo, but for adults.
Coupled with a clear material and a transparent hard case, the name "Vantage" is very fitting here. This is a show-off design, one that lets you (and your partner) see every inch and movement as you masturbate. No penis can hide here — it's very much on display, no matter your size.
If you like this concept but not the visibility, check out the black Fleshlight Quickshot Boost.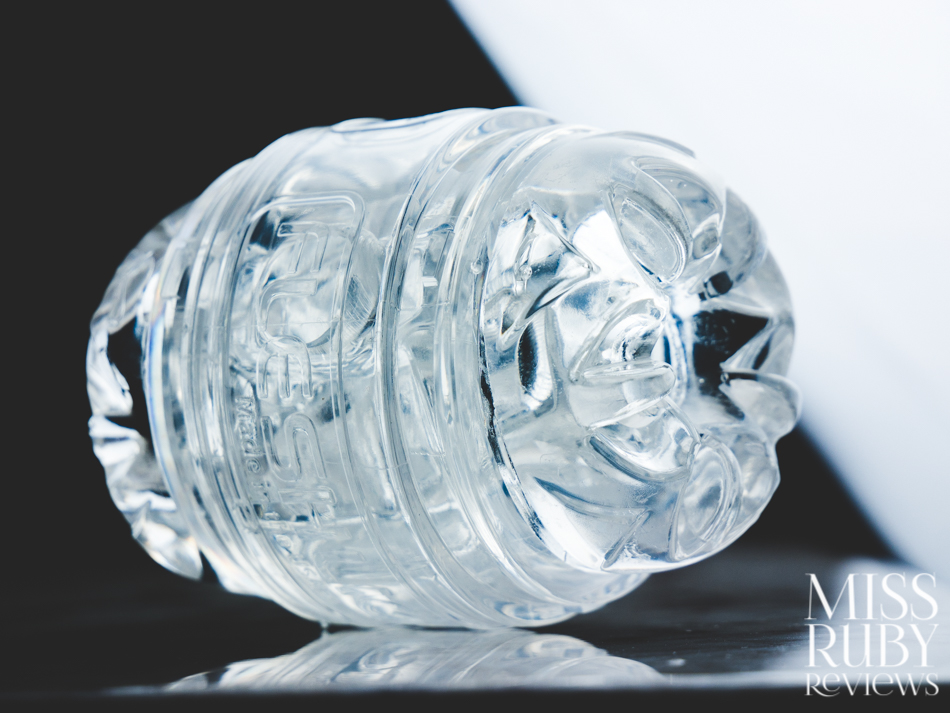 A big design consideration made here was neutrality. The ends (which are identical to each other) are completely neutral and, not in themselves, trying to be sexy.
There's no obvious leaning towards mouth/vulva/anus, or a particular skin tone, like many other strokers. This is a pretty smart move on Fleshlight's part — this isn't going to alienate anyone.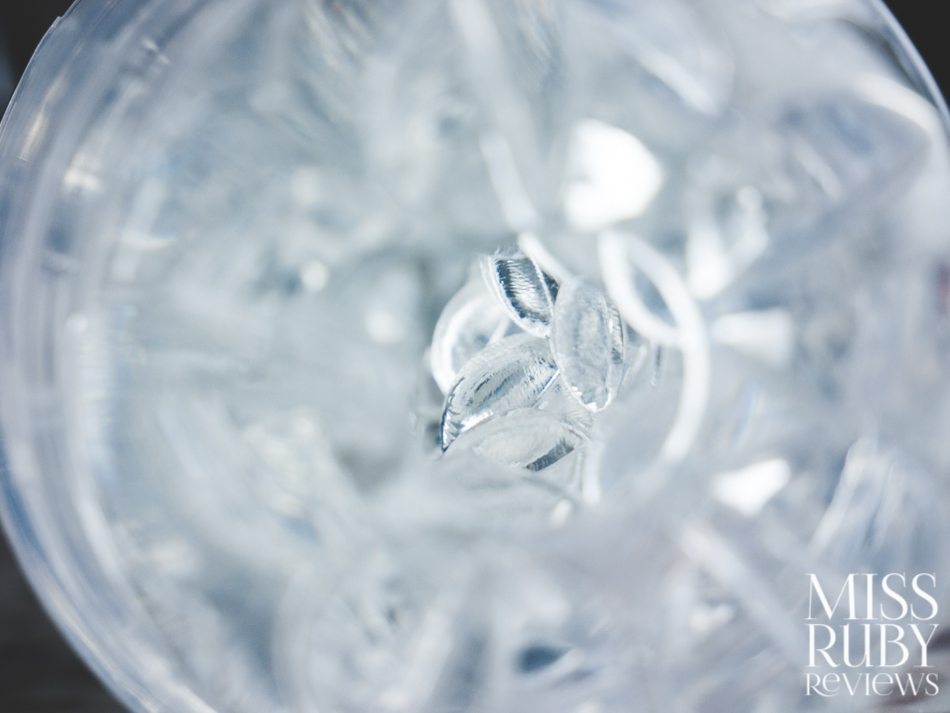 The interior texture of the Fleshlight Quickshot Vantage  features nubs and spheres. The images above and below show it better than I could describe. It's more textured than something like a vagina, but it's not as intense as something like the Tenga Flip Zero.

Above: The interior design of the Fleshlight Quickshot Vantage
360° View
Click and hold the image above to move it around.
How to Use the Fleshlight Quickshot Vantage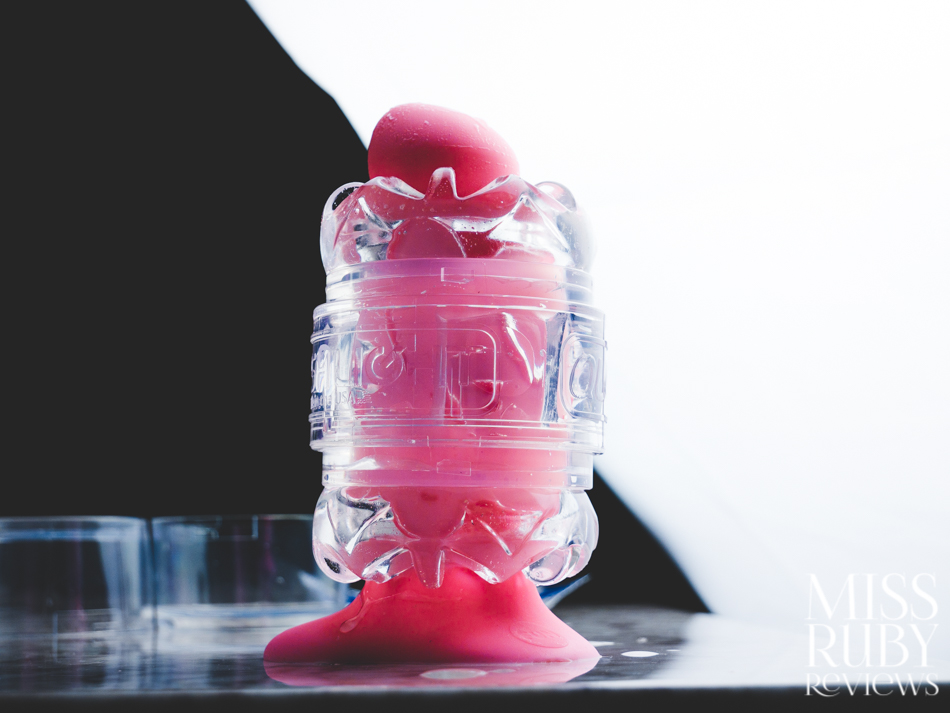 To use the Fleshlight Quickshot Vantage :
Unscrew both ends of the case and set them aside.
Apply lubricant to the entrance of the Vantage, and also inside (** This is important! Without lube, there'll just be uncomfortable friction and the material won't hold up long).
Insert your penis and enjoy it. Unless you're very very very big (girth circumference of 7.25″ (ish) or more), you should be able to comfortably slip inside.
Watch your aim — the casing isn't going to prevent any spillage.
Once finished, remove the sleeve from the hard case, rinse, and dry.
Packaging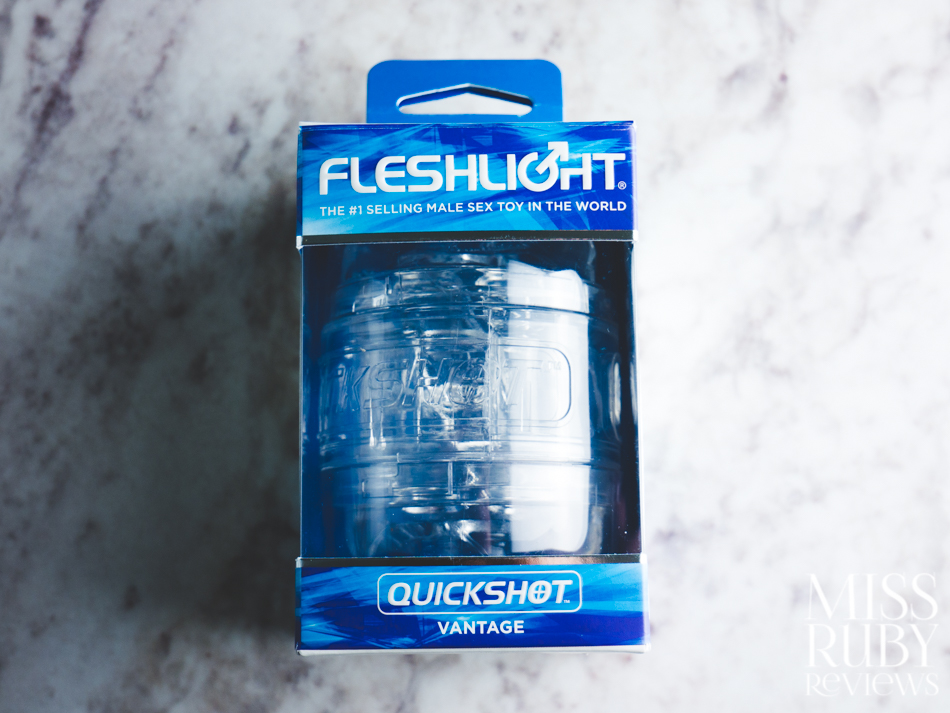 Above: the Fleshlight Quickshot Vantage's packaging.
The Fleshlight Quickshot Vantage  comes packaged cleanly in a blue box. It's non-pornographic, opting for simplicity and function instead, which many will appreciate. Just to warn – it's not a discreet box, seeing as you can see the toy and it says "male sex toy" on it.
Inside the box, you receive the Quickshot (with the two twist-off ends attached), a packet of renewing powder (which helps keep it soft) and a sample of Fleshlight's water-based lubricant. Both were gone after a single use, so I recommend adding full-sized versions to your cart when checking out.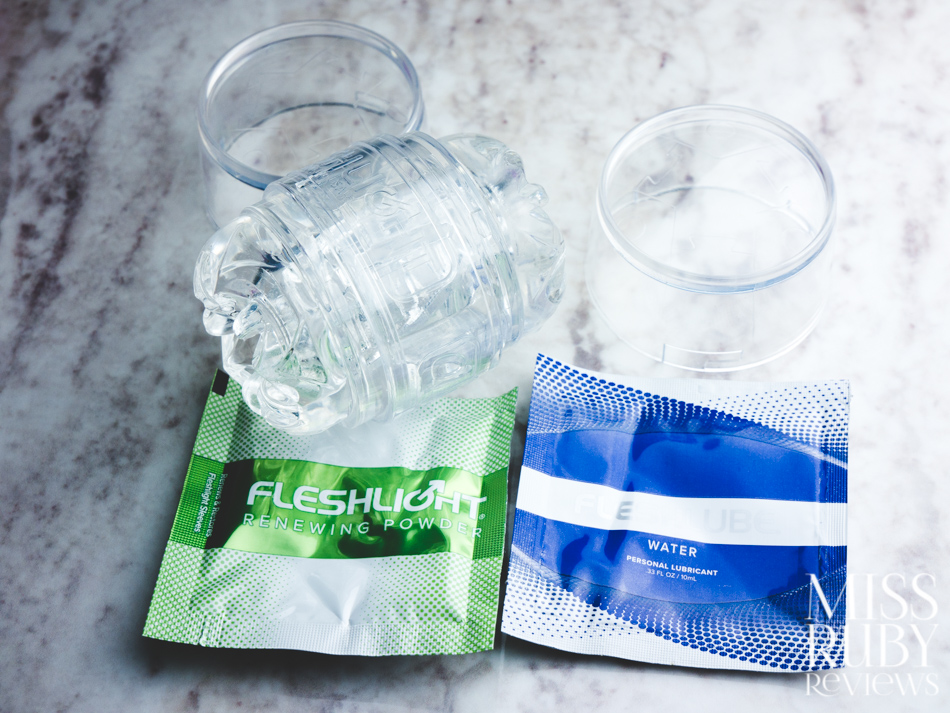 Above: the Fleshlight Quickshot Vantage with packets of renewing powder and water-based lubricant.
Material and Care
The Fleshlight Quickshot Vantage is made from Fleshlight's patented soft Real Feel SuperSkin. It's a high-quality material created to mimic the sensation of penetrative sex. Though non-toxic, it's porous like any other penis sleeve, so you'll want to take particular care with cleaning and drying.
The material itself is very squishy and soft to the touch, except after washing. If you don't reapply renewing powder, it'll feel quite sticky when it's dry.
Only use water-based lubricant with this toy.
To clean, remove the inner sleeve and rinse it thoroughly with warm water. We found that we could carefully turn the sleeve inside-out so that the inner portion could properly dry in the open air (this step is important because you don't want mildew). Once fully dry, place it back in the hard care and screw the ends back on. Store in a cool and dry place.
This is a reusable toy and should last a long time with proper care.
Our Experience with the Fleshlight Quickshot Vantage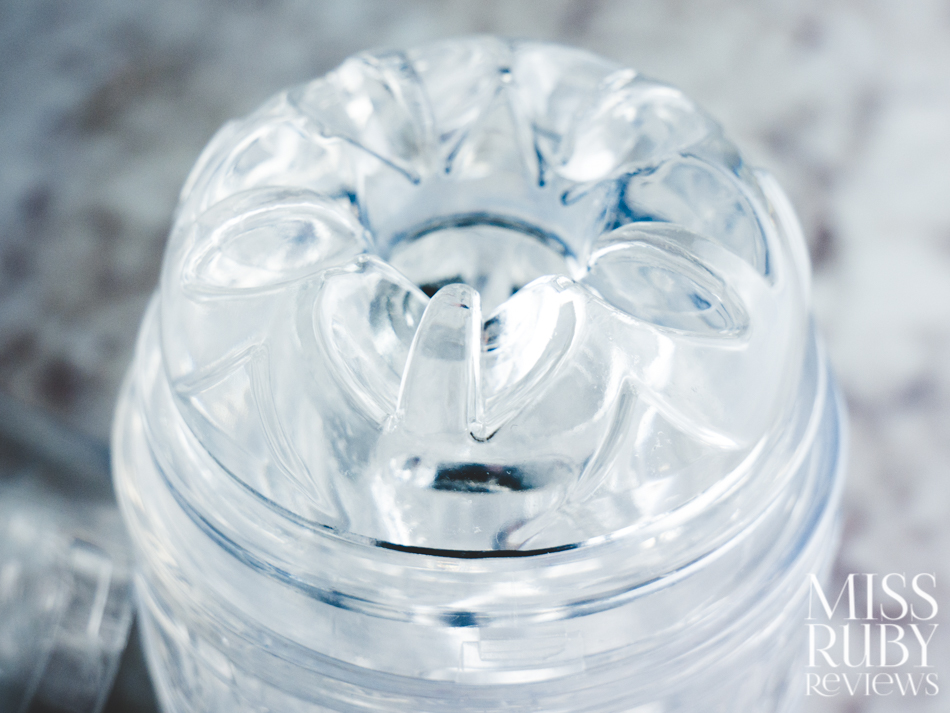 Above: the Fleshlight Quickshot Vantage's opening.
Pros
The Fleshlight Quickshot Vantage  feels good. Mr. Ruby gets strong orgasms using this. He finds it "snug, pleasurable, and satisfyingly textured." He says it's certainly a big step up from using his hand.
Great for partner play. I've been involved in most of the testing sessions, and I loved watching. The partners get the perfect vantage point — it's exciting to watch, and its clear design makes this feel this toy is as much for us (the partner) as it is for the user.
It's lightweight. It's not cumbersome for Mr. Ruby to hold or use. Its light, small design makes it heavier than using his hand, but not much. It's also a great deal smaller than traditional Fleshlight models, which are about 10″ tall and bulky to use (also, seeing as most people aren't 10″ long, most people can't benefit from the full range of textures in those longer models).
Probably great for first-timers. Though this isn't Mr. Ruby's first stroker, I can see this being very popular for people that are looking into strokers for the first time. It's incredibly discreet and neutral. If you're in a relationship with someone who wants a stroker, but you're still iffy about seeing them use something realistic, this is a great option. Its neutral design is purely functional, and there's no pristine vulva or anus that you might start comparing yourself to. As a partner, I also find this fun to use on Mr. Ruby. I've never felt super confident about my handjob abilities (my talents lie elsewhere), but there's no worrying when I use this on Mr. Ruby — there's literally no way to mess it up.
Incredibly discreet. When the Fleshlight Quickshot Vantage  has its end caps on, it's very inconspicuous. At a quick glance, you certainly wouldn't assume it's a sex toy (this is even truer for the Quickshot Boost model, which is just a black case). It helps that it's small as well. This could easily hide in a sock drawer, and it even looks quite at home in a bathroom drawer among lotions and soaps.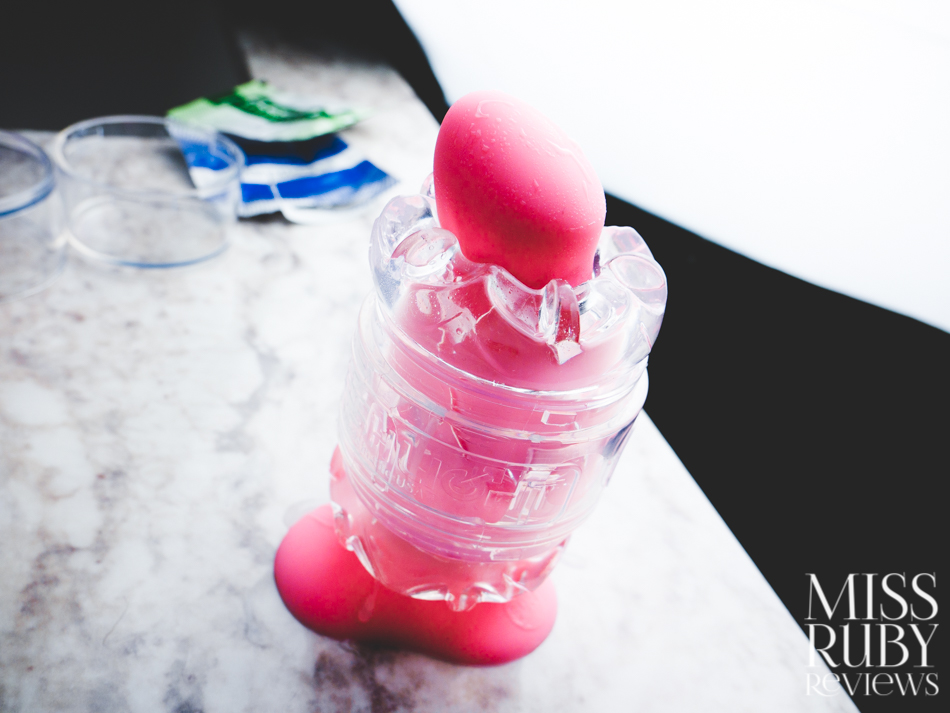 Cons
It would have been nice to squeeze. That small tube of casing around the midsection of the Fleshlight Quickshot Vantage  is totally hard. There's no squeezing the hard body case. Though you can squeeze the opening at the end, Mr. Ruby kept wishing he could have a more tactile experience.
More pleasurable models do exist. Though the Fleshlight Quickshot Vantage  feels great, it's not Mr. Ruby's favourite. He still enjoys the physical sensation from the Tenga Flip Zero more, which is squeezable and has a more intense texture. That toy also doesn't open up at the end, providing a more all-encompassing experience. Keep in mind, though, that most places sell the Tenga Flip Zero for about $100 USD, making it double the price of the Fleshlight Quickshot Vantage .  At $50, the Fleshlight Quickshot Vantage isn't cheap cheap, but it's a lot more affordable than other luxury models out there.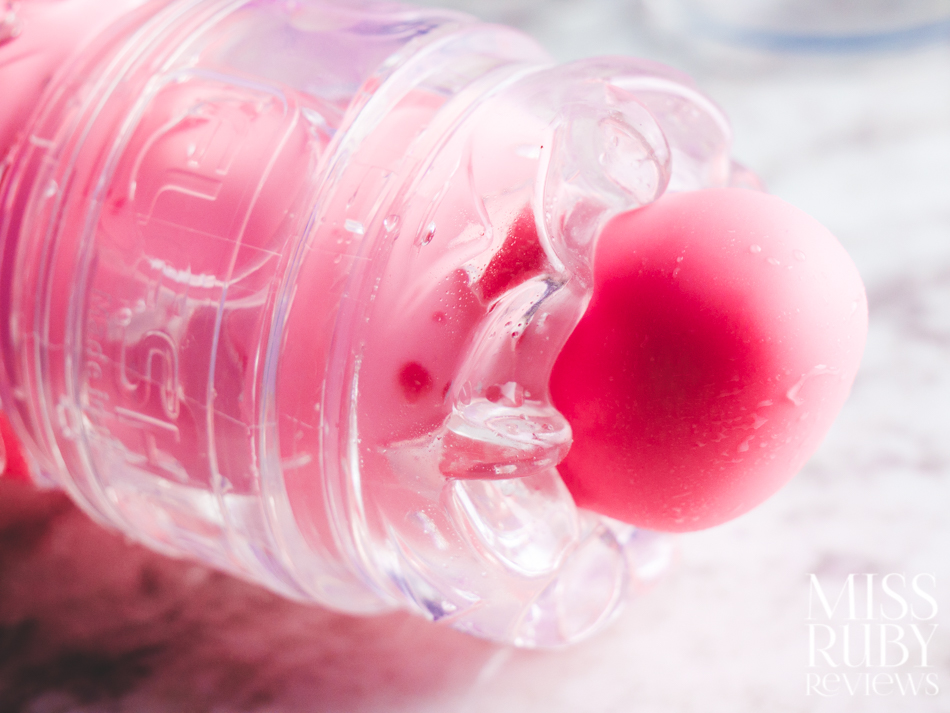 Overall – Fleshlight Quickshot Vantage review
The Fleshlight Quickshot Vantage  is a success. It feels good, it's lightweight and discreet, and its clear design makes it great for partner play. Though there's a couple of drawbacks, at this affordable price you really can't fault this toy. If you're thinking about adding a stroker to your relationship, or want something discreet for solo play in your college dorm, this is a great one to consider.
You can pick up the Fleshlight Quickshot Vantage here.
See below for my Fleshlight Quickshot Vantage review summary.
Fleshlight Quickshot Vantage review summary
Overall Thoughts - 9.5
9.5
$50
PROS
Feels great
Fun to watch
Neutral design
Not super expensive
Easy cleanup
CONS
Can't squeeze main body
More intense textures found elsewhere
Shop Now