It turns out that Vibrator + Exothermic Heat = Happiness.
Physical Details | Material and Care | Packaging | My Experience | Overall
Physical Details
The L'amourose Rosa Rouge is one of those toys that I immediately wanted. At first sight (of webpage browse) I knew I had to have it. Red? Check. Fancy? Check. HEAT? Check.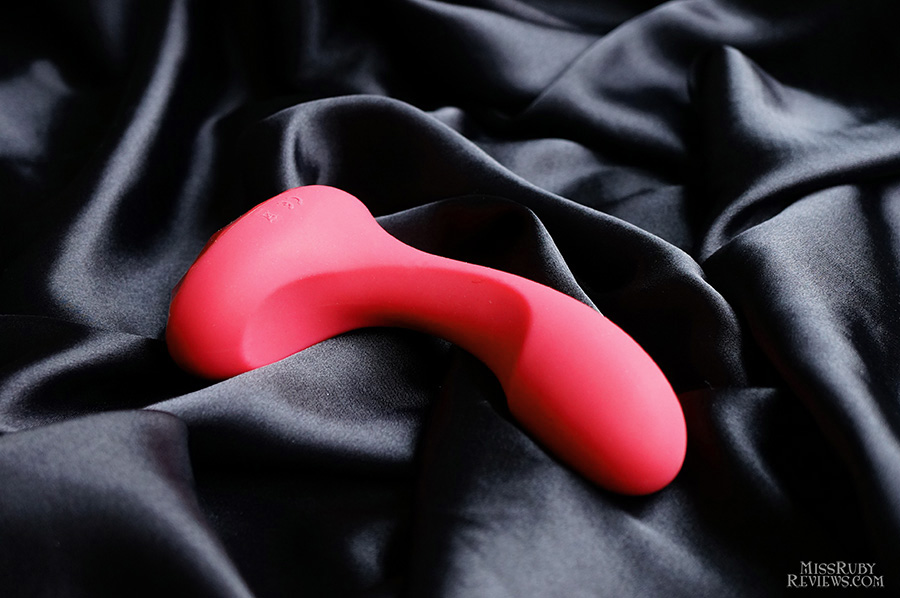 Design:
The L'amourose Rosa Rouge is a luxurious self-heating vibrator. Designed for G-spot stimulation (though totally capable of clitoral or prostate stimulation), it features a smoothly curved shaft and a pointedly-bulbous head. It's at the tip of this head where the heating happens; the shaft will heat up to (and maintain itself at) a cozy 40°-42° Celsius (or 104°-107° Fahrenheit).
The base is a bejeweled magnetic charging port, which doubles as a comfortable palm-sized handle. As a whole, it's a small-to-medium sized toy, with 4.5″ girth and 4.5″ insertable length.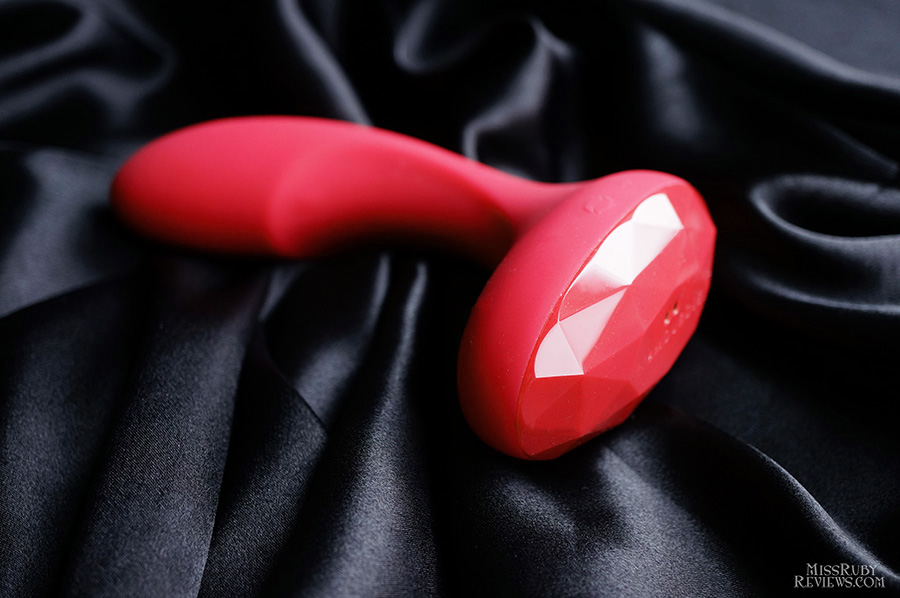 The colour itself is beautiful. While most pictures online depict it as a dark red (almost a burgandy), I find it to be a warm pinkish red. And while the non-warming versions of the Rosa model come in Emerald, Cerise, and Black, the Rosa Rouge only comes in this pinkish red colour. This isn't an issue for me, as I love this shade.
Though the surface of the Rosa Rouge is quite firm, it's not inflexible. The shaft can move and flex surprisingly well, which means it'll have some degree of bend with your body during thrusting.
Vibrations:
L'amourose vibrators don't disappoint me — I loved the L'amourose Prism VII's motor, and it's the same case here. When they're both turned on, I perceive them to have the same motor — both strong, rumbly machines. As with most vibrators, the vibrations are strongest near the tip of the head, the part which will make the most G-spot contact.
Surprisingly, the Rosa Rouge also has a secondary motor — right near the front tip of the base (in the picture below, the end opposite the + button). While this provides convenient rabbit-style pleasure to the clitoris while the shaft is inserted, it also makes the handle as a whole vibrate considerably. Keep this in mind if you (or your partner) has carpal tunnel or arthritis issues.
Noise:
The Rosa Rouge also makes the same amount of noise as the L'amourose Prism VII. You won't hear this behind a closed bedroom door or through walls. The sound is soft enough to be localized, which will be handy for those who have roommates.
Functions/Features:
To turn on, simply press the + button; the Rosa Rouge will turn on at the lowest setting. The heating function will turn on automatically (but it'll take about 3 minutes to reach its full heat). Keep pressing the + button to increase speeds, and press the – to decrease. To turn off, hold the – button. There's also a central ~ button; press that to go through the 9 patterns. The patterns use both motors (ie, wave patterns that alternate between the main shaft motor and the base motor). To turn off the heating function, press and hold the middle ~ button.
As with any good luxury sex toy, the Rosa Rouge is completely waterproof, so you can take it in the shower, the bathtub, etc. It's also rechargeable, so you don't need to worry about purchasing batteries.
Material and Care
The L'amourose Rosa Rouge is made from 100% medical grade silicone. The silicone is silky and matte to the touch (not sticky). The base itself is ABS plastic. This means that it's totally bodysafe — it's non-porous and free of toxins. For everyday cleaning, I rinse mine in warm, soapy water. If you'd like to sterilize it instead (ie, for shared use or anal use), wipe it down with a 10% bleach solution and rinse thoroughly.
To charge your toy, plug the USB or wall adapter into your bejeweled base. Then place the Rosa Rouge so that it rests on top of the base. You'll notice a flashing light coming on, indicating that it's charging; this will change to a solid light when it's fully charged. It'll take about 2 hours to fully charge, which will get you about 3 hours of playtime.
As with any silicone toy, avoid using a silicone-based lubricant. Opt instead for a good water-based lubricant, such as this one.
When not in use, store it in the velvet pouch that it comes with.
On the off chance that there's a factory defect, this product comes with an 18-month warranty/lifetime quality guarantee.
Packaging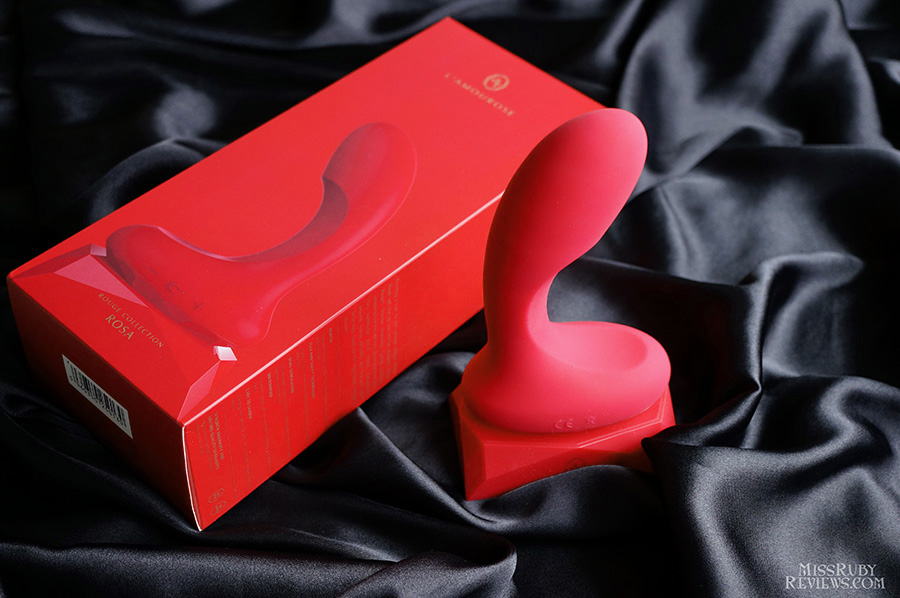 The L'amourose Rosa Rouge's packaging is divine. The red outer box is clean and sleek. Inside the red box, there's an additional sturdy black box. And inside this one, you receive the Rosa Rouge, the charging base, a USB charging cable plus wall adapter, an 18-month warranty card, the instructions booklet, and a lovely black velvet storage pouch.
While I adore the black velvet pouch, I wish it was a tad bigger — everything just barely fits.
My Experience with the L'amourose Rosa Rouge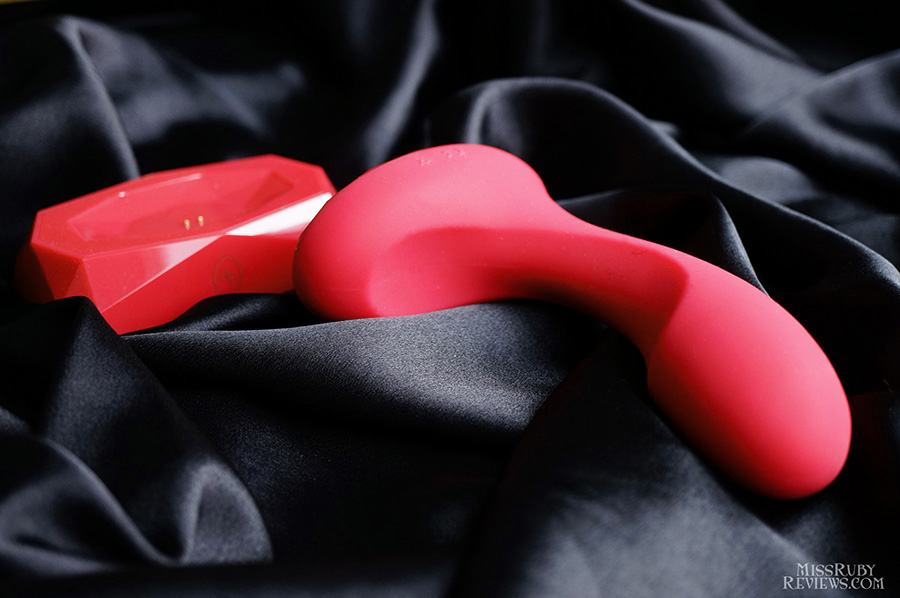 Okay. So you know that feeling when you dip into a hot bath?  Now, I don't know if you've noticed this, but when I step into a perfect bath, all my muscles relax and they sort of turn into a lovely jelly. And when the warm water engulfs my vulva and my clitoris, the whole area feels divine.
What I'm getting to is that the heating function on the L'amourose Rosa Rouge is essentially a small, portable, perfectly-hot bath. It's not wet, but pressing the heated shaft against the vulva has the same effect. My muscles relax and feel sublimely happy. This makes for unexpectedly-amazing foreplay; it definitely pulls your vulva into a relaxed, aroused state.
Coupled with its strong vibrations, the L'amourose Rosa Rouge has been able to give me quick, effortless clitoral orgasms.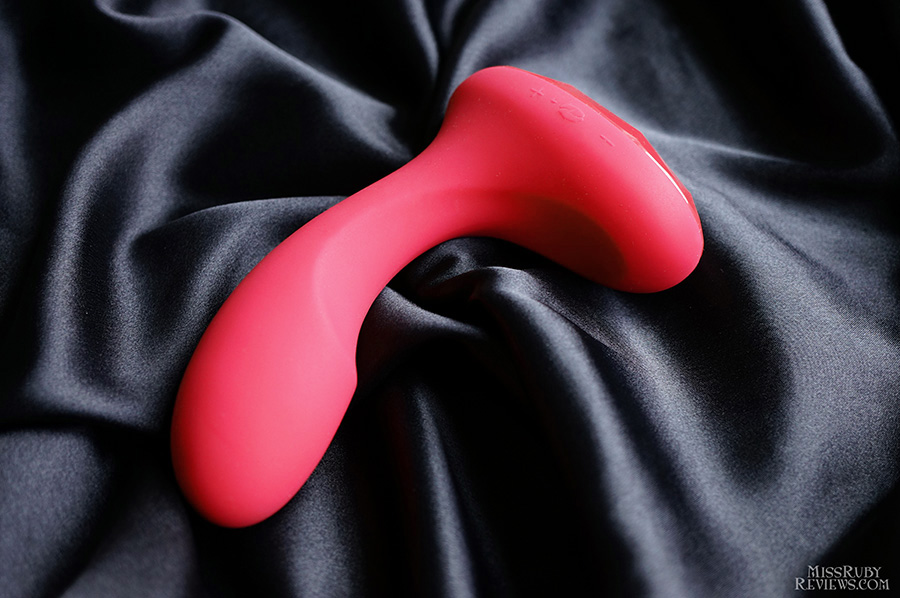 But of course, this is a G-spot vibrator. When used internally, the Rosa Rouge hasn't disappointed me. The first time Mr. Ruby and I used it together, the G-spot sensations were so intense that I started crying (that caused a worried interruption of "those are good tears, right?" from Mr. Ruby). It was just ridiculously pleasurable. That curved shaft, plus the warmth, locate the G-spot with ease and milks it expertly.
The only complaint I have is that I'm not a fan of the motor in the handle. It's not that I don't appreciate rabbit-like toys — I do, really. It's just that I appreciate having a non-vibrating base. Though Mr. Ruby finds the palm-sized base to be a comfortable handle, the vibrations bother the bones in my wrist too much, which is really a pity. But if you don't have any outstanding issues like carpal tunnel syndrome or arthritis, you likely won't be bothered by this.
Overall
The  L'amourose Rosa Rouge is a versatile product. It pushes the vulva into relaxed arousal with its heating function, it doubles as a clitoral vibe, and it provides fantastic G-spot stimulation. I absolutely adore the heating function and recommend it for that reason over the non-heating version.
To buy the L'Amourose Rosa Rouge, here are some recommended stores: 

Peepshow Toys
($199 plus 10% off discount with code RUBY)

Lovehoney UK
(£129 plus 1-year happiness guaranteed policy)

Lovehoney Canada
($289 CAD and 1-year happiness guaranteed policy)

Lovehoney EU
(€224 
and 1-year happiness guaranteed policy)