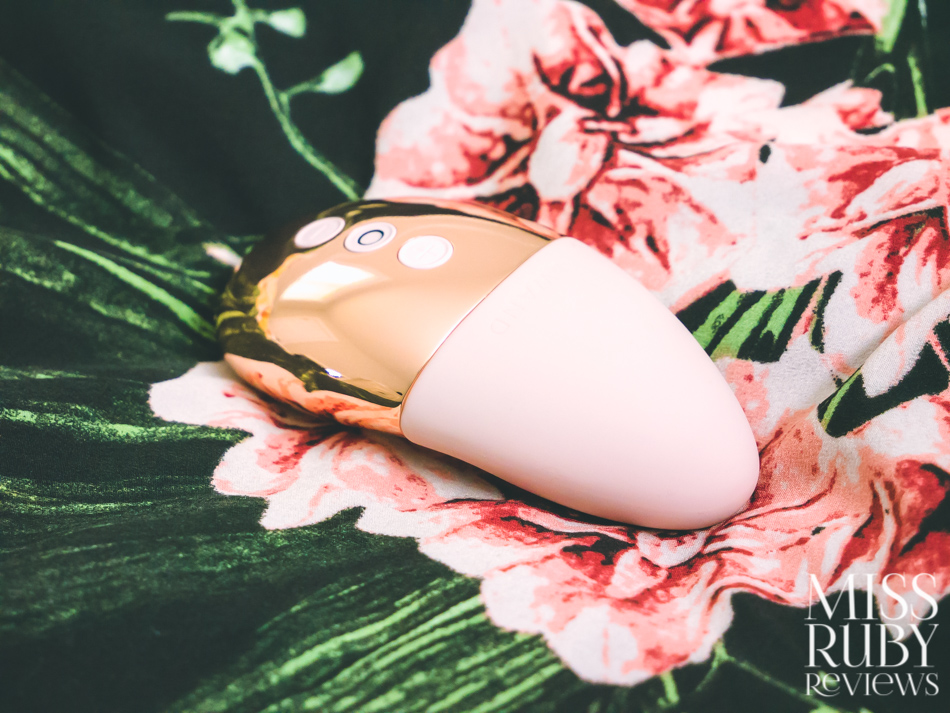 SUCH beautiful colours! But is that enough… Read on for my Le Wand Chrome Point review!
Design | 360° View | How to Use | Packaging | Material and Care | My Experience | Overall
Design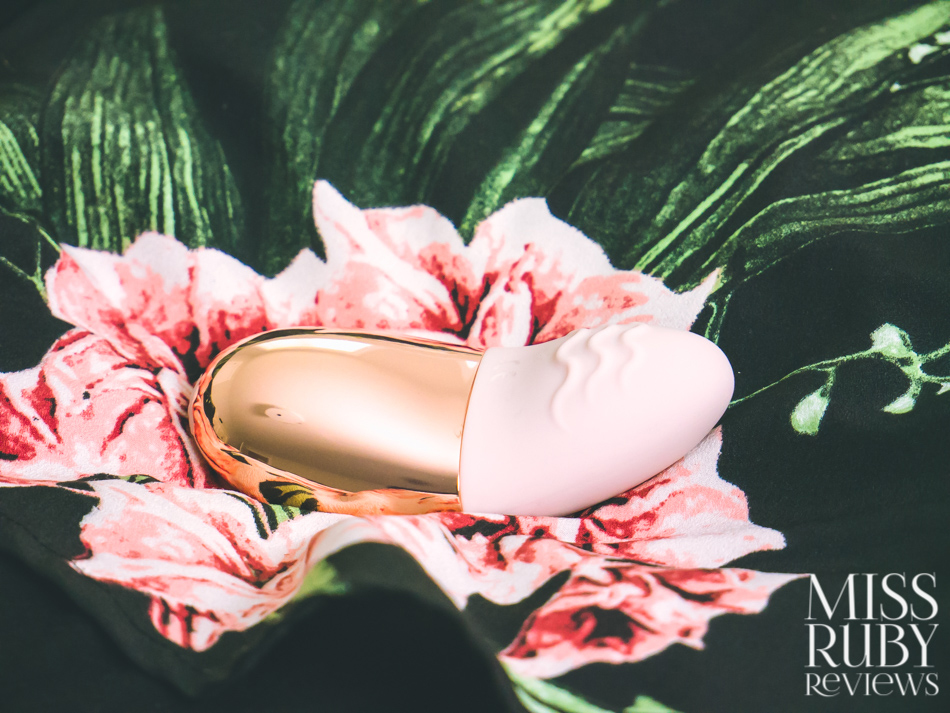 The Le Wand Chrome Point is a very elegant vibrator.
Designed for clitoral use, the Chrome Point is a weighted bodysafe vibe. And when I say weighted, I mean it. This baby clocks in at 182 grams, which feels considerably heavier than other vibrators this size. The decision to weight this toy isn't very common in sex toys. On the one hand, a toy that's heavier than it should be a struggle for people with arthritis or mobility issues. But on the other hand, a weighted toy feels instantly and inexplicably more luxurious and durable than something lighter.
Features
Despite its weight, the Chrome Point is a compact little vibe with a lot of features. You get 6 intensity levels with 15 vibration modes for each intensity (1 steady & 14 patterns), giving you more versatility than you'd probably ever need.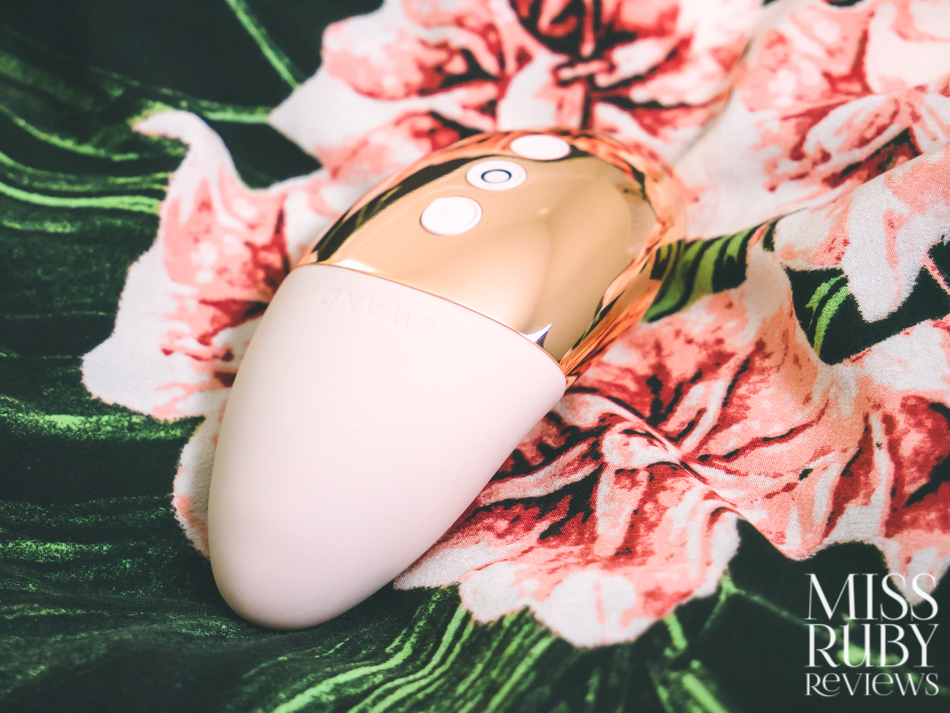 Design-wise, the Le Wand Chrome Point is sleek and streamlined. There's a pointed oval shape and curved lay on shape, which makes this comfortable to hold against the body. The metal handle has 3 simple buttons (+, O, and –) and I found them easy to use. The silicone tip of the head is also deliciously squishy and features a wavy textured underside. Combined with the stunning colour options (rose gold metal with blush pink silicone, or black metal with black silicone), the overall presentation is lovely.
It's also waterproof and has a travel lock feature to boot.
Hey Siri?
Lastly — shape-wise, I think the Le Wand Chrome Point bears a striking resemblance to the Lelo Siri  — it has the same curved and egg-shaped design, silicone tip, and a non-silicone handle. You've got to wonder if that's where they got their design inspiration from… seeing as there's an obvious pattern developing with this company. I also thought they piggy-backed off the Magic Wand's design with the Le Wand, their flagship product. Their new Le Wand Chrome Baton also looks a lot like the Crave Flex, and the Le Wand Chrome Duex is similar to the Crave Duet Flex. There's only so many times you can "draw inspiration" from other companies' designs before you start to get a copycat name for yourself, and (in my opinion) Le Wand is certainly being a copycat here. It seems like Le Wand's design team chooses an already-existing popular toy, then tweaks the design just enough to call it their own. That's not great design work.
360° View
Click and hold the image above to move it around.
How to Use the Le Wand Chrome Point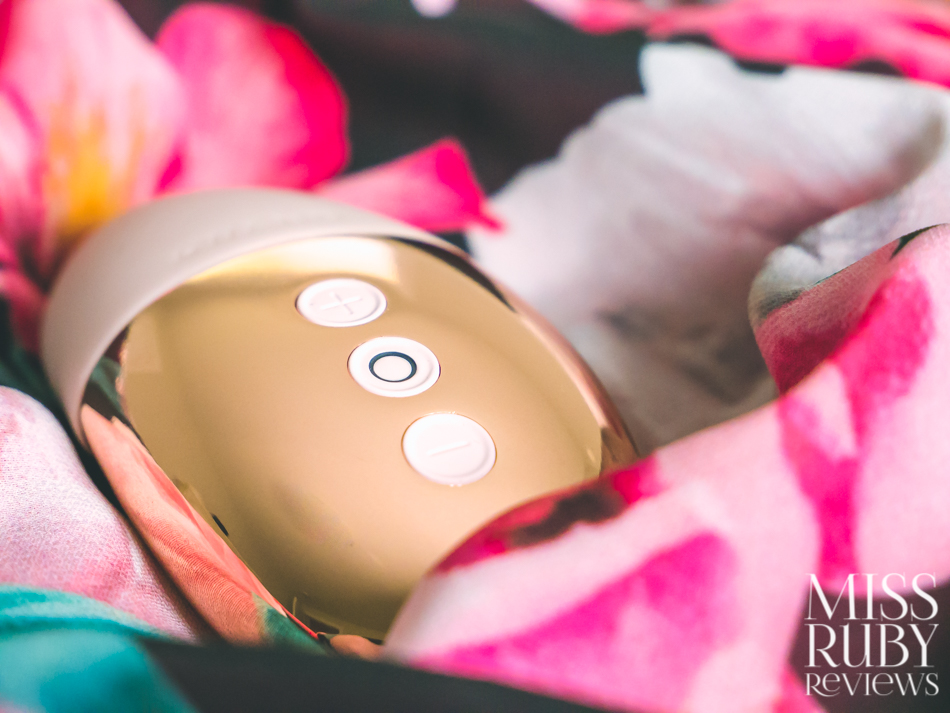 To turn it on, press the + button. The Le Wand Chrome Point will turn on at its lowest steady speed.
To increase or decrease intensity, hit the + and — buttons.
To cycle through the 15 vibration modes, hit the O button in the middle.
Press against your body. While designed for clitoral use, there's nothing stopping you from using this against nipples or a penis. This toy isn't suitable for penetration though.
To turn off the Le Wand Chrome Point, hit the — button for a few seconds.
To travel lock your toy, turn your toy off. Then press + and — buttons at the same time for 5 seconds. Do the same to unlock it, or simply charge it. This travel locking feature is a lifesaver when you're worried it'll accidentally turn on at a bad moment.
Packaging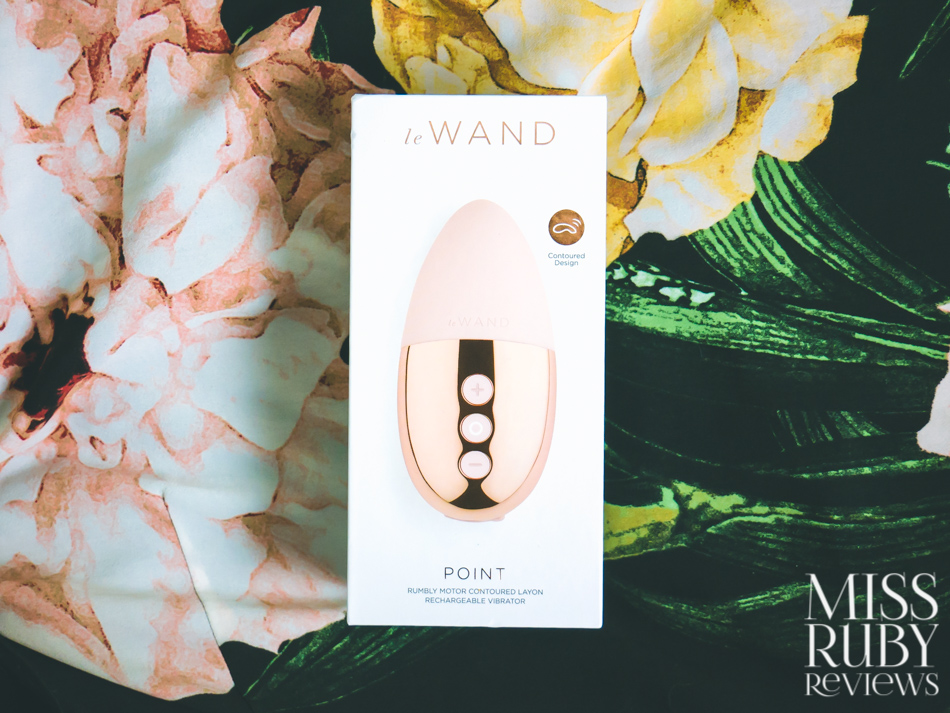 The Le Wand Chrome Point is packaged simply and elegantly. Inside the box, you receive the Chrome Point, a manual, a USB charging cord, and a fabric drawstring pouch.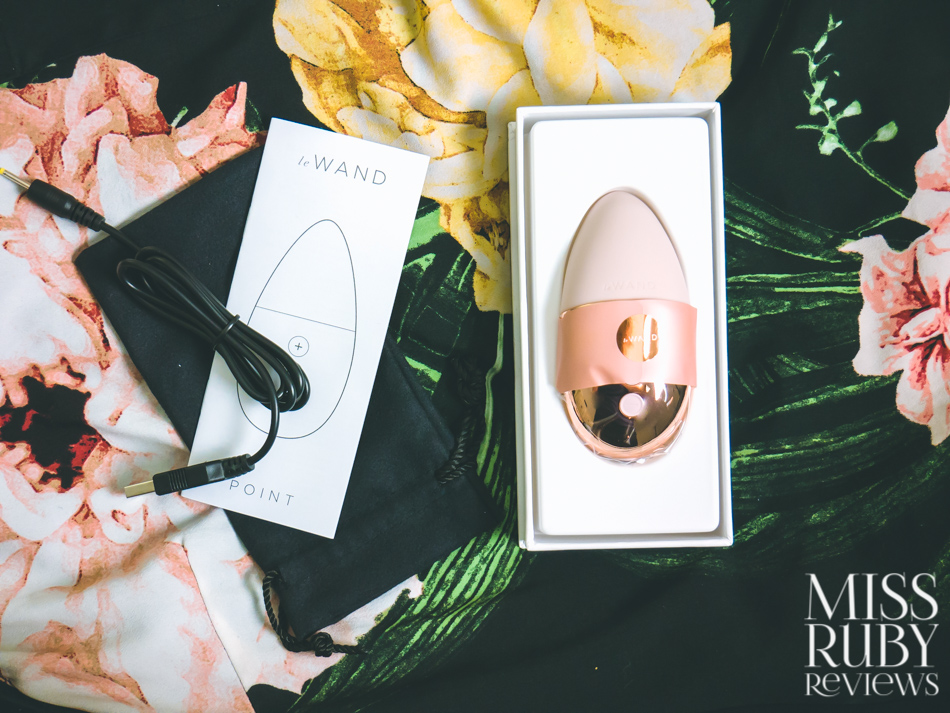 Material and Care
The Le Wand Chrome Point is made with chromed steel and silicone.
Chrome-plated steel isn't as durable as pure stainless steel (like what's used in the njoy Pure Wand), but it's shinier. It's unfortunately easier to scratch and show marks than stainless steel, making it a less expensive material which I guess is why Le Wand used it. It's still body-safe though, but I recommend treating it with care because I found it to scratch and dent very easily.
The top part of this vibe is made with silicone, which is non-porous, non-toxic, and bodysafe.
To clean, Le Wand recommends washing with a mild silicone-safe cleanser before and after use. I just use my regular hand-soap, but you can always buy something like this as well.
To charge, plug the USB charging cable into the base of the Chrome Point (there's a little silicone flap that comes out), and then plug into your computer or a USB wall adapter. A full charge will take about 90 minutes.
My Experience with the Le Wand Chrome Point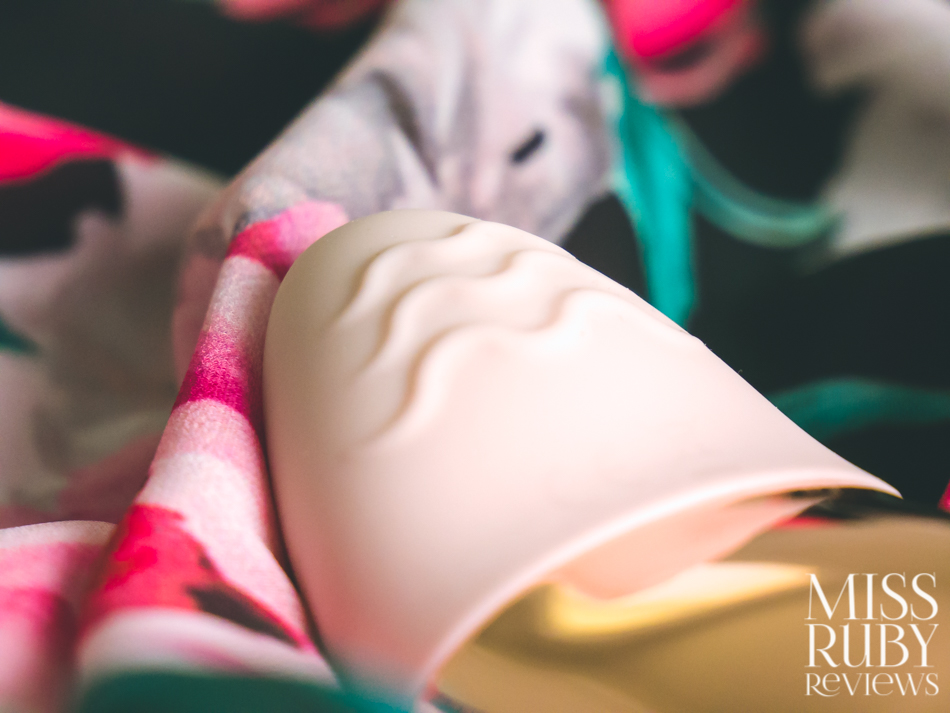 The Le Wand Chrome Point does a lot of things right, but it also falls short.
Design-wise, things come together well. The curved shape is great for bending around the pubic mound to find the clitoris. The little wavy ridges on the silicone underside are divine for textured play. The controls are really intuitive — the + button is the easiest one to access when holding it, and it doesn't take too long to turn it off if you're in a rush.
Vibrations?
Vibration-wise, things start to go awry. Don't get me wrong — the Le Wand Chrome Point has moderate strength (7/10). It also has some rumble (though also some buzz). The vibrations are strongest at the tippy tip and the wavy underside. The problem is that they also travel. The silicone topside gets some vibrations, and a lot of them disperse into the metal handle. That means that even holding this for 30 seconds makes my hand feel funny and numb. If you have carpel-tunnel, this would probably be uncomfortable.
It's a shame because if all the vibrations were properly compartmentalized and focused at the tip, this vibe would be stronger. (It's easier said than done, of course — almost all vibrators have some level of dispersion into the handle). But I think the Chrome Point's compact design and metal body might increase this vibration dispersion, which is unfortunate. As a result, I'm left wishing there was a bit more oomph to this toy.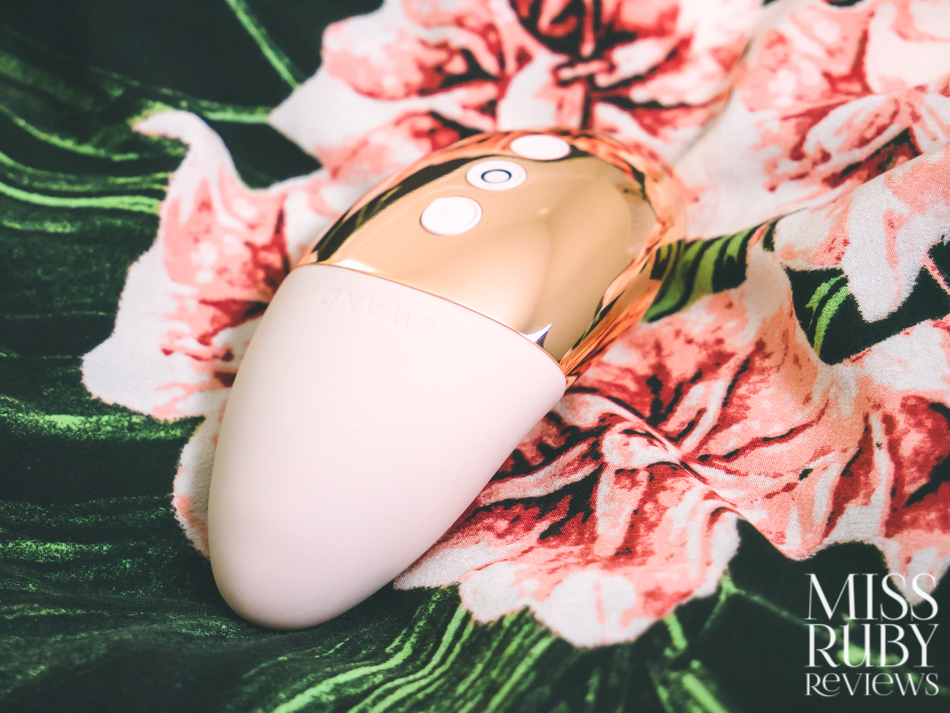 All said and done, though, orgasms were certainly possible for me with this vibrator, and I think it could be a pleasurable toy for some. For me, though, orgasms haven't come quickly with this toy  and they tend to be weaker ones.
On the plus side, Le Wand Chrome Point is a very quiet toy. Even at the highest level, it's hushed and discreet. There's absolutely no way this could be heard through walls.
The price…
But at $125 USD, this is a pricey toy, and there are rumblier alternatives like the We-Vibe Touch, which I reviewed here and is only $99 USD. If you really want to save money, you could also opt for the $49 FemmeFunn Ultra Bullet (reviewed here), which is super strong. Neither of those are as glamorous or beautiful though, so in the end your deciding factor might be the Chrome Point's beauty.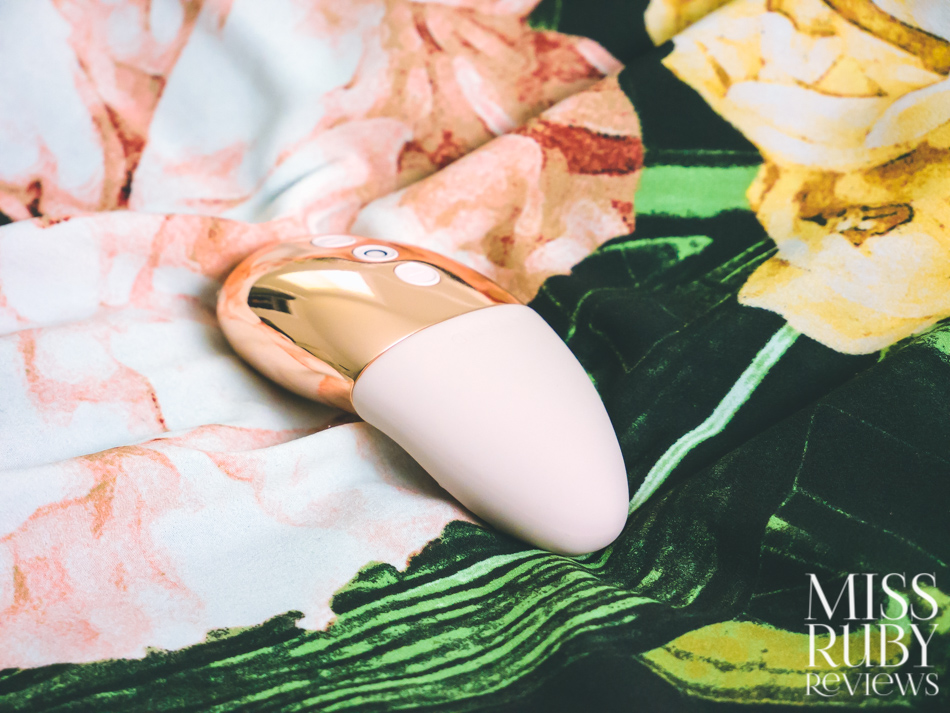 Overall – Le Wand Chrome Point review
The Le Wand Chrome Point is a beautiful toy, one that's bodysafe, waterproof, and intuitive. It's not the strongest it could be, though, and I think partly that's due to vibration dispersion in the metal handle. With cheaper alternatives available like this and this, you might want to look elsewhere. But if looks are super important to you, and you only need a vibrator with moderate strength, then perhaps this is the one for you.
You can pick up your own Le Wand Chrome Point at Peepshow Toys. Why do I like Peepshow Toys? They ship internationally, only carry body-safe products, and you can get a 10% discount off your whole purchase with coupon code RUBY. 

See below for my Le Wand Chrome Point review summary.
Review Summary
Overall Thoughts - 7.5
7.5
$125
PROS
Elegant design
Waterproof
Rechargeable
Quiet
CONS
Vibrations travel to handle
Wish it was stronger
Design doesn't seem original IMO
Shop Now