The Vibratex Mystic Wand Rechargeable is back with a new look!
Physical Details | Material and Care | Packaging | My Experience | Overall
Physical Details
I haven't reviewed the previous Mystic Wand models. They always looked a bit too Barbie-esque for me. So I was pleasantly surprised when I discovered that the new version is comparatively sleek and black. Priced at only $69 at Peepshow Toys, I was very curious to see how this wand holds up.
The new Mystic Wand Rechargeable boasts a more modern look than previous versions. Its firm, curved handle allows for a comfortable grip. The accordion-like neck is flexible, meaning that the head will move to the side when pressed against. The head itself is very firm, with little to no give, and is lined with a striped indented pattern (which can be used to add some textured sensation, if you choose). And, overall, the whole vibe is fairly small and lightweight, only reaching 9 inches tall. Compared to other wand-style vibes I've used, it's tiny, and should be a nice change for people whose wrists get tired from heavy club-like vibes.
Functionally, this wand is different from other Mystic vibes currently on the market because it's rechargeable. On a 3 hour charge, this thing lasts ages. And, if the battery drains in the middle of a play session, you can just plug it in and continue.
So what about the vibrations? Overall, the Mystic Wand Rechargeable delivers moderately-strong vibrations (7.5/10). And they're moderately rumbly, so your hand/clitoris shouldn't get immediately numb from buzzy surface-level vibrations. So that's awesome.
It's also not too shabby when it comes to noise level. It's certainly noticeable when you're in the same room as it, but it can't be detected through walls. So, if you have flatmates, don't worry about the sound waking them up.
Material and Care
The Mystic Wand Rechargeable has a silicone and ABS plastic construction. The important parts are silicone (honestly, I can't even identify any ABS parts, except perhaps the accordion neck).  It's also splash-proof, which means you can't submerge it in water (so don't take it in the bath), but you can wash it under the tap. To clean, I recommend rinsing it down with warm water and soap (or an anti-bacterial toy cleaner, if you have one on hand). Unfortunately, the Mystic Wand Rechargeable is covered in seams…. There are so many nooks and crannies for dirt to get in, and this makes it time-consuming to clean. So a few points down for design.
If you'd like to use lubricant, be sure to only use water-based ones (like this one).
Vibratex doesn't include any storage pouch, so right now mine is living in a little plastic bag. Because it's silicone, it won't melt or anything like some other toy materials, but I like to keep it in its own bag so it can avoid dust. And this thing gets dusty…the velvety silicone surface, which is very reminiscent of LELO's silky silicone texture, attracts lint and dust like nothing else.
Packaging
Okay…okay…bear with me. I need to get this out of my system.
Visually, the Mystic Wand Rechargeable's packaging is fine, if not a little 1990's or hair-dryer-y. Inside the box, you'll find the wand, an instruction manual, a USB charging port and a wall adapter. But when you get up close to the box, you get to read this ad copy:
Mystic: A curvy, talented, lover shaped like your body that never tires.  The Mystic Wand Rechargeable is a pleasure to hold and cozy up with. Silent, strong, with a body-friendly curve that's open to possibilities. Easy-to-reach buttons and velvety silicone in all the right places. Never runs out of power. Fits in a handbag."
The personification of sex toys annoys me to no end.  It's why I never refer to my dildos as "he" and would never ever compare a sex toy to a human being. And this isn't new. Previous Vibratex ad copy described older Mystic Wand models as "a secret, trusted lover that goes everywhere you do." I get into my reasons here, but my frustration boils down to (a) sex toys are not human and (b) comparing sex toys to humans can work to alienate partners (it starts to imply that sex toys are interchageable/ comparable with human partners, so if you use a sex toy, you're essentially cheating).
It's also just tactless to have a go at partners whose fingers get tired from pleasuring you. It's the same vein of sex dolls with ad copy like, "She'll never say no or that she has a headache!"  Attention Vibratex: It'd be great if you didn't personify your vibrator! It's just kinda weird.
My Experience with the Vibratex Mystic Wand Rechargeable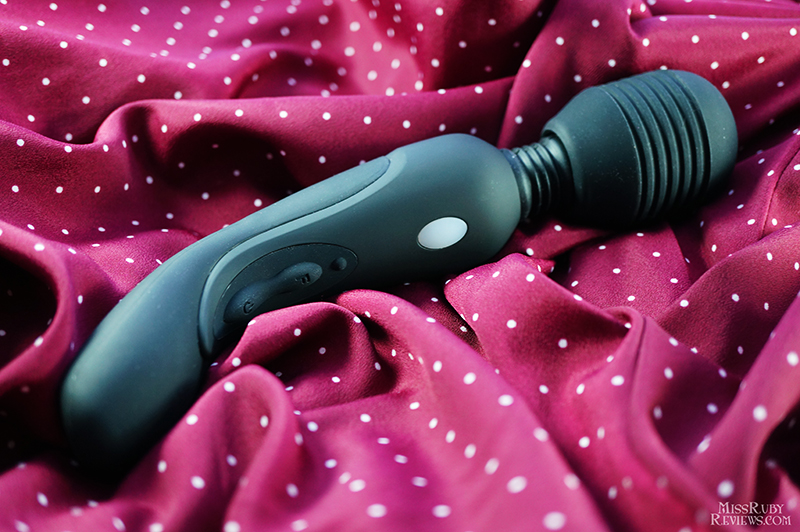 First, my quibbles.
I'm not usually one for textured stimulation on my clitoris, so the striped impressions on the head don't do much for me. In addition to the endless amount of seams on the body, the crevices tend to collect liquid/dust/whatever in a way that I'm not used to with more sleek, streamlined designs.
Another issue I run into is buttons. This toy is covered in buttons. On the inside of the curved handle, you get the ON/OFF power switch and a Function switch (which cycles through 3 steady states and 3 patterns). Then on the outer edge of the handle, you have another TWO Function buttons…one near the end, and one near the head.  In short: Vibratex has you covered if you usually struggle with cycling through states. On the flip side, these buttons are super easy to press, meaning I keep accidentally pushing them because it's quite impossible to avoid them.
Despite this, I still enjoy this vibrator because it still gets the job done. Even with my power-hungry clitoris, I can orgasm fairly easily with the Mystic Wand Rechargeable thanks to its moderately rumbly nature. I can't reach my 3rd or 4th orgasm with as much ease, say as the Tango, but it's still satisfying. And this vibe provides a nice, even, broad stimulation that bullet vibrators can't. In other words: this vibrator still does the job, and it does it well.
I especially enjoy how light it is. It's only 180 grams and, if you have arthritis or you take a long time to orgasm, having something this light will make your life easier. Many wand-style vibes feel like lethal weapons, with their heavy weight and their club-like structure, but this tiny one can't hurt a fly. (okay, maybe a fly. Nothing much bigger though). So props to Vibratex for keeping this wand light!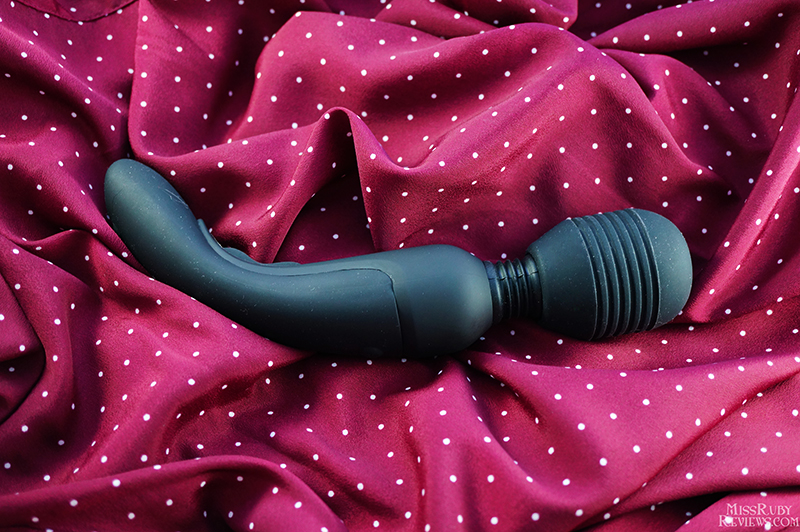 Overall
Despite my quibbles, I like this vibrator. Yes, I would love to see less seams, less buttons, and less this-is-the-perfect-lover-type ad copy. But for only $69, you get a decent wand, one that's rechargeable, fairly strong, and fairly quiet. And for people who are looking for a bodysafe and rechargeable wand vibrator, but don't want to dish out hundreds of dollars, this is a decent entry-level choice.
To buy the Mystic Wand Rechargeable, head on over to Peepshow Toys. And for 10% off your whole purchase, use the coupon code "RUBY"

Last Updated on March 14, 2020 by Miss Ruby