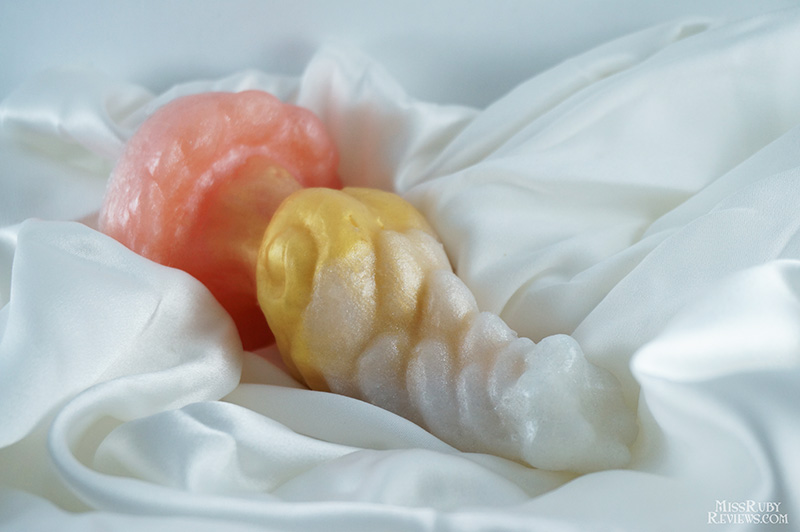 Dildo ahoy!
Physical Details | Material and Care | Shipping and Packaging | My Experience | Overall
Physical Details
This fascinating work of art is from Tails & Portholes. Some of my long-time readers may remember  Brandie, a creative dildo entrepreneur, from last year's review of the Nereid. Since then, she's come out with multiple new designs, attracted hundreds of buyers, and has expanded her business to include 3D-sculpted toys.
This particular dildo is called the Poseidon. In short, it's not your usual standard phallic dildo. It's quite unlike anything I've owned before. Covered in bumps, ridges, and swirls, this dildo is definitely one for people who enjoy a heavily-textured sensation.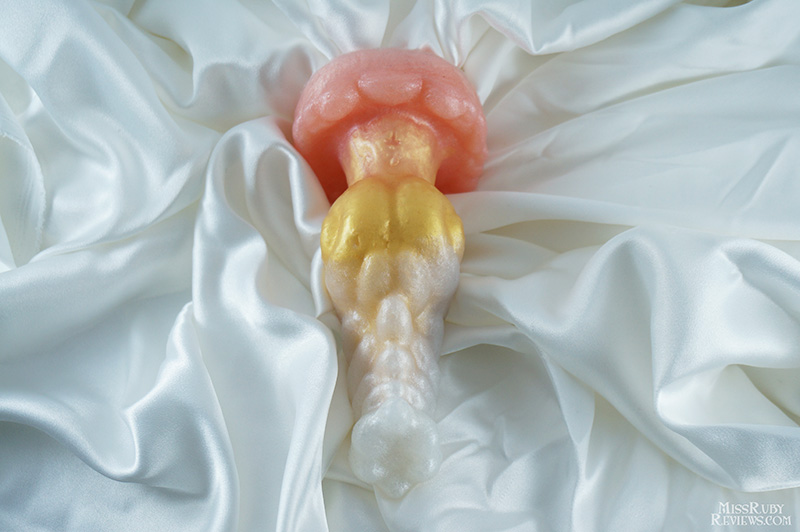 The head of the dildo is made up of six bulbous points that join together. From there, the shaft becomes a series of horizontal ridges running down the length. They expand and swirl to form a sizeable knot at the base of the toy before receding into the base. Even the base has a rim of pretty ridges (the base isn't just for glitter though: it makes this toy both safe for anal use and O-ring harness compatible). The overall result is an eye-catching design, one that's subtly sexual and may not immediately be identified as a dildo.
The Poseidon is deceptively small. The one I received stands at about 5.25″ tall, which only leaves about 5″ of insertable silicone. While the head is a mere 1.25″ diameter, it quickly increases to 2″ at the knot. In other words: this is a short but filling design.
Although Brandie doesn't officially offer suction-cupped dildos anymore, this dildo's base manages to still stick onto flat surfaces with strong adoration. I think this is accidental, and so don't expect your Poseidon to behave the same way, but mine is functionally suction-cupped.
Unlike previous designs, the Poseidon is not dual-density silicone. I think I was a bit spoiled by the Nereid's VixSkin-like dual density structure, and I definitely miss it in the Poseidon. That being said, the Poseidon's shape doesn't look like it could functionally be made with dual-density. Instead, Brandie uses a range of silicone firmness. For this particular dildo, I asked for mine to be made in soft (which works out to Shore hardness 00-30). I find that having a softer silicone helps to make a wide girth (cough, 2″ knot, cough) more manageable. That being said, you're generally not able to feel texture as well when you have a very soft silicone. So if you absolutely need to feel every ridge, I would recommend purchasing this in a firm silicone.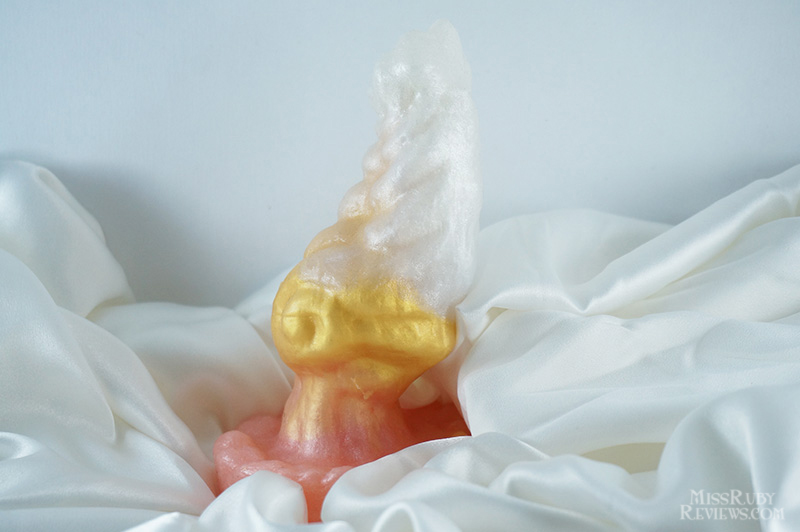 The customization doesn't end there. You can choose one of 8 beautiful pre-set color combinations OR ask Brandie to make one using a selection of up to 3 or 6 colors of your choice (see the "Colour" option when checking out). When Brandie approached me about reviewing this toy, I asked for "pearly white to pale gold to peachy peach."  I'm really pleased with the result, especially that shade of gold. Dang…
Material and Care
Tails & Portholes makes all their dildos from platinum-cure silicone. There are a few different kinds of silicone, but platinum-cure (sometimes called Premium) is the one you want for your dildos. In fact, 100% silicone like this is really the only kind of surface you want in your colorful dildos. Other materials are safe too (ie, stainless steel and boroscilliate glass), but if your dildo has colour, it'd better be silicone. Being made of silicone, this toy is non-porous, hygenic, and free of phthalates.
I recommend that you boil your Poseidon for 15 minutes before your first try. After that, cleaning with warm soapy water will do the trick. If you're going to use this anally or share it with someone else, then stick to boiling or wiping it down with a 10% bleach solution to make sure it's completely sterilized.
Make sure to avoid a silicone-based lubricant. Opt instead for a good water-based lubricant like one of these.
I store my Poseidon in the fabric drawstring bag included.
Shipping and Packaging
Shipping from Tails & Portholes is fast and discreet. I received a plain brown box with no outside indication that a dildo was stored inside. Inside, the Poseidon was in a light fabric drawstring bag. Brandie also included a complimentary silicone seastar and two silicone scale necklaces.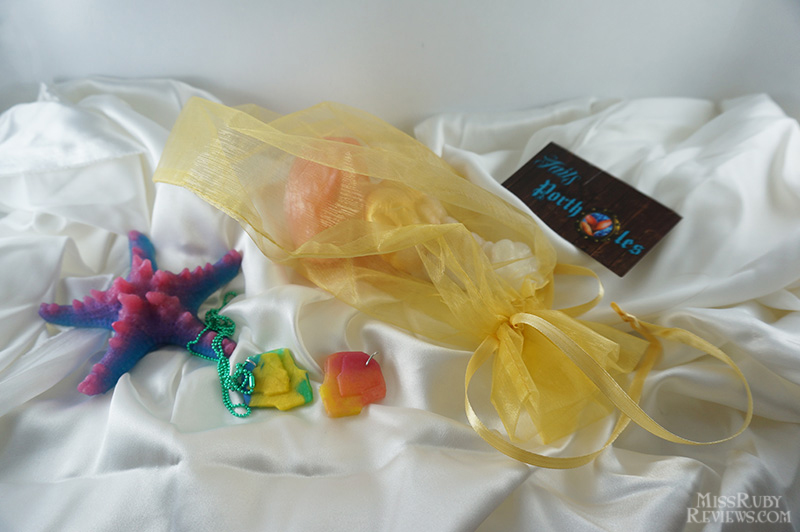 My Experience with the Poseidon
The Poseidon really is deceptively small. In person, it really looks tiny, but it certainly doesn't feel tiny.
The 2 inch knot makes this surprisingly girthy. When it comes to diameter, 2 inches is my max; I can't really comfortably insert anything over that. When it comes to this dildo, though, the knot really works for me. It creates that much-desired "pop" sensation when it slides all the way in and, once it's in, it's snug. When fully inserted, the knot presses against the G-spot and, thanks to its expansive width, it doesn't leave much space untouched.
I'm not a huge fan of thrusting with knotted toys because, once they're fully inside, they tend to resist being pulled out. Instead, for stimulation, I personally enjoy twisting them in circular patterns. The Poseidon is no exception to this rule: once it's in, twisting feels amazing on the G-spot. I've never had a G-spot orgasm so, for me, this means that my clitoral orgasms get to feel particularly strong.
In soft firmness, the texture feels subtle, but not so subtle that I can't pick it up or enjoy it.  Again, for people who really need to feel every ridge and bulge, I recommend going for this in firm.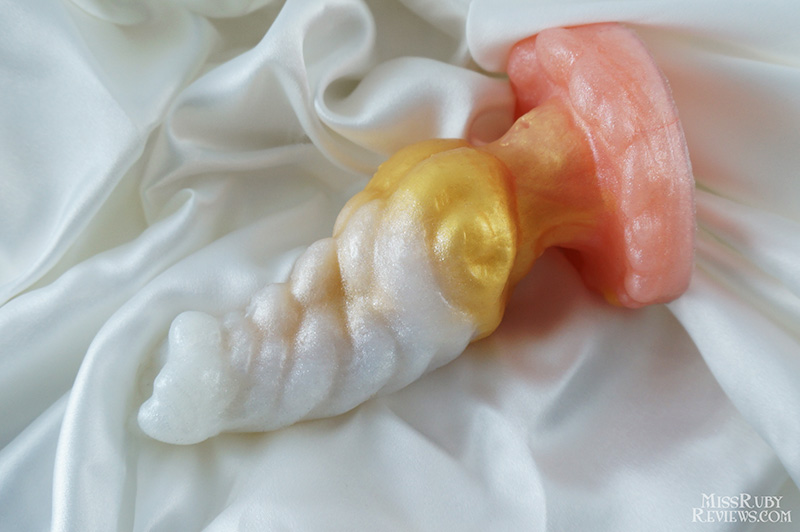 Any issues? The 1.25″ section of shaft between the knot and the base can make the Poseidon feel just a bit too floppy. During thrusting, it's sometimes difficult to direct the body of the dildo, as things are so bendy. This isn't a huge deal, mind you, and shouldn't come up at all if you get the Poseidon in firm.
I also think that some people might find this toy just a bit too girthy. Two inches of diameter might be challenging for some users, and even I had to work my way up to. This being said, I noticed one or two "Mini" Poseidons on Tails & Portholes' Etsy page, which have a smaller overall diameter. I recommend picking up one of those instead if you are unsure if you can manage the 2 inches.
Overall
In short, the Poseidon is a great fantasy-themed toy to add to the collection. The customization process is something to revel in, but the dildo itself makes a great short, girthy, and heavily-textured dildo. For texture-queens and texture-kings, definitely opt for the Poseidon in Firm, if you can. And for those who need something a bit smaller, consider purchasing the Mini version of this toy.
To buy the Poseidon, head on over to Tails & Portholes. And for only $40 USD, you can't really go wrong.