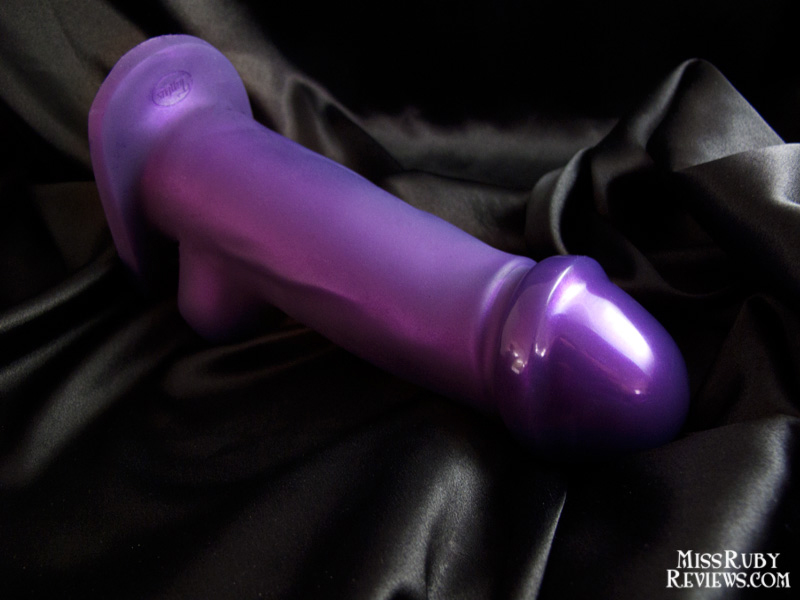 Okay, okay… I'm not sure if you actually have to fantasize about a great big purple dinosaur while using it. But, if any of you secretly have a burning urge to do so, now is your time to shine.
Physical Details| My Experience | Overall
Physical Details
Design:
I love the Tantus T-Rex's design. I love how bizarre it is.
As far as peculiar-looking dildos go, the Tantus T-Rexis really up there. When I first held the T-Rex in my hands, I had a huge grin plastered on my face. It's just a really fun-looking piece of work. A massive shiny head sits atop this purple pillar, detailed with a slight urethral dent, a prominent coronal ridge, and a few frenulum folds. Then you get about 5 inches of a thick purple shaft before you hit these other-worldly looking balls. The shaft is beautifully detailed with thick veins and a line on the underside that runs down the middle of the balls. Lastly, at the very bottom is a large flared base, making this dildo anal-safe.
Unlike most dildos with balls, the Tantus T-Rex is O-ring harness compatible. Beneath the balls is a gap where you'll find just enough shaft to hold it with an O-ring. Tantus actually provides a large O-ring with the T-Rex just in case you don't have one that's monstrously huge.
And in case you can't gauge the true size from the pictures, this is one really big boy. Its insertable length is around 6 inches, which isn't huge as far as dildos go, but the girth made me bite my lip and wonder if I could even take this. The shaft is 6 inches in circumference, but the coronal ridge adds some extra to make it 7 inches. In other words? This isn't exactly for newbies, nor the faint of heart. It's not the girthiest toy I own, but it still requires a ton of warm-up for me to handle.
If you're not a fan of this metallic shade of purple, the T-Rex also comes in jet black and red.
Firmness: 
This is my first Tantus dildo that isn't in the O2 line, so it's my first experience with Tantus' single-density silicone. The Tantus T-Rex is noticeably firmer than their O2 line. Unlike the O2 line, there is very little give to it when you squeeze it with your fingers. The head doesn't seem any squishier than the rest of the shaft.
Because it is so firm and thick, there's also very little flexibility in the shaft. With some effort, the top half of the shaft can bend slightly in all directions, but not enough to bend it entirely in half.
Material and Care
The Tantus T-Rex is made from Tantus' 100% silicone. This means that, unlike other materials like jelly or rubber, the T-Rex is totally non-porous so it won't be growing bacteria in any micro-pores over time. It's also free of phthalates. You can even share the T-Rex between partners because you can completely sterilize it: you can boil it for 10 minutes or rinse it with a 10% bleach solution. Heck, you can even just toss it in the dishwasher. I simply keep my T-Rex hygienic by washing it with warm soapy water before and after each use.
If you'd like to use lubricant with this toy (and I suggest you do), use water-based lubricant. Oftentimes, silicone-based lubricant can degrade silicone toys over time.
In terms of storage, I keep mine dust-free by storing it in a large ziplock plastic bag in between uses.
Shipping and Packaging
Though you can buy Tantus dildos from several shops, you can also just buy from Tantus directly. Shipping from Tantus is quick. My order was placed on March 25th and I received my package on March 31st. I received a plain brown box and "Tantus" wasn't listed anywhere on the box.
The T-Rex is packaged in Tantus' standard clear plastic boxes. It's fun and tasteful and non-pornographic. Included in the packaging is a T-Rex-sized O-ring for your harnesses.
My Experience with the Tantus T-Rex
Sometimes my eyes are bigger than my vagina. When I first saw the Tantus T-Rex on Tantus' product list page, I thought "yup, sure will fit, noooo problem!"
Later on, when the Tantus T-Rex arrived and I held it in my hands, I was still pretty confident. It was only when I was moments away from actually inserting this big guy that I realized it just HOW big it really is. That large coronal ridge really adds to the girth.
So, in other words, my first session with this toy didn't go so well because it didn't fit. So, just like another unusually girthy dildo, I had to take a month to slowly work up to it by using progressively larger dildos.
If you get this toy and you also find out that your vagina (or butt) isn't as accomodating as you hoped it would be, I suggest doing the same. Slowly acclimatize your vagina by patiently using larger and larger toys over a period of a month or so, and occasionally try the T-Rex (with lots of water-based lube) to see if you're ready to accomodate it. Same goes for butt stuff.
So, how did this actually feel once I trained my vagina up a few levels? It feels very very very very very very full. This purple dino dildo specializes in giving me a stretched, full feeling, one that most average-girth dildos simply cannot.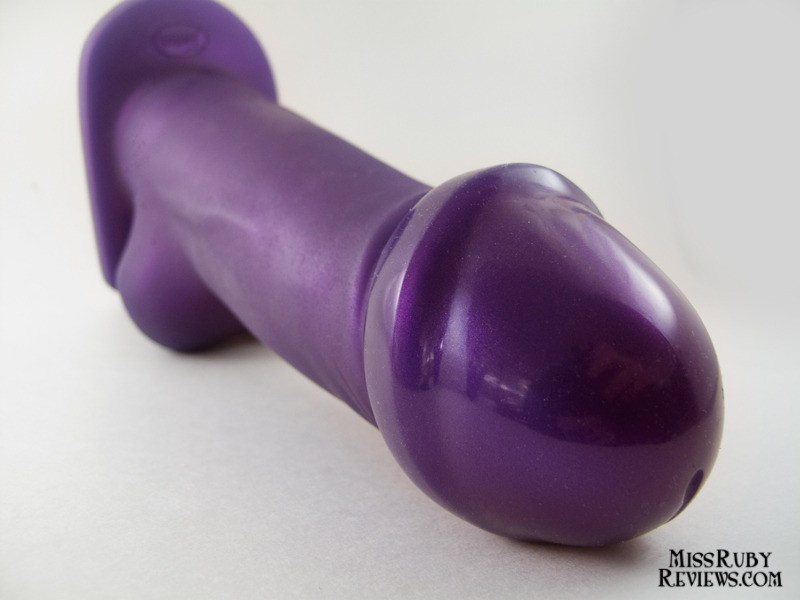 Because the shiny head on top is pretty hard, I don't like to use this toy for rapid deep thrusts. If I thrust in too deeply with too much force, it hits my cervix, and cervix hittin' is never sexy.
So, instead, I find that my favourite way to use the T-Rex is to do slow, shallow thrusts with the steep side of the coronal ridge hitting my g-spot. That steep coronal ridge, which makes the girth look so dauntingly large, is lovely for the g-spot. I was worried that I might find it to feel too sharp because it's so angular, but it doesn't feel sharp once inside. It simply juts out of the head with a lot of purpose: to make your g-spot happy. Plus, it's firm, which g-spots always need. This was surprising, seeing as this is a straight dildo with no obvious curve for the g-spot…I was not expecting specific g-spot pleasure at all.
Unfortunately, I did find a few downsides to our purple dino friend here. First, if your vagina is very very narrow, and you're not sure that you can work up to something of this girth, it may simply be too large for you.
Secondly, I find that the Tantus T-Rex is a pretty heavy dildo. I weighed it with my kitchen scale and found it to be 624 grams. So, if you have mobility issues or have arthritis, you may find this difficult on the wrists. Luckily, its large flat base means that you can just plomp this on the floor or a flat surface and lower yourself down onto it. It doesn't have a suction cup, so this method isn't foolproof, but I find that it works pretty well.
Lastly, that coronal ridge seems to catch on my pubic bone uncomfortably until it finds my g-spot. Once it gets my g-spot, I'm one happy camper, and when I add a good clitoral viberator, my clitoral orgasms with this dildo in me feel amazing.
Overall
Overall, the Tantus T-Rex makes for a solid toy for those nights where I'm up for a girth challenge.
I think you'll enjoy this toy if:
You enjoy girth and length
You enjoy your g-spot being wooed by a thick coronal ridge
You've been harboring fantasies about a purple dinosaur (or black dinosaur, depending on which color you choose).
You want to try having a giant dildo on your O-ring harness, thanks to the O-ring compatible base and the included ring.
To buy the Tantus T-Rex, head on over to Tantus!