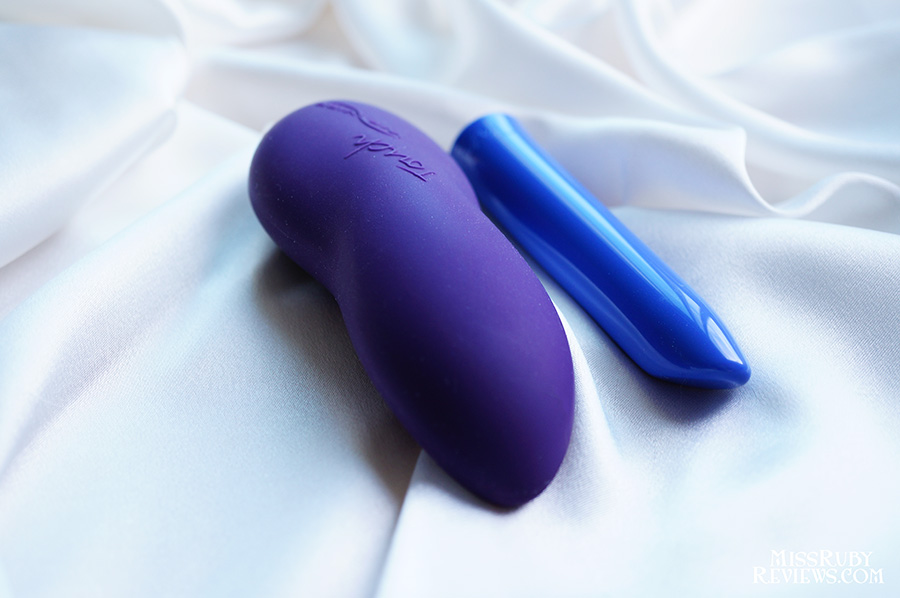 Note: Remember to read the full reviews of the Touch (above left) and Tango (above right).
Before I bought the Tango, I struggled to decide which toy to get. The Tango? Or the Touch? They're both waterproof and rechargeable and they have the same motor, so you think they'd feel perform the same. But….they actually perform quite differently.
Both the Tango and the Touch work wonders for me, and I find that I use them both the same amount, depending on my particular mood. If you're unsure which toy to go for, I hope my Tango vs Touch guide will help you!
1. Are you a power queen? 
If pure, raw, vibration strength is all you need, the Tango might be your best bet. Though both toys use the same motor, the Touch's silicone exterior dampens its vibrations to some extent. In contrast, the Tango's plastic body transfers vibrations very well, producing extremely intense vibrations. The difference is small, but it is there.
If you think your clitoris might be on the sensitive side, go for the We-Vibe Touch: its lowest vibration speed is discernibly softer than the We-Vibe Tango's lowest speed.
2. What sort of pressure do you need?
Because the We-Vibe Touch's tip is squishy and bendy, you can't quite get the same pressure against your clitoris that you can from the Tango. The Tango's hard plastic exterior means that you can press it up against you very hard. On the other hand, I find that the Touch's squishy tip means that, if you try to press if firmly against you, it can bend and squish in a way so that if feels less firm. If you absolutely need firmness, go for the Tango.
3. How pin-point do you like your stimulation?
While the Touch's triangular tip does provide pin-point stimulation, it doesn't provide it as well as the Tango. I personally need very pin-point stimulation, which is one of the reasons the Tango can get me to orgasm so quickly. The Tango's narrow, pointed design means that it can reach your clitoris very well, even if you have fuller labia. If you have fuller labia and find that you need to 'dig around' for your clitoris and find that pin-point stimulation is your priority, you might enjoy the Tango more. If you are alright with mostly pin-point stimulation, the Touch will suit you as well.
4. How much noise can you make?
The Touch is slightly quieter than the Tango because its silicone exterior muffles its sounds. If you're in a busy household and you need to remain discreet at all times, the Touch may suit you better. The Tango isn't extremely loud, but it's definitely louder than the Touch. Neither the Touch nor the Tango can be heard through walls.
5. Do you need to sterilize it?
If you're going to share your toy between people, you need to be able to completely sterilize it. The Touch is made from silicone, which can be sterilized. You can boil silicone toys, but this toy has a motor so I suggest simply rinsing it with a 10% bleach solution.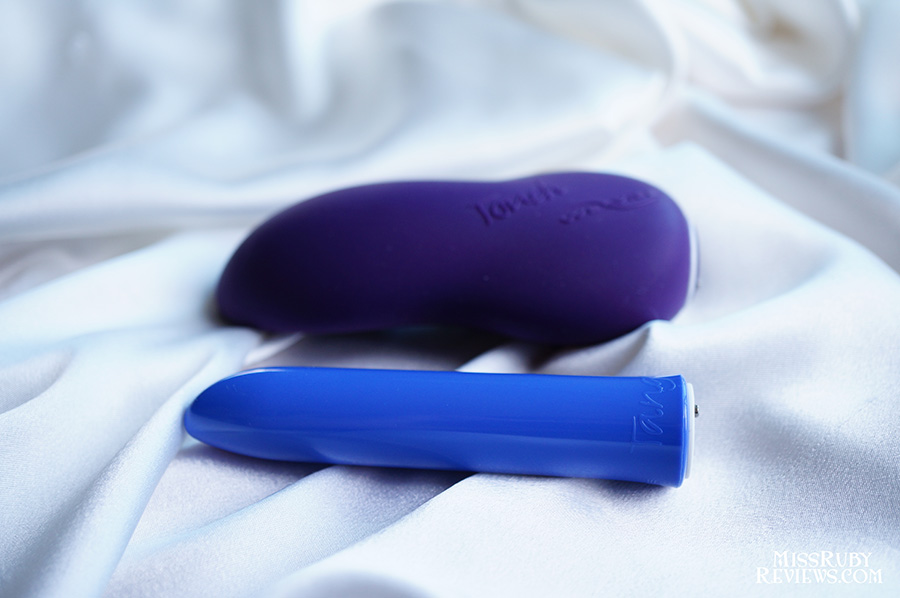 6. Do you want to use it with bullet-compatible toys?
Some dildos and cock rings come bullet-vibe compatible. Because the Tango is a bullet vibe, it can sometimes be used with these toys, if the dimensions manage to fit right. An example of a bullet-vibe dildo that the Tango can fit into is the Tantus Vibrating Pack 'n Play No. 2.
7. How important is comfort while holding it?
The We-Vibe Touch is definitely most comfortable to hold. The Tango is very thin, and your hand can get quite cramped clinging onto such a small object. Also, because the Tango is plastic, its vibrations travel very well down the handle, making your hand vibrate during use.
In contrast, the We-Vibe Touch is super comfy to hold. Its palm-sized squishy silicone body fits really well in your hand. And, because silicone muffles vibrations, the vibrations don't carry down the handle very much, meaning your hand barely vibrates during use.
8. Battery Life
One of the disappointing things about the We-Vibe Tango is that it needs to be recharged very frequently. Sometimes it doesn't even last for a full play session. If I'm lucky, I'll get ~50 minutes out of it. This means that I often charge it before and after I use it, just to make sure I can use it for as long as I want. But, with the Touch, I can get a lot more playtime. It hasn't died out on me mid-session at all, and I don't need to recharge it between every single session.
Get Your Own
Hopefully this little guide helped you make up your mind. If you have any questions, comment below.
Head to Lovehoney to get your own We-Vibe Tango or your own We-Vibe Touch