PicoBong Mahana Duo Vibe: Or, my journey to fed-up finicky frustration.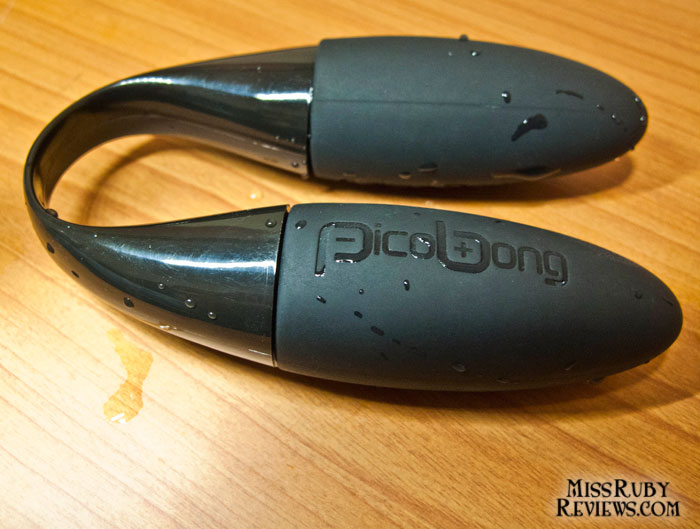 Initially, I was really excited about the PicoBong Mahana vibe. The Mahana stood out among the never-ending rows and columns of clit vibrators on the online sex toy store. Clit and g-spot stimulation, at once? Always a good thing, amiright?
Physical Details
After first opening up the package, the PicoBong Mahana struck me as a luxury treat. I frowned at the plastic bridge between the vibrating arms, but those silicone arms are seriously incredible to the touch. Think LELO Ella texture. This silicone is so silky and so smooth that I spent the first five minutes rubbing my face against it and inviting my boyfriend to Ooooh and Aaahh at its velvety splendor.
The vibe was easy to set up. It takes one AAA battery in each identical arm. Each arm is controlled separately by a little + and – sign. This meant that I couldn't change the vaginal arm's settings once it was all snug inside of me without taking it out and finding the little + and – buttons again. The buttons on the clit arm were also tricky to find while the vaginal arm was inside of me, and I quickly realized that it was easier to take it out of me, settle on a mode for each of the arm, and then insert it.
My Experience
The first thing I noticed when I started going through the vibration levels was the quietness of the vibe. It's probably one of the shhhushiest vibes I own to date. There are 12 different vibration modes, including a wide spectrum of steady/stable functions and a few pulsing patterns.
Even at the highest vibration level on both arms, the noise is super low. It definitely wouldn't be heard behind a closed door.
So, things seemed to be off to a good start. But then I tried to insert it. Immediately, things became awkward and uncomfortable. When inserting the vaginal arm, I had to take care to keep the clit arm from snapping against my clit — the plastic 'bridge' isn't as flexible as I'd like. The bridge wants to keep the two arms parallel to each other, but my body needs a wider angle than that; not necessarily 90-degrees, but something in between. Other bodies might fare better.
Then I ran into another problem. Even with a lot of water-based lube, something was making me squirm and flinch with pain as I was inserting the vaginal arm. I took it out and realized that there was a small gap between the plastic bridge and the silicone arm (pictured). I unscrewed it and tried to screw it on straighter, but nothing changed. As a result, there wasn't a seamless or smooth surface, but a jagged plastic corner catching on my vagina. Ouch!
Still I didn't lose hope. I thought that it would be fine as soon as the arm was in place inside of me. It took a lot of fiddling and tweaking, but it eventually got in place. I found that I had to hold it in place with my hand; as soon as I took my hand away, it the rigid plastic arm started closing to its original angle, causing it to slide out of me. So I held on tight. It's not a hands-free device, folks, so don't go driving with it.
So I finally had it inside of me and I was ready to sail smoothly into an orgasm. But then I realized that I barely felt anything inside of me. Both arms were set to the highest intensity (same on each arm). Unfortunately, the whisper-quiet nature of this vibe comes with disappointing vibrations.  The vibrations simply weren't strong enough to 'knock the socks' off of my g-spot. My clit fared better because it doesn't need the same level of stimulation my g-spot was, so I clung on to the hope that it would all be okay.
But it turns out the vibrations were too mild for even my clit to reach orgasm. I don't consider myself a power queen, so I wasn't expecting to be disappointed. Don't get me wrong: it felt nice. It simply wasn't nice enough to push me to climax. I found that wiggling the vibrating arm back and forth helped a great deal, but that made the plastic bridge (and that painful clipping gap) also wiggle.
Overall
Overall, I was disappointed.  As for the painful jagged gap… Maybe I just got a factory defect. But even if this vibe had been totally seamless, it wouldn't have been comfortable or strong enough for me.  Other body types may fare a lot better. Or they might not.  It you think you're okay with a near parallel structure, you may find it more comfortable than I did. But stay away if you need any sort of oomph in your vibration intensity for your clit or your g-spot.
Update: You can no longer purchase this toy, but I recommend you check out the We-Vibe Sync – comfortable and both arms have strong motors.