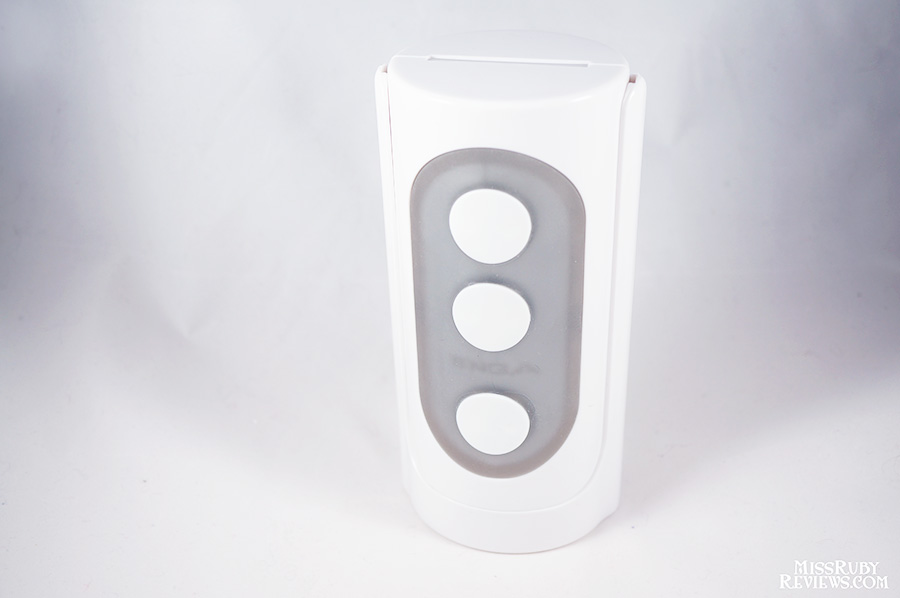 No, this is not a spacebot.
Physical Details | Material and Care | Packaging | My Experience | Overall
Physical Details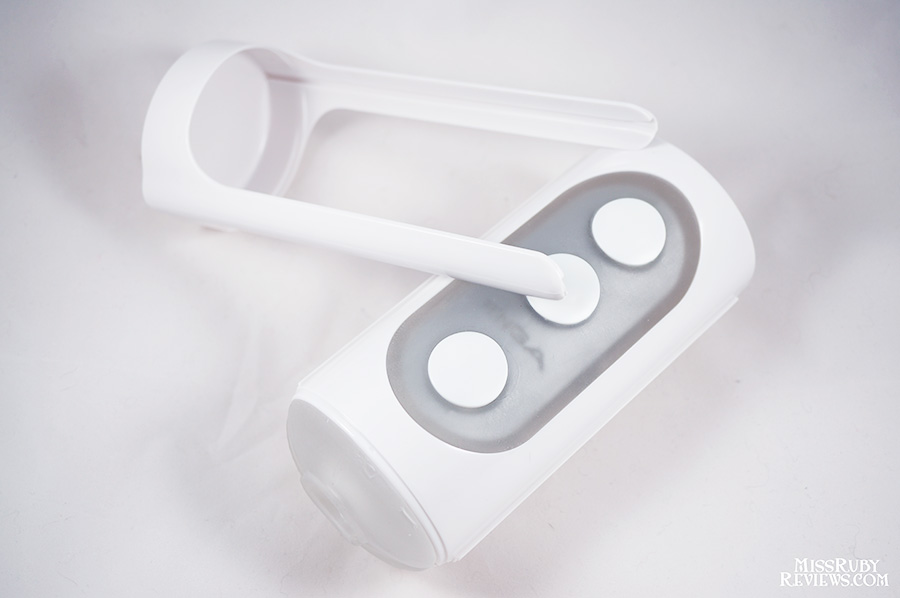 Tenga Flip Hole is a popular series of male masturbators. There are four colours in the series, each with varying internal structures: Black, Red, Silver and White.
I was thrilled to get my hands on the Tenga Flip Hole White. Seeing as a hundred sex toys have passed my door for my own pleasure, Mr. Ruby and I are always on the quest for a satisfying male product for him. In addition to a few vibrating varieties of male masturbators, we've only tried two non-vibrating sleeves: the realistic Fleshlight Lotus and the bland and clinical FiFi. So, with much anticipation, we received the Tenga Flip Hole in White.
As far as male sleeves go, the Flip Hole is refreshingly discreet. At first glance, I doubt most people would realize that it's a sex toy, especially if the cap is positioned to cover the entrance. It looks more like a Bluetooth speaker for an Apple device than a sex toy. In our view, it's an appealing design: neat, gender-neutral, and subtle.
The Flip Hole consists of a Slide Cap and the body. The Slide Cap is almost always on: when in storage, the cap is on so that it covers the entrance hole. When in use, the Slide Cap is taken off and re-positioned so that it secures the body closed and leaves the entrance open.
The Flip Hole's body itself is a fascinating object. The white exterior is hard ABS plastic, and the translucent parts consist of a smooth, deliciously-squishy gel-like material. When you pull the body apart, you expose a rich and varying internal structure. At the entrance, you have a lip flap and shield flap, which help prevent air and lubricant from escaping. Next, there's an orb and series of spheres on one side; the other side of your shaft will experience a more softly-jagged texture. As you push forward further, the canal tightens for a moment before you reach the "End Orb," which is designed to tightly envelop the head of the penis.
Material and Care
You can clean your Tenga Flip Hole by sliding the cap off the body to open it. Rinse under running water. You can use soap, but anything too acidic or too alkaline will damage the material. After rinsing, place it upside-down on the cap so that it's propped open and upright in the shape of a tent. After a few hours, I suggest opening the body fully and shaking to loosen any water stuck in the crevices; then, prop it up again and allow it to dry further. Once dry, put the sliding cap back on so that it covers the entrance hole. Store in a cool, dark area (i.e., a drawer).
The Flip Hole is totally reusable, but not indestructible. I've heard it thrown around that 50 is a good number to stick below. Seeing as the squishy body is made from Thermoplastic Elastomer (TPE), it won't last as long as a toy made from silicone. It's also a porous material, so I wouldn't recommend sharing it. Be sure to rinse thoroughly after each use and allow to dry to avoid any sort of molding. If you've used it frequently enough over time that you notice any moldy smell, or that the gel-like structure is breaking apart, then toss out. But I suspect this point will come only after a couple of years (depending on use).
To keep your Flip Hole lasting long, be sure to always use a lot of lubricant — the more lubricated and slippery the product, the less friction to cause any micro-tears. The Flip Hole does come with 3 lubricant samples, but when you run out, I suggest opting for something water-based like Sliquid.
Packaging
The Tenga Flip Hole is packaged simply in a clear tube. It's clean, neat, and non-explicit. Inside the package, you receive the Tenga Flip Hole White, a brief instruction guide, and three lubricants (Mild, Wild, and Real). Mild is fairly thick, Wild is thin with a dash of menthol, and Real falls somewhere in the middle.
Our Experience with the Tenga Flip Hole (White)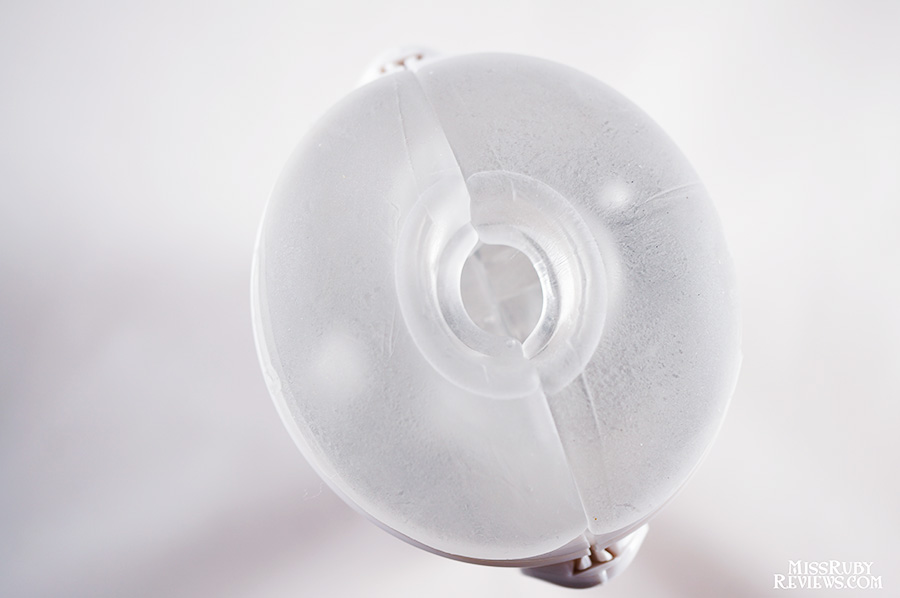 The Tenga Flip Hole White is Mr. Ruby's favourite non-vibrating sleeve to date.
How to use the Tenga Flip Hole:
The Tenga Flip Hole was easy to prepare for use. We merely removed the Slide Cap to open the body, poured lubricant in the body, and closed it again, this time placing the Slide Cap on so that the entrance remained accessible.
The Flip Hole's case is designed to be comfortable to hold: it's not just a large, inflexible plastic case. Instead, you can squeeze the Flip Hole down so that it flattens. The comfortably-sized and squeezable case is a huge plus; it's so much easier to us to handle in bed together than the Fleshlight Lotus. From a partner perspective, I appreciate this. I sometimes found the Fleshlight too large to comfortably hold, but the Flip Hole is small enough for me to handle with ease.
And, unlike classic Fleshlight models, the Flip Hole is designed for people with a statistically-average penis length. The Flip Hole accommodates up to around 5.5″ – 6.0″ of length. If you're around this length, then you'll get the full experience. And if you're under 5.5 inches, you'll still get to enjoy the varying, pleasurable textures in the middle of the sleeve.
On the exterior, you have three buttons-like pads; grip your hand around the Flip Hole so that your thumb rests on one of these pads. Mr. Ruby enjoyed how these pads guide your grip to customize his sensations. The bottom pad (closest to the entrance) increased the snugness of his insertion, the middle pad increased suction, and the upper pad increased the snugness around the head of his penis when he was fully inserted.
How does the Tenga Flip Hole (White) Feel?:
GREAT.
Mr. Ruby found the Flip Hole pleasurable from the get-go. As he inserted himself, he could discern the large entrance sphere before he was enveloped by the little spheres that lined the middle section. From the sounds he made, this proved to be a rich, attention-grabbing sensation. This sensation visibly increased as he tightened the canal around him by pressing the bottom pad. His favourite, however, was the "End Orb." As the head is pushed into the sphere, it slides long several smaller nubs. When all this was put together, the results were orgasmic; in the times we've used this together, he hasn't taken long to orgasm.
It's safe to say, then, that the Tenga Flip Hole in White has a fairly intense texture; the TPE is firm enough that the texture doesn't just melt away into nothingness; it's noticeable during use, and it's snug enough to quickly deliver.
Mr. Ruby also enjoyed that the Flip Hole doesn't have to be used in a specific orientation. For example, he can turn it around so that he can experiment having the series of spheres on the underside of his shaft, versus the top. This keeps the Flip Hole's sensations fresh and changeable.
Gripes:
Mr. Ruby and I aren't a fan of the squelching sound. When air is escaping or we're playing around with that middle pad, a loud SQUELCH sound erupts from this neat little sleeve as Mr. Ruby thrusts. It's surprising and akin to the sound of a toilet plunger, which isn't at all sexy. I'm not sure how they could have avoided this, and squelching sounds aren't uncommon in male sleeves. It's merely unfortunate, and the only issue we've found.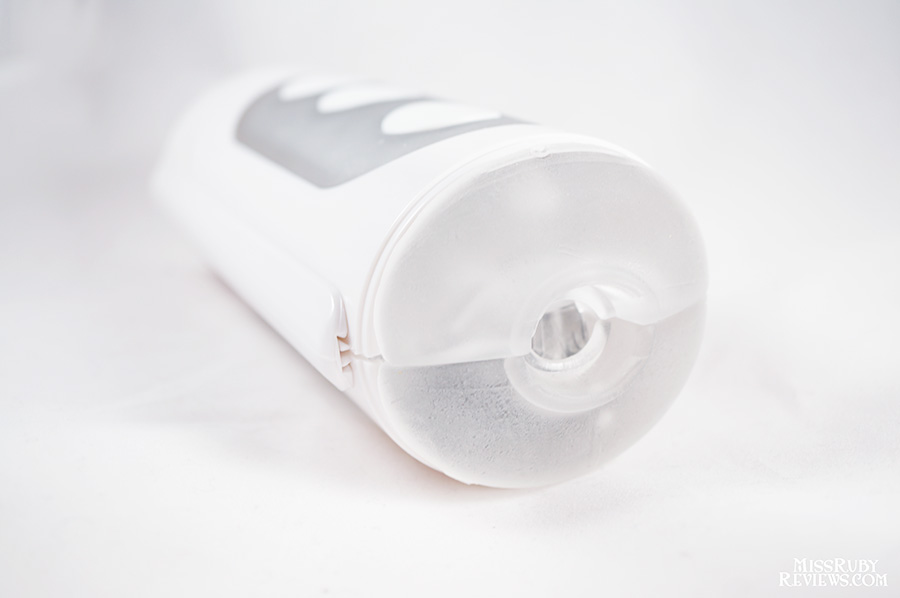 Overall
The Tenga Flip Hole White is one of Mr. Ruby's favourite toys to date, and his definite favourite in terms of non-vibrating sleeves. It has a sleek, discreet design and it's easy to maintain. More importantly, it's comfortable to hold and it feels fantastic. The White model provides fairly intensely-textured sensations, ones that always deliver easy orgasms.
To purchase the Tenga Flip Hole in White, head on over to SheVibe.

Last Updated on November 17, 2020 by Miss Ruby