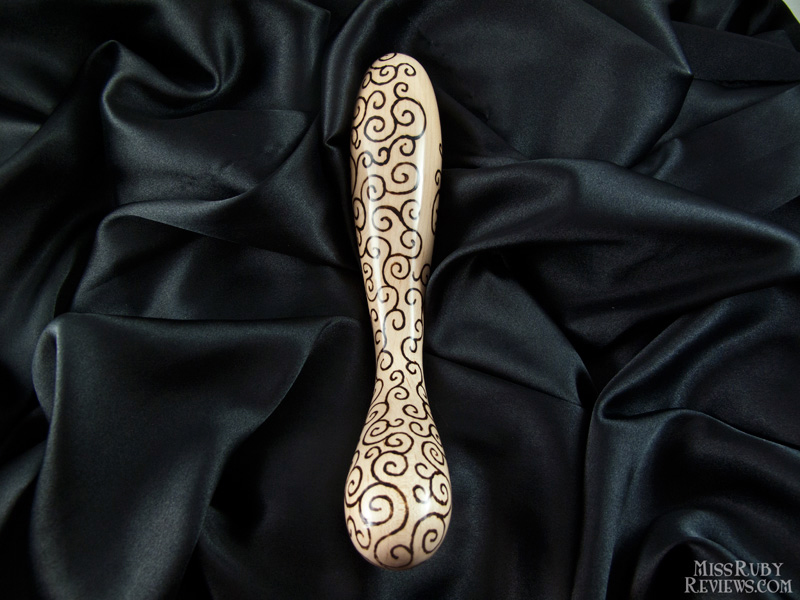 I don't know even where to… I feel so….Look at….MY NAME IS ON THE DILDO.
About Silvarus | Physical Details (design/material/packaging) | Silvarus' Process | My Experience | Overall
About Silvarus
Silvarus is an Etsy company that specializes in finely-crafted wooden dildos. Each product is one-of-a-kind. To be honest, I almost find it weird to call Silvarus' creations "dildos" because they're so much more than that. Looking at them, you can't help but appreciate this artist's craft. They're art. They're magical. And I was really hoping the Ottawa-based owner and crafter, Rickard, would agree to send me one for review. I was thrilled when he agreed to send me one (and ended up sending me two). For those of you who wonder what kind of personality it takes to create beautiful wooden dildos, I can say that it takes an awesome one. Really, Rickard is one of the kindest, nicest, and most considerate people I've worked with so far in my capacity as a sex toy reviewer. I strongly encourage you to check out his Etsy store, ogle at all his work, and rapid-click "Favorite" to show your appreciation. And, for those of you who are curious, I've included details on Rickard's woodworking process down under "Silvarus' Process." Silvarus doesn't have a Twitter account as of yet, but you can find him on Facebook.
Physical Details
Design:
While Silvarus creates a wide variety of wooden dildo shapes and paddles, this specific design is called a "Double Drop" dildo. It consists of two elongated bulbs connected by a tapered thin stem. Constructed from a single piece of wood, the Double Drop can be used as a double-ended dildo.  One end is long and girthy, best for deep penetration. The other is short and curves upward, making it ideal to target the g-spot. Either end can be used as a comfortable handle.
The dildo inscribed with "Ruby" is about 9 inches in total length and has a circumference of 5.5 inches at its widest part. Because all of Silvarus' creations are one-of-a-kind, Double Drop dildos vary slightly in shape and size. To illustrate this, Rickard sent along another (plain) dildo. Note that, while it certainly represents the same core shape as my Ruby one, this one is shorter, its curve sharper. Comparatively, it's also slightly smaller, with a total length of 8 inches and a circumference of 5 inches at its widest part. This shows me that Rickard likes to make each of his dildos unique and different from each other. There's no cookie-cutter standard, so no two dildos are alike.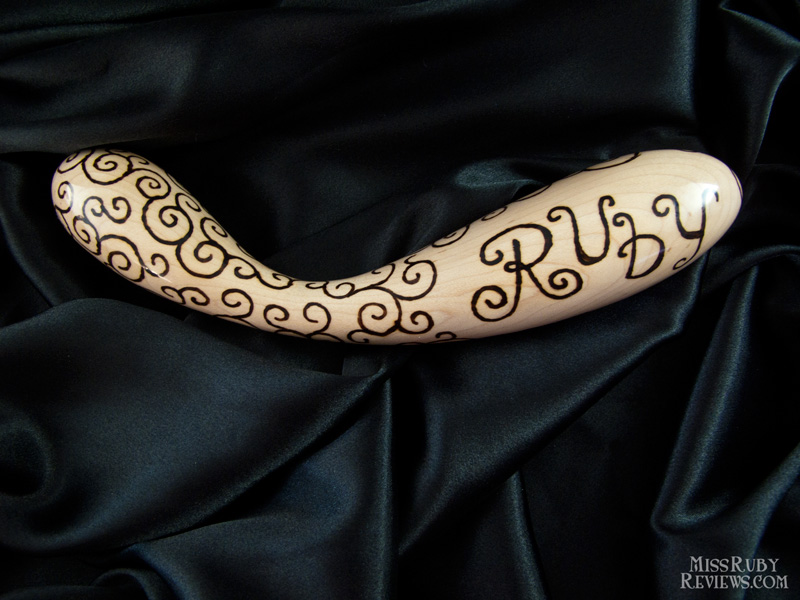 Though one dildo is plain, you'll notice that the lighter dildo is engraved with beautiful swoopy black lines. Those lines are actually pyrographed (burned on) into the wood before the polishing process. I am absolutely IN LOVE with these lines. While the plain Double Drop dildo is beautiful too, the pyrographed etchings are unforgettable. I can't take my eyes off them. They make me feel like my dildo is the stuff of legends, fitting in somewhere between fairy castles and iron-wrought fences covered with ivy. Ironically, I spent half of my years at university doing this exact same doodle design all over my notes, so seeing them burned into a dildo seems a fitting way for me to start my post-university life. Rickard even burnt in my name! Swoon! (Hint, people: if you have someone in your life that loves dildos, getting them a dildo with their name on it would make an awesome Valentine's day gift).
The Double Drop dildo is also very light. The pyrographed dildo is made from maple wood (which I'll touch on again down in Material), and this makes this dildo remarkably light at 139 grams. The smaller (plain) dildo is made from cherry wood. It only checks in at a mere 94 grams. I can't speak for his other materials, but for those of you with arthritis or trouble lifting heavy things, having a maple or cherry wood dildo should make your life a bit easier. Silicone dildos this size are around 3x – 4x this weight.
Lastly, I recommend this for vaginal use only. Though there is a slight curve to this dildo, I don't consider this to be anal safe. There is no flared base, and the curve isn't steep enough to stop it from being pulled into your body accidentally.
Material and Care: 
Silvarus makes dildos out of a wide variety of wood species, including wood, ash, maple, walnut, and cherry. The dildos here are made from maple and cherry wood (the darker dildo is cherry). Though light in weight, maple and cherry wood is very hard and tough. I was initially worried that the dildo would be easily breakable  (I was having visions of it snapping mid-thrust, wood splinters flying everywhere). But it's actually hard as hell to break. If I try to snap it at its thinnest part, my hands just get sore. For me, trying to break this is like trying to break steel. It's impossible and I just end up hurting myself. This is good news. Despite my previous misconceptions, this wooden dildo will be extremely sturdy and durable for years to come. (This isn't to say that this dildo is indestructible. Don't use it to break apart stone. But, with regular and appropriate use, I can't see how this would ever break).
Another thing you'll notice is that the dildo is covered with a glassy shine. This is because it's been polished to a glassy, body-safe perfection. It doesn't feel like wood at all when you hold it. It feels closer to vinyl. It's smooth, tasteless, and scentless.
For cleaning, Silvarus recommends that you wash your wooden dildo with mild soap. I wash mine with warm soapy water before and after each use. You can use water or oil-based lubricant, and definitely never use any solvents or alcohol to clean this dildo. Doing so will ruin the polish.  Store your toy in the padded cloth pouch that comes along.
Shipping and Packaging:
Generally, a custom order like this dildo takes 2-3 weeks to be made and shipped out. I received a box wrapped in brown paper. Inside lies a clean, white box with Silvarus' logo. Within this white box is the dildo, neatly wrapped in bubble wrap. Once you dig through all the bubble-wrap, you'll find your dildo snugly encased in a beautiful cloth pouch. The cloth pouch is padded, so it's perfect for long-term storage. This storage pouch feels sooo luxurious. It's by far the prettiest storage pouch I've ever received for a toy.
Silvarus' Woodworking Process
Rickard from Silvarus was kind enough to share his production process. He even sent along several snapshots so that I could closely follow my dildo's creation story. For those of you who are curious, I'll share that process here. I'll leave out several details, though, as Rickard developed his own unique process over time.
Below is a gallery of the process, starting from a block of wood to the pre-polished product.
Steps:
Though maple comes in forms like quilted, busy, spalted and wavy, Rickard chose "neat" maple wood for my dildo. Neat maple wood doesn't have a busy texture, which allows any pyrographed patterns to stand out very well. Once Rickard has a raw sketch on the wood blog, he cuts it out the basic 2D form (photo #2). After his second round of cutting, it's a "blank" (or in its choppy, thick, angular form) (photo #3). From here, Rickard uses motor-powered rotary tools to finely shape it until it reaches the stage in photo #4.
After this point, there are no more machines involved for the sanding process. All sanding is done by hand. This sanding process takes quite some time as well. At one point, I received an Etsy message from Rickard saying, "I stayed up until 2 am last night, sanding your dildo down to a perfect finish…" which really made me appreciated how much care and effort goes into this creation, every step of the way.
After the sanding is finished, Rickard burns patterns into the wood (photo #5). He seems to use a pyrography tool and I can imagine how painstakingly careful he is at this point. Because the design is burnt on, and not painted, mistakes can't be reversed. This is where his choice of "neat maple" is perfect, because the burn pattern stands out so well. The end color itself is a dark brown/black (photo #6).
At this stage, the dildo certainly looks ready for use. However, because it doesn't have any varish or polish finish, it's not actually body-safe because it's porous. It needs to go through coats of varnish. This is a long and time-consuming process.
When Rickard applies the first layer of varnish, the wood absorbs the varnish. The colour deepens and changes as the varnish hits the raw wood. But by doing so, the wood grain itself raises and splits, making the surface rough to the touch. The whole surface then needs to be hand-sanded again to a smooth surface. After it's had time to cure, another layer of varnish is applied, and this time the wood grain raises and splits again, but less so. Still, it needs to re-sanded. This happens over 10 times to make sure that the varnish has really sunk into the wood and the wood stays glossy.
This sounds like the most tedious step of the process to me, as it involves a lot of waiting and a lot of sanding. After the final coat of varnish has cured, Rickard can start his unique polishing process. At this point, the dildo is body safe to use, but it's still not totally smooth. It'll have brush strokes from the varnishing process which makes it bumpy. To get rid of this, Rickard came up his own unique polishing process.
Polishing is another long process that takes a lot of care and effort. It's also a high-risk process because, if the dildo hasn't been made 100% waterproof by the varnish finish, polishing the dildo will cause the dildo to be ruined. I won't share this part of his process because it's Rickard's own unique development, but I will say that it takes a lot of care, attention, and patience. At the end, the wood has that smooth, glassy, glossy finish that I love so much.
After the polishing process is finished, Rickard never handles the dildo without lint-free fabric gloves. In other words, no hands actually touch the finished dildo product until the customer receives it.
My Experience with the Silvarus Double Drop Dildo
This is my very first experience with a wooden dildo. Wooden dildos have been on my wishlist for quite some time, though I've never really pinpointed why I wanted to try this material so much. It might be that wood has a raw, natural beauty that you can't get with stainless steel or silicone. In any case, I was honestly expecting something less refined and luxurious. My experience with hand-crafted wooden objects is limited to me carving sling-shots out of branches.
I was expecting something rather coarse and heavy. Obviously, I was very very wrong. When I first held them, my first thought was, "this can't be wood. There's no way."
The Silvarus Double Drop dildos are heavenly to touch. They look like wood, but they feel like smooth, glassy vinyl. Rickard's production process is flawless: these dildos are perfectly glossy and smooth.
I've spent thousands of words explaining this dildo and Rickard's process. But how does it actually fare during use?
You can stop holding your breath in anticipation. It feels ABSOLUTELY AMAZING.
General Notes About This Toy
To begin, it slips in very easily. The end is not so wide that it takes a lot of warm-up to fit. After covering it with a layer of water-based lubricant, it just sort of "pops" in very quickly. Because the end tapers to a thin point, it feels very bulbous (which gives you that "pop" sensation). I'm a huge fan of bulbous shapes because I find that it gives me maximum g-spot stimulation while not putting any uncomfortable stretching strain on my vaginal entrance.
And this material feels amazing internally. Seriously. I like it better than glass, and I think I like it better than silicone. Unlike silicone, which tends to require a ton of lubricant otherwise it'll catch on my walls, this material glides in and out like glass. There's no catching or friction or discomfort (which in turn means that I only need 1 layer of lubricant per session). But, unlike glass which retains cold or hot temperature well, I noticed that this wood adapts to my body temperature very easily. It very quickly warms up or cools down to meet equilibrium with my own body temperature. I'm not a huge fan of hot/cold play, so this perfectly meets my needs.
Now, I've tried a few sex toys in my day that provide solid g-spot stimulation. Notably the Comet II, the LELO Ella, and the Mona 2. Somehow, and I don't know exactly how, but somehow this dildo provides more intense g-spot stimulation than any of those toys.
Because Rickard sent along two Double Drop dildos, I was able to explore any subtle differences between them. I can only discern a very mild difference in sensation between the two. As you'd expect, the patterned maple wood dildo (the larger one) feels mores "full" but only slightly. It's such a subtle difference that, in terms of function, I don't prefer any one of them over the other. But I definitely prefer the aestetic of the patterned one, so it's been the one I go for. So, when shopping for a Double Drop dildo, I wouldn't worry too much about how yours might be slightly different in size than mine. Sensations will be the same because they share the basic core shape.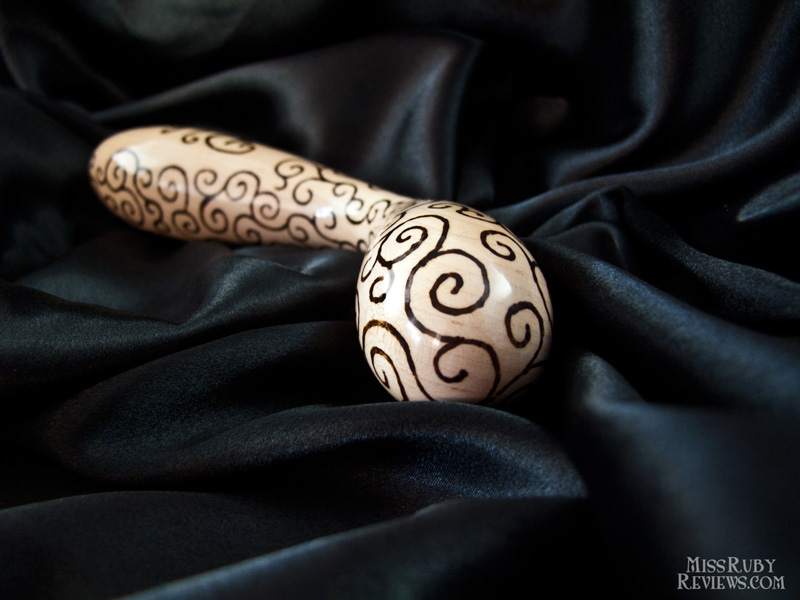 The "Hook" (shorter) End:
That "hook" (shorter) end is so intense that I have to stop and start because my body can't really handle that much stimulation until I've warmed up a ton. As my g-spot grows more receptive to stimulation, all I need to do is girmly grasp the handle and pushing it "up and in" in a swoop guesture. I also find that I barely need to thrust to get stimulation when using the "hook" end, though that is possible. I can wiggle it side to side very easily.
I can't have g-spot orgasms or squirt (** moment of silence for this tragedy **), but I still really enjoy g-spot stimulation and the most powerful orgasms I have are clitoral plus g-spot stimulation. This dildo blows all my other g-spot toys out of the water.  Combined with using a clitoral vibe, this hook end gives me a ton (as in bodywrenching, wimpering, exhausting, screaming) orgasms. Long story short: this end is very very very intense.
Personally, I definitely prefer the hooked end.
The Long End:
Where the hooked end excels in g-spot focus, the long end gives a bit of variety. In addition to moderate g-spot stimulation, it adds moderate depth and fullness, something that the hooked end doesn't. It's not what I would consider "large" (girth-wise or length-wise, so it won't make you feel very full, but it does give you the option of some length if that's really important to you. The flipside of this is that I find it less g-spot focused. This end will be preferred by cis women who prefer fullness and moderate g-spot pleasure over g-spot intensity. Long story short: some g-spot stimulation + some length + some girth = moderately pleasurable experience, best served as a warm-up to the hooked end.
Using the long end means that your handle is limited to the small hook. It's a bit small and not as comfortable as the other one, but still functional.
Overall
I can't recommend Silvarus' products enough. It's beautifully hand-crafted. It's unique. Holding it in your hands, you can't help but feel that this is made by a master craftman, and his personal touch and style is evident. In between uses, I have no desire to pack it away because I have the urge to display it as art.
And during use, this dildo has the potential to give you incredibly intense g-spot stimulation. For this reason, this has become my go-to toy when I'm feeling the need for good G-spot play. It's dethroned some of my previous favourite toys in this regard.
Lastly, a word on the price. The Double Drop dildo goes for around $100. If you want a pyrographed pattern, it's an extra $10.  For the effort and care Rickard puts into this, coupled with the quality of pleasure it gives you, this is a very good price.
To buy a Silvarus Double Drop Dildo, head on over to the Silvarus Etsy store page.
Last Updated on March 14, 2020 by Miss Ruby