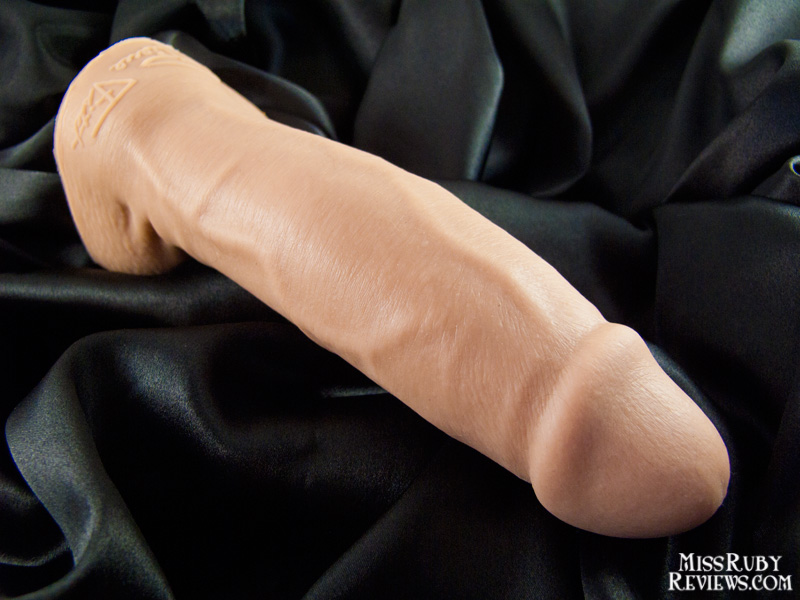 Visually, I think this takes the cake as my favourite realistic dildo yet.
About the Store | Physical Details | Material and Care | Packaging | My Experience | Overall
About the Brand: Fleshlight
Fleshlight is one of those brands that you'll run across at some point, whether you're a sex toy reviewer or not. Fleshlight is one of the largest manufacturers of male sleeves and they're known in the sex toy reviewing community for making phthalate-free products. For this reason, when you're buying a male sleeve, Fleshlight is one of the brands you're going to want to buy from. But for people who are more interested in dildos, Fleshlight also has a line of toys called Fleshjack Boys. Marketed towards gay men, Fleshjack toys range from butts to mouths to these impressive realistic dildos. And there are a ton of them. I was surprised to come across this large line of dildos because I'd never seen or heard of them before (and I generally make it my business to know all about realistic silicone dildos).
Physical Details
Design:
Pierre Fitch dildo's design can be summed up as "one stunning willy." The dildo itself is crazily detailed because it was live cast from Pierre Fitch himself (Some of the boxes state, "molded directly from porn star Brent Everett," but Fleshlight has confirmed this to be a mistake. This is cast from Pierre Fitch). I've never watched any of Pierre's porn, so I'm not best-buddies with his penis and I can't tell you how accurate and true-to-life this dildo is. But I can tell/show you the detail here is meticulous.
A small, tapered head features a subtle coronal ridge and small urethral dip. Beneath that is a solid 5 inches of the meaty shaft. It's covered with beautiful skin-like texturing and veins. If you look closely at my pictures, you can even see life-like thin horizontal striations across the shaft. In other words, this dildo looks like skin. For those of you who like realism during your play sessions, this should make you pretty happy.
At the base, there is a pair of asymmetrical testicles. They're puckered, a bit wrinkled, and refreshingly real. Though they're pulled up quite close to the base, they're still considerably large and likely render this dildo incompatible with most O-ring harnesses. On the plus side, this dildo is very anal-safe, so knock yourself out. Lastly, on the other side of the shaft, at the base, is Pierre Fitch's signature to appease his die-hard fans.
And this dildo is long.  With a 6.75″ insertable length, it fits squarely in what I call "moderately-large." Because of its length, it looks rather narrow, but it's actually still rather girthy at a 5.5″ circumference.
Plus, unlike cheaper, worse quality life-cast dildos, this one has no air bubbles or flaws from the casting process. Honestly, I can't fault this design. The only thing I would have liked to see done differently would be a deeper urethral dent but, then again, that would make cleaning more difficult.
Firmness:
The Fleshjack Boys line of dildos offers a single-density silicone firmness. There's definitely some give to it when you squeeze it with your fingers, but not a whole lot. It's quite similar to Tantus' O2 line, actually, and softer than Tantus' single-density silicone. It's not quite as soft as the Pleasure Works line. I was pleasantly surprised at this dildo's firmness. I was expecting something uncomfortably rigid, but I'm satisfied with this dildo's softness (AKA, my cervix doesn't have to worry about getting bruised). That being said, I wouldn't mind it a bit softer, as I'm a fan of soft, squishy dildos. Also, while this dildo isn't necessarily "floppy," you can definitely bend it half with no problem.
Specifications:
Insertable length: 6.75 inches
Total length: 8.25 inches
Circumference at widest part of the shaft: 5.5 inches
Weight: 420 grams
Color: Peach
Balls: Asymmetrical
Material and Care
The Pierre Fitch dildo is made from 100% premium silicone. I find this silicone to be fairly matte, not attracting as much lint and dust as other sticky silicone finishes. Because it's made from silicone, it's non-toxic, free of phthalates, non-porous, and the best material you could ask for in a sex toy. Because it's non-porous, it won't absorb anything, so you don't need to worry about bacteria growing in any micro-pores. For regular cleaning for vaginal use, I wash this dildo with warm soapy water before and after each use, taking care to carefully clean out the urethral dent. But if you want to use it anally, transfer it between anal and vaginal use, or if you want to share this between partners, you have to sterilize it. To sterilize, you can boil it for 5 minutes or wipe it with a 10% bleach solution. If you use the bleach method, make sure to rinse it thoroughly because bleach is the last thing you want in your butt.
I store this toy in a clear plastic ziplock freezer bag. For the retail price, I wish Fleshlight included some sort of storage pouch. But plastic will have to do for Pierre.
Because this is made from silicone, only use water-based lubricant with this toy.
Shipping and Packaging
Explicit in nature, the packaging definitely screams "Look, I'mma sex toy." Pierre Fitch is showcased on the front cover, decked in a pair of happy briefs. When you flip open the cover, you get a shot of Pierre in his birthday suit, along with some specifications and backstory. The dildo itself is nestled in a black plastic holder.
My Experience with the Pierre Fitch dildo
This is the first time I've ever had an experience with a dildo (or penis) that points downwards. I wasn't sure what to expect, sensation-wise. This is also the first time I've tried out a dildo that comes with a picture of a guy it belongs to. First time for everything…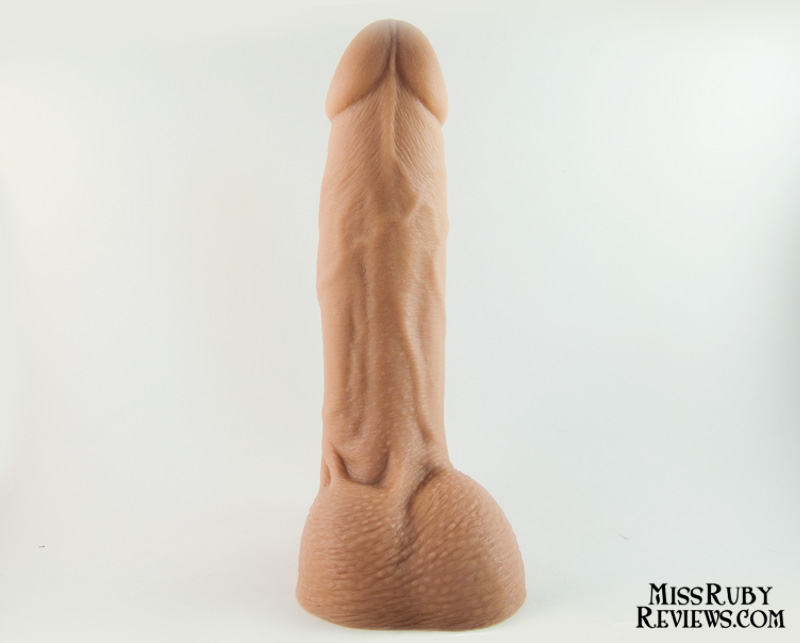 So what can I say about Pierre Fitch's dildo?  I have to start with the curve. Oh boy, that curve. I'm used to straight dildos, so this was a real treat. Due to its downward slant, I find that this dildo feels awesome when coming from behind (doggy-style). In this position, the shaft slants downwards to stimulate the g-spot while the balls can slap against the clitoris. It's a magical combination, making it my favourite way to orgasm with this toy (my favourite clitoral vibe going at the same time, of course).
The flipside of this is that I don't quite care for this dildo when the balls are facing away from my clitoris. If I use this when I'm on my back, the balls have to be facing upwards towards my clitoris for me to get that g-spot stimulation.  If I face it any other way, I find that the slanted shaft wanders into less-sensitive parts of my vagina.
While I can't actually fit this dildo's whole length inside me (my vag is a shorty), I think this girth is pretty much perfect for my needs. Its 5.5″ girth allows me to feel full, but not too full. Much narrower and I'd be wanting more, and if it was thicker I would need a snail-slow warm-up. What's great about this girth is that I don't have to spend time during my playtimes using smaller dildos so that I can work up to this one. I can start and finish with this dildo. So, while this may not satisfy monster-girth lovers, I think this dildo will comfortably fit most.
Speaking of comfort, make sure to apply a layer of water-based lubricant before any inserting goes on. I always find silicone toys to eat up more natural lubricant than a partner's body part ever does, so having a bottle of your favourite lubricant nearby is important. Matte silicone can often drag across the vaginal walls, creating friction, so use lubricant people.
Lastly, a word about the visuals. Some people are put off by realistic dildos. I actually used to dislike realistic dildos up until a year or so ago. Now I love and appreciate them. What I love about this dildo is its visual appeal. This dildo looks damn sexy. It makes me want to touch it, fondle it, and that's something non-realistic dildos can't give me.
Overall
Overall, I can't really fault Pierre Fitch's dildo. It's beautiful. It's silicone. It's long and girthy (but not too girthy). I think it's sexy. I wish it came with a storage pouch and was a tad bit softer, but that I can forgive. My only gripe is that now I want all of the dildos in the Fleshjack Boys line, which is financially uncomfortable because there are a LOT of these dildos.
To buy a Fleshjack Boys dildo, head on over to SheVibe.