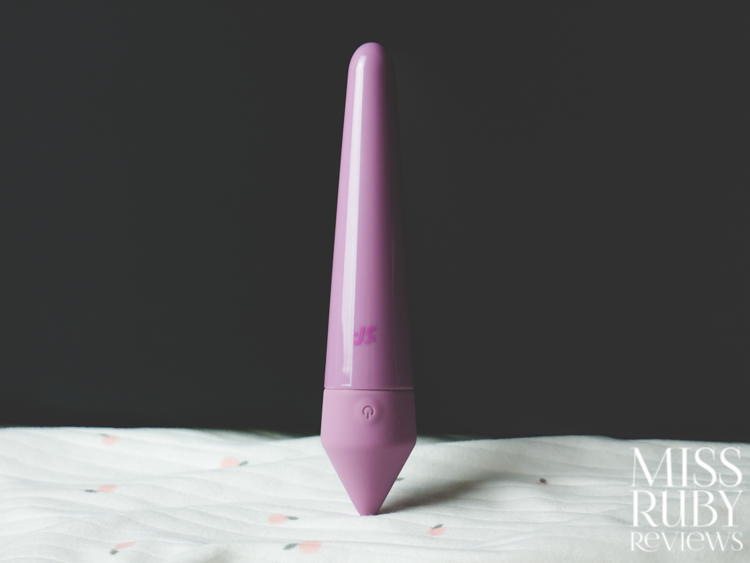 A clitoral vibrator with a precision tip! Read on for my Satisfyer Ultra Power Bullet 8 Vibrator review!

---
Design | Accessibility | How to Use | Packaging | Material and Care | My Experience | Overall
---
Design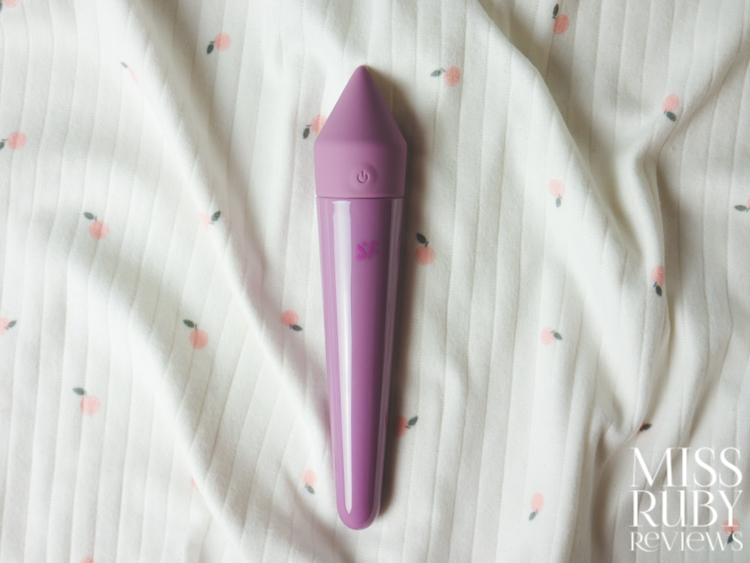 The Satisfyer Ultra Power Bullet 8 Vibrator caught my eye because of its unique shape. I'm a sucker for pin-point stimulation and this one's got it. Look at that pointy tip!
What sets this vibrator apart, at first glance at least, is its unique shape. The stimulation tip (which kind of looks like an eraser, amiright?) is coated in matte silicone and has a perfect cone shape; it's about 1.5″ wide at its widest point, then gracefully narrows to a tippy tip. There's some squish to the silicone tip, so it's not painful, but the tip is otherwise inflexible and designed for those of you that like firm, ultra-pinpoint stimulation.
The handle, in contrast, is a shiny ABS plastic that tapers gently to a rounded point. It's smooth and featureless asides from the logo (an SF on the side) and a magnetic charging port near the base.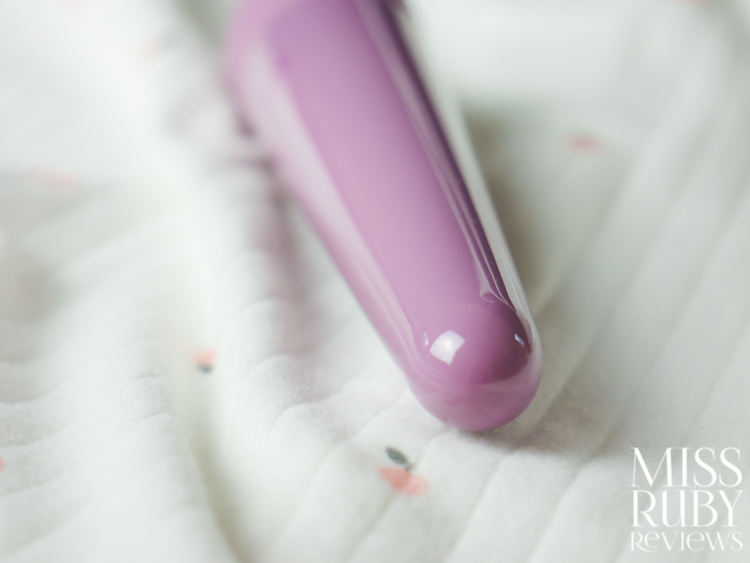 The Satisfyer Ultra Power Bullet 8 Vibrator is waterproof, rechargeable, and comes with 5 speeds and 7 patterns. It's also App-compatible (you can control it with Satisfyer's Connect App). This toy is relatively inexpensive — $39.99 USD at full price (though currently on sale for $29.99).
It only comes in one colour: a gentle shade of purple that reminds me of the wisteria flower.
Accessibility
This section is to help folks determine if they might have any issues using/accessing the Satisfyer Ultra Power Bullet 8 Vibrator.
Size: The Satisfyer Ultra Power Bullet 8 Vibrator is about 5.5″ long (total) and 1″ wide (at the widest point). The silicone portion is 1.5″ long.
Weight: At 45 grams, this is a very lightweight toy.
Buttons: There is one round power button on the silicone portion of the toy, about 8mm wide and 1mm tall. It takes little pressure to press and makes a nice loud 'click' sound.
Vibration transfer: There is moderate vibration transfer to the plastic handle. Not a terrible amount (in fact, surprisingly little given that the handle is all plastic), but not negligible.
Other considerations: The charging cable is a magnetic USB one. You have to connect two little magnetic pins on the cable to two small pins on the side of the handle, near the bottom. I found this quite finicky because the charging pins are slightly wider/larger than the pins on the toy. You need a precise fit for the toy to start charging (and you can tell that by a flashing light that comes on when the connection is made). I think this will be challenging for people with visual challenges.
Price: At $39.99 (currently on sale for $29.99 at Peepshow Toys), this is on the cheaper side for a vibrator with these features. You can also get 10% off your whole order with coupon code RUBY,
How to Use the Satisfyer Ultra Power Bullet 8 Vibrator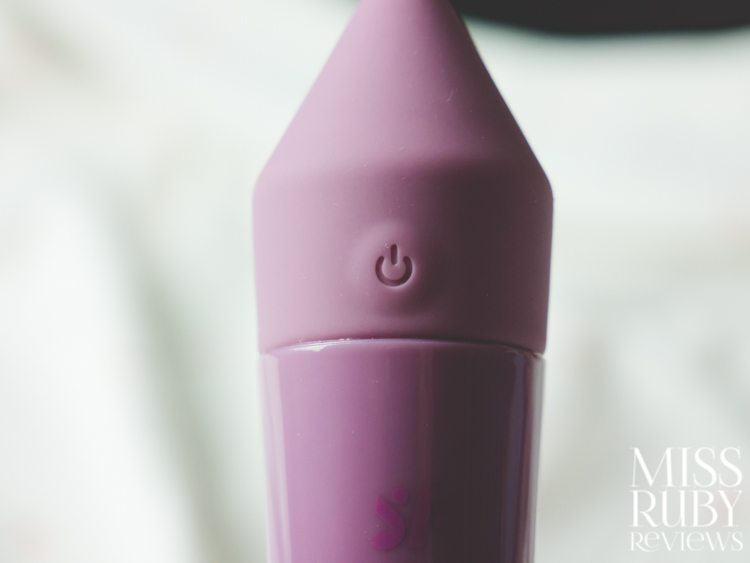 The Satisfyer Ultra Power Bullet 8 Vibrator can be controlled via a button or App.
To turn it on, press the power button for 2 seconds.
Tap the power button again to cycle through the 5 steady states and 7 patterns.
Apply it to your body. Though designed for clitoral use, it could also be used against other body parts like nipples or the shaft of a penis. I do not recommend any internal use.
Packaging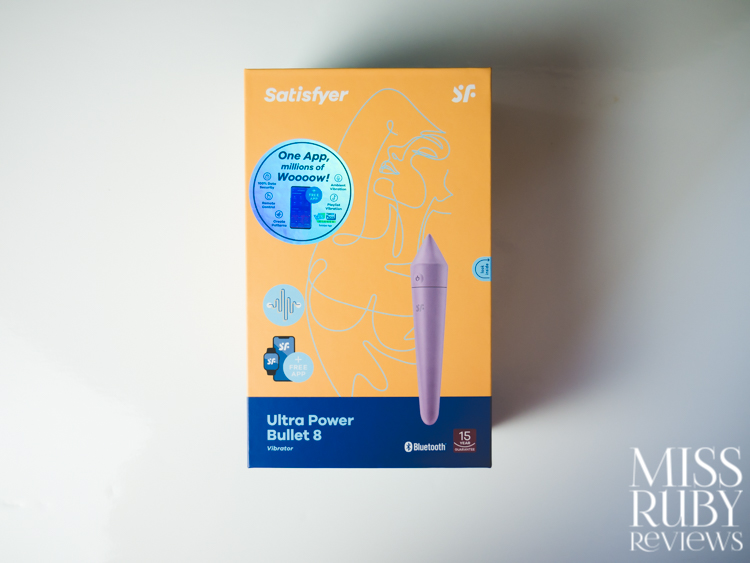 The Satisfyer Ultra Power Bullet 8 Vibrator comes packaged in a deep yellow and navy blue box. It's sturdy and high quality.
The box has a flip-open lid that you can open to read more about it and reveal the vibe. You need to tear open a hygiene seal before you can remove the vibe from its plastic sleeve.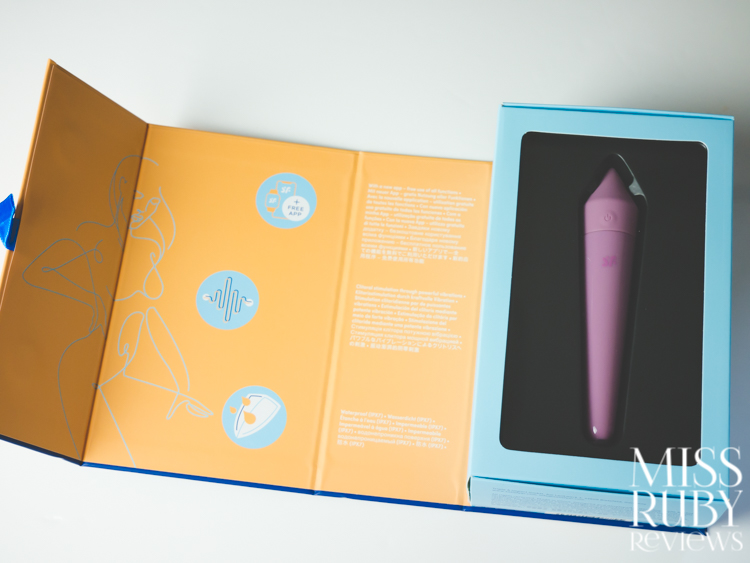 In total, you receive the Ultra Power Bullet 8, a USB charging cord, and a package of instructions.
No storage pouch is included. If you want dedicated toy storage, you can browse some here.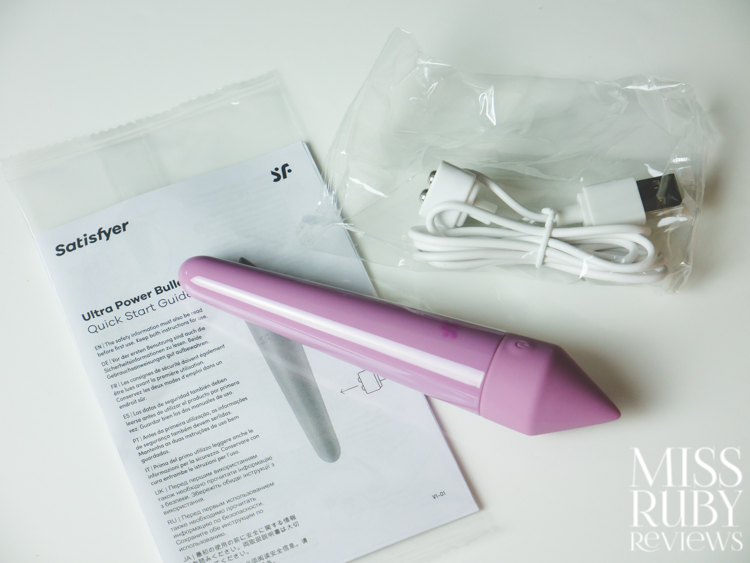 Material and Care
The Satisfyer Ultra Power Bullet 8 Vibrator is made from shiny ABS plastic (the handle) and silicone (the stimulation tip). These are fantastic materials for a sex toy because they're easy to clean, hygienic, and hypoallergenic.
The Satisfyer Ultra Power Bullet 8 Vibrator is completely waterproof and submersible. To clean, I've been simply rinsing the whole thing in warm, soapy water before and after each use. You could also add a dedicated sex toy cleaner if you like, but mild soapy water has worked for me.
If you'd like to add lubricant (which I always recommend), try a good quality, water-based lube like my favourite basic Sliquid H2O.
To charge, attach the magnetic end of the charger (included) against the two little metal pins at the base of the vibe.  Connect the cord to your computer or a USB wall adapter. A light will flash while it's charging and grow solid when it's fully charged. Charging time is about 4.5 hours and it gets you 1 hour of playtime. This is a pretty bad charge-to-play ratio, to be honest.
My Experience with the Satisfyer Ultra Power Bullet 8 Vibrator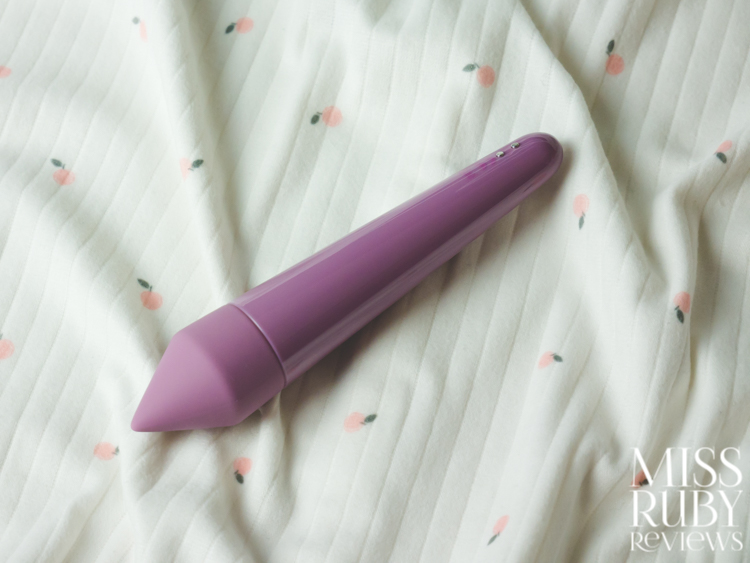 I had high hopes for the Satisfyer Ultra Power Bullet 8 Vibrator. That shape should be a winner!  I haven't tried a vibrator (especially a non-suction toy) by this brand in nearly 5 years, so I was curious to see how they perform nowadays.
The Pros
Let's start with the good. The Satisfyer Ultra Power Bullet 8 Vibrator has a winning shape for stimulation. That tapered tip feels great, and I love that it's firm along the edges of the cone, but still a tiny bit squishy at the tip to keep things comfortable. I guessed right that I would enjoy the shape.
The Cons
Unfortunately, there are limits to how much I can enjoy the Satisfyer Ultra Power Bullet 8 Vibrator. Because no matter how nicely designed the stimulation tip is, we folks still need a good motor inside. And I struggle to find climax with this toy because the vibrating motor is, even on a full 4.5 hour charge, still fairly weak and buzzy.
NOOOOOoooo. It doesn't matter how fancy a vibrator is or looks… it HAS to have a good motor in there to make it worth my time or money.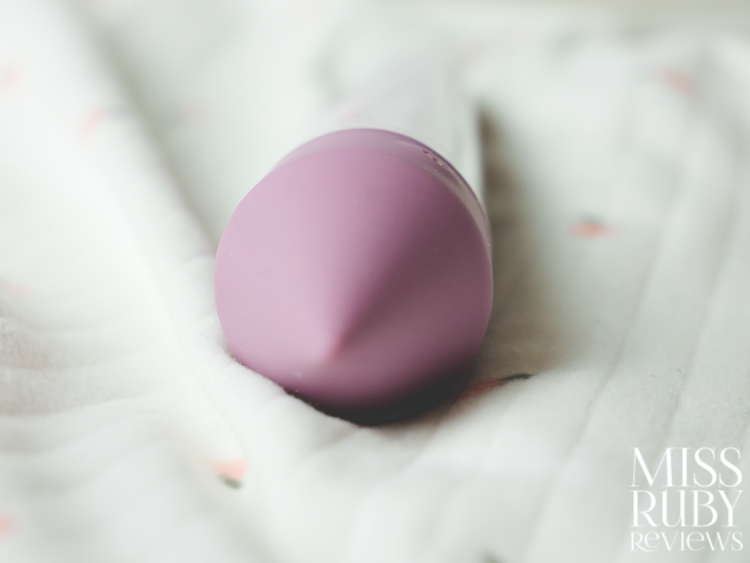 So despite the gloriously pointy tip, I personally find this vibe's motor too weak and buzzy for any hopes of climax. Just as aggravating is the slippery, narrow handle — I liked how the handle looked, but when it's rattling in my hand it starts to feel too narrow and hard to comfortably hold.
Coupled with an outrageously long charging time (4.5 hours for 1 hour of playtime), I'm just really not a fan of this product.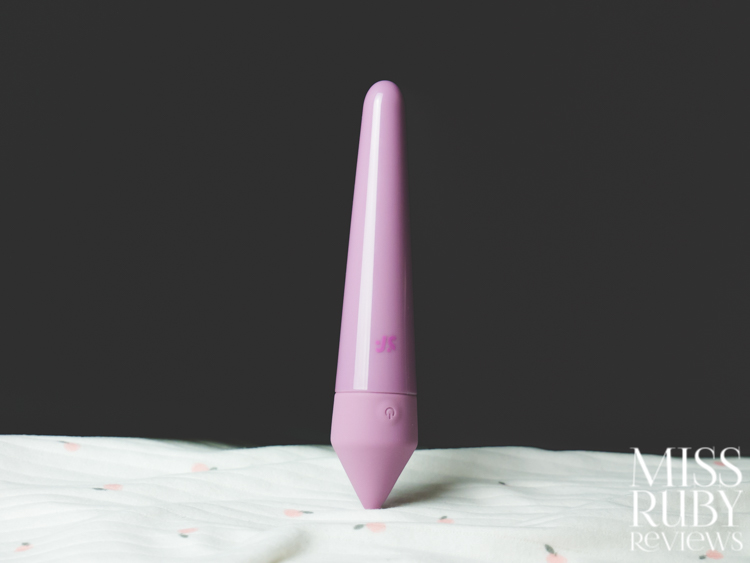 So what's a better alternative?
If you're looking for a bullet with a similar price point, definitely check out the new Blush Limited Addiction Power Vibes; they come in GORGEOUS colours and they're SO strong. If you're feeling a little spendy, you could invest in the We-Vibe Tango X, which tends to be the benchmark for bullet vibrators. And if you want something that can double as a bullet vibrator AND an internal vibrator, I recommend the GenderX Powerhouse — that thing has serious rumble. Lastly, if you're looking for something with a ridiculously precise tip, look no further than the Zumio.
Satisfyer Ultra Power Bullet 8 Vibrator Review – Overall Thoughts
Personally, the Satisfyer Ultra Power Bullet 8 Vibrator was not at all satisfying for me. Though the shape looked winning, I found the motor to be lacking and the handle uncomfortable to hold. Its charging time is also one of the worst I've seen. If you're looking for a strong bullet vibrator that's also under $40, definitely try this one instead; it's prettier and damn powerful.
If I haven't discouraged you, you can pick up your own Satisfyer Ultra Power Bullet 8 Vibrator here! Why do I like Peepshow Toys? They ship internationally, only carry body-safe products, and you can get a 10% discount off your whole purchase with coupon code RUBY. 

See below for my Satisfyer Ultra Power Bullet 8 Vibrator review breakdown.

Satisfyer Ultra Power Bullet 8 Vibrator Review
Overall thoughts - 3
3
$39
PROS
Pin-point shape
Made from bodysafe silicone and ABS plastic
Waterproof and rechargeable
CONS
Motor isn't strong or rumbly
Really long charging time
Finicky charging port
Only available in 1 colour
Shop Now
Last Updated on March 18, 2023 by Miss Ruby