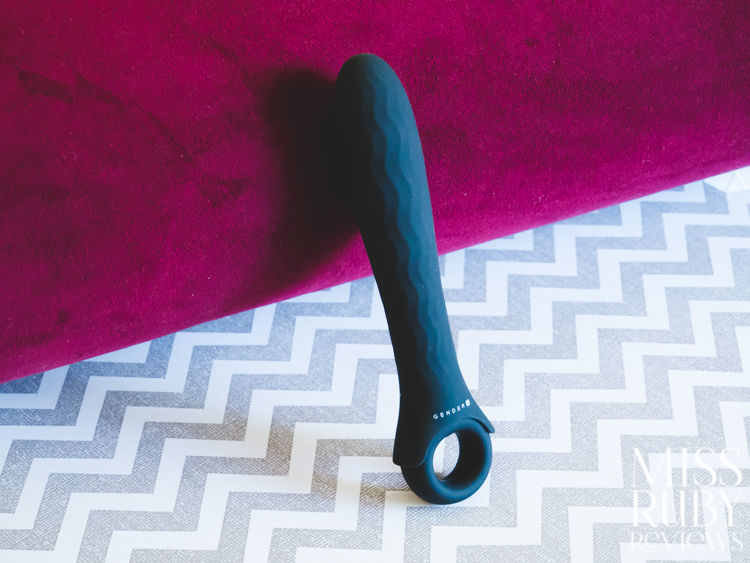 Loving this sleek, powerful, gender-neutral vibe. Read on for my Evolved GenderX Powerhouse review!

---
Design | Accessibility | How to Use | Packaging | Material and Care | My Experience | Overall
---
Design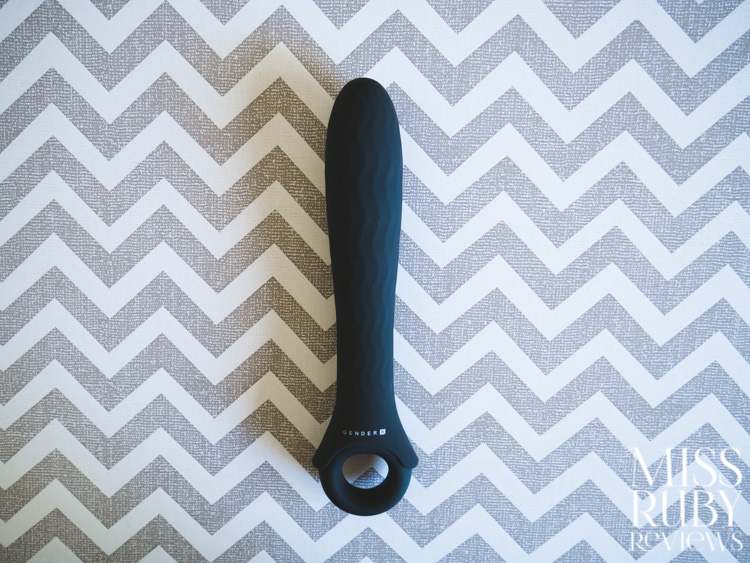 The Powerhouse Vibrating Dildo is a snazzy new full-size vibrator from Evolved Novelties (the folks behind GenderX). GenderX is a line of toys that aims to be inclusive, so they shy away from rigid binary gender norms and marketing… and I'm digging it!
The Evolved GenderX Powerhouse is a vibrator that appears equally designed for clitoral, vaginal, or anal use. It has a long shaft that curves inwards as it reaches the base. The handle flares outwards to form a simple O-shaped loop (this flared handle is what enables this to be safely used anally).
The shaft is seamless but it's not without decoration — light waves ripple down its length, catching the light and giving it a slight texture.
The shaft is not entirely rigid. Around the middle point, there's a flexible joint. The top half of the shaft and the handle portion are totally rigid though. Flexibility in sex toys basically always annoys me… But I'm assuming it was put in to limit the amount of vibration transfer to the handle.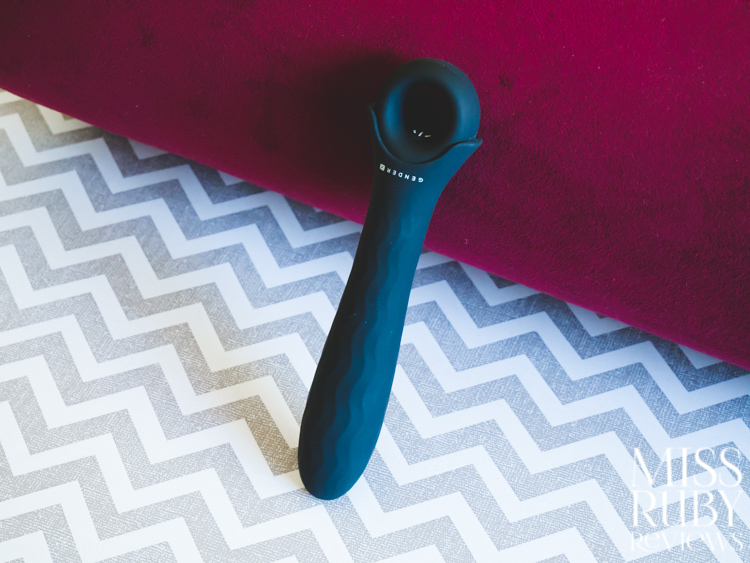 The Evolved GenderX Powerhouse has 12 vibration settings (3 of which are steady speeds). It's made of silky smooth silicone. For convenience, it's also waterproof submersible and rechargeable.
Some semantics — Though they call this a "vibrating dildo," it's really just a vibrator, plain and simple.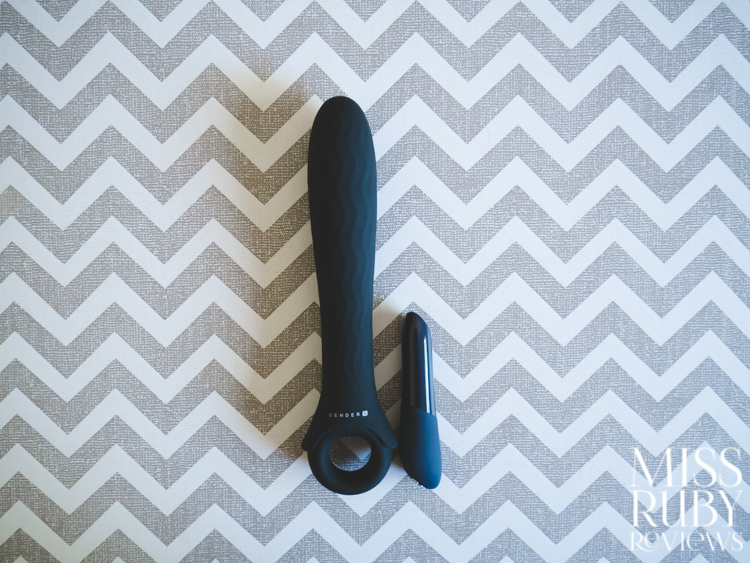 When I first saw this toy's online product page, I initially thought that the Evolved GenderX Powerhouse was bullet-sized. Though you can use it clitorally, it's a full-sized vibrator for internal G-spot or P-spot use (8.5″ total!). For size reference, above is the Evolved GenderX Powerhouse pictured next to the We-Vibe Tango X. As you can see, it's no bullet!
Accessibility
This section is to help folks determine if they might have any issues using/accessing the Evolved GenderX Powerhouse
Size: The Evolved GenderX Powerhouse is 8.5″ long (7″ insertable). The widest part of the shaft (towards the end) has a 3.5″ diameter.
Weight: Eep, my scale's batteries have run out so I can't give you an exact weighing. I would guess this to be approximately 200 grams.
Buttons: There's just one button at the base (inside the loop handle). It's about 1 cm round and 2mm tall. It takes moderate pressure to press and makes a loud 'click' sound.
Vibration transfer: An average amount of vibrations transferred to the loop handle. It's fairly typical, but if you have joint sensitivities you may want to look elsewhere or wrap your hand in a blanket before holding it.
Price: At $68.99 USD, this is moderately pricey compared to toys with similar features. You can certainly find lots of vibrators that are more expensive, but there are also a few cheaper options out there (though, not necessarily with this level of power).
How to Use the Evolved GenderX Powerhouse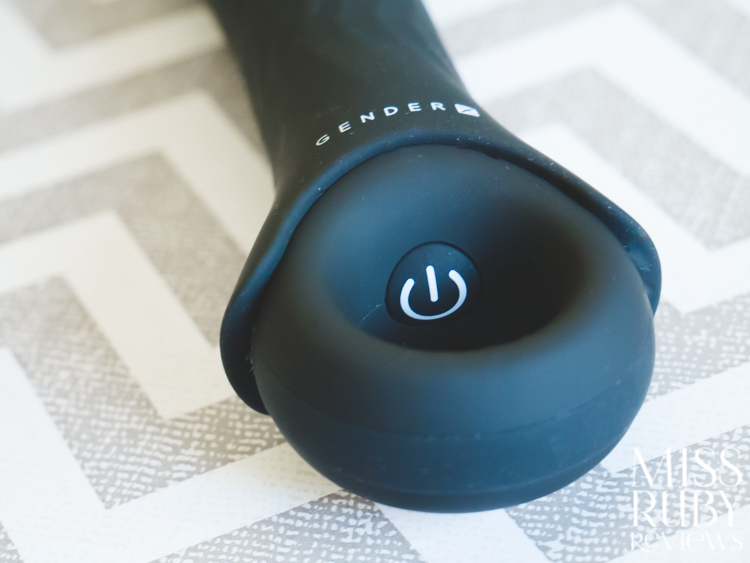 The Evolved GenderX Powerhouse is controlled by a single power button at the base, tucked inside the O-shaped handle.
To turn it on, press and hold the power button for a couple of seconds. It'll turn on at the lowest level.
Apply to your body. This can be used clitorally, vaginally, or anally (or on other body parts like nipples or the shaft of a penis).
Tap the power button to cycle through the 3 steady levels and 8 patterns.
To turn it off, press and hold the power button for a couple of seconds.
Packaging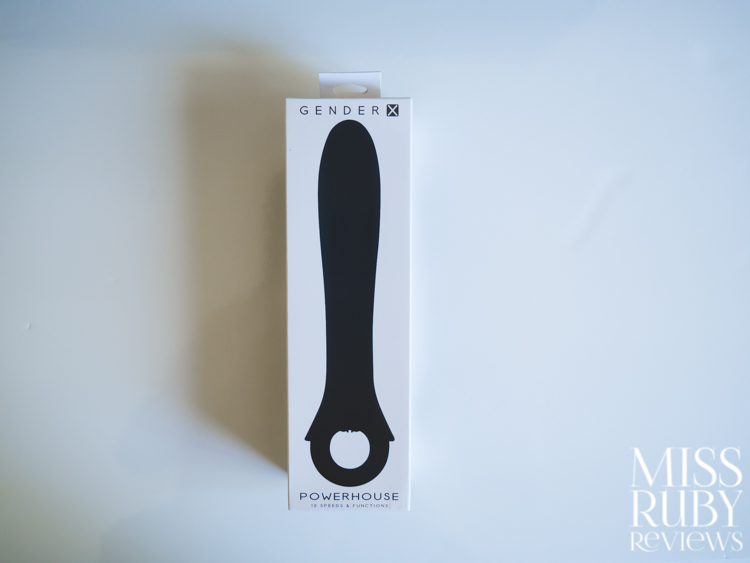 The Evolved GenderX Powerhouse arrives packaged in a simple white cardboard box. It isn't particularly luxurious or embellished, but it gets the job done. The vibrator is pictured on the front.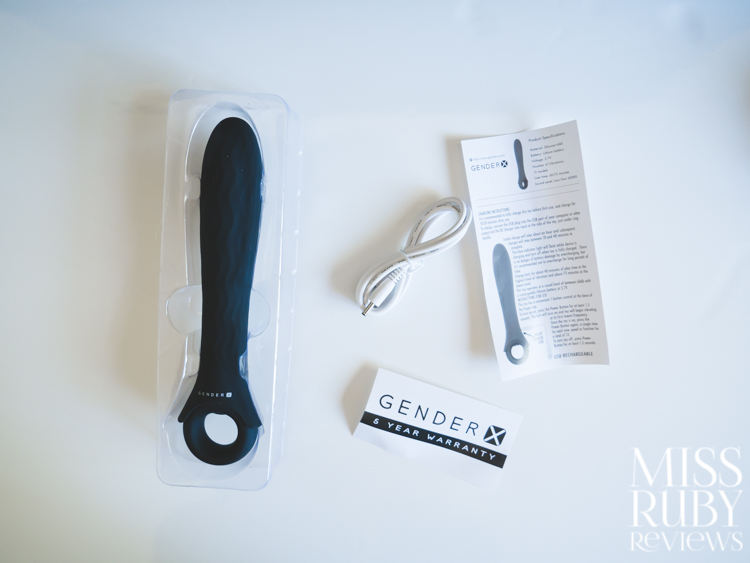 Inside the box, you receive the Powerhouse, the USB charging cord, a 5-year warranty info sheet, and a sheet of instructions.
No storage pouch is included. If you'd like a dedicated storage pouch (not necessary, but it's always nice to keep all the contents in one place), you can browse for some here. The anti-microbial SugarSak in Large would fit this.
Material and Care
The Evolved GenderX Powerhouse is made from silicone with a silky smooth finish. Silicone is a fabulous material for sex toys because it's effectively nonporous (so it cleans well) and it's non-toxic.
The Evolved GenderX Powerhouse is completely waterproof and submersible. I couldn't find any specific cleaning instructions. But personally, to clean, I've been simply rinsing the whole thing in warm, soapy water before and after each use.
If you'd like to add lubricant (which I always recommend), try a good quality, water-based lube like my favourite basic Sliquid H2O.
To charge, insert the needle-end of the charger (included) into the charging port on the side of the shaft, above the ring handle (it's a small, faint, self-sealing hole). Connect the cord to your computer or a USB wall adapter. An LED light at the power button blinks while it's charging and becomes solid when fully charged. A full charge takes up to 40 minutes and gives you between 40-75 minutes of playtime.
The Evolved GenderX Powerhouse comes with a 5-year warranty against defects. This brand really has a great warranty period, one of the best I've seen.
My Experience with the Evolved GenderX Powerhouse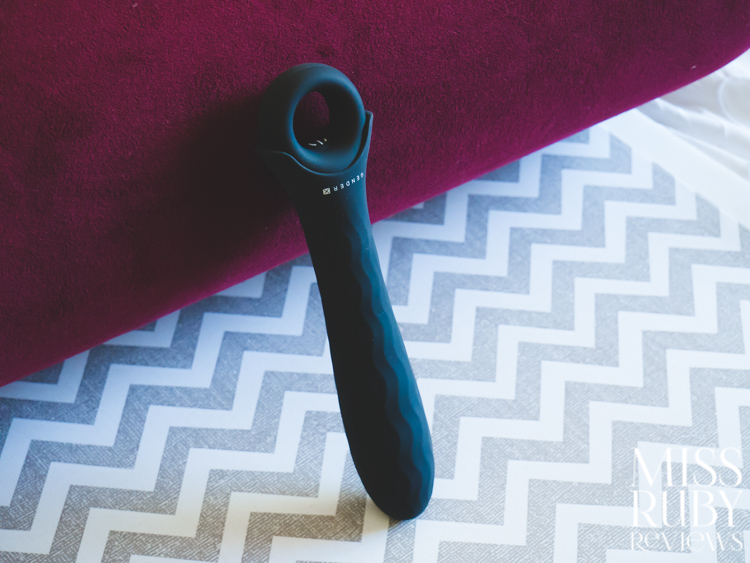 Given the name, I was hoping that the Evolved GenderX Powerhouse would pack a lot of power in it, but so often sex toy brands put that buzzword into a weak toy's name.
But I wasn't disappointed. The Evolved GenderX Powerhouse is POWERFUL.
Personally, I find it ridiculously easy to have clitoral orgasms with Evolved GenderX Powerhouse. There's a lot of vibration and a lot of rumble. Plus, the top half of the shaft is rigid, so I can press in and apply firm pressure where needed. It feels amazing.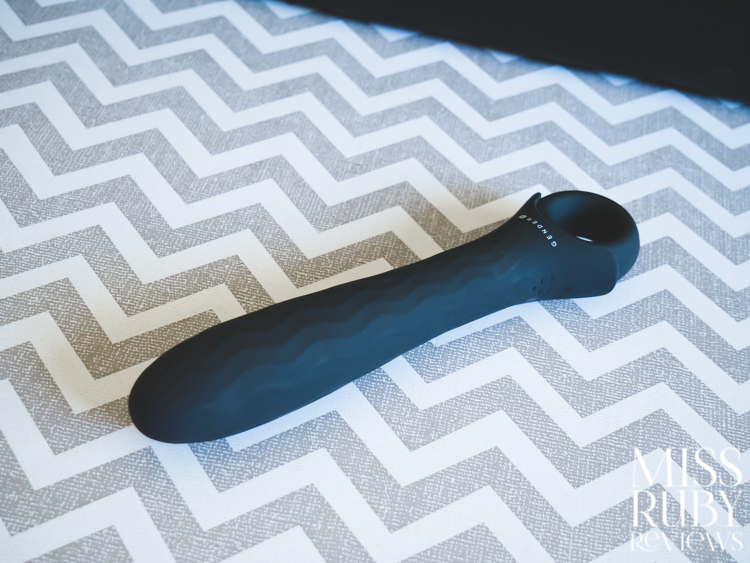 Vaginally, the vibrations go a long way in giving pleasure too. The shaft feels girthy, but not so much that it's hard to insert. The straight shaft does, however, make it a little tricky to target the G-spot without some clever angling. It's pretty spot on for the A-spot though, so no complaints there. The loop handle is handy — it gives me great grip even when things are getting slippery.
Noise-wise, this isn't the quietest vibrator in the world… It's no Doxy Wand, but it's still pretty noisy. If you have flatmates on the other side of the wall, you may want to add some music or white noise, or wait until you have the house to yourself.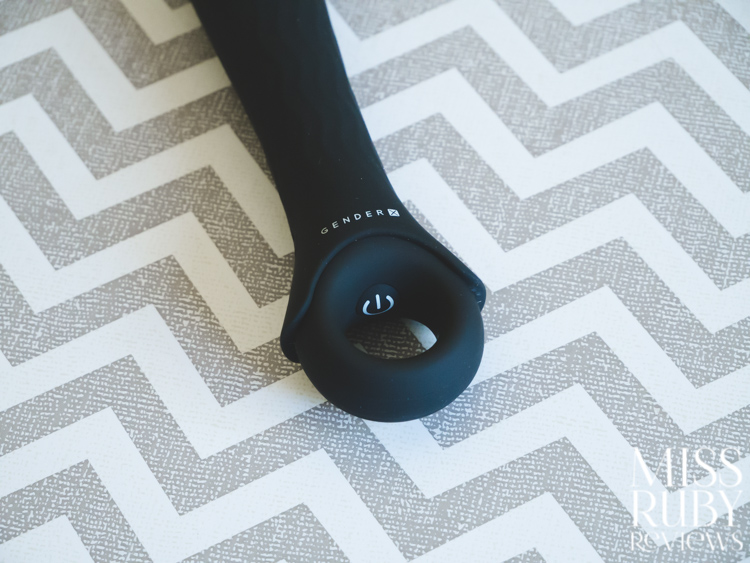 Evolved GenderX Powerhouse Review – Overall Thoughts
Overall, I'm impressed with the Evolved GenderX Powerhouse. It's super strong and rumbly and incredibly pleasurable. I love the gender-neutral appearance and marketing behind it. I also love that it's waterproof, rechargeable, silicone, and comes with a 5-year warranty. This is quite the catch!
You can pick up your own Evolved GenderX Powerhouse here! Why do I like Peepshow Toys? They ship internationally, only carry body-safe products, and you can get a 10% discount off your whole purchase with coupon code RUBY. 

See below for my Evolved GenderX Powerhouse review breakdown.

Evolved GenderX Powerhouse Review
Overall thoughts - 9.1
9.1
$68
PROS
Strong and rumbly motor
Waterproof and submersible
Rechargeable
Gender-neutral design and marketing
CONS
Flexible joint in shaft can be annoying
Somewhat noisy
Shop Now
Last Updated on March 18, 2023 by Miss Ruby