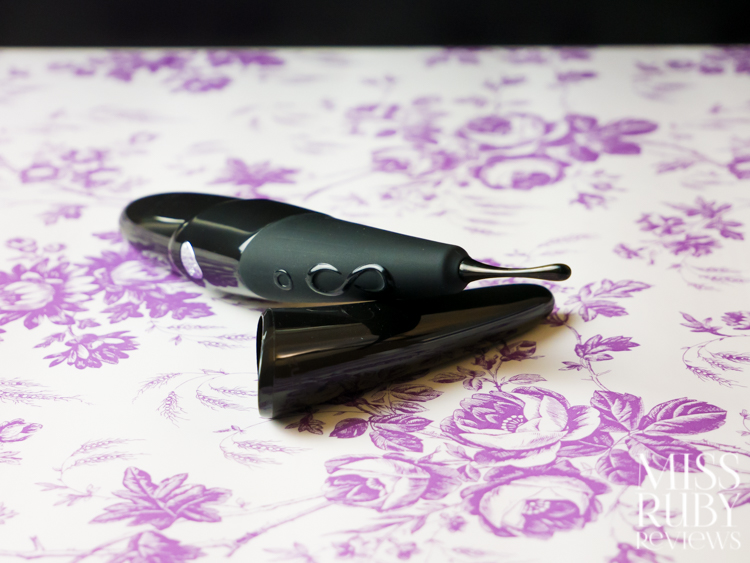 Black, sleek, and weirdly sexy (and no, I'm NOT talking about Darth Vader's uniform). Read on for my Zumio E review!

Design | Accessibility | How to Use | Packaging | Material and Care | My Experience | Overall
Design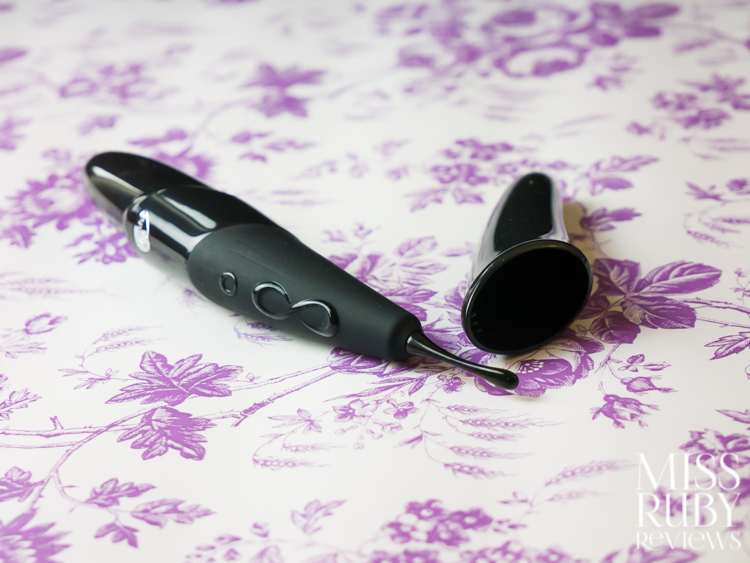 Okay, first some backstory.
In 2017, Zumio launched its flagship product: the purple Zumio X. With a long stimulation tip and ultra-high-frequency rotations (not vibrations), this was the first toy of its kind in the industry. Some people (including myself) thought it looked a little hokey. But the laughs stopped when we realized just how damned intense and pleasurable it was.
A year later, Zumio released the lavender Zumio S, which functioned the same but was designed to be gentler.
And now, in 2020, we get the Zumio E. Asides from its sophisticated black shade, it looks almost identical to its two predecessors… until you look closely.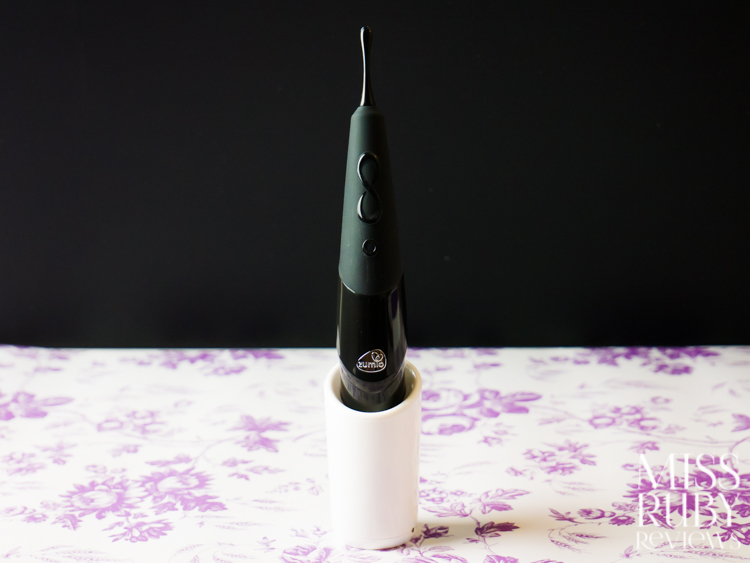 What is this designed for?
In short: Zumio products are designed to provide extreme, unbridled, knock-your-socks-off pin-point stimulation. No other toy is as pin-pointed as this. The stimulation is soooo focused that you don't know if you want to keep going, but you do anyway.
How is the Zumio E different from the Zumio X or Zumio S?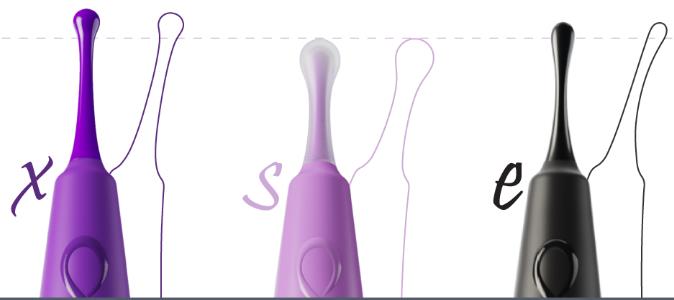 On paper, this is how the new Zumio E compares with older Zumio models:
Accessibility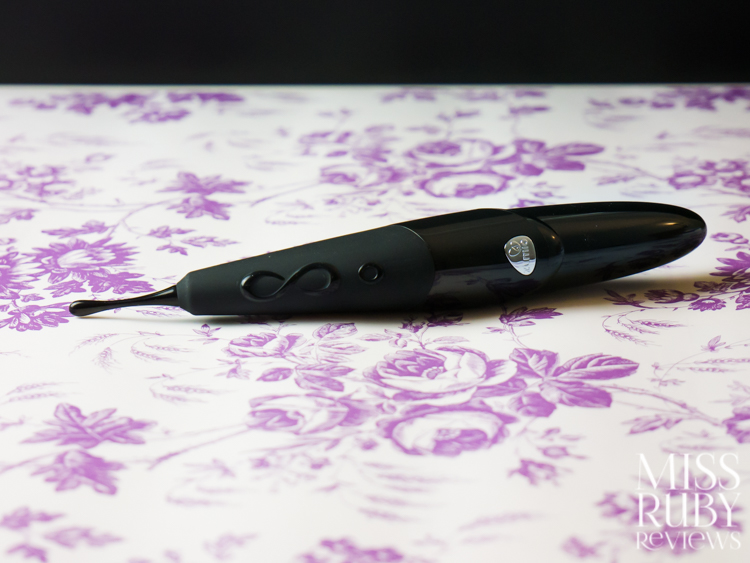 This section is to help folks determine if they might have any issues using/accessing the Zumio E.
Size/Weight: The Zumio E measures about 17.5 cm long (total) and 2.8cm wide (at the widest part of the handle). It's a lightweight toy — about 75 grams.
Buttons: The 3 control buttons are located under the stimulation stem, one above the other. They're coated in silicone. Because the black buttons are on a black background, some folks may find it hard to see them
Increase/Decrease buttons: The increase/decrease buttons are the top and bottom halves of the big ∞ button, which is 26mm long. I find this tricky to press because the middle area of the ∞ button doesn't do anything (you have to press the top curve and the bottom curve). It's a shallow and silent button.
Power button: The O button to turn it on/off is 4mm below the ∞ button. It presses down with no resistance, but is very small (6mm), shallow, and is silent.
Handle buzz: The bottom of the handle shudders from the motor. Your hand will definitely buzz while holding this.
Other notes: To get the travel cap to stay on, you have to press the two together quite firmly. Because this is such a pin-point toy, you'll need to be able to precisely target where you want to. This is a cordless toy so you're not stuck to a wall. The handle and travel cap are made from smooth ABS plastic, which can be slippery. The top half of the body is silicone and less slippery.
Price: At $98 USD, this is the same price as other Zumio models. This is slightly pricier than Zumio knock-offs, but its quality is far superior.
How to use the Zumio E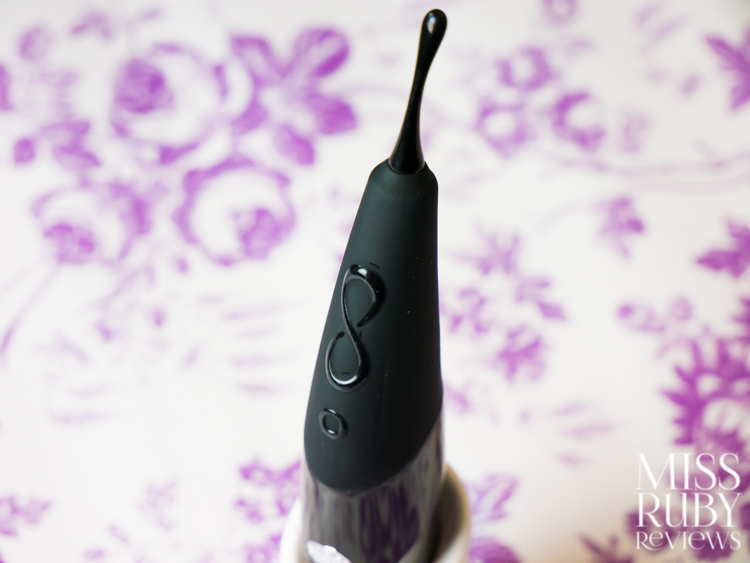 Turn on: Tap the O button to turn on your Zumio E.
Increase: Press the top half of the ∞ symbol (the side closer to the stimulation tip) to increase intensity.
Decrease: Press the bottom half of the ∞ symbol to decrease intensity.
Use: Press the tip or the stem against your body. While designed for use against your clitoris, labia, or nipples, you could certainly try it against the shaft/head of a penis if you have one of those instead. This is not designed for insertion. If you press harder against your skin, you'll get less intense (but deeper) stimulation.
Turn off: Press the O button again to turn off your Zumio E.
Travel lock: To use the travel lock, press the O button for around 10 seconds. That'll lock your Zumio so it doesn't turn on accidentally. Do the same to unlock.
Packaging
The Zumio E comes packaged in a white box. While simple, the box (and internal packaging) feels sturdy and high quality.
Inside the box, you receive your Zumio, a travel cap, your inductive charging stand, a white microUSB cable, and instructions.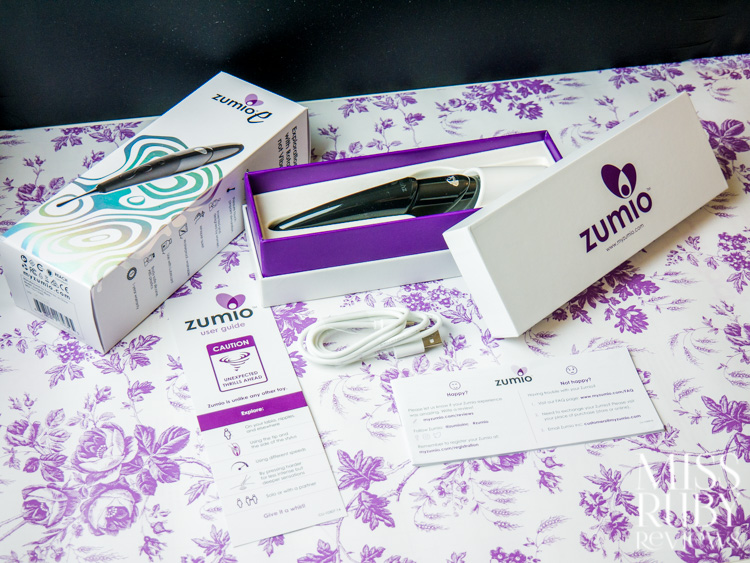 Material and Care
The Zumio E is made from ABS plastic and silicone. These are great materials for sex toys: they're non-porous, non-toxic, and bodysafe.
If you'd like to add some lubricant, I recommend a good quality water-based lube like Wicked Simply.
The Zumio E is waterproof up to a meter. To clean, I rinse with warm soapy water before and after each use.
To charge, place the Zumio inside its white inductive charging stand. Plug your microUSB charging cable (included) into the charging stand and to your computer or a USB wall outlet. A light on the stand will blink while charging, and become solid when fully charged.
A full charge will get you up to 4 hours of use, but Zumio's manual says that a full charge takes 16 hours. I don't have that kind of patience, so I've just used this with partial charges (with no issues).
Zumio also comes with a 1-year limited warranty that protects you from any factory defects under normal use.
My Experience with the Zumio E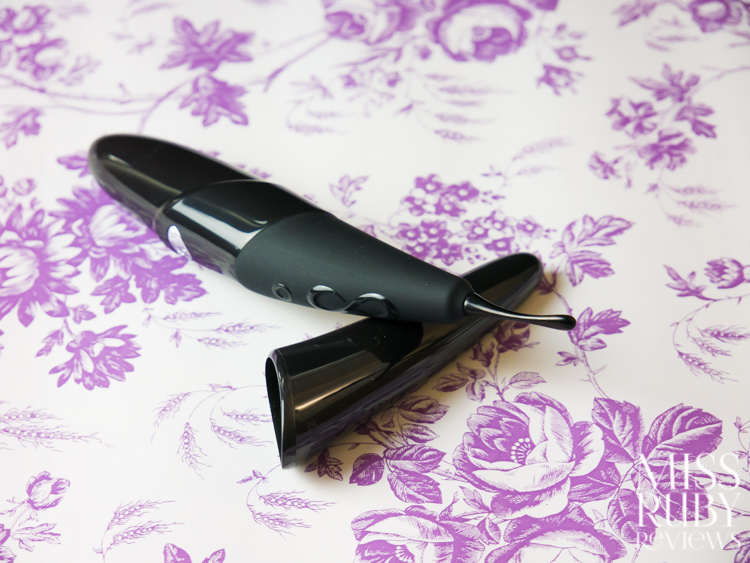 The main thing, in my opinion, that sets the Zumio E apart from its predecessors is its teardrop-shaped tip.
Zumio writes that the Zumio E gives "high-precision stimulation and variable feel depending on how it's positioned." This sounded like abstract, meaningless talk until I actually tried it.
Last year, I compared the flagship Zumio X with its gentler cousin, the Zumio S. These older models had perfectly round, spherical stimulation tips. The purple Zumio X's stimulation tip was smaller than the lavender Zumio S' tip, sure, but they were both spherical. This meant that no matter which angle you targeted yourself with, you were going to get the same kind of feeling. The Zumio X would always give a super intense sensation, and the Zumio S would always give a gentler feeling.
The Zumio E, however, has a teardrop shape. This means that the sides (right below the tip) are flatter and longer than the very tippy tip.
Surprisingly, this means you get a tangibly different result during use, depending on what point you press against you. I blind tested this with my partner and can confirm that:
When you use the sides below the tip, you get a gentler, broader sensation.
When you use the tippy tip, you get a higher intensity and more focused sensation.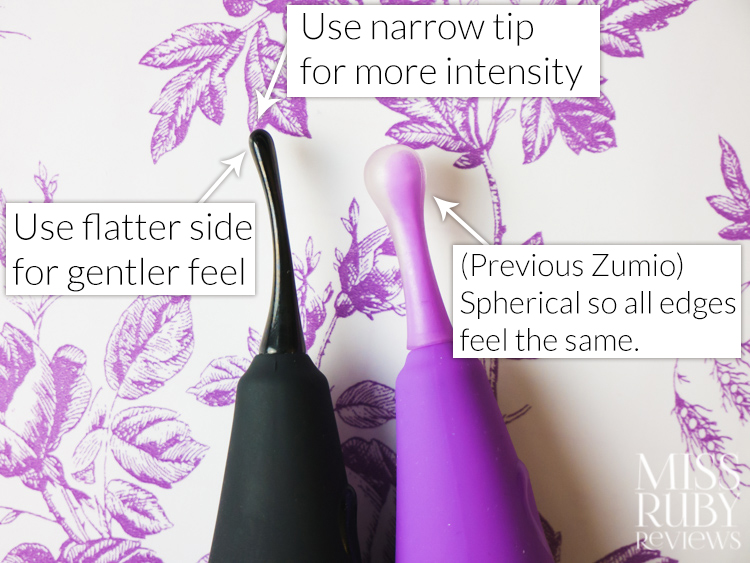 This is handy. You can get multiple sensations depending on your angle. Before, you'd have to separately purchase the Zumio S if you wanted a gentler feel, or the Zumio X if you wanted a more intense feel. The Zumio E is an all-in-one toy.
The customized sensation doesn't end there. Of course, you can increase and decrease intensity levels using the control buttons, but you can also apply more pressure for a slower (more shuddery) kind of frequency. If you stick to a light touch, on the other hand, the motor will remain at a high frequency (giving you almost a buzzier feel). This was the same in the previous models.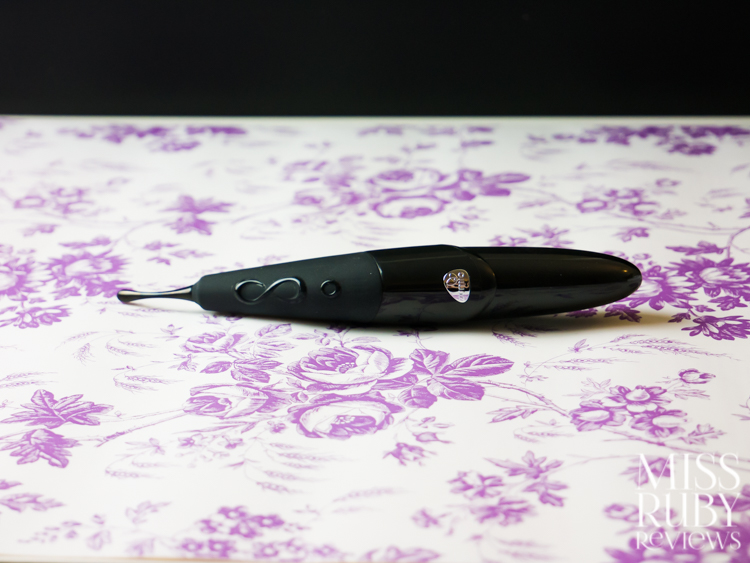 Okay, sure, but how does it actually feel?
Ridiculously intense. My poor clitoris. Like with previous Zumio models, the stimulation is so pin-point, so intense that it's almost painful… but you keep going anyway. The resulting orgasms are STRONG and tear out of you. They leave me shaking, exhausted, and satisfied.
I really appreciate that the new Zumio E lets me customize my experience. When I'm feeling brave, I'll use the tippy tip for an extra fiery orgasm. The rest of the time, though, I stick to the broad, flatter sides. This gives me a gentler experience (still strong, but gentle enough to let me catch my breath).
How different does the new elliptical rotation function feel? Previous models moved in a circular motion. Honestly, I guess it's doing something different, but I can't tell what it is. The same goes for the new rigid stem (previous models had a flexible stem). No clue… It's probably helping you get a more precise feel, but my clitoris can't tell for sure.
Zumio E Review – Overall Thoughts
The Zumio E is a fantastic toy. It gives incredibly pin-point stimulation for super intense play sessions. It's also waterproof, rechargeable, bodysafe. Don't let copycat brands tempt you — I've tried Zumio knock-offs and they're dismal compared to the real thing.
So which Zumio should you choose?
The older Zumio X always provides high intensity no matter how you hold it. The Zumio S always gave you a gentler feel. But the new Zumio E is an all-in-one toy that lets you try out both a gentler edge and a more intense tip.
If you don't know which one to pick, just go with the Zumio E. If you buy the Zumio S, you'll be curious about how intense the Zumio X could be. If you buy the Zumio X, you might find it too intense and wish you bought the Zumio S. But if you go with the Zumio E, you have the option of both worlds.
Head on over to Zumio to pick up your Zumio E! Why shop directly through Zumio? By purchasing through the manufacturer, you ensure you're not getting a knock-off. You also ensure discreet packaging, free shipping, and your 1-year warranty. 
See below for my Zumio E review summary!
Last Updated on July 9, 2020 by Miss Ruby