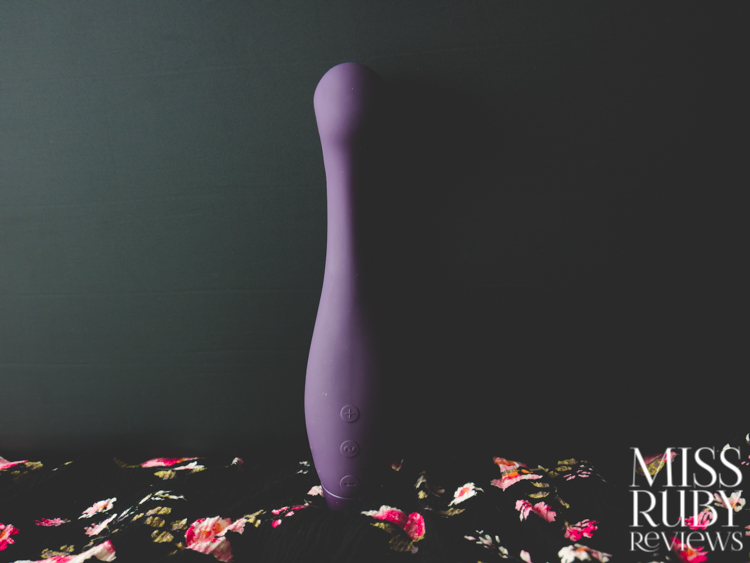 One of my favourite gift-worthy companies has released a new G-spot vibe. Read on for my Je Joue Juno review!

---
Design | Accessibility | How to Use | Packaging | Material and Care | My Experience | Overall
---
Design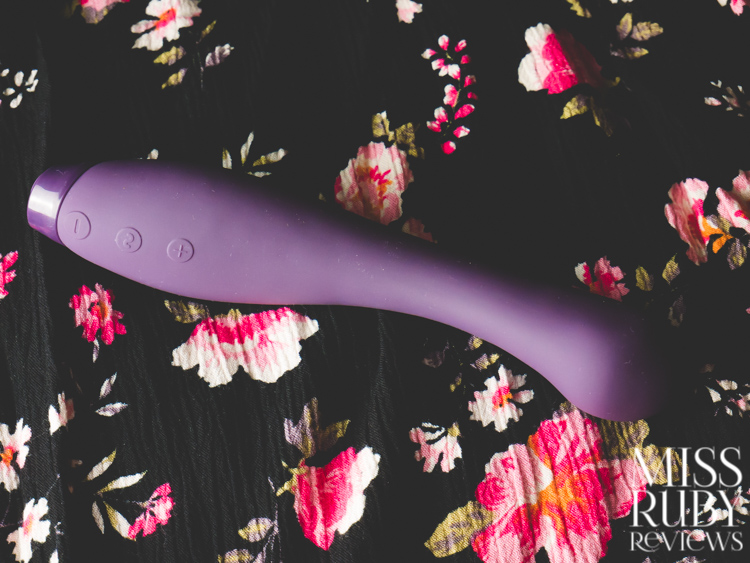 The Je Joue Juno caught my eye with its glorious shape. It reminds me of one of my favourite G-spot toys from ages ago, the discontinued LELO Ella, albeit in a bigger form. There's that flared, tapered tip. The shaft narrows dramatically but stays curved. The handle flares out wide for a comfortable grip.
That hooked tip is crucial for effective G-spot stimulation, and it's a tried and true design.
The Je Joue Juno is "dual-layered," which means that there's a soft exterior layer of silicone surrounding a firmer layer. This gives it some lovely squish without compromising its rigidity. And it is very rigid, which lets you apply a lot of pressure.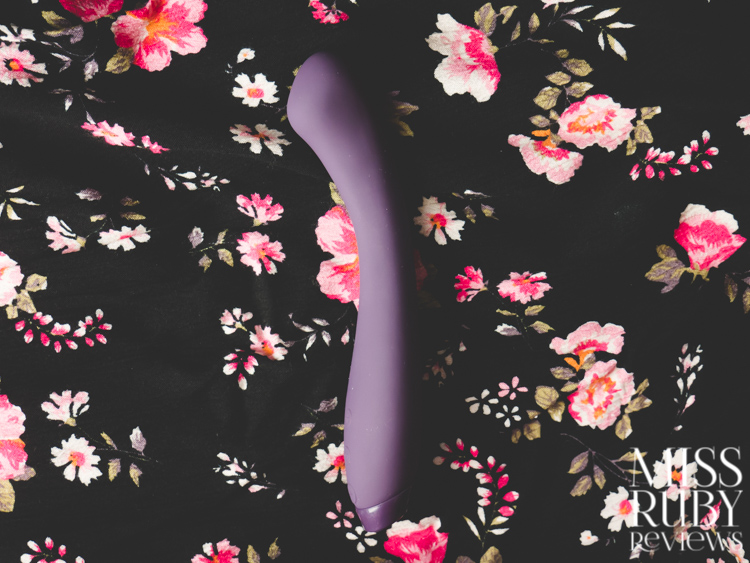 I prefer rigid G-spot toys so you can apply as much pressure as you want but, if you feel differently, Je Joue also made the Je Joue Juno Flex, which is the exact same except for a bendy shaft that can bend 180° in any direction. (G-spots need firm pressure, so I don't really get the point of this, but everyone has different preferences.)
Unlike the LELO Ella, the Je Joue Juno is a vibrator — a strong one that has 5 steady states and 7 patterns to choose from. It's also waterproof, rechargeable, and totally bodysafe with its silicone coating.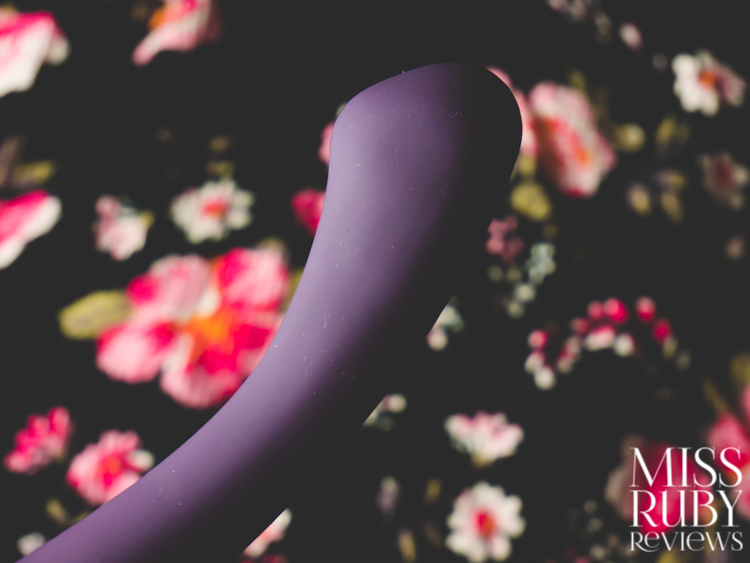 The Je Joue Juno comes in purple (which I got) and pink. This purple is subtle and serious. If you opt for the Je Joue Juno Flex, your toy will be black.
Accessibility
This section is to help folks determine if they might have any issues using/accessing the
Size: The Je Joue Juno is about 7.25″ long (total) and 1.25″ at the widest part of the head. There's about 5″ of insertable length.
Weight: The Je Joue Juno clocks in on my scale as 122 grams, which is an average weight for a G-spot toy.
Buttons: There are 3 round buttons, approximately 7mm wide and 7mm apart. They're less than 1mm tall, so essentially are flush with the surface. They take moderate pressure to press and make a very quiet 'click' sound.
Vibration transfer: A moderate amount of vibrations transfer to the handle, a usual amount for a G-spot vibrator.
Other notes: To charge it, you need to peel back a thin silicone flap at the very bottom/base of the toy. It's so hard to do — there's a tiny crevice that you can hook with your fingertip and peel back. I personally found this tricky to do, and if you have visual or motor challenges you may as well.
Price: At $99 base price, this is a moderately expensive G-spot vibrator. However, Peepshow Toys currently sells it for $73.99 USD.
How to Use the Je Joue Juno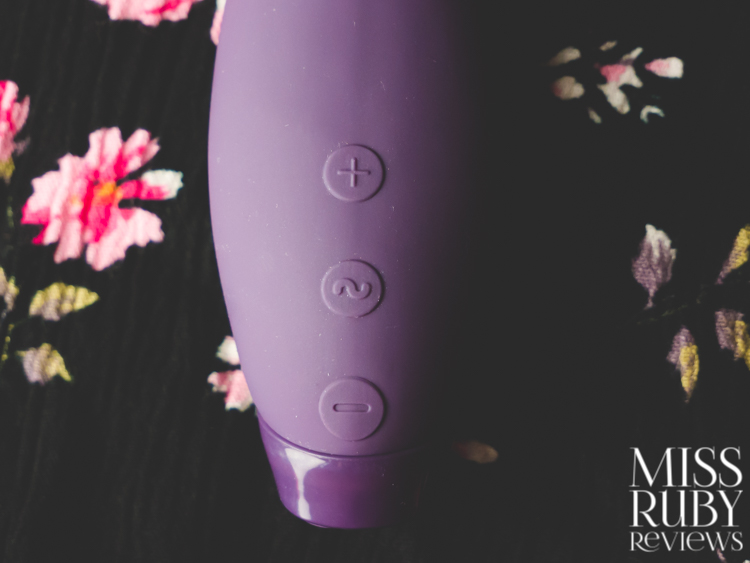 The Je Joue Juno is controlled with 3 buttons on the body: (+), (~), and (–).
To turn it on, press and hold the (+) button for a few seconds.
Apply it to your body. This can be used externally (i.e., clitoris, the shaft of a penis, nipples) or internally (G-spot). Do not use this anally as it doesn't have a flared base.
Tap the (+) button to cycle through the 5-speed options.
Tap the (–) to go to a softer option.
Press the (~) button to cycle through 7 patterns. You can change the strength for each pattern independently, so technically there are 35 different combinations to use.
To turn it off, press and hold the (–) for a few seconds.
Packaging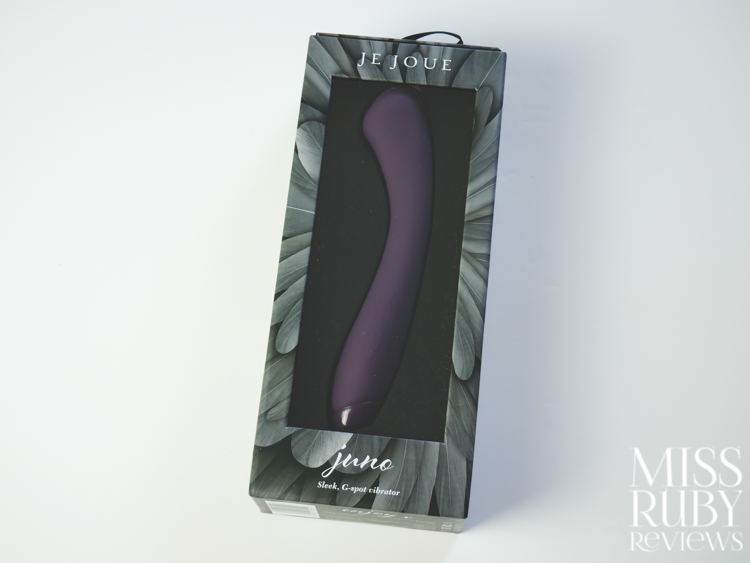 The Je Joue Juno comes packaged in Je Joue's signature black feather-designed box. A clear window is in the front showing the Juno.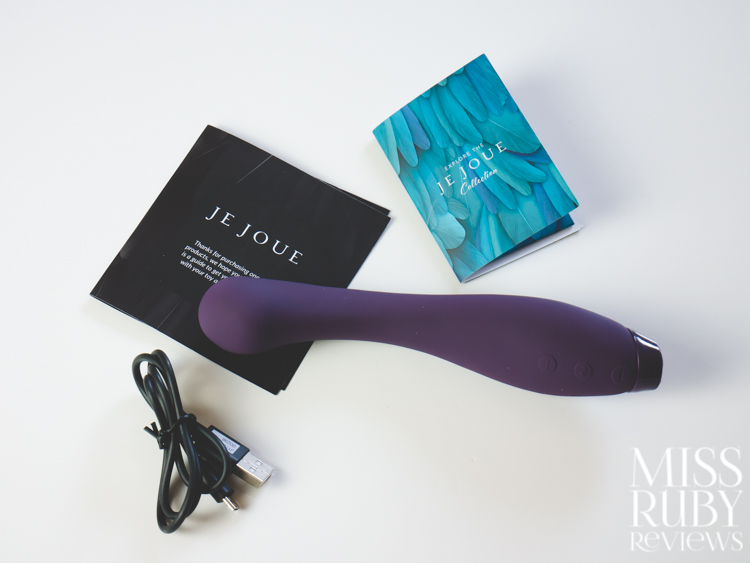 When you lift up the box's lid, you can pick up the Juno, which is nestled in a black pillow. Beneath the pillow, you find the charging cord, an instructions booklet, and a brochure of Je Joue products.
No storage pouch is included. If you want dedicated toy storage, you can browse some here.
Material and Care
The Je Joue Juno is silicone, which has a soft and matte texture. This is a fantastic material for a sex toy because it's easy to clean, hygienic, and hypoallergenic.
The Je Joue Juno is completely waterproof. To clean, I simply rinse in warm, soapy water before and after each use. You could also add a dedicated sex toy cleaner if you like, but mild soapy water has worked for me.
If you'd like to add lubricant (which I always recommend), try a good quality, water-based lube like my favourite basic Sliquid H2O. Avoid silicone-based lubricants, which will damage the finish of any silicone toy.
To charge, peel back the thin silicone flap at the very bottom/base of the toy. It's quite tricky to do so — there's a tiny crevice that you can hook with your fingertip and peel back. I don't have long fingernails so honestly, I found this so hard. That'll reveal a mini USB port. Plug in the included charging cable, then the cord to your computer or a USB wall adapter. A full charge takes 90 minutes, which gets you 1 hour of playtime on the top strength.
My Experience with the Je Joue Juno
Confession: I had a STRONG suspicion that I'd enjoy the Je Joue Juno the moment I saw it online.
Curved shaft? Check ✔
Wide, tapered tip? Check ✔
Rigid shaft? Check ✔
These three things are magical ingredients when it goes to G-spot pleasure, and my body agrees.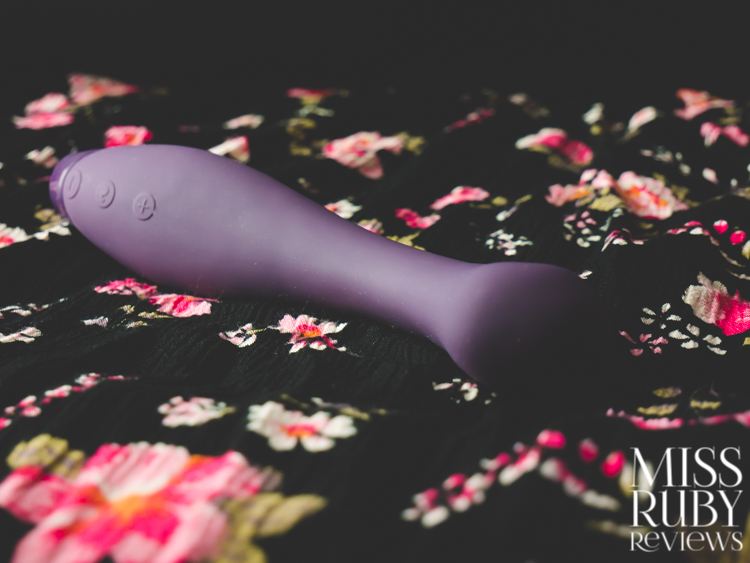 When I use the Je Joue Juno, the tip feels large and girthy going in, but it's not difficult (that tapered tip makes entry as smooth as possible). The head kind of 'pops' in once you get past the widest point and the neck narrows down. Once it's in, the thin, curved shaft makes it easy to target the G-spot — the hooked nature of the head and shaft find the G-spot very easily. If you go too deep, that squishy head helps cushion any accidental knocks against your cervix. It feels amazing, and this is becoming one of my more favourite G-spot toys.
The pièce de résistance is the unyielding, rigid shaft. When thrusting, I can push as hard as I need to so that the head digs in hard against my G-spot as it glides along. That's why I recommend this version of the Juno over the Juno Flex. G-spots often need very firm pressure, but it's surprisingly hard to find G-spot toys that don't bend.
Je Joue Juno's Vibrations
But this isn't just a G-spot dildo — this is a vibrator.
The Je Joue Juno's vibrations are good. They're not earth-shatteringly strong, but not they're certainly not weak either. They're a quality I've come to expect from Je Joue — a rumbly purr, one that's strong enough for me to have a clitoral orgasm with ease. If you are an absolute power queen, though, you'll possibly find it lacking and need to stick with something like the GenderX Powerhouse (though that doesn't have this great shape).
Je Joue has also prioritized noise levels. This toy isn't noisy — it's probably one of the softest (noise-wise) G-spot vibrators I own. If you need something discreet, this one's a safe bet.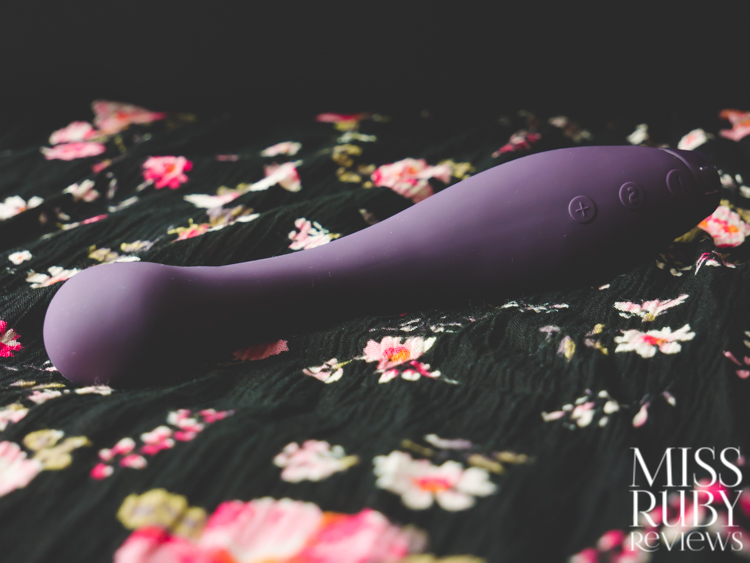 Je Joue Juno Review – Overall Thoughts
The Je Joue Juno has become a G-spot favourite of mine. I just LOVE the wide, tapered head, the curved, narrow shaft, and the rigid body. The shape is a big win for me. The vibrations and noise level aren't bad either, plus this is waterproof, rechargeable, and made of bodysafe silicone. If you're like me and need very hard G-spot pressure, I recommend this non-flexible version over the Juno Flex so you can press as hard as you want!
You can pick up your own Je Joue Juno here! Why do I like Peepshow Toys? They ship internationally, only carry body-safe products, and you can get a 10% discount off regular price toys with coupon code RUBY. 

See below for my Je Joue Juno review breakdown.

Je Joue Juno Review
Overall thoughts - 9
9
$99
PROS
Tapered head
Curved, rigid shaft
Comfortable handle
Dual-layer silicone gives it some comfy squish
Rechargeable
Waterproof
Not noisy
CONS
Charging port very hard to uncover
Vibrations won't be strong enough for power queens
Shop Now
Last Updated on March 18, 2023 by Miss Ruby