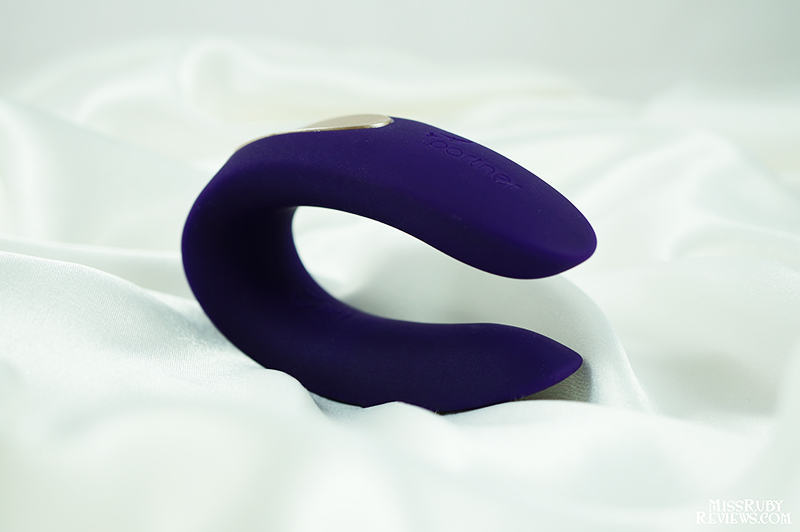 Eeehh……..There's nothing quite so tedious as writing negative reviews, but it must be done.
Physical Details | Material and Care | Packaging | My Experience | Overall
Physical Details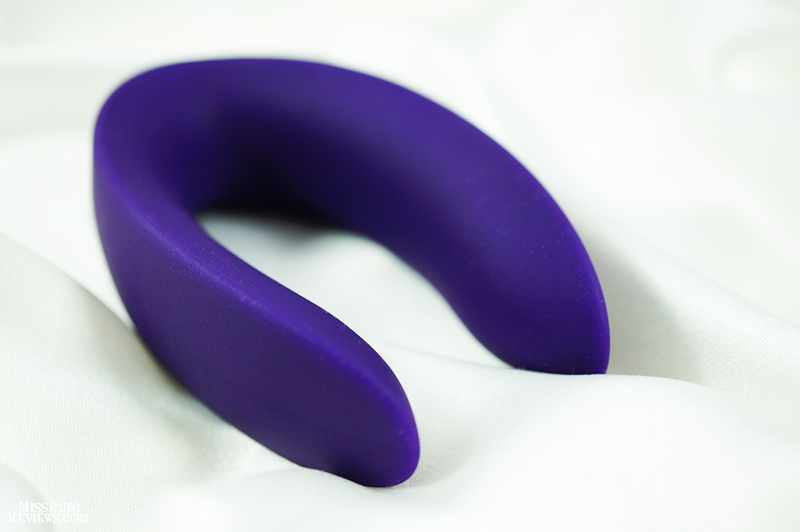 Satisfyer is making a bit of a name for themselves, and not in a great way. Their Satisfyer Pro 2 raised a ton of eyebrows for its blatant similarities to the original classic Womanizer. But the Satisfyer Pro 2 worked: it felt good, and it was cheaper than the Womanizer, so some folks (including myself) were inclined to feel warm towards it.
Here, again, we see Satisfyer attempting to do something similar. Satisfyer Partner Plus…. remind anyone of the earlier models of We-Vibe?
The Satisfyer Partner Plus is designed to be worn during PIV sex. One arm (theoretically) fits inside the vagina and rests against the G-spot. The other arm is supposed to cling to the vulva, pressing against the clitoris. As both arms vibrate, your clitoris and G-spot are supposed to receive stimulation, giving sex some extra oomph.
Design: The Satisfyer Partner Plus is designed fairly simply: a C-shape structure with a vibrating motor in each arm. On the outside of the clitoral arm, you have a gold-colored plastic button, which takes you through several vibrations strengths and speeds. For some reason, this toy was designed with fairly sharp edges. As both arms are flattish, they have pointy ridges running all along their sides.
Vibrations: See "My Experience" section below.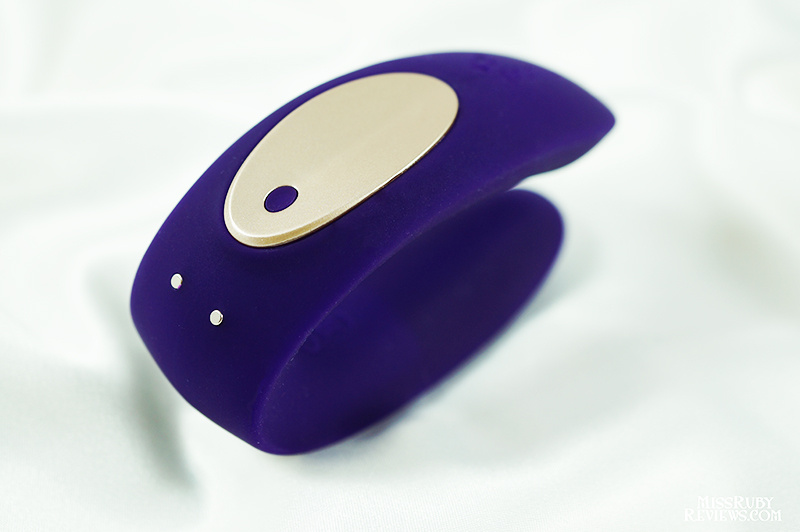 Noise: The Satisfyer Partner Plus isn't loud, which is nice. It's louder than the We-Vibe Sync, but it's not ridiculously loud like the Magic Wand or anything. It cannot be heard through walls or doors.
Features:  The Partner Plus is rechargeable and waterproof!
Material and Care
The Partner Plus is made of medical grade silicone and ABS plastic, making it totally bodysafe (non-porous and non-toxic). If you're going to use a lubricant, I suggest that you opt for a waterbased one like Sliquid.
For regular cleaning, I suggest rinsing in warm soapy water. If you're going to share this with another partner, definitely sterilize it: wipe down with a 10% bleach solution and rinse thoroughly.
Packaging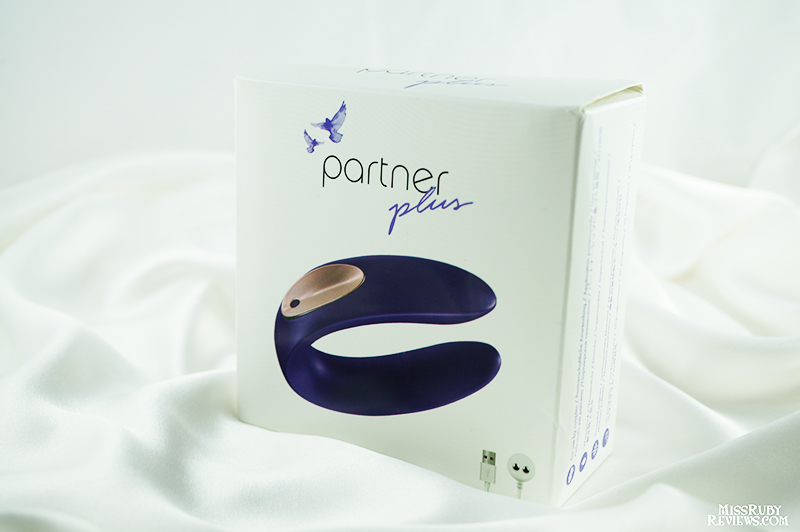 The Partner Plus is packaged cleanly in a white box. Inside, you receive the Partner plus, a USB charging cord, and an instruction manual.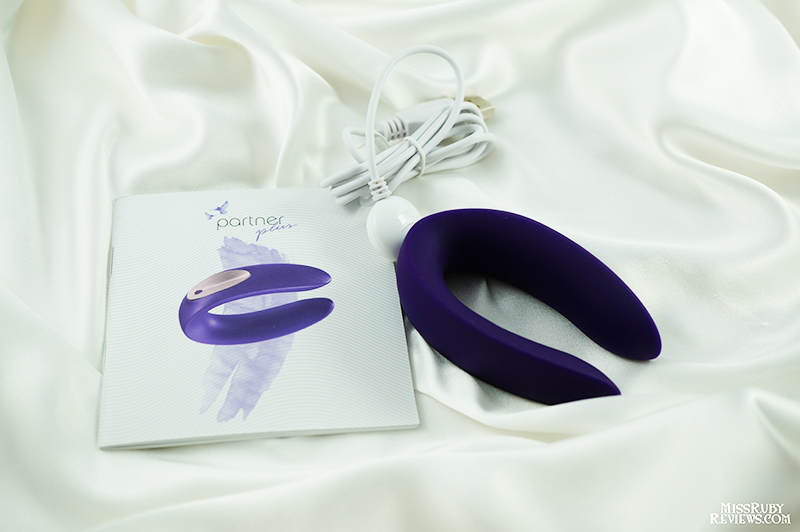 Our Experience with the Satisfyer Partner Plus
I really hoped that I'd love the Satisfyer Partner Plus. For a partner toy, it's sooooo cheap!
But no.
Theoretically, it should enhance PIV sex with your partner. But to do this, the product needs to do two things: comfortably stay in place and vibrate well. Unfortunately, it does neither of these things.
Mr. Ruby and I found it impossible to get the Partner Plus to stay in place, or stay comfortable. When you insert it, you're inserting a pointy arm with a fairly sharp horizontal edge — this doesn't make a great start. Once it's in, the silky-soft silicone and the perfectly smooth, textureless surface work against your body, making it extra easy to fall out.
The real issue, though, seems to be that there is very little tension between the two arms: they're too flexible, and can be pulled into a 90 degree angle much too easily. This means that the Satisfyer Partner Plus isn't able to cling onto my vulva at all, but fits loosely, and jostles about, and falls out constantly.
To improve on this, Satisfyer needs to use a grabbier silicone texture, add some ridges to help this clingyness, and reduce the flexibility of the arms. Without these things, the Partner Plus just wants to slip out.
But it's the vibrations that really bug me. The vibrations are extremely buzzy. Holding it in my palm for 30 seconds gets my carpel tunnel riled up. My clitoris stands no chance: it numbs straight away. As for my G-spot? The vibrations are barely on my radar. My partner isn't exactly thrilled about them either. Even for his penis, they're too surface level and too weak, and I find it hard to imagine anyone getting real pleasure from it.
Am I being harsh? The Partner Plus is only a $49 toy, after all. But, really, the We-Vibe Tango is only a $79 toy, and it provides some of the strongest vibrations on the market.
Also the buttons. Somehow, when it's all set up and positioned correctly, the buttons are hard to find. Plus they're slippery. Then I wish there was a remote contorl.
Overall
I can't recommend this toy.
It cannot stay in place because (1) the tension between the two arms is too weak, making it too flexible and (2) the surface of the toy is too smooth/silky and textureless, which makes it easier to fall out.
It also has exceedingly buzzy surface-level vibrations, which do nothing but numb my clitoris and irritate my partner's penis.
If you're going to go for a dual-motored partner toy, save up instead and invest in the We-Vibe Sync (review here). Yes, it's pricey, but it'll actually get the job done.
But if I haven't managed to dissuade you, you can purchase the Satisfyer Partner Plus from Peepshow Toys. And for 10% off, use coupon code RUBY.