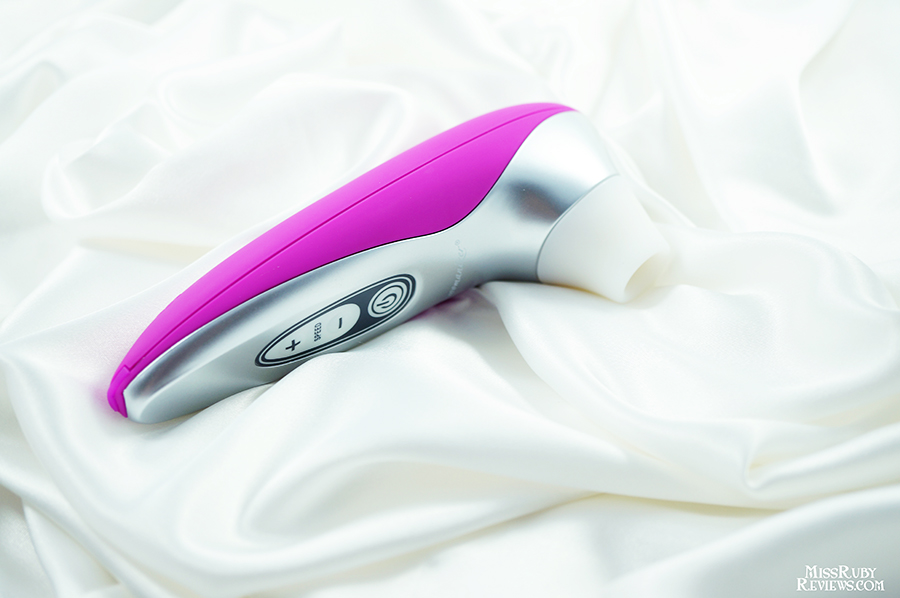 The foul-named one that I love.
UPDATE

: This toy has been discontinued.
---
Physical Details | Material and Care | Packaging | My Experience | Overall
Physical Details
The Womanizer Pro40 is the latest Womanizer model, a suction-based sex toy for your clitoris. Yup, suction. As in, touch-free stimulation for your clitoris, which is just divine as it sounds.
This sounds familiar, doesn't it? A little while ago, I reviewed the Satisfyer Pro 2, which does the same thing. From what I understand, Womanizer was the original innovator, but their products were garish and incredibly expensive. Satisfyer came along and (more or less) duplicated the idea, producing a cheaper and (somewhat) less ugly product, which quickly became popular.
But Womanizer has struck back again, developing this Womanizer Pro40 model, which is a great deal cheaper than their previous versions.
And I love it.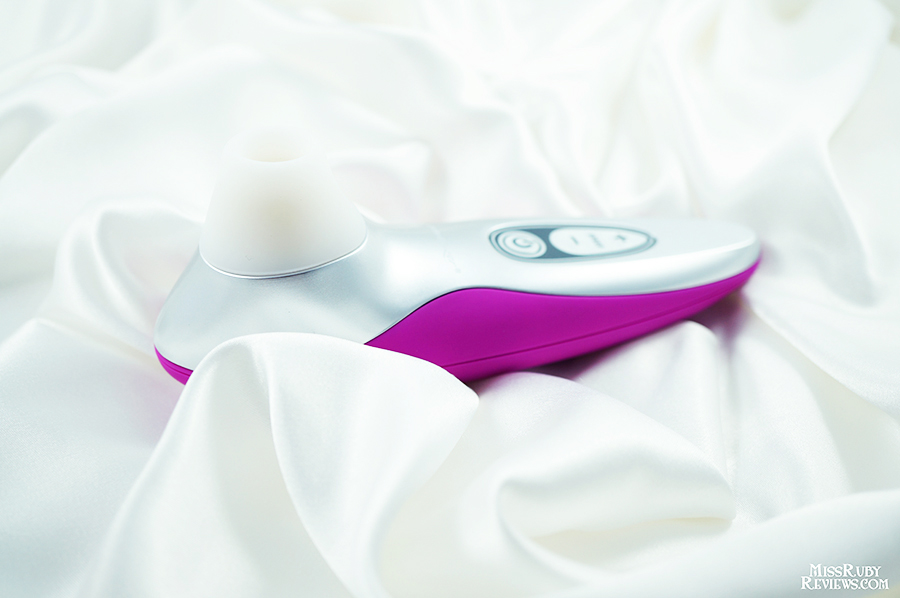 Though I haven't tried previous Womanizer versions, the  Womanizer Pro40  seems like a much-needed upgrade from its predecessors. It's cheaper and it's now fully waterproof, both equally important. It's also sleek and cleaner — previous versions were covered in things like fake diamonds and animal print designs. The name (unfortunately) has stuck: why this company thought to use a word that defines a person who doesn't respect women ….totally beyond me.
But try forget the name. So how does this work? When you place the soft, white, silicone cup over your clitoris and turn the  Womanizer Pro40  on, a vacuum is created. Your clitoris lies in the cup, untouched, but is stimulated by a suction, a touch-free pulling. The more air-tight this vacuum is, the more intense the stimulation, which is why this makes such an excellent toy for my bubble-bath & wine nights.
In other words: this is palm-sized cunnilingus.
Of course, it's a bit more fancy/involved than just putting it on your clitoris and hitting the ON button — if you wish. There are two "cups" for varying clitoral size — a fairly narrow one (pictured) and a considerably larger one. There are 8 stimulation modes, each more increasingly intense than the last. There's also a super handy warm orange glowing light when you turn it on, which apparently makes me super happy — it makes my whole bathtub glow a soft candlelight orange.
For those with mobility issues or arthritis, you'll be pleased to hear that the  Womanizer Pro40  is light and easy to hold. Even under water, the silicone and ABS plastic handle grips well in my palm.
I generally discuss noise in this section, but see "My Experience" below for my discussion on this.
Is it petty of me to complain about the colours? The  Womanizer Pro40  only comes in two colours: silver and purplish pink. I'm thankful for the silver, but it makes the whole thing a bit colourless. And purplish pink…I can't really stand it. It'd be great if Womanizer could have a deep blue or red one of these days…
Material and Care
The  Womanizer Pro40 is totally bodysafe — the part that comes into contact with your clitoris is made of 100% silicone, making it non-porous, toxin-free, and waterproof. The remainder of the body is made from ABS plastic and silicone, and this product can be safely submerged in water (granted you're not charging it at the time).
One thing I have to state is that there's an excessive amount of seams on this toy. This makes clean up a bit more tricky. In the future, I'd like to see Womanizer coming out with a more streamlined (with less seams) version of this toy.
To clean thoroughly, remove the silicone head to expose the "pressure chamber" (sounds futuristic) and dip the pressure chamber into a cup of boiled water. Then turn the device on and run it for one minute.  If you want to clean the silicone cap, chuck it in boiling water for 10 minutes or use a sex toy cleaner.
Because the head is made from silicone, I recommend that you only use a good water-based lubricant, such as this one.
This toy is rechargeable (woo!). It requires about 2 hours of charging for its internal battery to be full. I've also noticed that it holds charge really well when not in use. The battery doesn't appear to drain when not in use, which means you don't have to worry about recharging it before planned use.
Packaging
The Womanizer Pro40  is packaged cleanly in a nudity-free box. Inside the box, you receive the Womanizer, an instruction manual, two silicone heads (default and large), a USB charging cable, and a wall adapter.  No drawstring pouch, unfortunately.
My Experience with the Womanizer Pro40 (and how it compares to the Satisfyer Pro 2)
My experience with the  Womanizer Pro40  was very much in light of my review of the Satisfyer Pro 2. Two products that aim to provide touch-free stimulation: naturally, I wanted to approach this review as a comparison.
So which is better? The Satisfyer Pro 2 ($59) (see my previous review) or the  Womanizer Pro40  ($129)?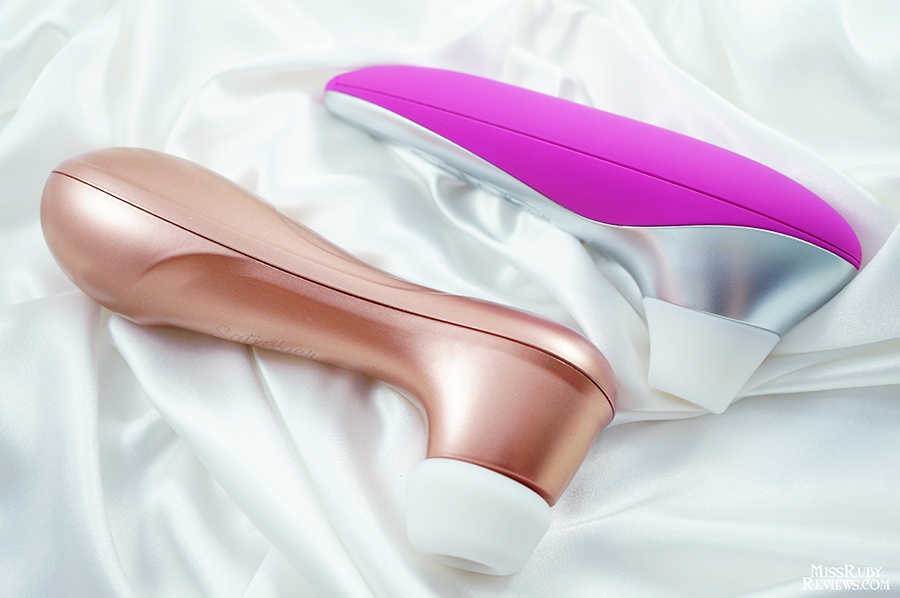 Between the two of these, the  Womanizer Pro40  wins me over, hands down.
The Womanizer Pro40 is more discreet.
By that, I mean that it's a LOT quieter than the bronze Satisfyer Pro 2 . When I turn on the  Womanizer Pro40 , it emits a soft, cat-like purr. It increases in sound level as I move up the intensities, but it's never ridiculously loud. It also gets super quiet as soon as it's pressed up against me. This means I can turn it on and position it while being relatively quiet. On the other hand, the Satisfyer Pro 2 is comparatively noisy. It's relatively loud on immediate start-up, though it certainly gets quiet when it's finally in place and pressed over the clitoris. But, if I need to move or change position, breaking that contact means that the Satisfyer will suddenly start being loud again — this is magnified underwater.
The Womanizer Pro40 gives you more options. 
That second silicone head, the large one, is super handy. I don't have a large clitoris (it's pretty miserably puny, actually), but I still LOVE that large silicone cup. When I use it, my clitoris AND the surrounding skin experiences the suction effect. I've found this to be considerably more pleasurable than just using the narrow head (or using the Satisfyer Pro 2's single head attachment). I love the versatility of this.
The Womanizer Pro40 is more intense.
When it comes down to a side-by-side comparison, I've found that the  Womanizer Pro40  has more intense suction capabilities than the Satisfyer Pro 2. Its "air pressure" technology is stronger. That being said, the Satisfyer Pro 2 is still freaking pleasurable — it can get me to orgasm within 60 seconds, and I was pretty thrilled about it back when I reviewed it. But the Womanizer Pro40 gets me there even quicker. In practice, I can't even use the Womanizer Pro40's top speed — it's simply too powerful. I need to stick to the 5th or 6th speed, and I think people who require a fuller range would be happier with the ability to go to such strengths. It still has low speeds for people with a sensitive clitoris, but has extra oomph in the higher speeds for the rest. While the Satisfyer Pro 2 is still very pleasurable, I can't but help to want to pick up the stronger toy instead.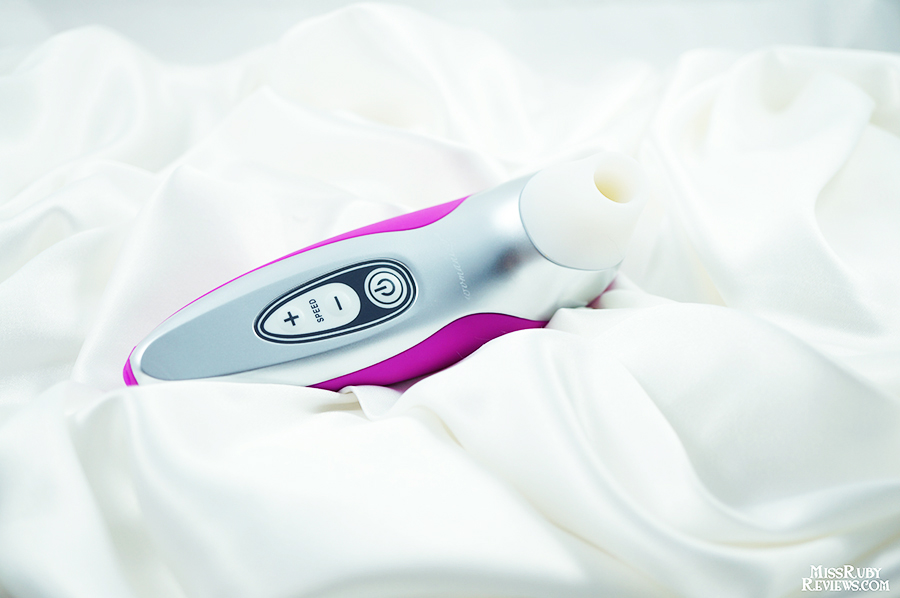 Orgasms with the  Womanizer Pro40  are also more or less endless. There's no temporary loss of sensation, which can occur after several orgasms using my hand (or cheap vibrators). Because the clitoris is never even once physically touched, it seems to be able to go on to have continuous orgasms. In other words, my clitoris has better stamina, and I can go on to have 4 or 5 orgasms, instead of my usual 1 or 2.
Overall
I adore my  Womanizer Pro40, and it's secured itself a spot as one of my favourite toys.
I definitely prefer it over the Satisfyer Pro40, and I think the extra price difference is worth it, because you'll get a quieter, stronger, and more versatile product.
To buy the Womanizer Pro40, head on over to Peepshow Toys. For 10% off your whole purchase, use coupon code RUBY.

Last Updated on March 18, 2023 by Miss Ruby