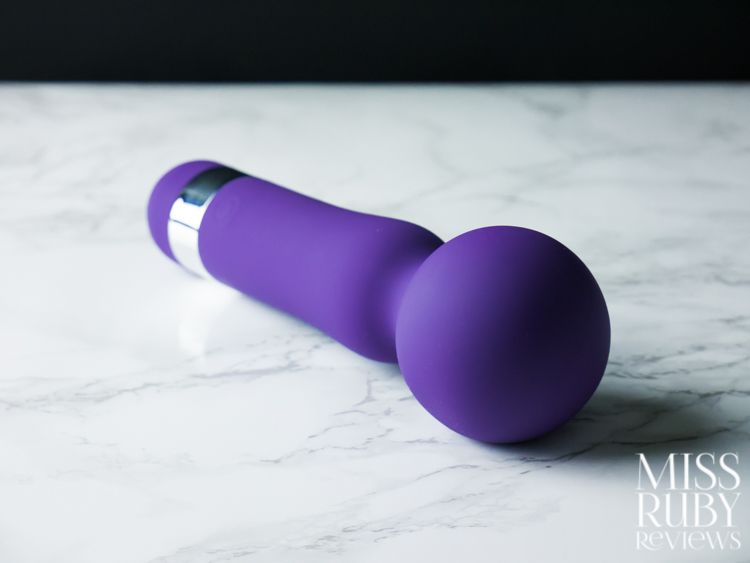 Yet another petite wand review for you readers! Read on for my Tracey Cox Supersex Wand review.

Design | Accessibility | How to Use | Packaging | Material and Care | My Experience | Overall
Design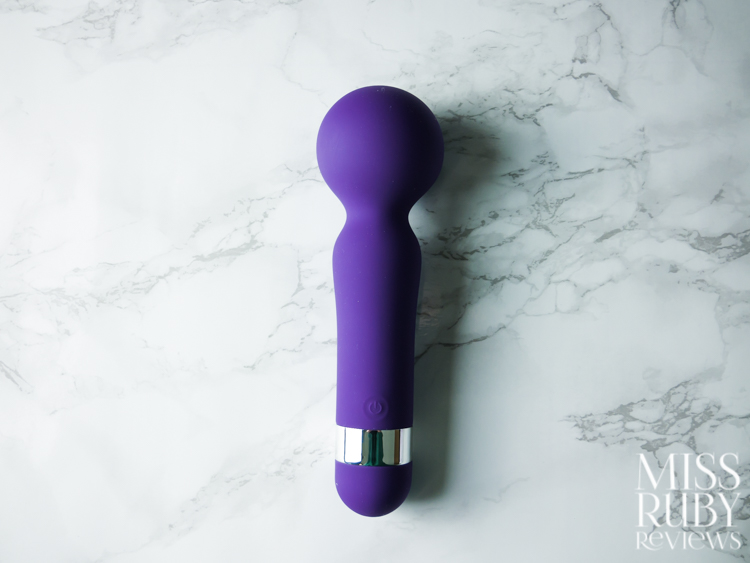 This is the 5th petite wand vibrator I've reviewed this year. Wowza.
It's not that I'm suddenly obsessed with petite wands… it's just that they're becoming more widely available. A small wand used to = a weak wand, but now that's not true. Petite wands can be incredibly powerful nowadays, and they don't come with the massive price tag full-sized wands do. So, when I saw Lovehoney's Tracey Cox brand was coming out with a new petite wand, I was eager to get my hands on it.
One thing that sets the Tracey Cox Supersex Wand apart from other petite wands is its incredibly squishy head. This toy is part of a larger line of new Tracey Cox toys, all with a "soft feel" feature. There's six in total — this wand, a G-spot vibe, a pebble clitoral vibe, a rabbit, a bullet vibe, and a love-ring.
The Tracey Cox Supersex Powerful Wand Vibrator's squishy part is its whole head. The whole head has a layer of squashy/mushy silicone over a firmer inner core. It's fun to squish with your hands and feels lovely against your skin.
In the picture below, I've just pressed the head with my thumb — see the indentation it leaves for a few seconds before returning to its normal shape.
Asides from its really fun 'soft feel' feature, the Tracey Cox Supersex Wand follows a very classic petite wand design.
There's the head, neck, and handle. The head is broad and spherical, for an even distribution of pressure and stimulation. The neck is mostly firm (only barely flexible), which I like because it makes it easier to control. The handle is thick enough to provide a comfortable grip. Asides from a band of silver-coloured ABS plastic around the base, it's free of decoration.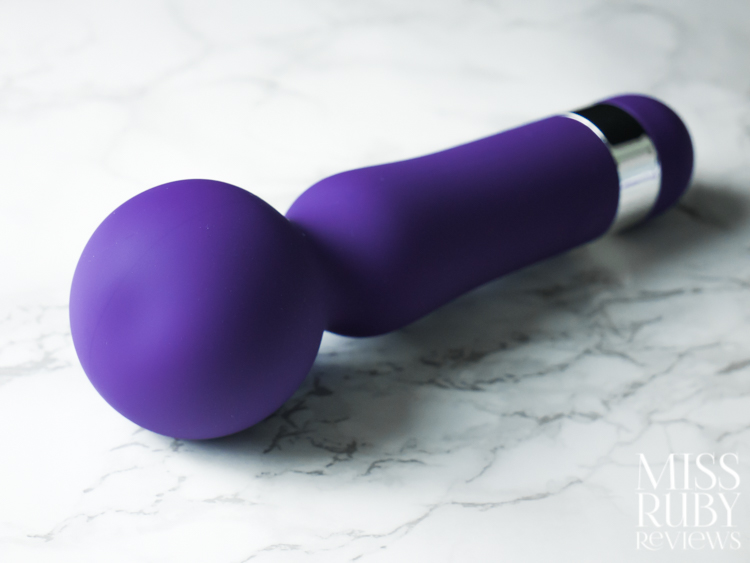 Accessibility
This section is to help folks determine if they might have any issues using/accessing this toy.
Size: The Tracey Cox Supersex Wand is a small wand. It's 18cm long (total) by 5.2cm wide (at the head). The handle is 3.3cm wide.
Weight: It's a lightweight toy (184 grams).
Buttons: The 1 control button is located on the handle, above the silver ABS plastic ring. The texture of the button is a silky silicone, the same as the rest of the body. It's hard to see and is very shallow (sitting nearly flush with the surface). You can feel it with your fingers, luckily. It's easy to press down and makes a solid 'click' noise. The button is small (about 8mm wide).
Handle buzz: Vibrations transfer to the bottom of the handle. Your hand will definitely buzz while holding this.
Other notes: The head is perfectly round, so you can use any side of the head. This is a cordless toy so you're not stuck to a wall. Its neck is mostly firm (not particularly flexible) which may make control easier for you. If you have visual difficulties, you may have trouble finding the tiny charging port (it's hard to feel with your hands — it's a tiny hole at the base with a thin flap cover that you push through with the needle-end of the charging cord).
Price: At $79 USD, this is in the moderate-to-high price range for wands this size with comparable features.
How to Use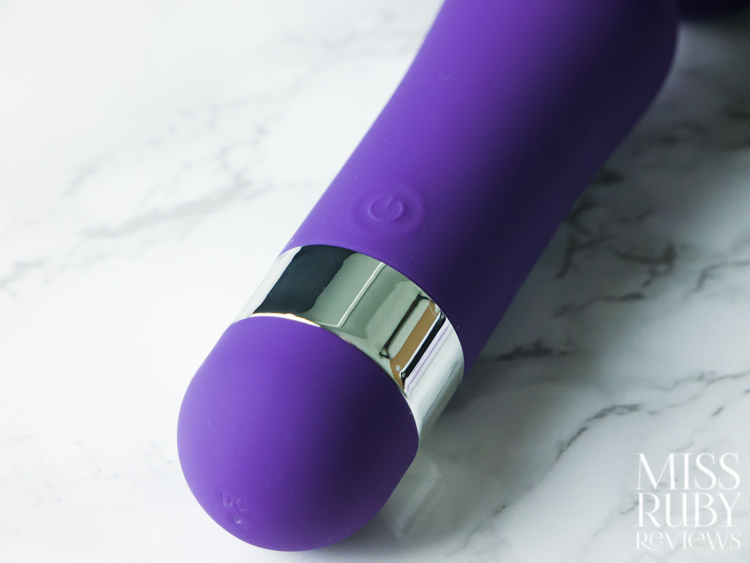 The Tracey Cox Supersex Powerful Wand Vibrator is controlled with a single power button on the handle (pictured above).
To turn the wand on, press the button once. It'll turn on in standby mode.
Press the button again to cycle through the 3 steady speeds and 7 patterns.
Apply the wand to your body. This can be used to stimulate things like the clitoris, vulva, penis, premium, testicles, and nipples. This should only be used externally.
To turn the wand off, press and hold the power button for 2 seconds.
If you'd like to use the travel lock, press and hold the power button for 3 seconds. Do the same to unlock it.
Packaging – Tracey Cox Supersex Wand review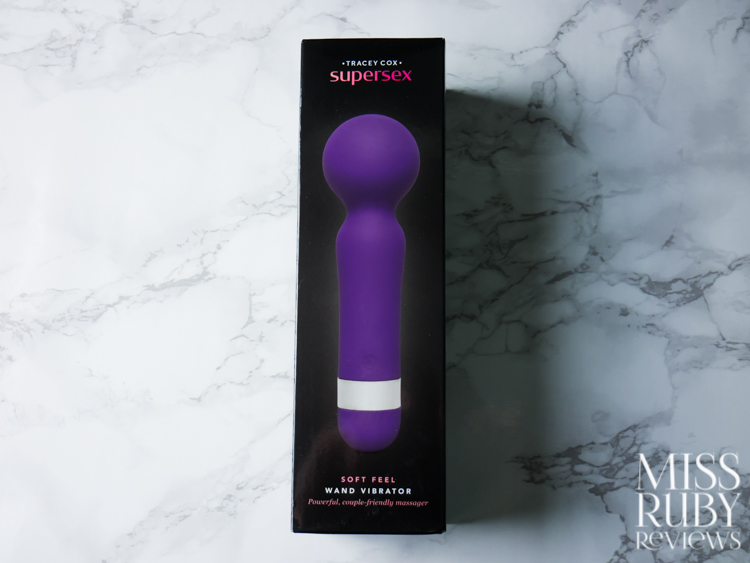 The Tracey Cox Supersex Wand comes in a sleek black box. It's simple and functional.
Inside the box, you receive the wand, a USB charging cable, and an instructions booklet. If you'd like a dedicated sex toy pouch, you can browse for some here.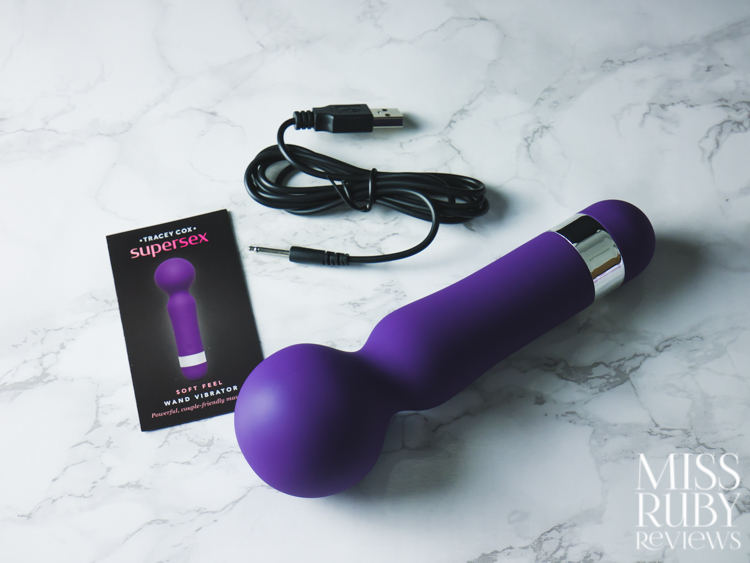 One thing that really bugged me was a line in the instructions booklet — "Press the wand firmly over the closed lips of the vagina and hold it still…". It should say "closed lips of the vulva." They're not the same thing. The 'vulva' gets incorrectly called 'vagina' by the average joe a lot, but it's super frustrating to see this error by a sex toy company.
Material and Care
The Tracey Cox Supersex Wand is coated in silky soft silicone, making it body-safe — it won't harbour bacteria after cleaning as rubber or jelly would. This particular silicone finish is velvety and matte to the touch and doesn't attract lint/dust too badly.
The Tracey Cox Supersex Wand is totally waterproof and submersible. For everyday cleaning, I simply wash in warm, soapy water before and after use. If you'd like to be really thorough about it, you can always pick up a dedicated sex toy cleaner as well.
To charge, insert the needle-end of the USB charging cord (included) into the faint hole (marked with DC) in your vibe. Plug the other end into your computer or a USB wall adaptor. Two hours of charging will get you up to 45 minutes of playtime. This is a long charge-to-play ratio, but it's not uncommon to come across ones like this.
If you'd like to add a lubricant (which I always recommend), choose a good-quality water-based lubricant like my long-time favourite, Sliquid H2O.
My Experience with the Tracey Cox Supersex Wand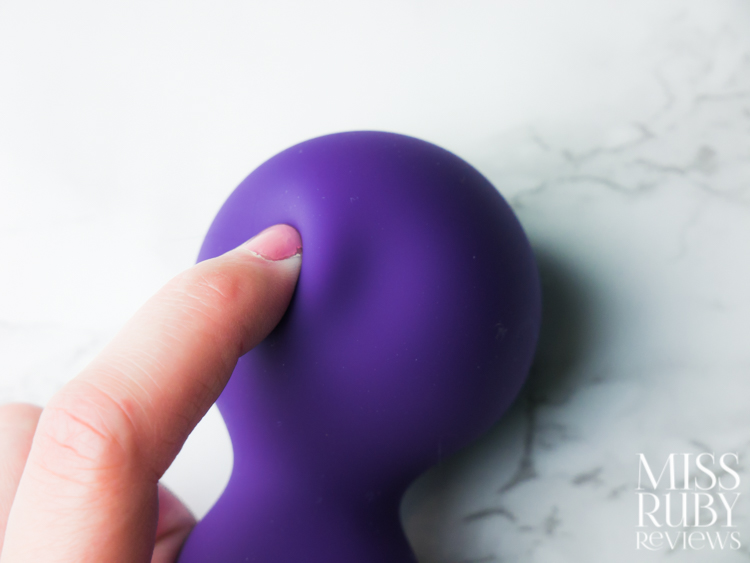 The Tracey Cox Supersex Wand sets itself with its squishy, cushiony head. I'm typically a firm pressure kind of gal, but I can still get that with this toy. When I press this against myself, I move through a pillowy, comfortable exterior layer before getting to the vibrating firm inner core. It's like a dual-density wand, which is super neat.
In terms of strength, the Tracey Cox Supersex Wand delivers moderately-strong vibrations. And I don't know if it's just the squish or the actual motor, but the vibrations are really rumbly. I'm always worried a vibrator will be all buzz and no rumble, but that's not the case here. For me personally, the vibrations are deep and strong enough for me to orgasm quickly.
Despite its small size, it is still a wand — and that means you're getting broad sensation. Sometimes wand heads are oval or angled so you can find some narrow sections for pinpoint stimulation, but this wand's perfectly spherical head means you're going to get an even, broad stimulation no matter how you hold it against you. This won't suit pin-point queens, but it's lovely if you enjoy broader stimulation across wider parts of your body (i.e., clitoris + surrounding areas, or wide sections of your vulva).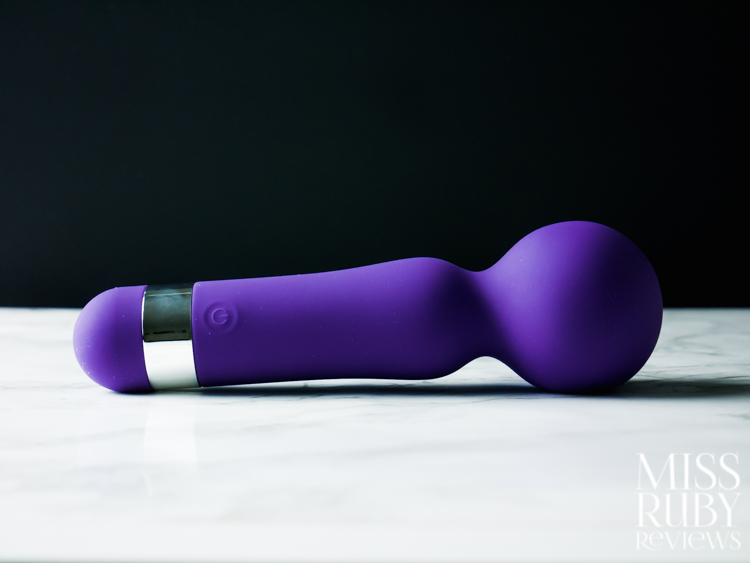 Noise-wise, the Tracey Cox Supersex Wand is impressively quiet. Even at its highest speed, the noise is a quiet muffled purr. There's zero chance anyone could hear this through walls or a closed door. Wands have a bit of a reputation for erring on the louder side, but that's not the case here.
My complaints?
First, the Tracey Cox Supersex Wand is only available in one colour — a deep, matte shade of mauve/purple. Purple is hard to photograph and the colour isn't quite as vibrant in person as shown here (which is good), but I'm still not a fan. There's way too much purple in the sex toy industry, and that's because it sells well. But I wish this toy came in at least one other colour option to appeal to more personalities. This toy in an emerald blue or a bordeaux red would be gorgeous.
Second, there's that vibration transference. A good deal of vibrations escape the head and travel down the handle. Not only are those vibrations wasted (if they were focused all in the head, the head would be stronger), but it's also uncomfortable. Over a long play session, my hands start to feel funny from being buzzed so much, and people with arthritis or carpal tunnel syndrome will also find this particularly irritating. I wish the vibrations could stay where they belong — in the head.
Tracey Cox Supersex Wand Review – Overall Thoughts
The Tracey Cox Supersex Wand is a small, squishy wand vibrator with decent strength and incredibly quiet motor. Yes, I wish it came in more colour options, and I wish there wasn't vibration transference through the handle… but I'm really digging the squish factor. The 'soft feel' silicone head basically makes this a dual-density wand, which is unique and feels glorious.
You can purchase your own Tracey Cox Supersex Wand from the following Lovehoney sites:

See below for my Tracey Cox Supersex Wand review summary.
Review summary
Overall thoughts - 8.3
8.3
$79
PROS
Decent strength
Very quiet
Fun squishy head
Waterproof
Rechargeable/cordless
Bodysafe silicone construction
CONS
Vibration transfers to handle
Only one colour option
Frustrating misnomer in the manual
Shop Now

Last Updated on February 26, 2022 by Miss Ruby