This toy's tagline is "show sex the bad finger," so obviously I had to give it a go. Read on for my Hot Octopuss DiGiT review!
Design | 360° View | How to Use | Packaging | Material and Care | My Experience | Overall
Design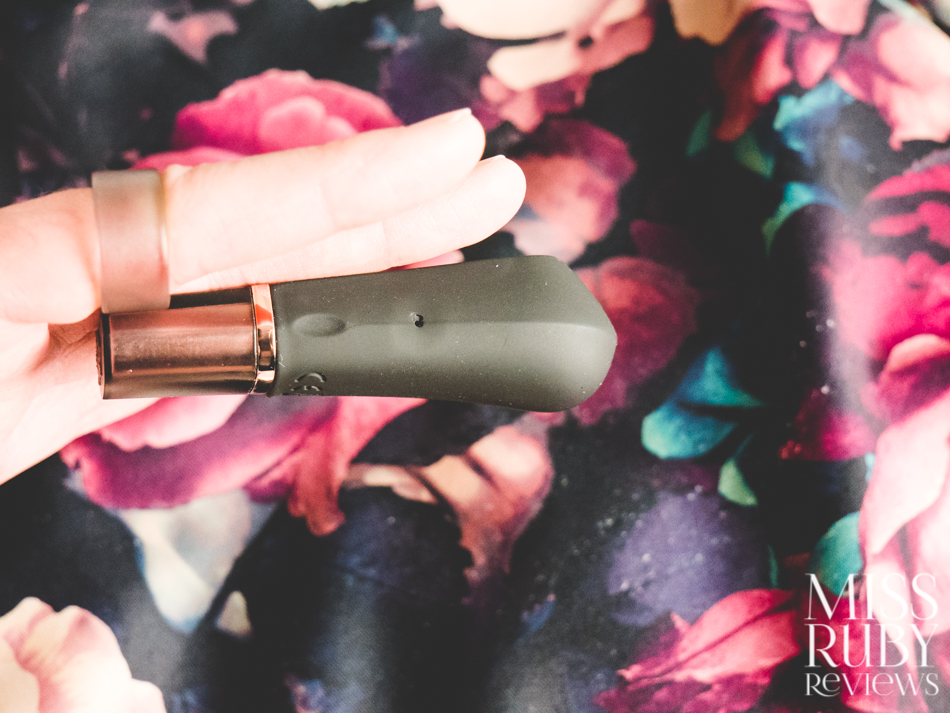 The Hot Octopuss DiGiT is a wearable finger vibrator. There are two finger loops adorning the base, which wrap around your index and middle fingers. Once this toy is snugly in place, the DiGiT's vibrating body extends roughly as long as your finger itself, essentially attaching a vibrator to your finger.
As far as finger vibrators go, this is a pretty little design. The silicone body is black and sleek; there's a cute little rose-gold ring around the base, and the plastic base is a blush/brass tone. Hot Octopuss' logo (a royal crown) is stamped to the base, reminding you of the brand's UK origins.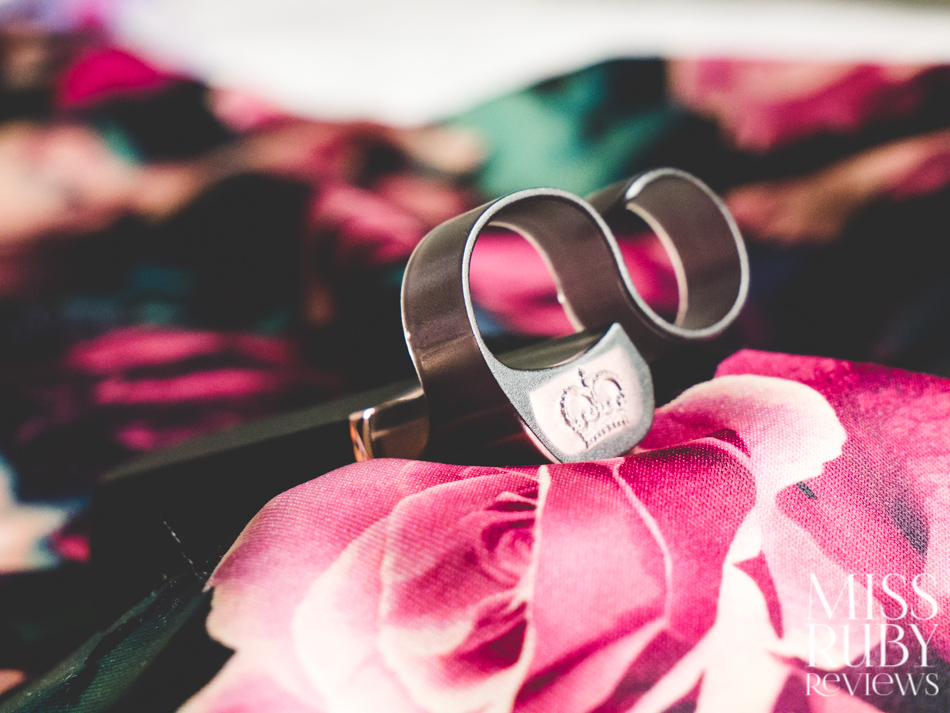 Size-wise, the Hot Octopuss DiGiT is a compact little thing. The black vibrating body is only about 2.5 inches. If you have big fingers, the main loop is a generous 1″ wide. If you have petite fingers, using the second loop will stabilize things.
The Hot Octopuss DiGiT has three buttons:
Power button along the side (located by itself, besides a charging hole).
(+) and (–) buttons along the opposite side.
The buttons are unmarked, so I didn't find this to be a super intuitive design, but a quick look at the instructions cleared up any confusion I had.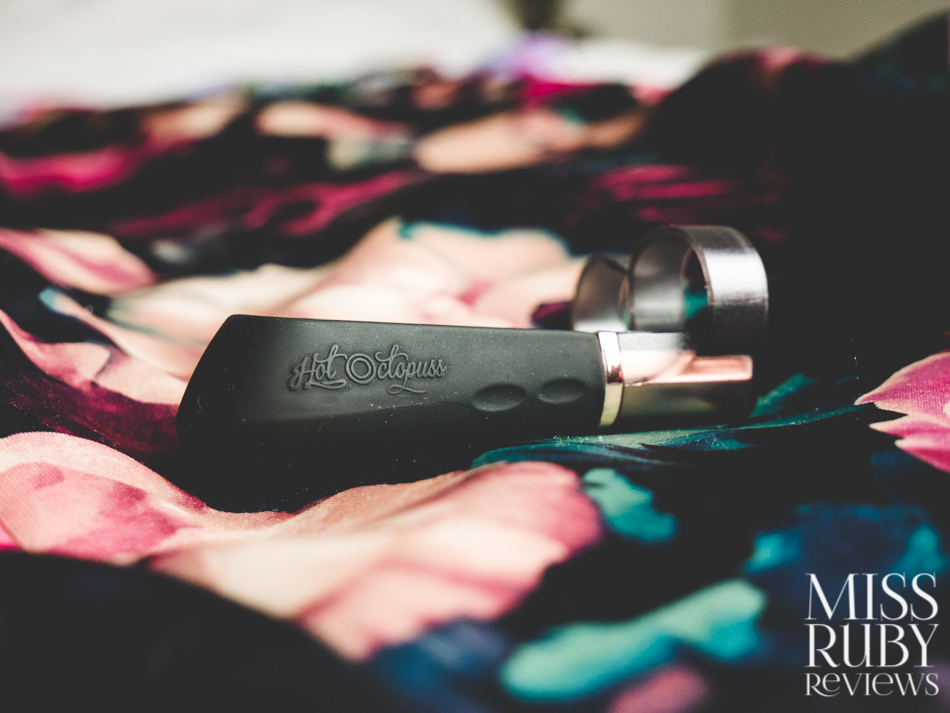 360° View
Click and hold the image above to move it around.
How to Use the Hot Octopuss DiGiT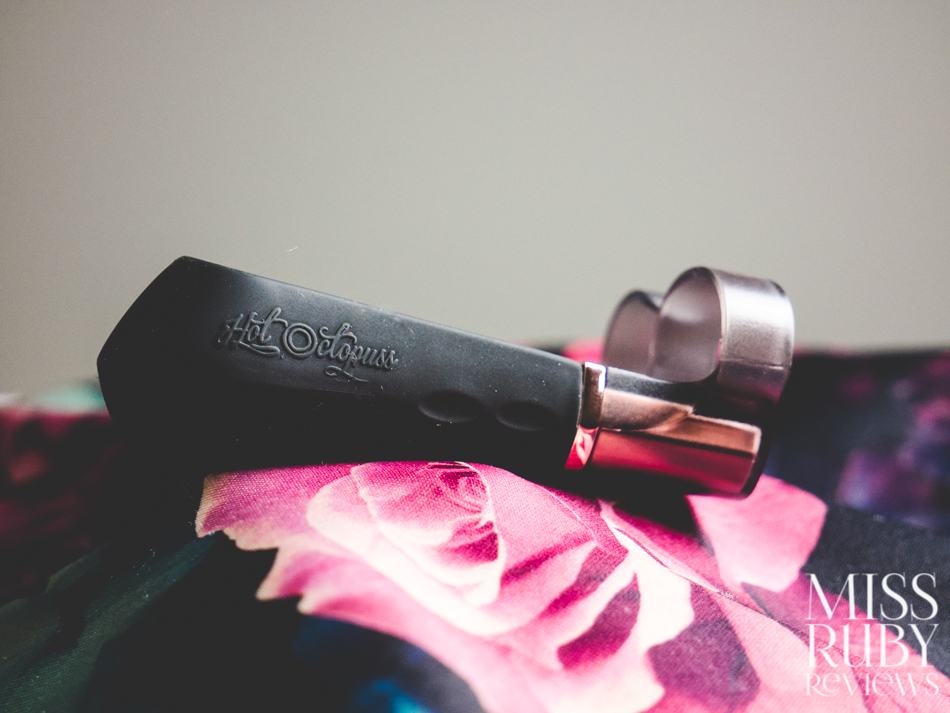 Turn on the Hot Octopuss DiGiT by pressing the power button (besides the charging port) for two seconds.
The DiGiT will turn on at the lowest steady speed.
To increase strength, push the (+) and (–) buttons accordingly (pictured above). There are 5 strength levels.
To cycle through the 5 patterns, tap the power button.
Slip your fingers through the plastic loops so that your finger (either your index or middle finger) supports the body.
Apply to your body. Though designed for clitoral use, it could, of course, be pressed against nipples or a penis.
To turn it off, press the power button for 2 seconds.
Packaging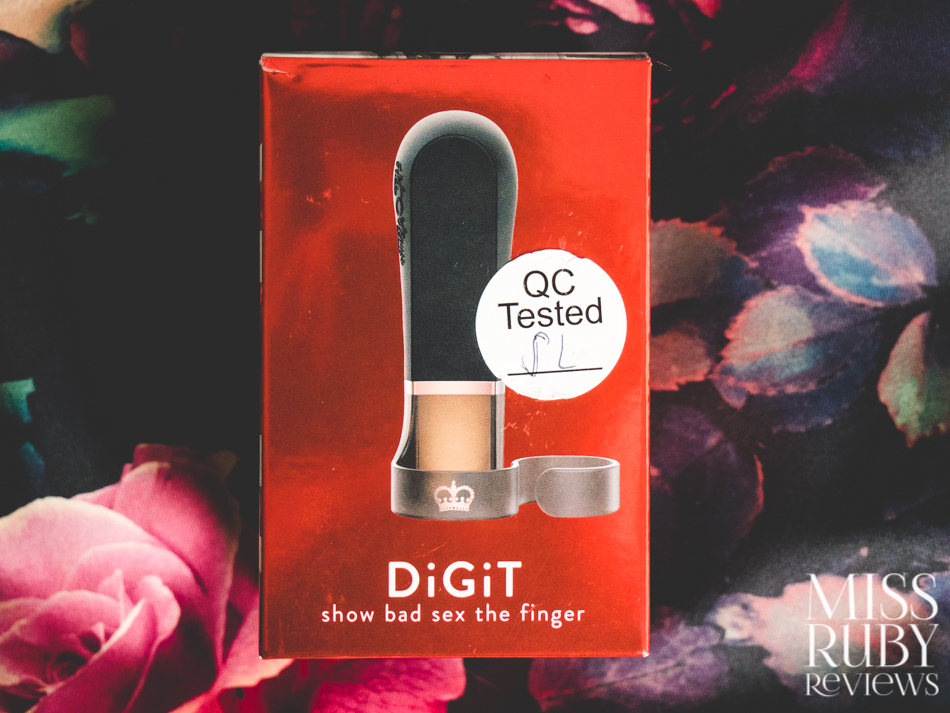 The Hot Octopuss DiGiT comes packaged simply in a small, shiny, red box.  While not super luxurious, it's functional enough.
Inside the box, you receive the DiGiT, a USB charging cord, a quickstart manual, a booklet on warranty information, and a small satin pouch.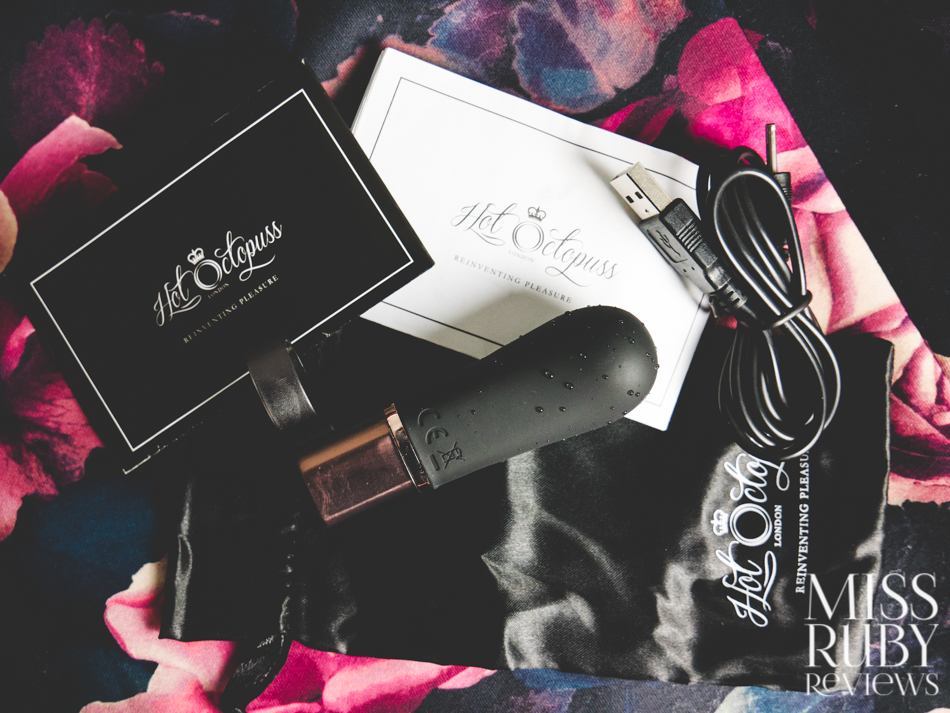 Material and Care
The Hot Octopuss DiGiT is made from black, silky silicone (the body) and ABS plastic (the handle/loops). This makes the DiGiT bodysafe (non-porous and free of toxins).
The Hot Octopuss DiGiT is waterproof, making cleaning simple. I just rinse it in warm, soapy water before and after each use. Before storage, allow to air dry.
This toy comes with a 1-year manufacturer's warranty against defects.
To charge, insert the needle-end of the included charging cable into the little hole in the DiGiT. Connect it to your computer or a USB wall adapter. It'll take 2-3 hours of charging time to get you up to 40 minutes of playtime, which isn't a great ratio.
Lastly, if you're going to use lubricant with this toy, you'll want to opt for a good quality water-based lubricant. I recommend Sliquid H2O.
My Experience with the Hot Octopuss DiGiT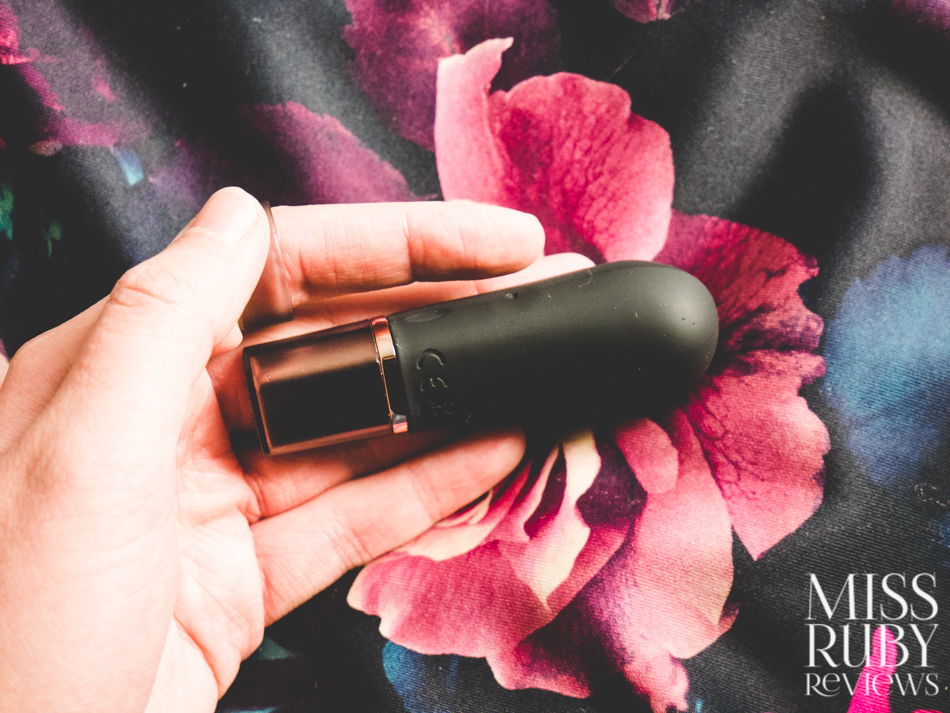 Hot Octopuss promises that the Hot Octopuss DiGiT will curve "seamlessly around your fingers to become an extension of your body." How accurate is that?
Oh those loops…
When I slip my fingers through the loops and use the Hot Octopuss DiGiT, the DiGiT does basically become an extension of my body. The problem is that it's not a very comfortable extension.
After 10 minutes of play, my fingers start to feel stiff and uncomfortable in their shackles. It doesn't help that, if I use my finger to push the DiGiT down, the ridges of the loop dig into my index finger. I'm left wishing that the loops were just a little bit plush. Soft, squishy silicone loops could be nice, for example.
Because the loops are hard ABS plastic, they also transfer vibrations easily. When this toy is vibrating, the plastic loops feel it, and they act as a middle man — transferring all those vibes to your fingers. This means your index and your middle finger are rattling along. This gets uncomfortable quickly. If you have arthritis or carpal tunnel syndrome, you should especially avoid this design.
There's also no way to move or alter the loops, so you're stuck as-is.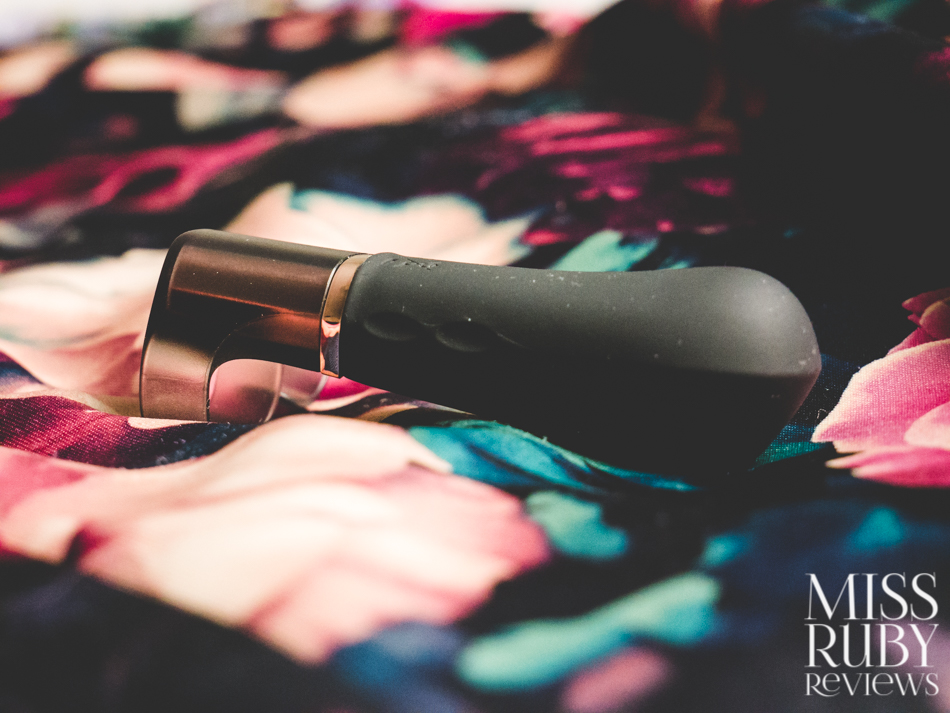 Vibrations!
Okay so I keep complaining about the loops. Is there anything I DO like?
Yep, and that's the motor. The Hot Octopuss DiGiT has pleasantly strong (7/10) vibrations, ones that err on the side of rumbly instead of buzzy. The motor is also really really quiet, which is great. If you have roommates, no one will be able to hear this through walls.
As mentioned before, the Hot Octopuss DiGiT is also waterproof and rechargeable, two important things for a luxury toy.
And these things are great, but then I'm looking at the $69 USD price tag, and I'm just not sold. Last week I reviewed a $39 vibrator that had loads more power, so a pleasantly strong vibrator is not enough to win me over.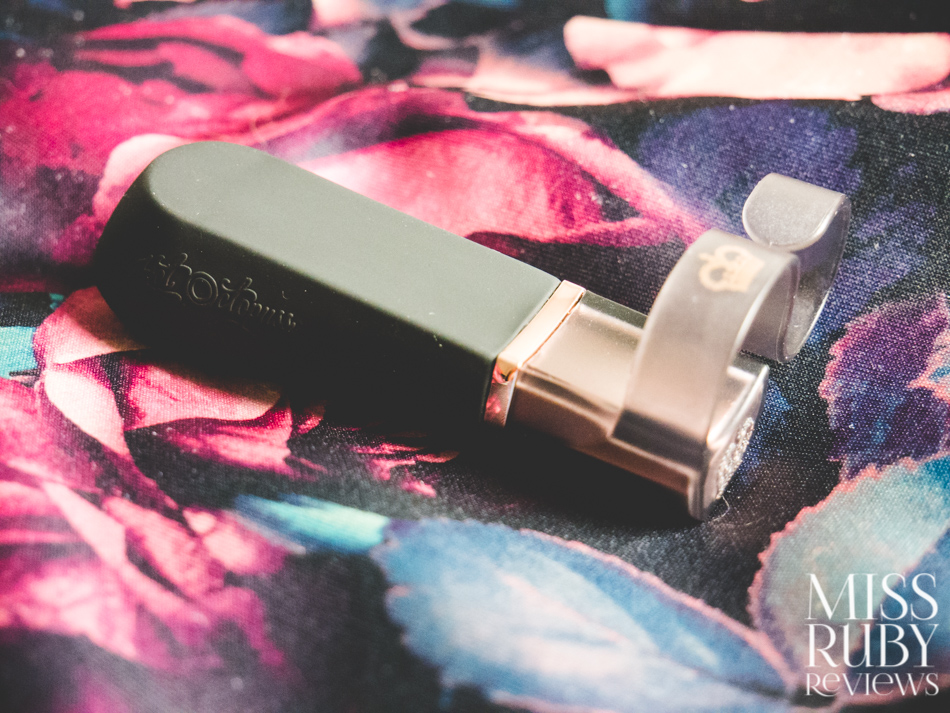 Honestly, all the good features aren't enough for me. I can't get used to those aggravating stiff plastic finger loops, despite my best efforts. I'm left wishing there were no loops at all, just so I could use and enjoy this toy by holding it however I please.
It turns out, Hot Octopuss did release a version without finger loops, and that's called the Hot Octopuss Amo (I'll be reviewing it in the near future). The Amo will give you all the good parts of this toy, without the annoying loops.
Sorry, Hot Octopuss — the DiGiT just didn't do it for me.
Overall – Hot Octopuss DiGiT review
Unless you're REALLY a fan of official "finger vibes," I'm not convinced the Hot Octopuss DiGiT is one to purchase. Sure, it's powerful, quiet, waterproof and rechargeable… some great things. Obviously, a lot of care and thought has gone into this toy, but the non-removable plastic finger loops ruin it for me.
If you want a vibrator with the same look and motor, you can get the DiGiT's non-finger version, the Hot Octopuss Amo. If you're just looking for a cheap bodysafe vibrator, try the Rocks-Off Chaiamo or the FemmeFunn Ultra Bullet, both of which have impressed me a lot.
If I haven't dissuaded you, you can buy the Hot Octopuss DiGiT at SheVibe! At the time of posting, it's $69.99 USD.
See below for the Hot Octopuss DiGiT review summary.
Hot Octopuss DiGiT review summary
Overall thoughts - 5
5
$69
PROS
Decently strong
Fairly quiet
Waterproof
Bodysafe
Compact
CONS
Fingers feel trapped!
Plastic loops vibrate a lot
Not ideal for those with arthritis/carpel tunnel
Long charging time (2-3h) for short playtime (<40min)
Shop Now

Last Updated on November 15, 2020 by Miss Ruby