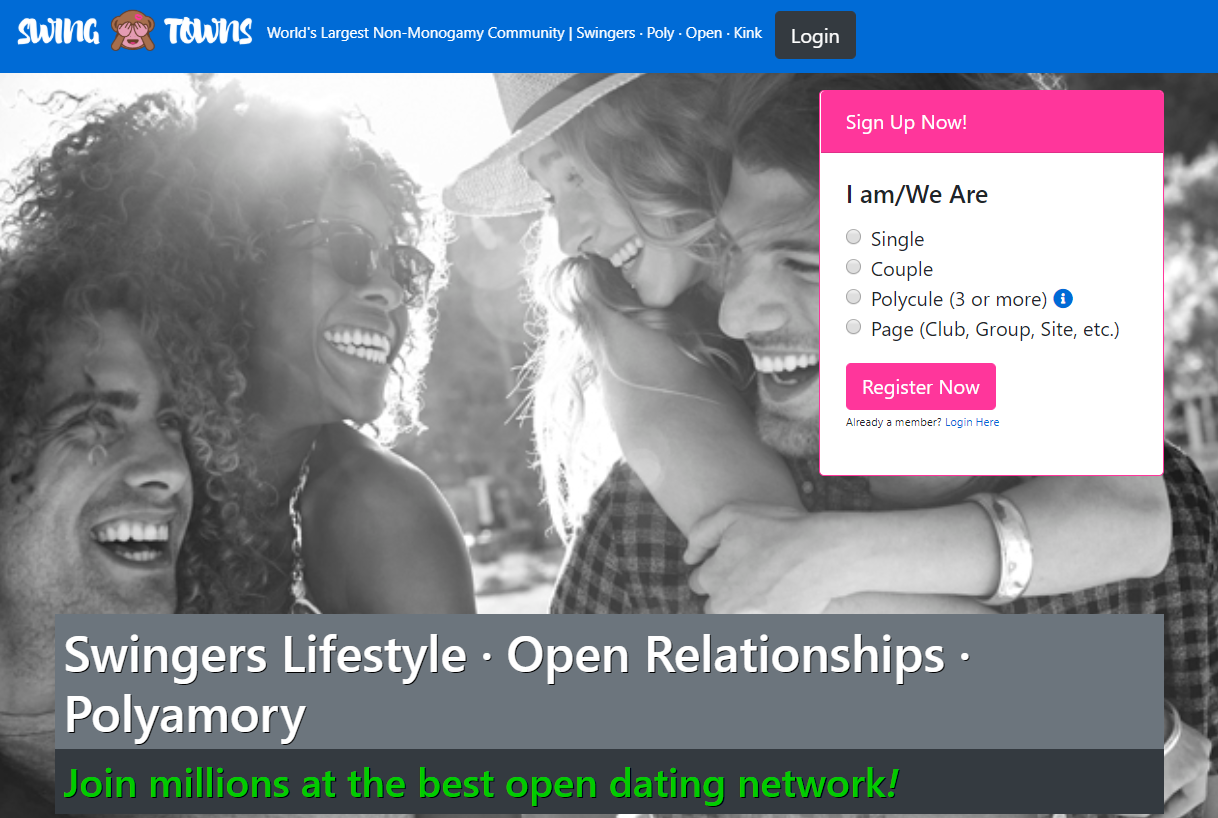 Let's be honest: sex toys are great, but they're even better when you have a partner or two to share them with. While it's normal to want to expand your sexual horizons, we live in a world where this isn't always easy if you're a woman. Even top rated dating apps aren't swinger friendly (or even unicorn friendly). Where are you supposed to start?
The Best Swinger Site for Women
SwingTowns, also called "the world's friendliest dating site," offers a sex-positive platform where anyone who identifies as a woman can feel confident asking for what she wants. That could mean group orgies with your significant other, finding a play partner, or something entirely different! That's because SwingTowns is the most progressive non-monogamy dating site out there, welcoming couples and singles of all backgrounds and orientations.

Are you a single woman seeking a MFM hook-up? You know where to go: SwingTowns.com! Or maybe you're part of a queer pansexual throuple looking to expand your dynamic. You'll find all that you want and more at SwingTowns!
While everyone has different needs and desires, our society has taught us to be uncomfortable talking about it. This leaves far too many people stuck with dry sex lives – or worse. That's why SwingTowns highlights the importance of owning your sexuality in the bedroom (and at the club, etc).
While other dating apps might limit you to a short bio and some boring selfies, SwingTowns users can be more creative with their profiles. This means sexy NSFW photos, longer bios, gender, sexual orientation, and more!
Real Swingers, Real Sex
Online dating might seem like a waste of time when so many dating sites out there feature fake profiles and "users" who haven't logged on in years. Fortunately, SwingTowns goes above and beyond to assure that you're only seeing authentic profiles while browsing. With heavy monitoring by real people, you can bet that the hotties you're chatting with are the real deal!
With a few keyboard taps, anyone can "get it on" — and with the RIGHT partners!
What Women Have to Say
Since its debut, plenty of boring imitators have tried and failed to deliver what SwingTowns has been serving up since way back in 2001. They asked some of their users why they think women flock to their community when they have other options these days. According to Gia from Wisconsin, the answer is simple.
"SwingTowns gives me the freedom to express myself sexually in an environment that is safe, reliable, and very fun! I've met some great people who have become real friends. I love meeting new people and SwingTowns is the place to do it!"
Tasha from London added, "SwingTowns is an amazing site that honestly lets you BE YOU — the real you — with no judgment. It is BY FAR the best site out there for couples, singles, and anyone else interested in the lifestyle."
That's what makes SwingTowns great: their community is real, active, and SEXY AF. It's a safe space to be exactly who you are and to find exactly what you're looking for in new partners. Whether you're looking for young couples, cougars, daddies, or something else, you'll find just that and more at SwingTowns — and you'll know exactly where to party with them using SwingTowns' incredible swinger event database! It's simply the #1 place to go for anyone active or interested in swinging.
When you're ready to fulfill your wildest sexual fantasies, you know what to do: sign up for your free membership at SwingTowns.com – the world's friendliest dating site.
This sponsored guest post has been provided by SwingTowns