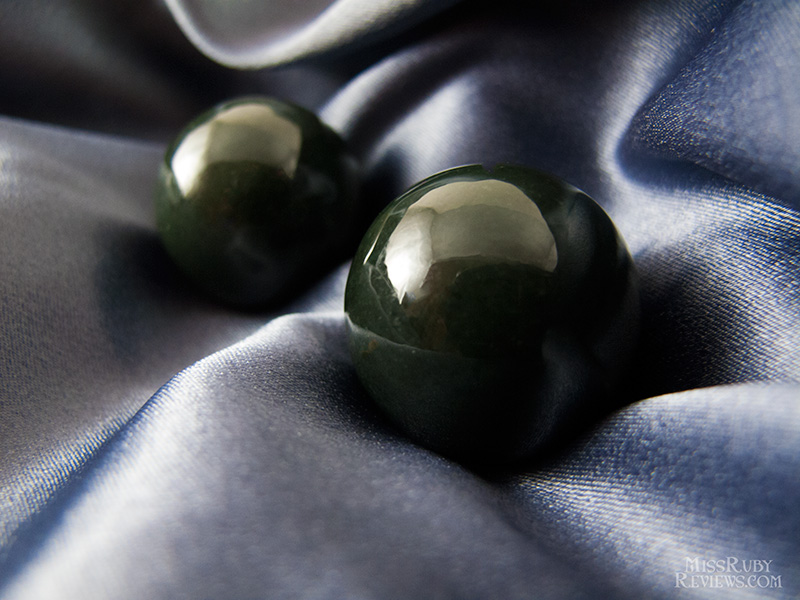 Physical Details |  Material and Care | Shipping and Packaging | About Kegel Exercisers | My Experience | Overall
Physical Details
These Ben Wa balls are quite pretty. Perfectly spherical and smooth, they almost remind me of large marbles, except for their weight. Though they're each quite small, they're surprisingly heavy, given their size:
Width: 2.5 cm
Height: 2.5 cm
Weight (each): 26 grams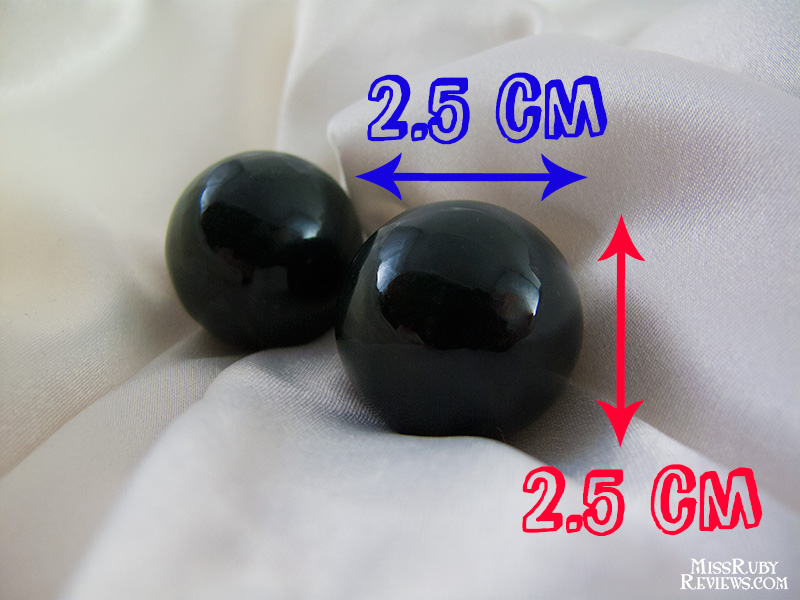 These Ben Wa balls are made from nephrite jade. Because it's a natural material, the Ben Wa balls you receive may be coloured slightly differently than what's pictured. They'll range from a deep green to a warm shade of black. The Ben Wa balls I received are very dark green, appearing nearly black in some lights.
Material and Care
The nephrite jade used in this product was mined in British Columbia.  Nephrite jade is one of two jade minerals, the other being jadeite. Nephrite jade is a particularly hard, dense, and heavy mineral. Its Mohs hardness falls around the same as Boroscilliate glass (Pyrex), and it can scratch steel and common window glass. Dense materials are less porous, meaning that there's little space for bacteria to grow beneath the surface. Polar Jade does not dye or chemically treat their products, ensuring that this is a naturally-processed product.
For many people, nephrite jade also has a more spiritual significance. In Chinese culture, nephrite jade is the "Stone of Heaven." It's also believed to promote the body's natural self-healing capabilities, and is associated with women's sexual health. I talk a little about origins of the use of jade as Kegel exercisers here.  For these reasons, people may choose nephrite jade over synthetic materials like silicone or ABS plastic.
For regular cleaning, I suggest washing your jade Ben Wa balls with warm soapy water before and after each use. However,  Genuine Jade LLC suggests that you sanitize it before your first use.  I recommend sanitizing it by boiling it for 5 minutes. Yes, folks, you can sanitize this like glass or silicone. If you purchase the drilled option, you will need to be more diligent with cleaning, as it's easy for bacteria to escape the washing process when it's in a tunnel.
If you'd like to use lubricant with these Ben Wa balls, I recommend a good water-based lubricant (such as Sliquid). In between use, store your Ben Wa balls in the velvet pouches provided.
Shipping and Packaging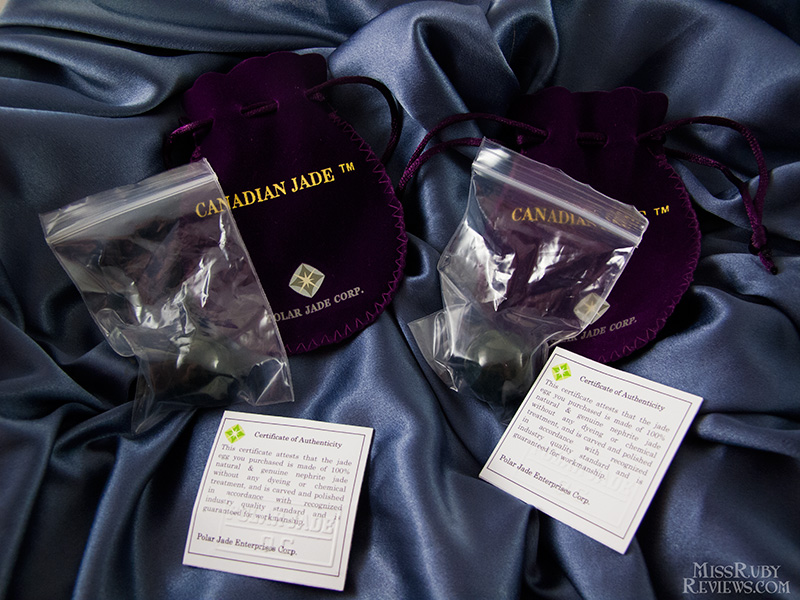 Shipping from Genuine Jade LLC was fast. The products were received within 2 business days.
I received a plain brown box. The return address listed the company name. Inside the box, my Ben way balls were wrapped in bubble wrap. Each Ben Wa ball was packaged neatly inside clear ziplock bags within their own purple velvet pouch. There was also an information pamphlet for each Ben Wa ball, including a certificate of authenticity.
About Kegel Exercisers
There are a gazillion guides on how to use Kegel exercisers and why they're beneficial for your health. It's not in the scope of this review to give a thorough account of their purpose, but I'll quickly run over the basics here.
Your PC muscle is the same muscle that controls the flow of your urine. This muscle has another purpose though: to aid in orgasm. Some people naturally have a weaker PC muscle than others. For other cis-women, age and childbirth can weaken this muscle. Fortunately, because it is a muscle, it can be strengthened. Many people practice Kegel exercises over a long period of time in order to strengthen this muscle. By doing so, they can achieve greater control over their pelvic floor. In other words, their vagina gets buff. And, while it doesn't actually make the vagina tighter, it allows your vaginal walls to squeeze harder, which can be pleasurable for both female and male partners during sex. A stronger PC muscle also makes it easier to orgasm. I've written about how important this muscle is to orgasm so, to me, Kegel exercisers are very beneficial.
Kegel exercisers, such as Kegel eggs and Ben Wa Balls, are inserted vaginally. The PC muscle automatically contracts to keep them in. If the ball is too heavy for your muscle, it'll slide right out because your muscle isn't strong enough yet. Also, Kegel exercisers are not orgasmic in themselves, so they're not a "sex toy" per say. So Kegel exercisers are not meant to specifically provide pleasure. What they do provide, however, is a more effortless ability to strengthen your Kegel muscles over time, which can lead to better vaginal control and easier orgasms.
Lastly, remember that Ben Wa balls are NOT safe or meant for anal use.
My Experience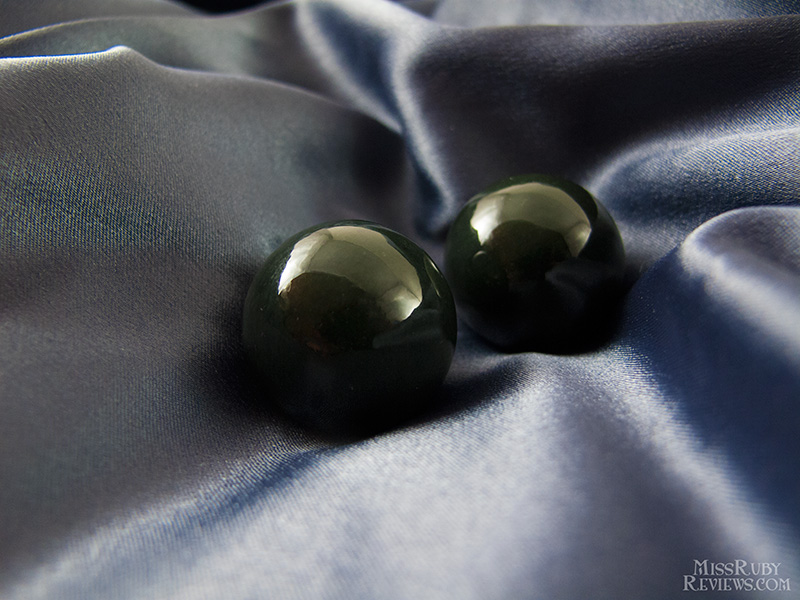 I don't have much prior experience with Ben Wa balls. Conventional exercisers and eggs, yes, but not Ben Wa balls. Years ago, I grabbed a cheap set of Ben Wa balls that looked like they were made from stainless steel (they weren't). I tried them out once and they just fell right out of me.
So I was curious to see if now (years later) I could handle Ben Wa balls.
It turns out my practice with Kegel exercisers (since that failed attempt with the cheap Ben Wa balls years ago) have definitely paid off, to some extent. I wear both eggs for about 30 minutes at a time, with no issues, instead of the previous 2 seconds. After 30 minutes, my Kegels are rendered exhausted (a very good sign) and each ball slides out one at a time. I find 2 easier to handle than 1, even though this makes the weight 52 grams (not simply 26g as it would with one ball). Right now, any more than 30 minutes is impossible for me, but bear in mind that your experience will differ greatly depending on the strength of your Kegels.
Ben Wa balls this small are notoriously difficult to use. As such, this set is definitely suited to advanced users. This is because of their size: Ben Wa balls tend to be small, like this set. Small Kegel exercisers are harder to sense inside of you, and your Kegel muscles have to clench harder to locate and hold a small object than it does a large one. For this reason, even though the small ball weighs less than other Kegel exercisers I've tried, I find it considerably harder to use. This isn't a bad thing: it simply means that this type of exerciser is not great for beginners. So, if I were a beginner, I wouldn't start with Ben Wa balls (I'd go for the Medium Jade Egg instead), which is larger and more beginner-friendly. The challenge pays off for me, though, with my pelvic floor feeling considerably worked out after using these.
Also, just a tip: warm these up. Jade seems to want to stay ice cold for as long as possible, even when inside of you. Before use, I put them in a mug, fill the mug with hot water, and wait 15 minutes. This rises their internal temperature to something much more comfortable, and they continue to radiate heat for a few minutes once inside.
Overall
This is an effective set of Kegel exercisers for advanced users. Beginners and early intermediates should opt for something more newbie-friendly, such as the Medium Jade Egg. For advanced users up to a challenge (and especially for those who are interested in genuine nephrite jade), this is a great choice.
To buy the Polar Jade Ben Wa Balls, head on over to Genuine Jade LLC.