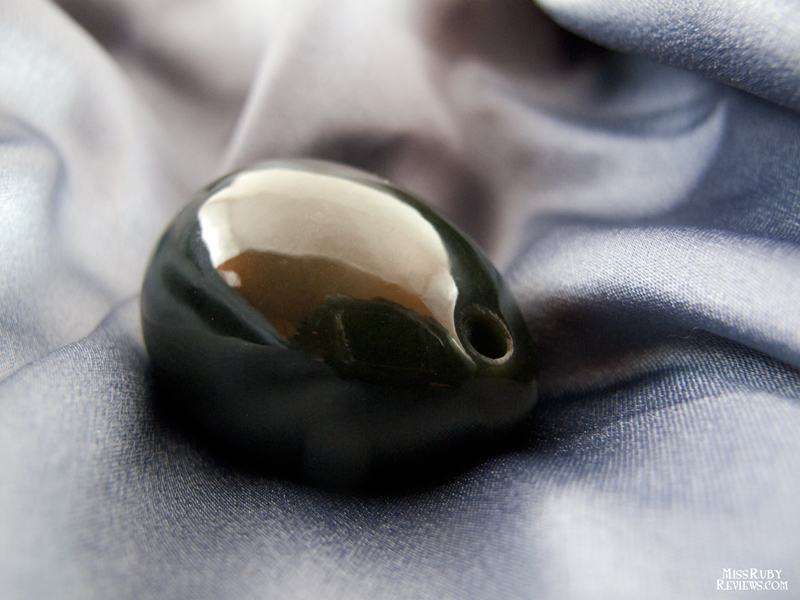 This egg taught me that jade can totally be as smooth and refined as glass….
About the Store | About Kegels | Physical Details | Material and Care | Shipping and Packaging | My Experience | Overall
About the Store
Genuine Jade LLC is a Canada-based manufacturer of stone sex toy products. The majority of their products are yoni eggs made from Canadian nephrite jade stones, though they also deal in obsidian, onyx, and quartz. They're a fairly new company, but they've found success. The majority of "jade eggs" on the market aren't real jade, but translucent marble stones such as serpentine and onyx. To fill the market demand for real jade products, they tapped into Canadian nephrite jade.
About Kegel Exercisers
There are a gazillion guides on how to use Kegel eggs and why they're beneficial for your health. It's not in the scope of this review to give a thorough account of their purpose, but I'll quickly run over the basics here.
Your PC muscle is the same muscle that controls the flow of your urine. This muscle has another purpose though: to aid in orgasm. Some people naturally have a weaker PC muscle than others. For other cis-women, age and childbirth can weaken this muscle. Fortunately, because it is a muscle, it can be strengthened. Many people practice Kegel exercises over a long period of time in order to strengthen this muscle. By doing so, they can achieve greater control over their pelvic floor. In other words, their vagina gets buff. And, while it doesn't actually make the vagina tighter, it allows your vaginal walls to squeeze harder, which can be pleasurable for both female and male partners during sex. A stronger PC muscle also makes it easier to orgasm. I've written about how important this muscle is to orgasm so, to me, Kegel exercisers are very beneficial.
Kegel exercisers, such as Kegel eggs and Ben Wa Balls, are inserted vaginally. The PC muscle automatically contracts to keep them in. If the egg is too heavy for your muscle, it'll slide right out because your muscle isn't strong enough yet. Also, Kegel exercisers are not orgasmic in themselves, so they're not a "sex toy" per say. So Kegel exercisers are not meant to specifically provide pleasure. What they do provide, however, is a more effortless ability to strengthen your Kegel muscles over time, which can lead to better vaginal control and easier orgasms.
Lastly, remember that Kegel eggs are NOT safe or meant for anal use.
Physical Details
The Medium Nephrite Jade Egg is, as it's aptly named, a yoni egg. Also known as a Kegel egg or a Kegel exerciser, this product is designed to strengthen your PC muscle. It's called an egg because it's shaped like a chicken egg. Or a dragon egg, if you want to be nerdy. It has a thick, rounded base that gently tapers into to a point.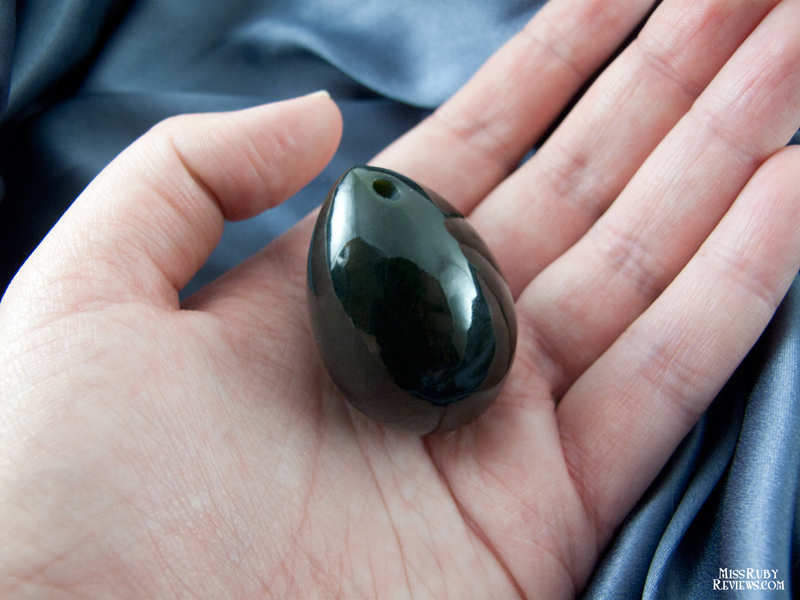 And it's pretty. This nephrite jade is so dark, so opaque, that I can barely distinguish the colour green. At first glance, it looks like a warm black. Under pure white light outside, however, you can see that it's a deep, rich, green. Because this egg is cut from natural stone, the color you receive can vary from light green, to dark green, to black.
This jade egg is so different to the other eggs I reviewed here. This jade is so dense and so smooth that it looks and feels like glass. It reflects light just as well as any glass I've used, and it feels hard and flawless to the touch.
Overall, the Medium egg is a good standard-sized Kegel egg:
Weight: 60 grams
Diameter: 3 cm
Length: 4.5 cm
However, Genuine Jade LLC offers this egg in a small and large version as well. They also come in packages: you can get all three at once, 1 medium/1 small, and 1 medium/1 large.
This version comes drilled to allow you to tie a string. This string will hang out of your body so that you can pull it out easily. The downside of this is that it's harder to clean, as you need to get a small brush to clean out the hole. Genuine Jade LLC offers all of their jade eggs in undrilled versions as well.
Material and Care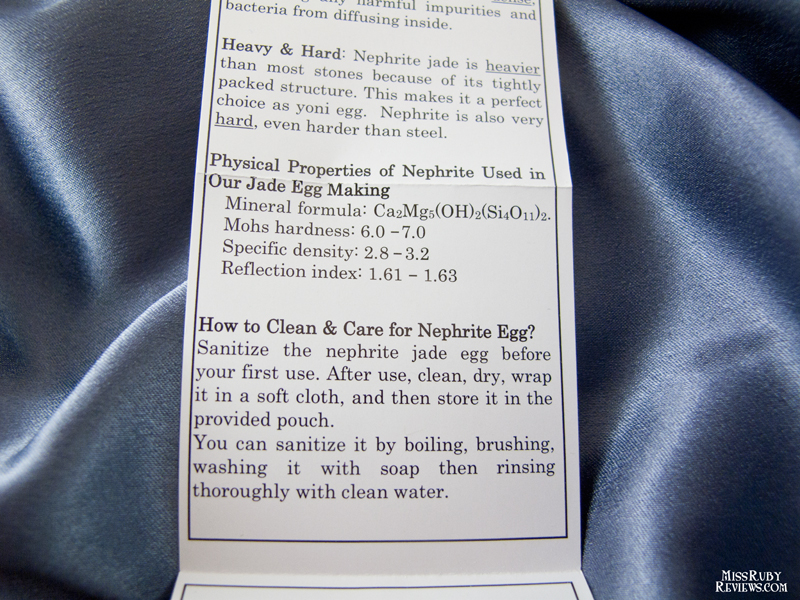 Nephrite jade is one of two jade minerals, the other being jadeite. Nephrite jade is a particularly hard, dense, and heavy mineral. Its Mohs hardness falls around the same as Boroscilliate glass (Pyrex), and it can scratch steel and common window glass. Dense materials are less porous, meaning that there's little space for bacteria to grow beneath the surface.
Much to my relief, this product has not been dyed or chemically treated, so it's a truly natural product.
For many people, nephrite jade also has a more spiritual significance. In Chinese culture, nephrite jade is the "Stone of Heaven." It's also believed to promote the body's natural self-healing capabilities. For these reasons, people may choose nephrite jade over synthetic materials like silicone or ABS plastic.
For regular cleaning, I suggest washing your jade egg with warm soapy water before and after each use. However,  Genuine Jade LLC suggests that you sanitize it before your first use.  I recommend sanitizing it by boiling it for 5 minutes. Yes, folks, you can sanitize this like glass or silicone. Neato. Because Kegel eggs are something that you need to use so regularly, and because that drilled hole is so hard to clean thoroughly by hand, I recommend boiling it on a regular basis.
If you'd like to use lubricant with this Kegel egg, I recommend a good water-based lubricant. In between use, store your Kegel egg in the cloth pouch provided.
Shipping and Packaging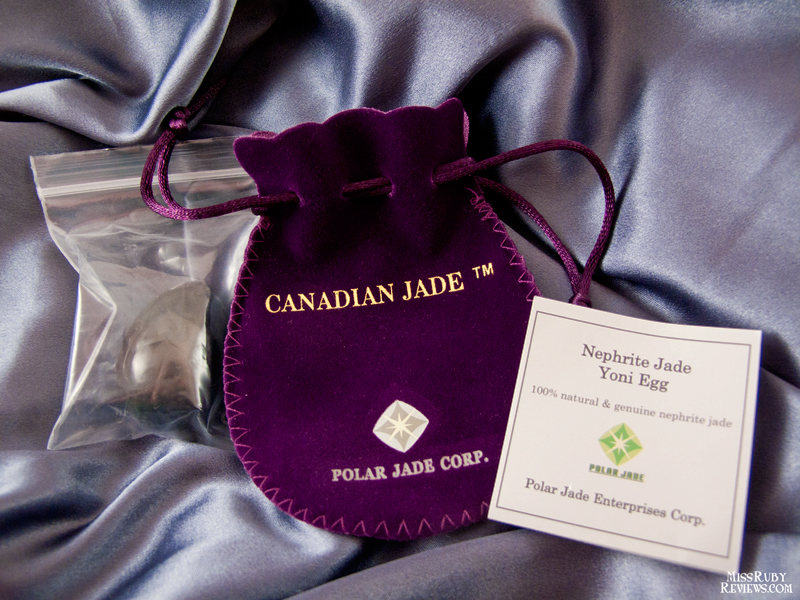 Shipping from Genuine Jade LLC was fast. The products were sent on Friday July 3rd and I received them on Monday July 6.
I received a plain brown box. The return address listed the company name. Inside the box, my Kegel egg was wrapped in bubble wrap. It lay inside a pretty purple velvet pouch. There was also an information pamphlet, including a certificate of authenticity.
My Experience with the Polar Jade Medium Nephrite Jade Egg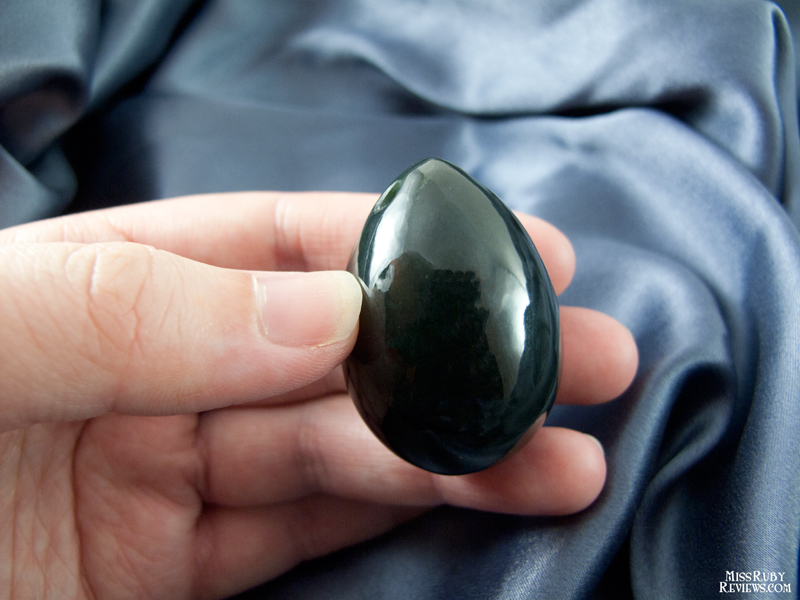 I much prefer this egg shape to large spherical Kegel balls. When it's large enough, a perfectly spherical shape can feel too ambitiously girthy for insertion when you're not aroused. This tapered tip, however, allows for a much easier insertion, especially when I add water-based lubricant.
I wear this Kegel egg for about 30 minutes at a time. After I insert it, I have no trouble keeping it in. The egg stays securely in its place, even when I move about and jump. After wearing them, my muscles feel mildly exercised, but not overly exhausted. But take note: My experience with this egg is very relative to me, because any experience with a Kegel product depends on how tone the user's Kegel muscles are. Thanks to reviewing a bunch of Kegel products, my Kegels are doing quite well, which is why using this egg is quite effortless for my PC muscle.
After wearing it on and off for about three weeks now, I can conclude that, in general, this medium egg is best suited to beginner and intermediate Kegel users.
First, 60 grams is a good mid-range weight. For perspective, the intermediate weight combination for the LELO Luna beads is 65 grams.  The heavier a Kegel weight is, the stronger your PC muscle needs to be to keep it held inside of you.  I find 60 grams to be on the light side, but that's only because I'm experienced with Kegel exercisers. People who are new to this will find 60 grams to be a good challenge.
Second, this medium egg is actually fairly large. Generally speaking, your PC muscle doesn't have to work as hard to keep in a larger-sized Kegel egg (unless that egg is super heavy). I consider this size good for beginners.
So, what if you're not a beginner or intermediate user?
The large egg looks like it'll be a great deal heavier than the medium. I don't have its exact measurements, but by this comparison picture, I estimate the large egg to be around 150 grams. Something this heavy will be a formidable challenge, so if you're an advanced user, I recommend this.
On the other hand, the small egg can also pose a challenge. Smaller eggs are harder to sense inside of you, and your PC muscle has to clench harder to locate and hold a small egg. For this reason, even though the small egg weighs less than the medium egg, it'd be harder to use. So, if I were a beginner, I wouldn't start with the small egg. The small egg is also best suited for advanced users.
If you're not sure where on the spectrum you fall, I'd pick up the full set. This way, you could start with the medium egg, then use both the medium and the small egg (at once) to increase overall weight. Then, after you've worn both of these, move on towards the large egg. I don't have all three eggs, but this is the method I used when I reviewed these eggs and it worked fabulous.
Overall
The Polar Jade Medium Nephrite Jade Egg is a high-quality yoni egg product. Its genuine nephrite material is impressive too: you're able to sterilize it as you would any other glass or silicone product. After use, I found that this egg didn't exhaust my Kegels as a heavier egg would do. This is because I'm a more advanced user. For this reason, I think this particular egg is perfect for a beginner or intermediate user. If you're more advanced, I'd opt for the small or large version, or get all three and find the perfect combination for you. And for buyers who are particularly interested in genuine nephrite jade for its spiritual or holistic qualities, I think this brand is certainly one to consider.
To buy the Polar Jade Medium Nephrite Jade Egg, head on over to Genuine Jade LLC.