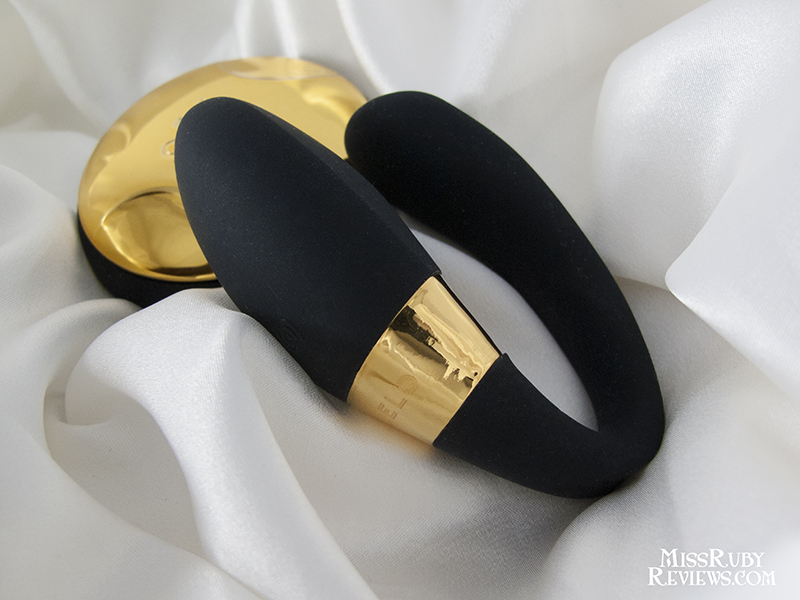 I feel rich.
Physical Details | Material and Care | Packaging | My Experience | Overall
Physical Details
This week, LELO unveiled the LELO TIANI 24k — a couple's vibrator with a band of 24 carat gold. Before its release, they reached out to me to see if I was interested in receiving one for an honest review. They didn't have to ask twice. They had me at "gold."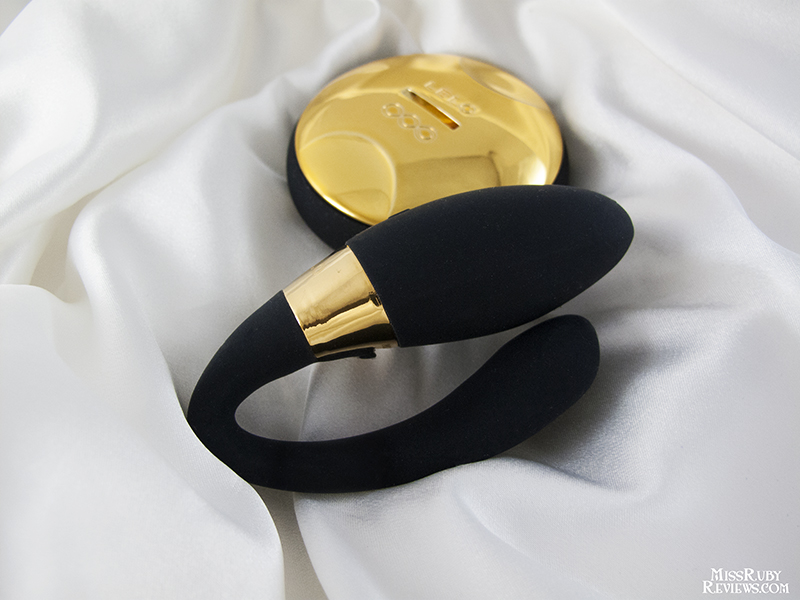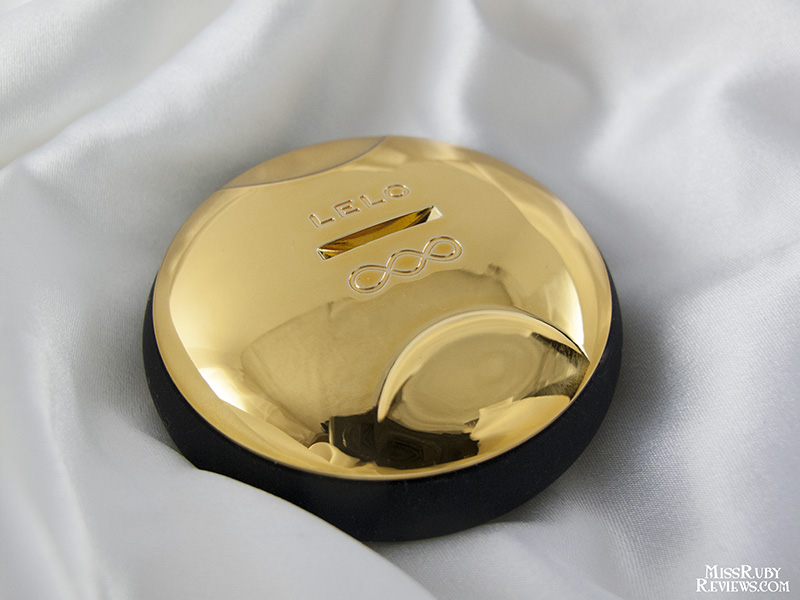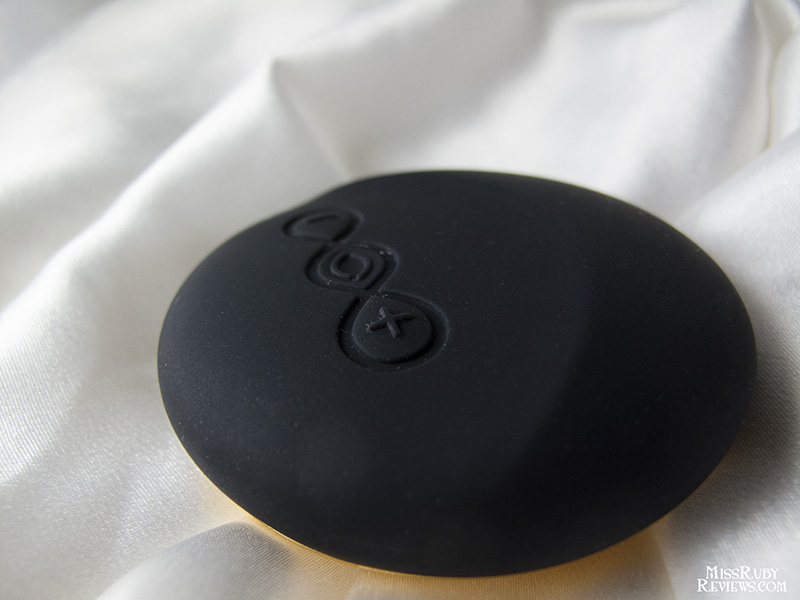 As you might have guessed, the TIANI 24k is a luxury sex toy. Ideal for gift occasions (hint: Christmas), this vibrator is worn in the vagina during male/female intercourse to enhance sensations for both parties. And LELO is serious about this being a couple's vibe. The band of gold around the vibe definitely has a symbolic aura of commitment about it. But to make things even more interesting, for the first time ever, LELO is covering this toy with"Couples' Insurance." This means that, if you break up with your partner within the first 12 months of purchasing it, LELO will replace it with another one of the bestselling products.
Neat. And don't worry: you won't need to provide proof of your break-up. That would be awkward.
The TIANI 24k is sleek and streamlined. The black silicone is divided by a band of 24k gold, but the division is quite seamless and it doesn't create any awkward gaps or clipping. If you're not in the mood for black, you can also purchase this in Deep Rose or Hot Cerise. The remote control itself is also simple, a black and gold-colored disk with a 3-button interface.
With the help of two motors (one in each arm), this product works to stimulate both the female wearer and the male partner. The larger arm remains outside the body, vibrating against the clitoris. The smaller arm slips inside the vagina to press against the G-spot. As the internal arm vibrates, the G-spot is stimulated as well as the penis. The joint between the arms is fairly flexible, so you don't need to worry about pinching as it's going in. Just to note: while this is certainly designed for heterosexual couples in mind, lesbian couples might also enjoy the hands-free stimulation it provides.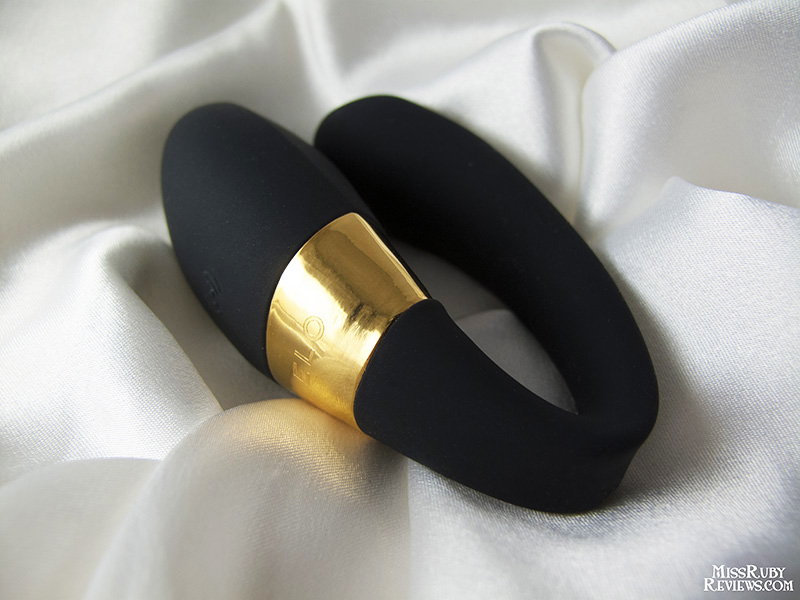 To be comfortable during PIV sex, the TIANI 24k is surprisingly small. It easily fits in the palm of my hand, lightweight and slender, weighing only 51 grams. Despite its size, it definitely feels sturdy.
This toy is also 100% waterproof, making this usable in the shower (or hey, how about the ocean??) with your partner.
So how do the vibrations fare? I charged up several of my smaller vibes and compared them to the TIANI 24k. Based on this, I think the TIANI's vibrations are very similar to the vibrations in Siri 1. They're moderately rumbly and have moderate strength. I do notice that the clitoral arm is stronger when the g-spot arm is off. When both arms are vibrating, both arms are weaker than the Siri 1. Unfortunately, because I haven't reviewed any of the other LELO TIANI models, I can't compare them directly. However, LELO states that this model has "new dual-motor design for more power than ever before."
When it comes to being quiet, this vibe excels. I've used many noisy vibrators, and this isn't one of them. Thumbs up for quietness!
Using the Remote Control
The TIANI can be used with or without the remote control.
Once you add two AAA batteries (included) and switch the remote control on, a wireless connection is made between the remote and the TIANI. From there, you can explore the SenseMotion functions (which involves moving the remote to increase the intensity of the vibrator) or simply use the remote to cycle through the patterns and intensities.
I haven't had any troubles with this remote at all (which is pretty new for me). The range is good.  So, by itself, the SenseMotion technology definitely works – I haven't spotted any issues with it, which is great for if you like playing with the more intricate technological aspects of your vibe.
In fact, my partner and I found the remote control to be invaluable. I definitely prefer to use it with the remote control, but not with the SenseTouch technology. I'm the kind of person who likes to set things up and leave them alone, so I very rarely want to change vibration intensities or patterns once I've found one I like. So I (or my partner) just click through to the right vibration intensity and we're set. Even though SenseTouch isn't something that particularly appeals to me, I really like having the option of a well-working remote control.
If you want to keep things as simple as possible (or if you've run out of AAA batteries for the remote), you can simply press the button on the TIANI's clitoral arm. An LED light ("24K") will start blinking. Then, press the button further to cycle through the 6 pre-programmed vibration patterns. All vibrations will be set to 100% intensity. To turn it off, simply press the button for 3 seconds.
Material and Care
The TIANI 24k is coated in 100% silicone, making it body-safe (non-toxic, non-porous, and free of phthalates). It's also easy to clean. Because it's waterproof, you can simply rinse the TIANI and the remote under soapy warm water. Be sure to do so before AND after each use. If you really want to be thorough, you can add some of LELO's anti-bacterial cleaning spray to the process.
I always recommend having a bottle of water-based lubricant nearby when you're using a silicone sex toy. Make sure to drizzle the insertable arm with some lubricant beforehand.
To charge your TIANI, lift the silicone flap to reveal the charging port at the back of the golden band. Insert the USB charger at a 90 degree angle, and plug into your computer (or a USB wall adapter) for 2 hours. You'll get a few hours use out of a full charge, but I recommend charging it up beforehand if you know for sure that sex is on the menu for the night.
This toy also comes with a 1-year warranty and a 10-year quality guarantee. Make sure to register your LELO toy using the small black credit-card like item that you'll find inside your box.
Packaging
I always love LELO's packaging. The packaging used for the TIANI 24k has a pinch more glamour and decadence than I'm used to with sex toys. The first thing I told my partner when I opened it was, "I feel like I'm getting a bottle of really expensive perfume."
The box I received was black and gold. When you open the lid, the TIANI and its remote rests inside a gold-colored platform. Underneath this platform, you receive a black satin storage pouch, a USB charger, 2 AAA batteries, an instruction manual, a sample of LELO's personal lubricant, your warranty registration card, and a cloth to polish the gold.
My Experience with the LELO TIANI 24k
Now I get to feel really fancy when I have sex.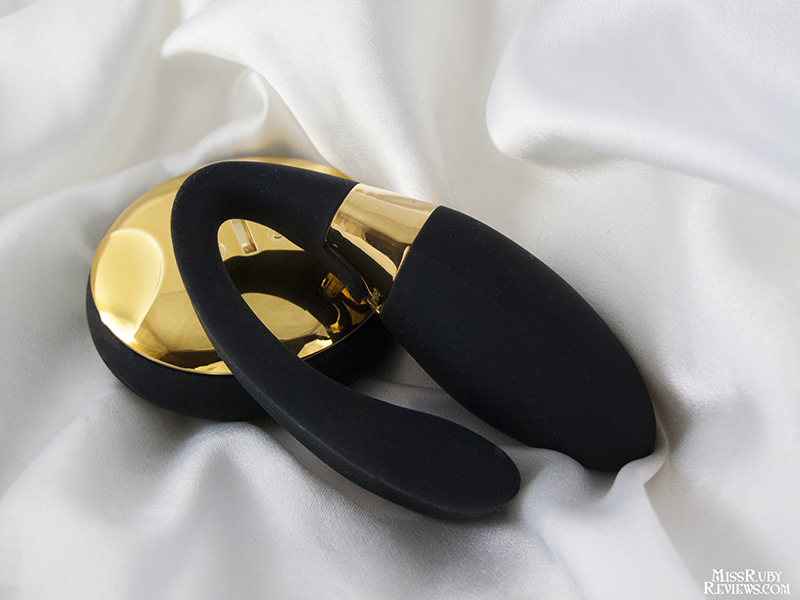 I was really excited to try this with my partner. To date, my partner and I haven't had amazing luck with wearable vibrators, but we're always open to trying new products and seeing if they're a match for us.
During the times we've tried it, Mr. Ruby and I have found that it definitely adds something to our experience.
I really recommend that, at least for the first time with the TIANI, you go especially slow. Tiny as that internal arm is, it still takes up some room against your G-spot, meaning that your vagina needs to stretch more than usual to accommodate your partner's penis. During our first try, I noticed that I was so much more "full" than usual that we had to go extra slow so that my body could adapt. In other words, just as you would with an extra large dildo, don't rush into things at first.
While I could orgasm with the TIANI 24k's clitoral arm, I needed to press the arm against my clitoris to do so. The arm already gives great pin-point stimulation, but I find that I need *very* firm pressure to get there. Orgasms weren't instantaneous or extremely easy, however, because I'm someone that needs strong vibrations. With the TIANI's moderate vibrations, I found orgasm took longer to achieve than with some other vibrators. People that require very strong clitoral vibrators to orgasm may not be satisfied with this toy.
While my partner did enjoy the vibrations he experienced during sex, he warned that males that orgasm very quickly might struggle to accommodate that added sensation.
A couple of times, we felt like the Tiani was starting to slip out of me, so we needed to stop, pause, and readjust. When Mr. Ruby and I tried an old version of the We-Vibe, the most frustrating thing about it was that it kept on slipping out during sex and position changes. That doesn't happen for us with the TIANI 24k — I suspect it's because the joint connecting the two arms is firmer than that of the We-Vibe's and its shape suits my anatomy well. The joint between the arms isn't inflexible, but it's firm enough to keep the two arms pushed against either side of your pubic bone so it stays in. It didn't slip out when I changed positions or stood up. I could even walk around with it a little. I was clenching my Kegel's considerably to keep in it, but even so.
Overall
My partner and I enjoyed testing the TIANI 24k. We were expecting many hiccups, but ran into surprisingly few. We're impressed by how well the toy's design fit my anatomy and we found the vibrations to be pleasurable (although they might not be strong enough for someone who requires very strong vibrations to orgasm). Also, for men who orgasm too quickly, we suspect that the added sensation will make premature ejaculation harder to control.
Despite this, I think the TIANI 24k would make a great gift. It's pleasurable, unique, luxurious, beautifully packaged and a sexy excuse to bring sex toys into the bedroom with your partner.
To buy the TIANI 24k, head on over to LELO
Last Updated on March 14, 2020 by Miss Ruby