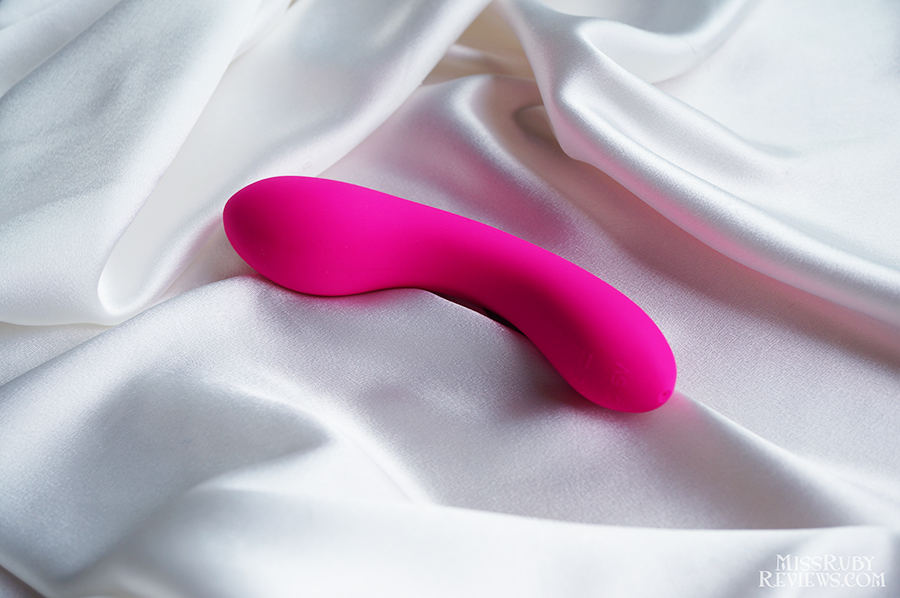 The Mini Swan Wand is a cute, minified version of the Swan Wand. The full-sized Swan Wand is popular for its strong, rumby vibrations and lovely bulbous head for both clitoral and internal stimulation. Lately, I've been more interested in smaller vibes, so I was thrilled to get my hands on the Mini Swan Wand.
Physical Details | Packaging | Material and Care | My Experience | Overall
Physical Details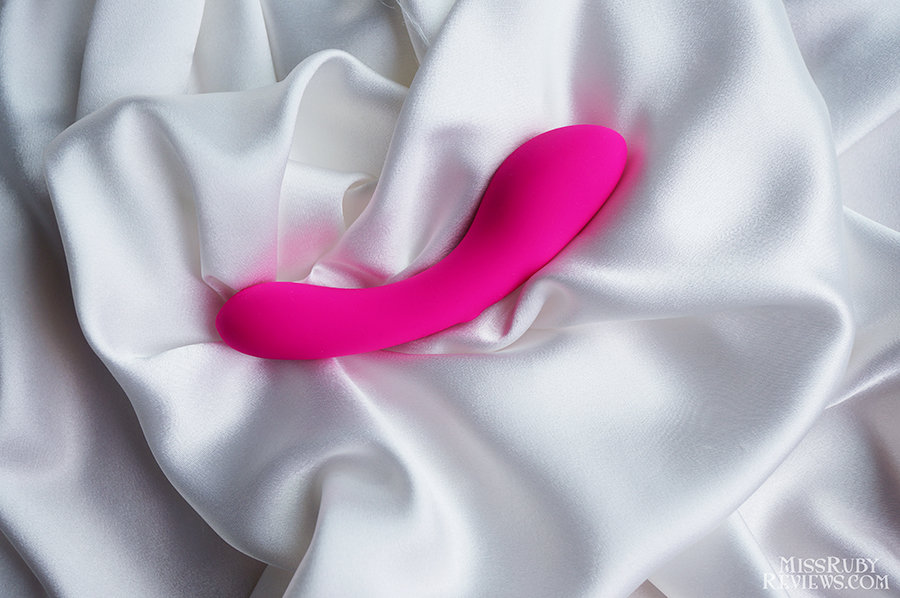 Design
The Mini Swan Wand boasts simplistic, clean lines and a distinctive, ergonomic, curved design. As you can see, one end is narrow (the handle); the other is bulbous (stimulation end). The single control button is located in the middle between these two ends; it's a small, raised bump. The charging port is easy to miss; it's a small dot at the tip of the narrow end.
It fits very comfortably in your hand. I have slightly larger-than-average hands for a woman, but it's still comfortable. The Mini Swan Wand measures:
In total, just under 5 inches in length;
The bulbous end has a diameter of 1.25 inches;
Technically, you can use this as an internal vibrator as well, though you can only insert about 2.75 inches before the power button goes inside too.
Unlike full-sized wands, the Mini Swan Wand is very light; for those of you with mobility issues (lifting and maneuvering large objects), you'll probably find this type of toy easier to use.
Vibration Strength
The Mini Swan Wand operates at a respectably high level of strength (7.5/10). Rumbliness is also moderately high (about 70% rumbly, 30% buzzy). For those of you who are new to vibrators, rumbly motors tend to deliver vibrations that feel thuddy and do not cause any temporary numbing sensation; on the other hand, buzzy motors deliver vibrations that feel surface level, itchy, and can temporarily make the surface of your hands or clitoris feel numbed or tingly. The Mini Swan Wand's vibrations do feel thuddy, but there's a definite buzz to it; my hands feel tingly after using for a few minutes.
Unlike the full-sized Swan Wand, the Mini Swan Wand does not have a motor on each end (it just has the motor in the larger end).
Noise
The Mini Swan Wand is quiet (8.5/10). For those of you with roommates, this won't be heard through closed doors or walls. If you're especially worried, you can use this under the blankets as well.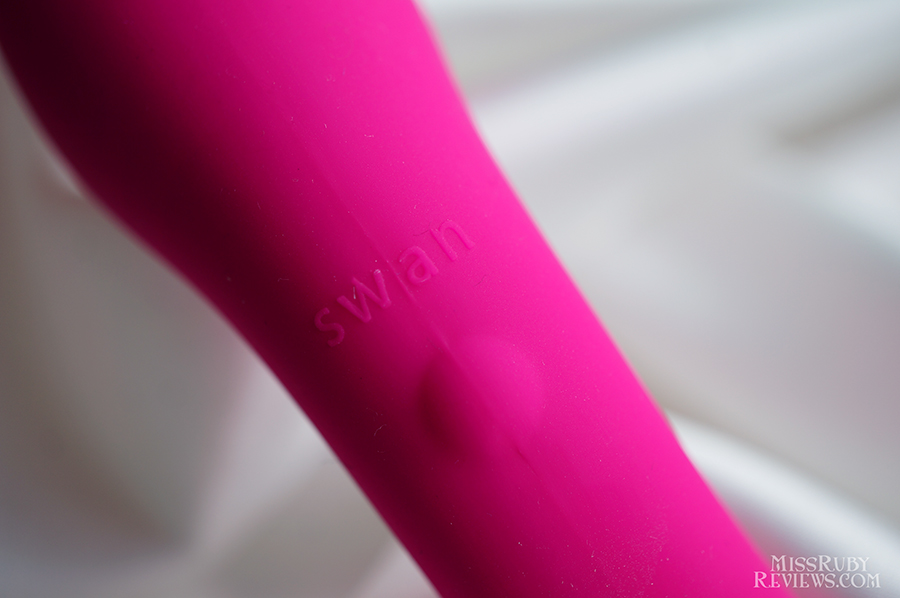 How to use the Swan Wand Mini
This toy functions with "press and hold" technology. To turn on your Mini Swan Wand, press the single control button located in the middle stem of the vibe. The Wand will turn on at its lowest strength. If you click again, the wand will turn off. This isn't a super intuitive control design.
To get a higher vibration strength, click and hold the button; the vibrations will continue to increase in strength until you take your finger off the button.
The Swan Wand Mini can be travel-locked to prevent it accidentally turning on when you don't want it to. To lock it, rapidly press the control button three times. Do the same to unlock.
This toy is also rechargeable (huzzah!). To charge, insert the needle-like charger into the small pinhole located at the tip of the handle. Then plug the USB charger into your computer or a USB wall adapter. A full charge will take about 3 hours; you'll know it's fully charged when the red indicator light disappears. If you haven't used your toy in about three months, it'll likely need another charge.
Packaging
The Mini Swan Wand has clean, discreet packaging (see image above). Inside the box, you receive the wand, a lovely black satin storage pouch, the USB charger, a small product catalog, and the instruction manual.
Material and Care
This product is coated in 100% silicone; this makes it non-porous, non-toxic, and hypoallergenic. Its seamless design and waterproof body makes cleaning easy. For everyday cleaning, wash your Mini Swan Wand with warm, soapy water. The silicone has a matte texture that attracts dust, so I recommend washing before and after use. Swan recommends against using alcohol to sterilize this toy.
If you're a lube fan, make sure you use a good quality water-based lube like Sliquid H2O.
Store your Mini Swan Wand in the storage pouch provided.
All Swan products come with a 1-year limited warranty for defects — read your instruction manual for details.
My Experience with the Mini Swan Wand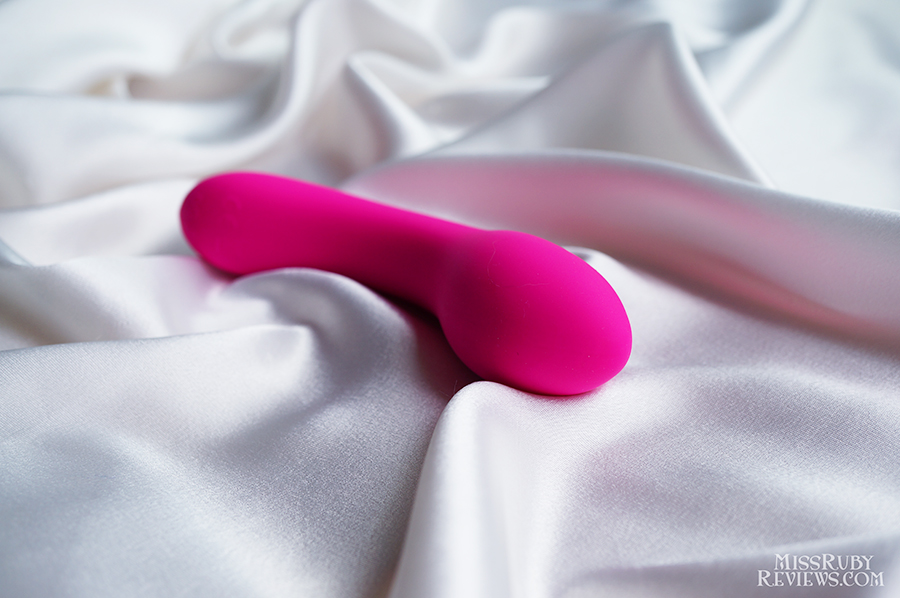 Unsurprisingly, the Mini Swan Wand can deliver clitoral orgasms without hassle! The pin-point design targets the clitoris easily. For those of you who enjoy firm pressure, you'll be glad to hear that the Mini Swan is rigid; if you press firmly, the body won't bend away from you. The vibrations work for me. They're buzzier than vibrators like the Tango, but they're rumbly enough to get me to quick orgasms. I think this toy will be able to satisfy most users. If, however, you're an absolute power queen, you'll probably need to stick to large wands like the Doxy.
I also tried using the Mini Swan Wand internally. The G-spot is only a couple inches in, so you can slip the bulbous end and enjoy the curved nature of this toy to get some G-spot stimulation. However, it's not super easy — the moment you want to change vibrations, you'll need to pull it out to access the button. Based on the placement of the button, I don't believe the brand designed this toy for internal stimulation. Therefore, I don't recommend this toy if you're wanting something that can act as both. (Note: this toy is not safe for anal use)
My main complaint is that the Mini Swan Wand ($69) performs like the $49 Jopen Lust L2 (review here), which is priced $20 less. I received the Mini Swan Wand shortly after receiving the Jopen Lust L2 and was struck by how similar they are in appearance and function.
They are both pink, curved, pinpoint vibrators.
They're both rechargeable, waterproof, and use the "press and hold" technology.
The vibrations are very similar, and I believe the Jopen Lust L2 ($49) is a pinch stronger and a bit quieter.
For this reason, if you had the option between the Mini Swan Wand and the Jopen Lust L2, there's very little reason to opt for the Mini Swan Wand. However, the Jopen Lust 2 vibrates at the smaller finger-like end; if you want a slightly less pin-point experience, the Mini Swan Wand is the way to go.
My second gripe is that control system…I apparently can't adapt to the "press and hold" function. I'm too used to single clicks going to the next vibration strength. If you're less stuck in your ways than me, you might not even register this feature as annoying, but I don't like it.
Overall
The Mini Swan Wand is a great little vibrator. It's fairly strong and rumbly and would be best for people who prefer pinpoint stimulation. It has everything a higher-end vibe should: it's rechargeable, waterproof, and comes with a pretty pouch. However, I'm not a fan of the "press and hold" technology. I would much prefer a single click to make the vibe go to the next level, rather than turn off.
To buy the Mini Swan Wand, head on over to Betty's Toy Box.

Last Updated on November 9, 2022 by Miss Ruby