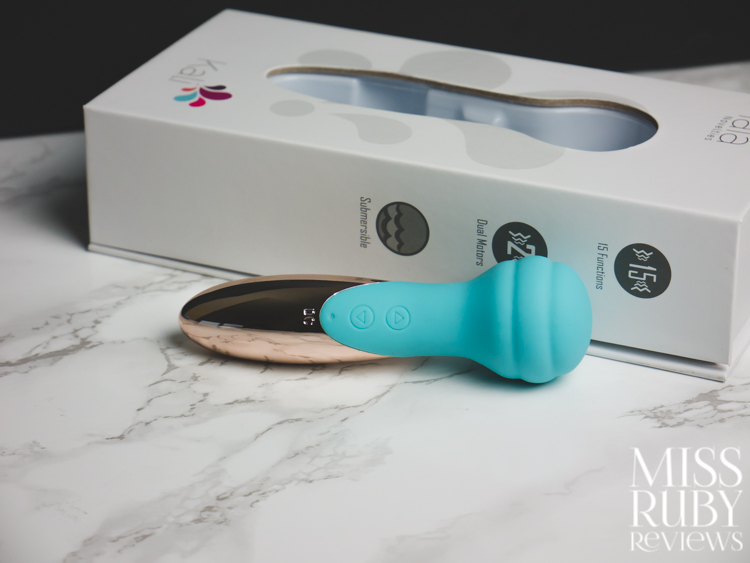 A new petite, double-ended, dual-motor vibrator. Read on for my Maia Kali review!

---
Design | Accessibility | How to Use | Packaging | Material and Care | My Experience | Overall
---
Design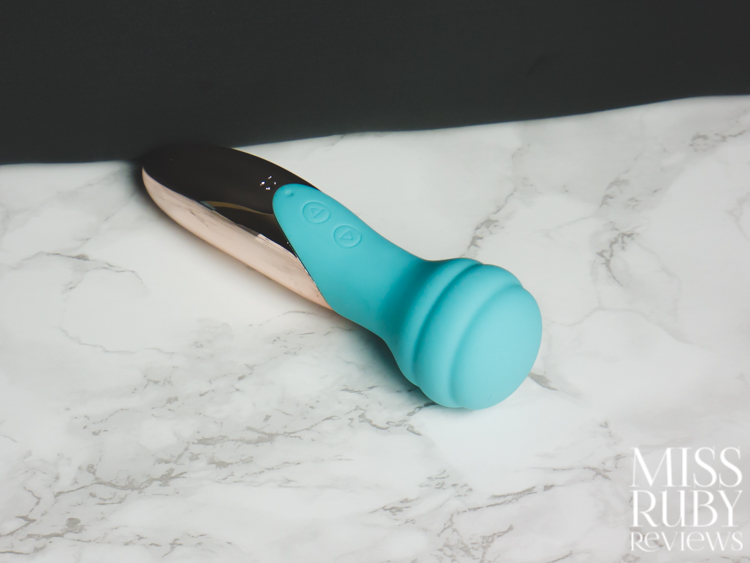 The Maia Kali might look like a fairly typical mini-wand vibrator, but it caught my eye because it boasts TWO vibrators.
One motor is in the silicone, squishy, wand-shaped head of the toy. The end is round and adorned with two grooves, a shape that's good for broad-style stimulation.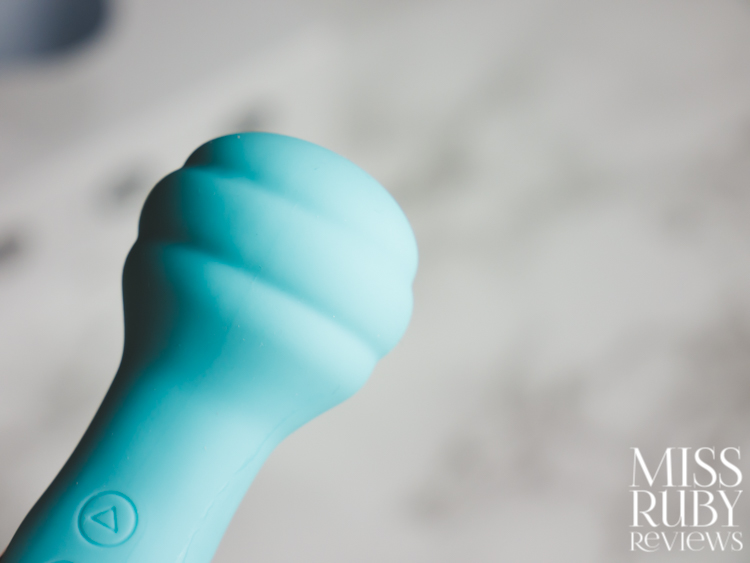 The other motor lies inside the bullet-shaped handle. This end is long, hard, and tapered, perfect for pin-point stimulation.
This makes the Maia Kali a dual-ended toy, or a two-in-one toy: it's both a wand and a bullet vibe.
It's also very petite (under 5 inches total, making it extra discreet for travel and storage).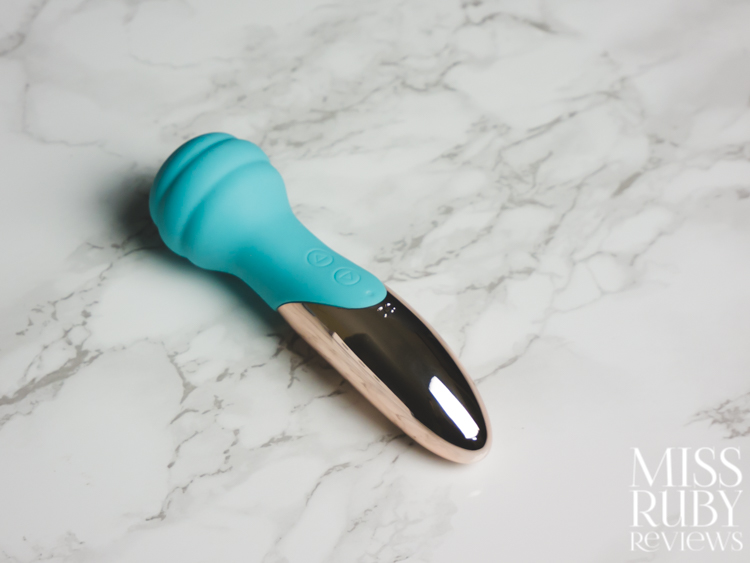 The Maia Kali comes in one colour combination. The silicone portion is a seabreeze ocean blue, light and refreshing. The handle portion is a shiny pale gold colour. I'm always thrilled when the default colours aren't pink/purple/black, so I'm digging these colours.
Accessibility
This section is to help folks determine if they might have any issues using/accessing this toy.
Size: The Maia Kali is a small toy, approx 12cm long. The head is about 3.5×3.5cm and the insertable portion of the other end is about 7cm.
Weight: My scale says this is 71 grams, making it a fairly light toy.
Buttons: There are 2 round buttons, about 6mm wide and 3mm apart. They sit flush with the silicone surface and are a bit tricky to press down (it takes pressure).
Vibration transfer: A moderate amount of buzzy vibration transfers to the other side of the toy (whichever side you're holding).
Price: At $59 USD (currently on sale for $43), this is an average price for a petite vibrator and somewhat on the cheaper side for a dual-motor vibrator.
How to Use the Maia Kali
There are two buttons on the Maia Kali: 🔼 and 🔽.
The 🔼 button controls the wand head motor and the 🔽 button controls the bullet vibe (shaft) motor.
To turn on the Maia Kali's wand head, press and hold the 🔼 button for a few seconds. It'll turn on at the lowest mode.
To turn on the bullet vibrator (shaft) motor, press and hold the 🔽 button for a few seconds.
Keep tapping 🔼 and 🔽 to cycle through each motor's 3 steady speeds and 7 patterns.
The wand head is designed for clitoral use and the bullet vibe end is designed for clitoral or vaginal use. Of course, there's nothing stopping you from using this on other body parts (i.e., nipples or the shaft of a penis). However, I wouldn't use this anally as it doesn't have a flared base and it isn't entirely silicone.
To turn off each motor, press and hold each motor's button again.
Packaging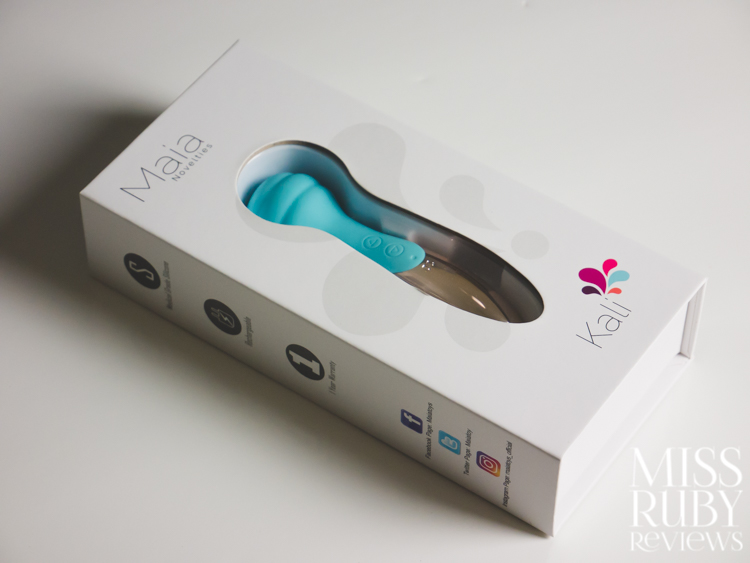 The Maia Kali comes packaged in a simple white box with a window on the front so you can see the vibe.
Inside the box, you receive the Kali, a small drawstring storage pouch, a USB charging cable, and a pamphlet on warranty and charging info.
Material and Care
The Maia Kali is made from silicone and ABS plastic. Silicone is a fabulous material for sex toys because it's nonporous (so it cleans well) and non-toxic.
The Maia Kali is waterproof (submersible), which is fantastic!
To clean, I've been rinsing it with warm, soapy water before and after each use. If you plan to use this internally, you'll want to take extra care afterward to clean the seam that divides the silicone and shiny ABS plastic.
If you'd like to add lubricant (which I always recommend), try a good quality, water-based lube like my favourite basic Sliquid H2O (review here). Don't use any silicone-based lubricants as they could damage the silicone finish.
To charge, insert the needle end of the charging cable into the tiny hole beneath the power buttons (marked DC). Plug that cord into your computer or a USB wall adapter.
My Experience with the Maia Kali
I love the theory behind the Maia Kali. A 2-in-1 vibrator? Yes please!
Broad, wand-style stimulation is so different from pinpoint stimulation, so this idea is especially useful to people who aren't sure which kind of stimulation is best suited to them.
I also love that this toy is small, waterproof, bodysafe, and rechargeable.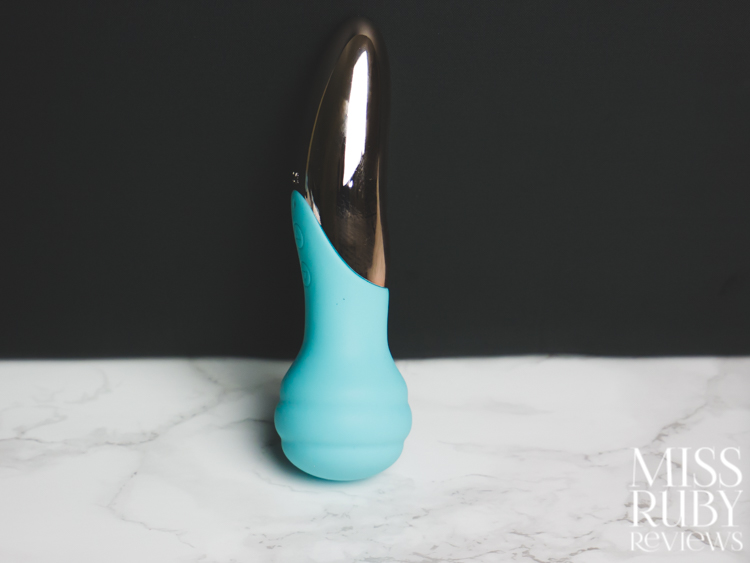 Unfortunately, the quality of the vibrations was a big letdown. I'd rank the wand-end and bullet-end motors as moderately weak and quite buzzy, a combination that is unable to give me (and other users) much pleasure. I wasn't able to orgasm with this toy, and I suspect you'd have issues too if you need moderate-to-strong vibrations or rumbly vibrations.
Buzzy isn't always bad; the Magic Wand is buzzy but it is immensely strong, which makes it a heavy player in the bedroom. Of course, it's not fair to compare this tiny mini wand to the Magic Wand, but my point is that the Maia Kali provides neither strength nor rumbles.
I really wish this wasn't the case — the concept behind this toy is fantastic, but a vibrator is nothing without good vibrations.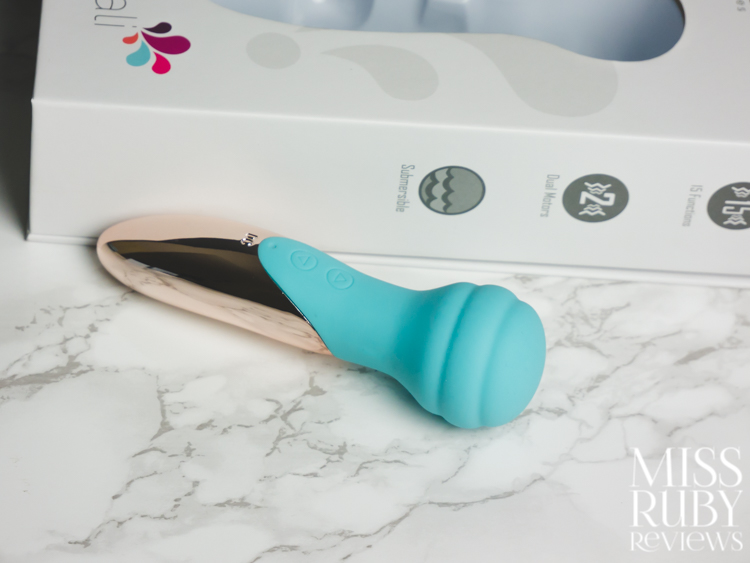 Maia Kali Review – Overall Thoughts
I had high hopes for the Maia Kali; the wand-and-bullet (2-in-1) concept is fabulous and it's so discreet, stylish, and convenient. Unfortunately, both motors are fairly weak so I hesitate to recommend this toy.
Alternatives? If you want to try out a small wand vibrator without breaking the bank, you could try the $39 Romp Flip which is a great budget option with medium strength (I reviewed it here). And for a great budget-friendly bullet vibe option, I recommend the $34 Blush Limited Addiction Power Vibe (reviewed here).
If I haven't dissuaded you, you can pick up your own Maia Kali here! Why do I like Peepshow Toys? They ship internationally, only carry body-safe products, and you can get a 10% discount off regular-price products with coupon code RUBY. 

See below for my Maia Kali review breakdown.

Maia Kali Review
Overall Thoughts - 3
3
$59
PROS
Bodysafe
Great 2-in-1 sex toy concept
Waterproof
Quiet
CONS
Both motors are weak
Both motors are buzzy
Seam between silicone and ABS plastic is annoying to clean
Shop Now