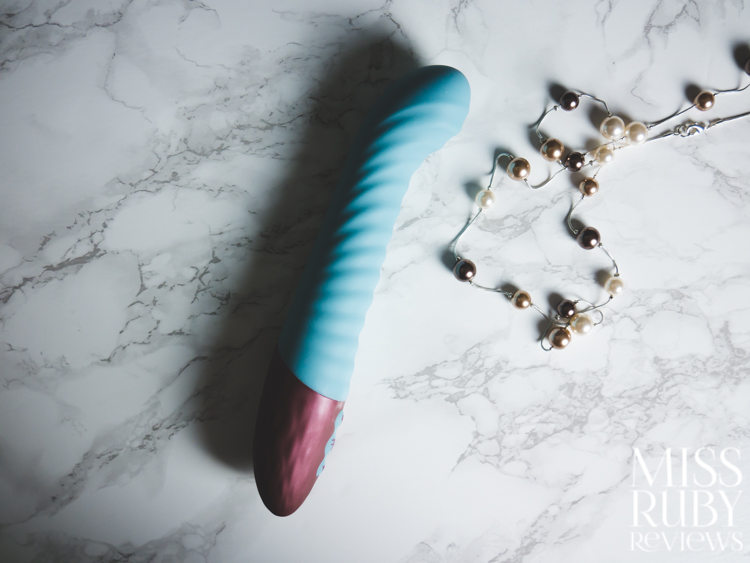 A beautiful, rippled, squishy G-spot vibrator! Read on for my FemmeFunn Lola G review!

---
Design | Accessibility | How to Use | Packaging | Material and Care | My Experience | Overall
---
Design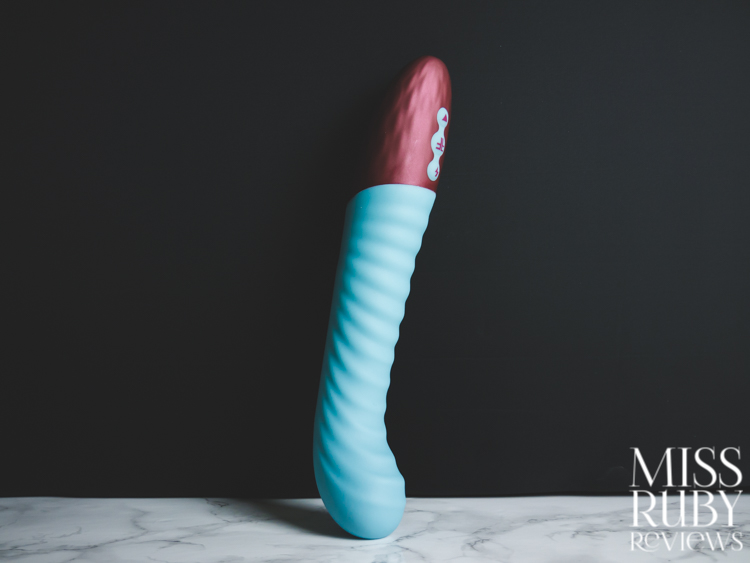 The Lola G is a gorgeous new G-spot vibrator from FemmeFunn, one of my favourite brands.
What first drew me to this toy is that lovely shaft. The shaft is curved slightly (curved shafts are the best for finding the G-spot) and features 13 little ripples all the way down the length of it. It's coated in squishy silicone but has a firmer inner core, which technically makes this dual-density! The shaft is bendy (see picture below) and flops about during use.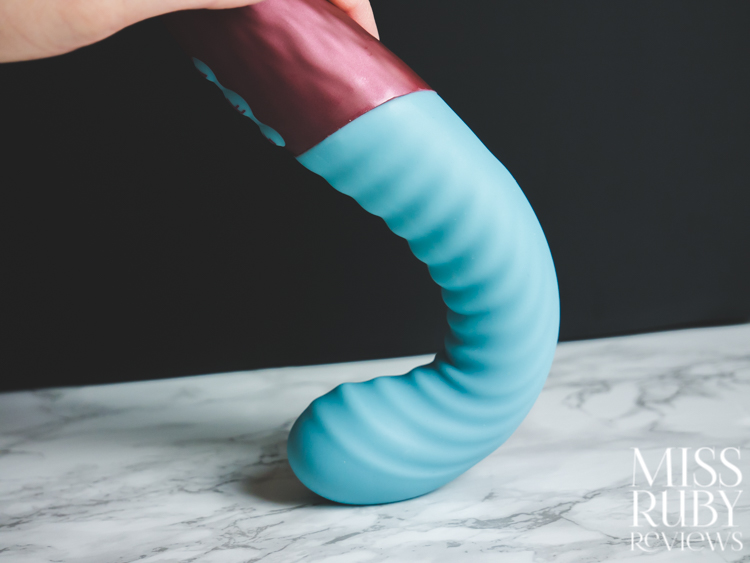 The FemmeFunn Lola G has 8 vibrating functions (3 of which are steady speeds). The vibrations are nicely concentrated at the head of the shaft, making this a great option for clitoral stimulation too.
It's also USB rechargeable, splashproof, and has two colour options: Blue and Maroon. I like this Blue colour; it's a romantic shade of robin's egg blue.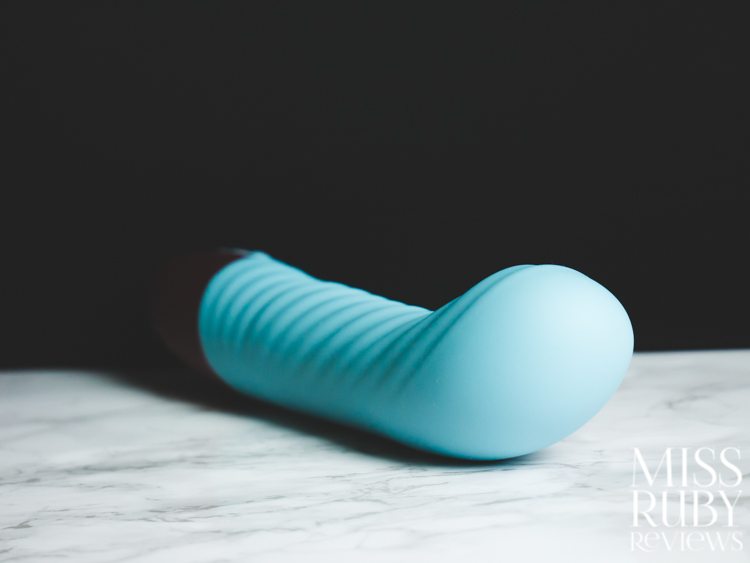 Accessibility
This section is to help folks determine if they might have any issues using/accessing this toy.
Size: The FemmeFunn Lola G is a medium-to-large G-spot sex toy. It's over 9 inches (total length) and has about 6″ of insertable length. The widest part of the head is about 1.5 inches across.
Weight: My scale says that this weighs 250 grams, making it somewhat hefty for a G-spot vibrator.
Buttons: There are 3 round buttons. The middle (power) button is 10mm across and the two smaller buttons are 8mm across. They are all about 2mm tall and have about a 4mm gap between them. They take moderate pressure to press and make a clean 'click' sound. They are blue and nicely contrasted against the dark red handle.
Vibration transfer: There's a moderate amount of handle buzz, so if you have joint issues (i.e., arthritis) this may start to bother your hand over time. However, I'd say it's not excessive compared to other G-spot vibrators.
Price: At $99 USD, this is somewhat pricey for a G-spot vibrator. You can get 10% off non-sale items at Peepshow Toys with code RUBY, which knocks the price down to $90.
How to Use the FemmeFunn Lola G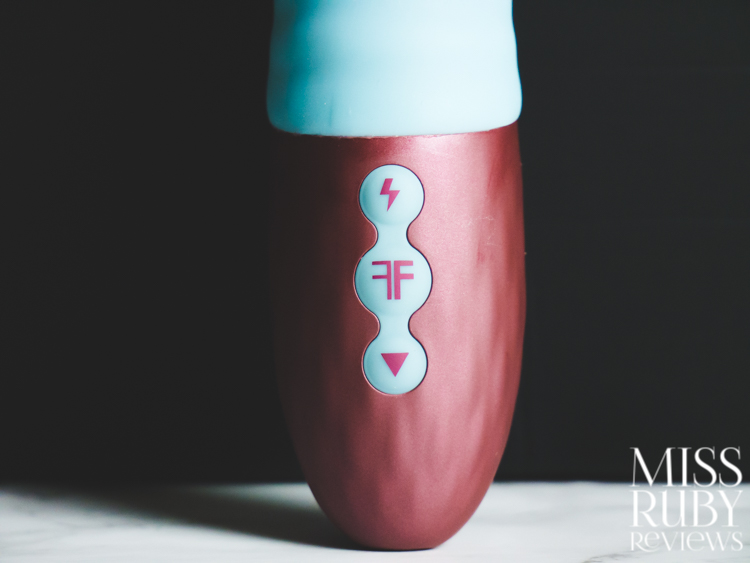 To turn the FemmeFunn Lola G on, press and hold the middle ꟻF button (this is the power button).
Insert the Lola G. Though designed for G-spot use, you could also use this against your clitoris, nipples, or the shaft of a penis. I don't recommend this for anal use because there is no flared base.
Tap the ꟻF button again to cycle through the 8 vibration modes
Press the downward arrow ▼ button to go to a previous mode.
Press the ? lightning button to turn on Boost mode. It'll go to top strength for 10 seconds and then return to the previous setting.
To turn it off, press and hold the middle ꟻF button again for a couple of seconds.
Packaging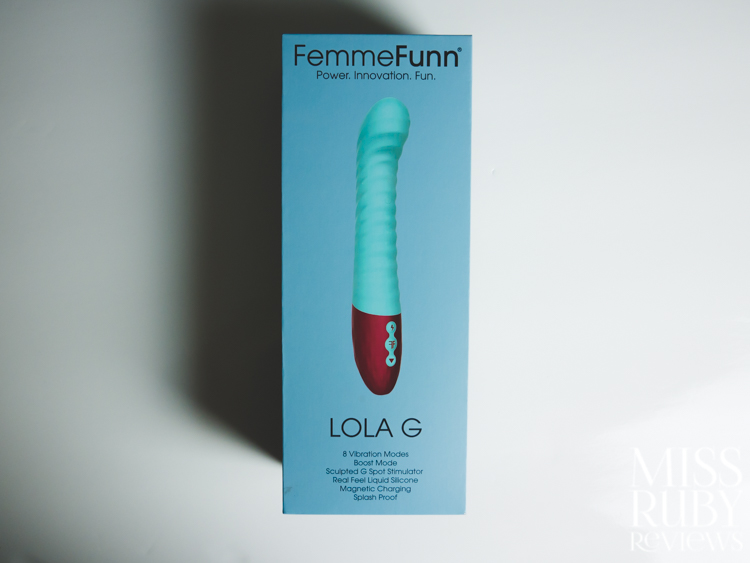 The FemmeFunn Lola G is packaged in FemmeFunn's signature matte box. The Lola G is pictured on the front. The packaging is simple but well-constructed.
When you lift open the lid, the Lola G is nestled in a foam cushion. You also receive the USB charging cord and a booklet of instructions.
No storage pouch is included. If you'd like to have dedicated storage, you can browse for some here.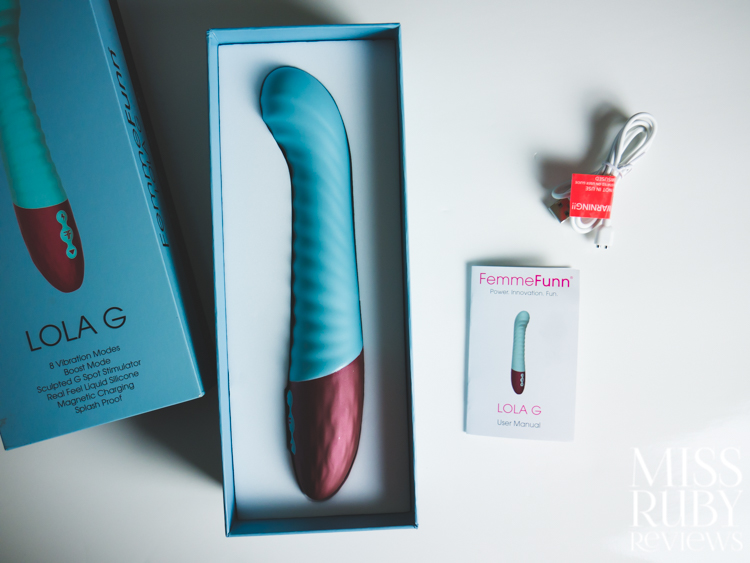 Material and Care
The FemmeFunn Lola G is made from silicone (the insertable portion) and ABS plastic (the handle). Silicone is a fabulous material for sex toys because it's nonporous (so it cleans well) and non-toxic.
The FemmeFunn Lola G is not waterproof. FemmeFunn recommends cleaning it with a toy cleaner and then rinsing it with warm water. Do NOT immerse in water. I personally assume this means that it is splashproof, but I take extra care not to wet the handle.
If you'd like to add lubricant (which I always recommend), try a good quality, water-based lube like my favourite basic Sliquid H2O (review here). Don't use any silicone-based lubricants as they could damage the silicone finish.
To charge, attach the magnetic pins of the charging cable to the two little pins at the very bottom/base of the handle. Then plug that into your computer or a USB wall adapter. A light will flash while it's charging and become solid when fully charged. A full charge will take about 2 hours and it'll run a little over 2 hours. (I personally found that this came with a great initial charge and it only took a couple of minutes to finish fully charging it the first time, so it's basically ready to go out of the box).
My Experience with the FemmeFunn Lola G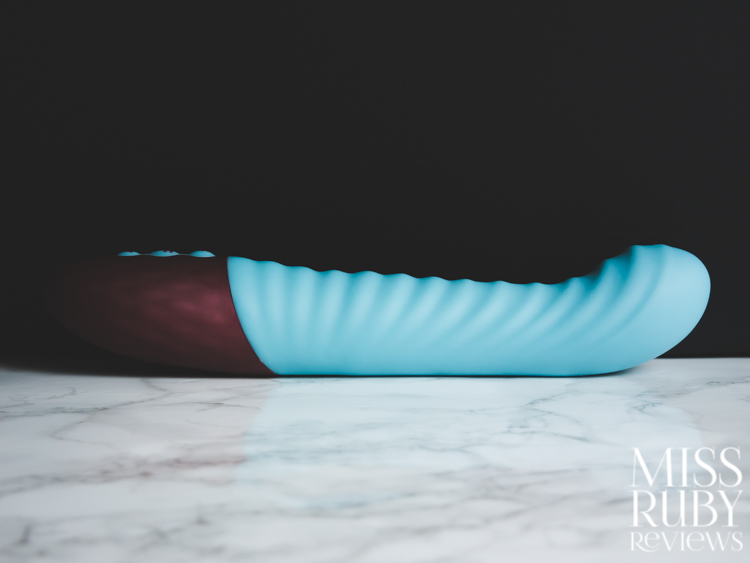 There's a lot to love about the FemmeFunn Lola G.
First off, it feels amaaazing against the G-spot. That shaft is girthy, and the bulbous head and curved tip know how to find the right spot. The ripples bump-bump-bump against your G-spot with every thrust.
The vibrations are moderately strong and focused at the tip. I find they're not quite strong enough for clitoral orgasms, but they feel lovely against my G-spot when thrusting. I've been able to have some incredibly strong orgasms when adding a good bullet vibrator against the clitoris at the same time.
The bendy shaft may or may not be your cup of tea. I always prefer G-spot vibrators to have a rigid, non-flexible shaft so that I can apply a ton of pressure. Still, there's an appeal in this bendy, flexible shaft — the floppiness makes it easy to thrust with and the girth itself still makes sure the G-spot gets pressure.
If you decide to purchase the FemmeFunn Lola G, I highly recommend purchasing it from a store with good customer service. My Lola G arrived with a broken button (the turbo/boost button just shuts the motor off completely, instead of sending it to the highest speed). This doesn't bother me at all because I probably wouldn't have used that feature anyway, but it does tell me that FemmeFunn has the occasional factory defect in their toys.
If you purchased this from Peepshow Toys and got one with a similar factory defect, please email them within 1 year of purchase (admin@peepshowtoys.com) and, according to their current return policy, they will either (a) send you a replacement; (b) ask that you return the product using a pre-paid label or (c) put you in touch with the manufacturer to request a replacement. I'm confident in Peepshow Toys' customer service (and I don't feel that way about many online sex toy stores).
Despite this factory defect, I still consider this a great acquisition for me for 2023 — it feels fantastic.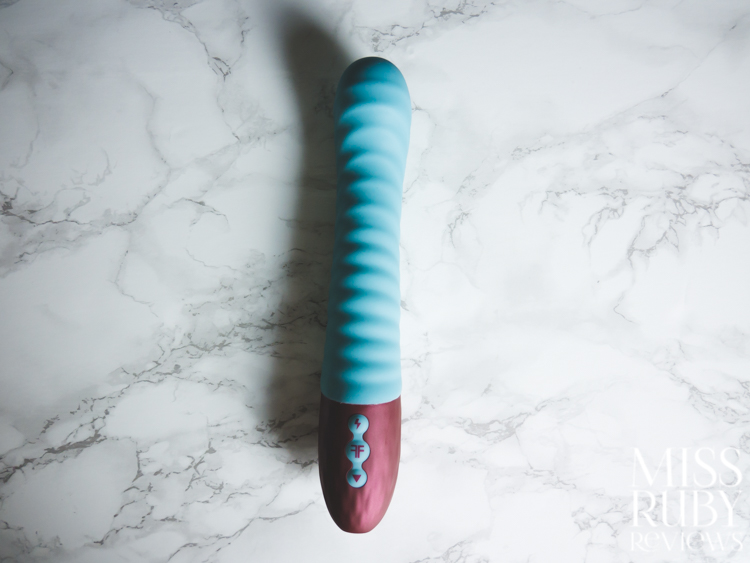 FemmeFunn Lola G Review – Overall Thoughts
I enjoyed the FemmeFunn Lola G — I love how it looks, and that girthy, rippled shaft feels divine against the G-spot.
You can pick up your own FemmeFunn Lola G here! Why do I like Peepshow Toys? They ship internationally, only carry body-safe products, and you can get a 10% discount off regular price products with coupon code RUBY. 

See below for my FemmeFunn Lola G review summary.

FemmeFunn Lola G Review
Overall thoughts - 8
8
$99
PROS
Girthy shaft
Rippled shaft for added texture/stimulation
Good motor
Splashproof
Bodysafe silicone shaft
Comes with 1-year manufacturer's warranty
CONS
Not fully waterproof
Keep an eye out for factory defects
Somewhat pricey
Some might not like the floppy/bendy shaft
Shop Now
Last Updated on March 18, 2023 by Miss Ruby