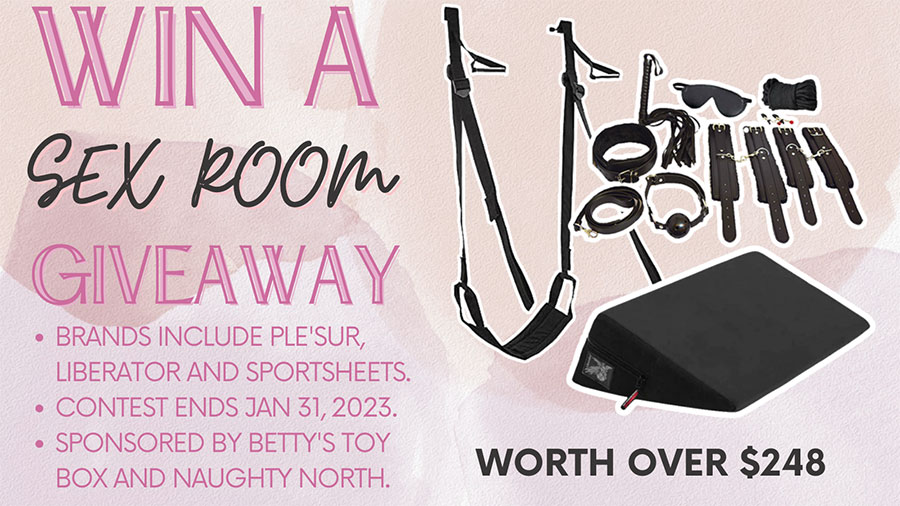 This month, you can enter to win an exciting sex room bundle!
THE SPONSORS: Betty's Toy Box and Naughty North
Betty's Toy Box and Naughty North are kindly sponsoring this giveaway. I've followed Betty's Toy Box for years — they stock a wide range of pleasure products (both affordable options and luxury ones). I've been working on and off with Betty's Toy Box since 2015; it's a woman-founded shop that carefully selects all its stock. Naughty North is a Canadian shop for my readers up north with me. Thank you to Betty's Toy Box and Naughty North for sponsoring this great prize!
THE PRIZES:
One winner will receive a bundle of 3 sex room products!
1. Liberator Wedge in Black or Red

The 24-inch Liberator Wedge is a staple in any sex room. I own this exact product in red and I LOVED it. The slope, angle, and firmness make it easier to achieve your favorite sexual positions without leaving you exhausted. Expertly crafted, this sex wedge has a high-density inner foam core that keeps your bodies connected, lifted, and supported whether you're exploring missionary, from-behind, cowgirl, or oral sex positions. You can also use the Wedge in various ways, which can help enhance your lovemaking sessions. Use it as a fulcrum point under the knees for adding leverage during thrusting.
The winner can choose if they'd like to receive their 24-inch Liberator Wedge in black ("Midnight") or red ("Flame").
2. Ple'sur Everything Bondage Beginner's Bondage Kit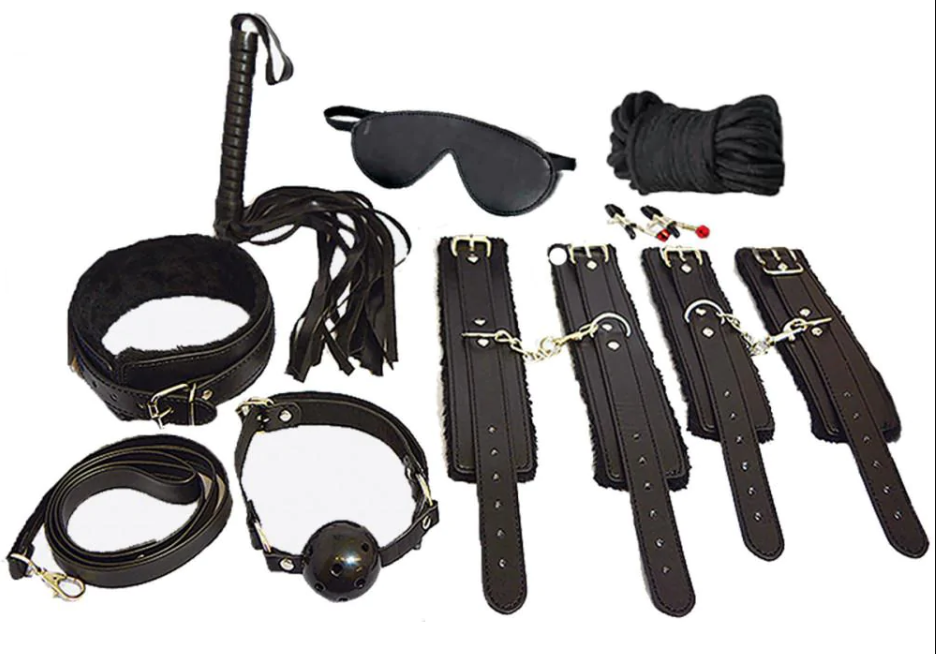 To fill in any gaps in your personal bondage collection, the second prize is the Ple'sur Everything Bondage Beginner's Bondage Kit.
It features:
Soft and made-for-comfort faux fur-lined PVC leather Wrist and Ankle Cuffs
Faux Fur lined PVC leather Collar and Leash
Nipple clamps for a pinch of pleasure
A playmate hushing breathable ball gag
18" Mini flogger whip with wrist strap
Soft bondage rope to keep your partner caught in the moment
3. Sportsheets Door Jam Sex Sling
The third prize is the Sportsheets Door Jam Sex Sling.
Strong, durable, and highly adjustable for your most creative sexual endeavors! With the Door Jam Sex Sling, Sportsheets has designed a solution that empowers couples to experiment with exciting new positions without worries about stamina, awkwardness, or injuries. Just secure the sling over your door by closing it on the dowels and adjust each of the straps to the perfect lengths for your bodies and chosen position. The footrests, hand straps, and a padded seat ensure comfort during your most vigorous carnal explorations. When you're both satisfied, this sling is easy to take down and store away for next time!
SMALL PRINT
This contest will run from January 1 to 31, 2023.
One (1) winner will receive one (1) Liberator Wedge (in red or black), one (1) Ple'sur Everything Bondage Beginner's Bondage Kit and one (1) Sportsheets Door Jam Sex Sling.
You must be 18 years or older to enter and live in a region where sex toys are legal to import.
Open to North America.
The winner is responsible for all border customs/duties fees if they occur.
One (1) winner will be randomly selected through Gleam and contacted by me by email within the 1st week following the giveaway. The winner has 48 hours to reply to me with their address otherwise a replacement winner will be drawn.
The winner agrees to provide me with a name, email, and shipping address that I will forward to the sponsoring company, which will ship directly to the winner.
ENTER BELOW
Update:  Congratulations to CJ for winning this prize!!
Last Updated on February 2, 2023 by Miss Ruby