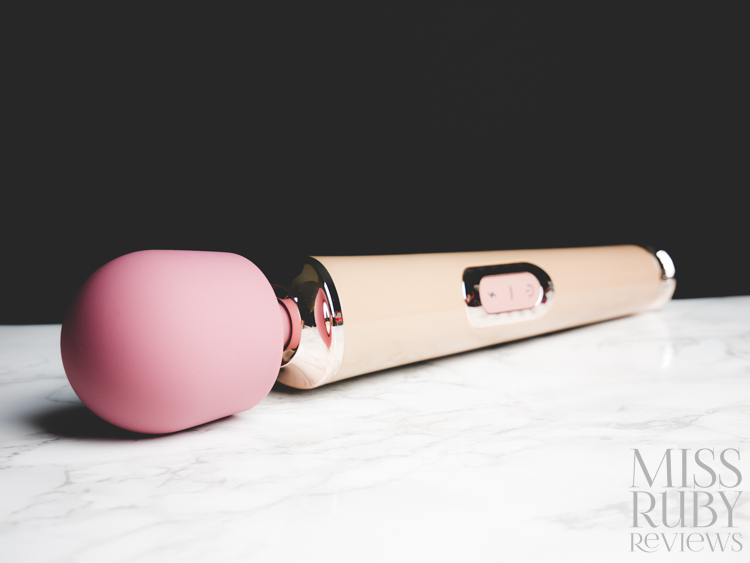 A new wand with a charming colour palette. Read on for my Madame Honey Plus Wand review!

Design | Accessibility | How to Use | Packaging | Material and Care | My Experience | Overall
Design
The Madame Honey Plus Wand is a full-size wand from Honey Play Box. If you haven't heard of Honey Play Box before, it's because they're new to the scene — they launched in California in 2016, which is relatively recent in this industry.
The Madame Honey Plus Wand comes loaded with 3 steady states, 7 patterns, a waterproof body, and a rechargeable battery.
While Honey Play Box carries many wands designs, the Madame Honey Plus Wand is perhaps their most classic design.
A large, oblong, silicone head sits on top of a flexible head. The plastic body tapers down to a comfortably-sized handle at the base. Three buttons lie in the middle of the body, including a Burst button that lets you quickly switch to the topmost strength.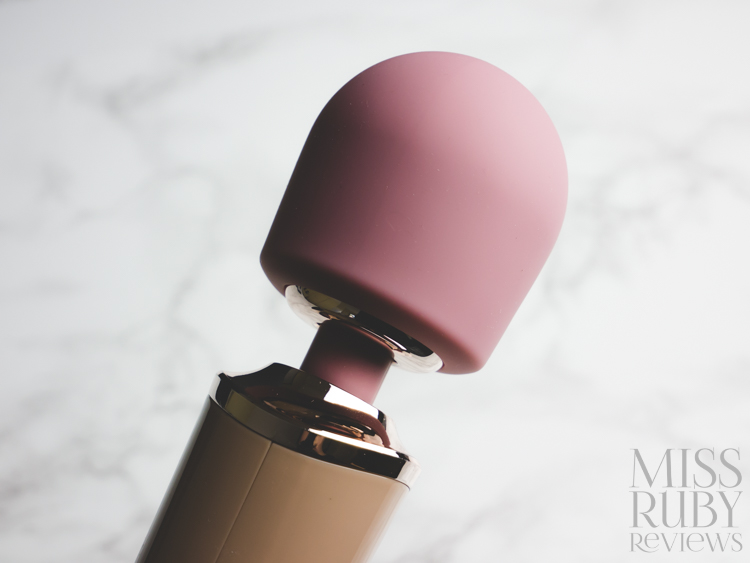 The Madame Honey Plus Wand puts a lot of effort into its aesthetics. There's a lot to love about how this looks.
The head, neck, and buttons are a chic dusty rose colour. The shiny plastic body is a camel brown. There is also gold-coloured plastic that brightly decorates the body. I also like the gem-shaped base; it's a nice touch.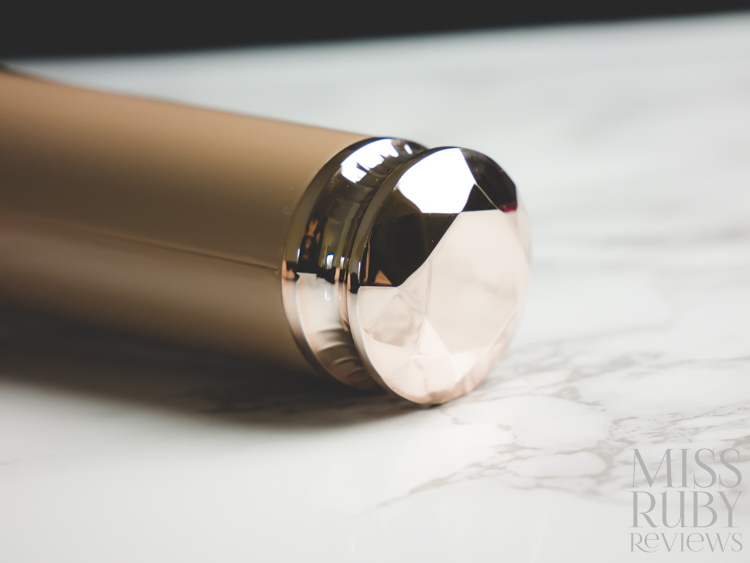 Overall, I really love the look. Most wands take a safe approach to colour, opting for all-black or all-white designs. I'm digging this dusty rose and camel colouring — it feels retro, which I love.
Accessibility
This section is to help folks determine if they might have any issues using/accessing this toy.
Size: The Madame Honey Plus Wand is approx 13″ long. The head is approx 2 1/4 inches wide by 2 1/2 inches tall. This makes it very similarly sized to the Magic Wand.
Weight: By my measurements, this is approx 320 grams in weight, making this a fairly lightweight full-sized wand.
Buttons: There are three buttons on the body of the wand, all grouped together as if they are a single button. They sit flush with the gold decorative trim that surrounds them. Individually, they are about 1 cm across and wide. They don't take much pressure to click and make a loud 'click' noise.
Vibration transfer: A considerable amount of vibrations reach the base of the body/handle. If you have arthritis or Carpal Tunnel, you may find this affects your joints.
Price: At $141 USD, this is somewhat pricey for a full-size wand. For example, the Magic Wand Rechargeable is $129. Then again, pricier wands certainly do exist, such as the $229 Doxy Die Cast.
How to Use the Madame Honey Plus Wand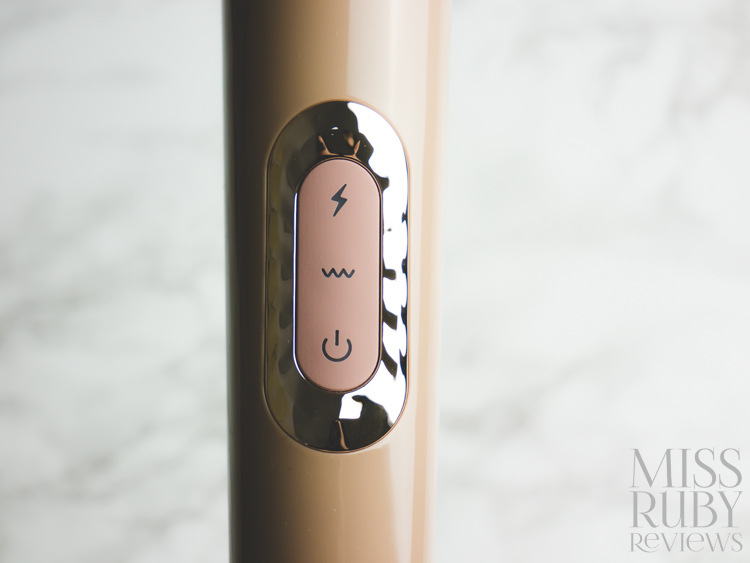 The Madame Honey Plus Wand has three buttons: Power, Vibrate, and Burst.
To turn it on, press and hold the power button for a couple of seconds. The motor will turn on in standby mode.
Press the ~ Vibrate button (the middle button) to cycle through the 3 speeds and 7 patterns.
Apply this to your body. Though designed for clitoral use, this can of course be used against other body parts (like nipples or a penis). However, this is for external use only.
If you want to quickly switch to the top, strongest mode, tap the Burst button (lightning symbol).
To turn it off, press and hold the power button for a couple of seconds again.
Packaging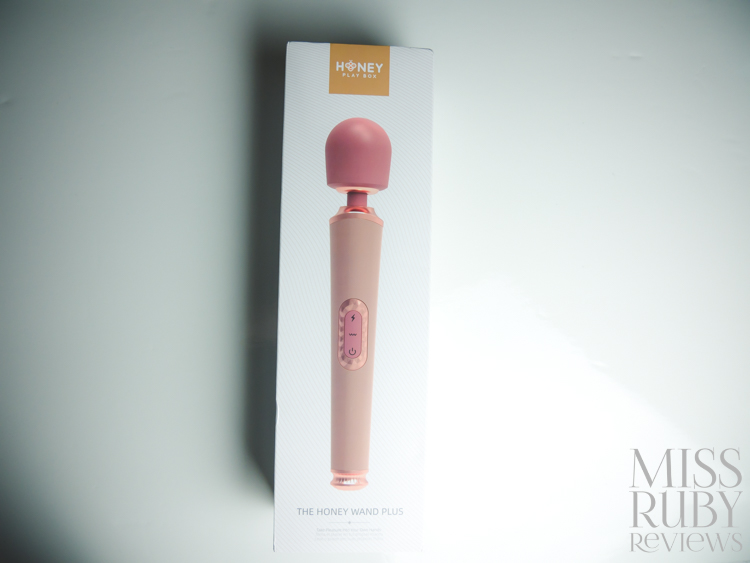 The Madame Honey Plus Wand is packaged in a white outer sleeve and a black inner box. The black box is really beautiful and well-made.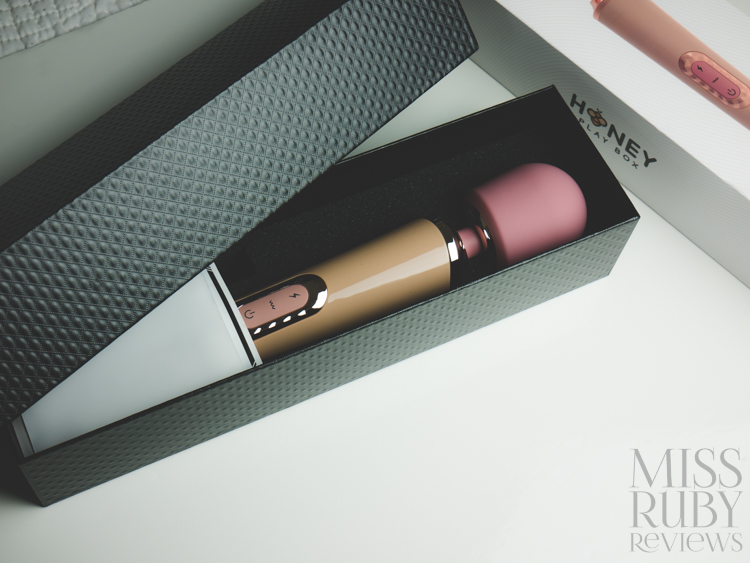 Inside the box, you receive the wand, the user manual, a USB charging cable, and a translucent plastic sleeve for storage. This plastic sleeve doesn't make for a very good storage pouch, so I recommend just holding onto the black box and storing it that way.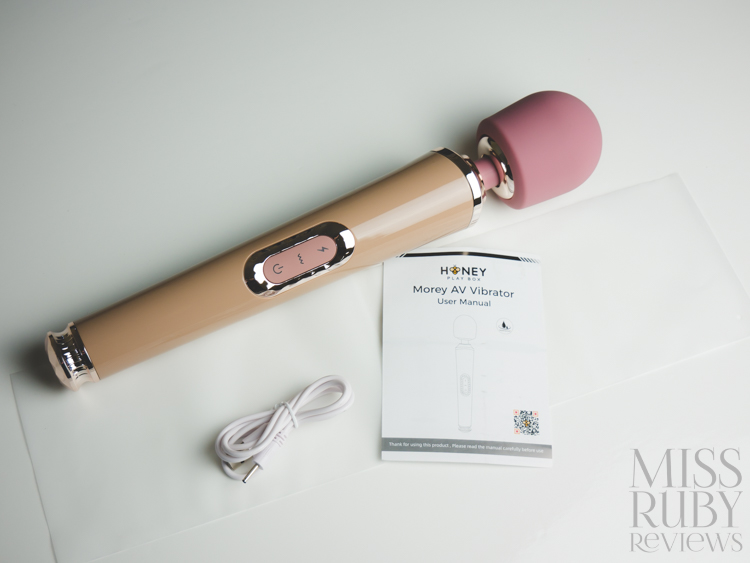 Material and Care
The Madame Honey Plus Wand is made from ABS plastic (the body) and Silicone (the pink head and buttons), making this a bodysafe toy. The silicone has a creamy, matte finish that feels soft and luxe. The plastic portion, however, feels quite lightweight and not particularly high quality.
Honey Play Box states that the Madame Honey Plus Wand is waterproof, so you can take it into the shower with you and clean it easily. Honey Play Box does note, however, that you should try to avoid getting water into the charging chole.
To clean, I rinse the whole thing in warm, soapy water before and after each use. There are many seams from all the gold decorative elements, so be sure to take care when cleaning around those.
If you'd like to add lubricant, Honey Play Box carries their own water-based lubricants.
To charge, insert the needle end of the USB charging cable (included) into the hole at the back of the body, near the bottom. Connect that to your computer or a USB wall adapter. A full charge takes approx 3 hours and gives you 1 hour of playtime.
My Experience with the Madame Honey Plus Wand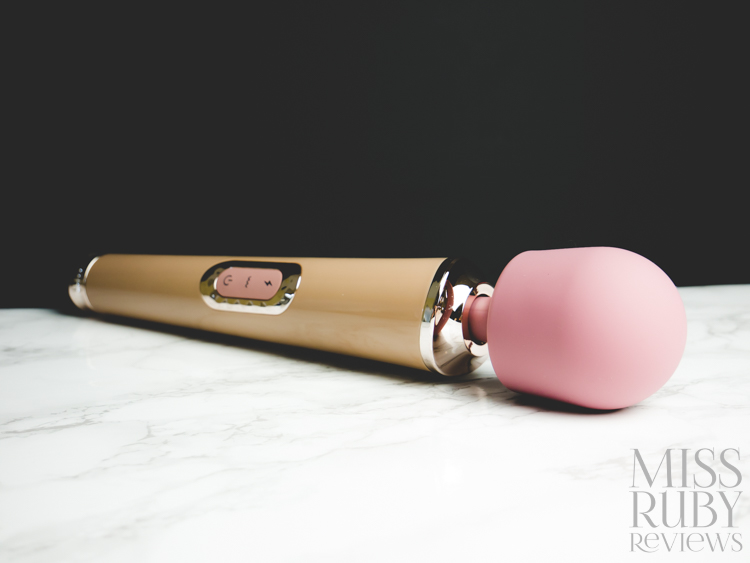 At first glance, the Madame Honey Plus Wand has a lot going for it. It's beautiful, waterproof, and rechargeable, three things that definitely snag my attention.
Let's talk about power
In general, Madame Honey Plus Wand has decent strength. I'd rank the power as moderately strong, and erring more on the buzzy side (rather than rumbly).
To be honest, I was expecting more strength given this is a full-size wand. I don't consider this to be as strong as wand legends like the Magic Wand, Doxy Die Cast, or We-Vibe Wand.
Though the vibrations are focused in the head, unfortunately, a fair few of them do escape down the handle. This means that the handle rattles and can make my hand feel weird if I hold it too long. This might not be a pet peeve for you, but just a heads up in case you know this irritates your hand.
Noise-wise, this is noisy enough that I'd want to be careful if I had roommates on the other side of the wall. However, if you play some music, or perhaps use this carefully under a blanket, it should be quiet enough to be discreet.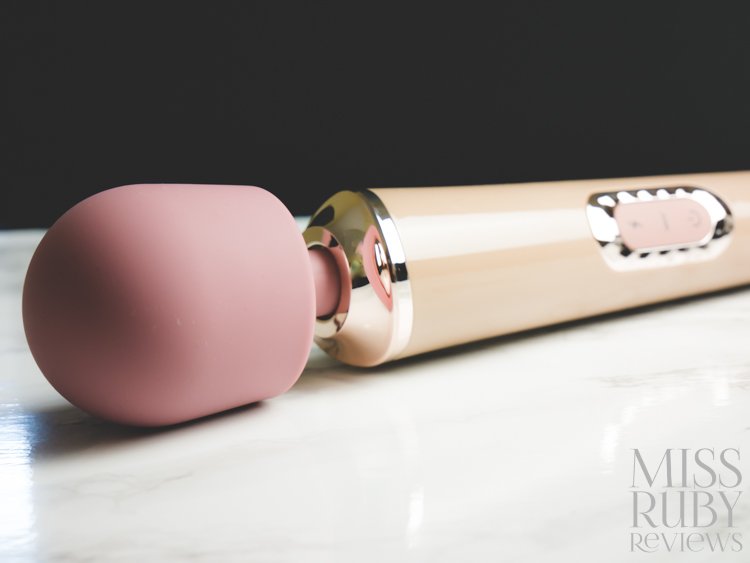 Ease of use
The Madame Honey Plus Wand is easy enough to use. The buttons make sense, and the Burst button is handy to quickly ramp up to top speed. I'm not much of a patterns girl myself (I prefer the 3 steady states), but if you love patterns then you'll be pleased that there are 7 patterns to choose from.
Look/Feel
While I adore how this looks, I'm not a huge fan of how the build feels in my hands. The plastic body and the gold embellishments seem to be made of a light, flimsy-feeling plastic. It's not actually flimsy, but I think a weighted body would have given this wand more gravitas. (Then again, I realize that a lighter body makes this more accessible to people who have difficulty holding items, so this was likely done on purpose).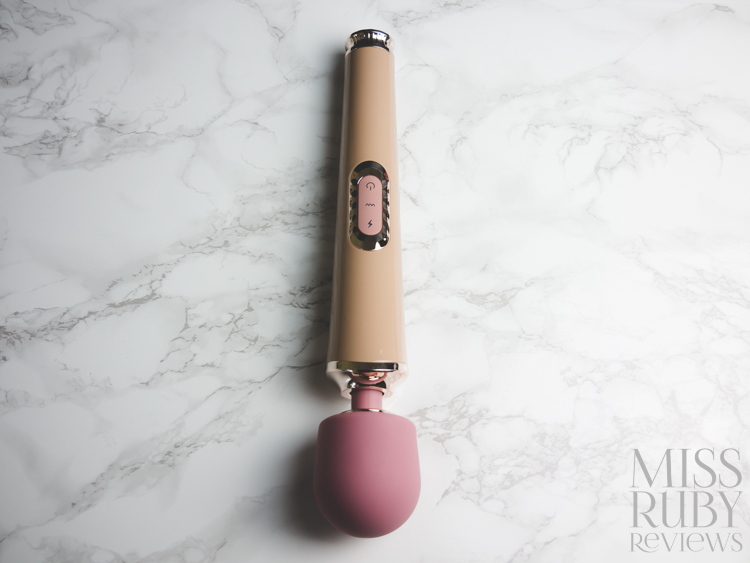 Orgasms?
Despite my nitpicks, I'm personally able to orgasm from this toy without much trouble. I am, however, left wishing that the vibrations had more strength and rumble to them, because rumble is what my body loves. If you're the same, you might be happier with something like the Doxy Die Cast or Magic Wand Rechargeable.
Madame Honey Plus Wand Review – Overall Thoughts
The Madame Honey Plus Wand is a beautiful full-size wand vibrator, one that's waterproof, rechargeable, and comes in pretty colours. I do wish there was more power and rumble in its motor, and that the plastic body was weighted to give it a sturdier feel. But if you love the look of this one and don't mind the above nitpicks, then perhaps this is one to consider.
You can pick up your own Madame Honey Plus Wand here! Why shop at Honey Play Box? They ship internationally and you can get free continental US shipping on orders over $69! You can also get 20% off with code MISSRUBY!

See below for my Madame Honey Plus Wand review breakdown.

Madame Honey Plus Wand Review
Overall thoughts - 7
7
$141
PROS
Full-size wand
Rechargeable and waterproof
Cute, retro colour scheme
Bodysafe materials
Less expensive wands out there
CONS
Want more power
Want more rumble
Plastic body seems a bit flimsy
Shop Now