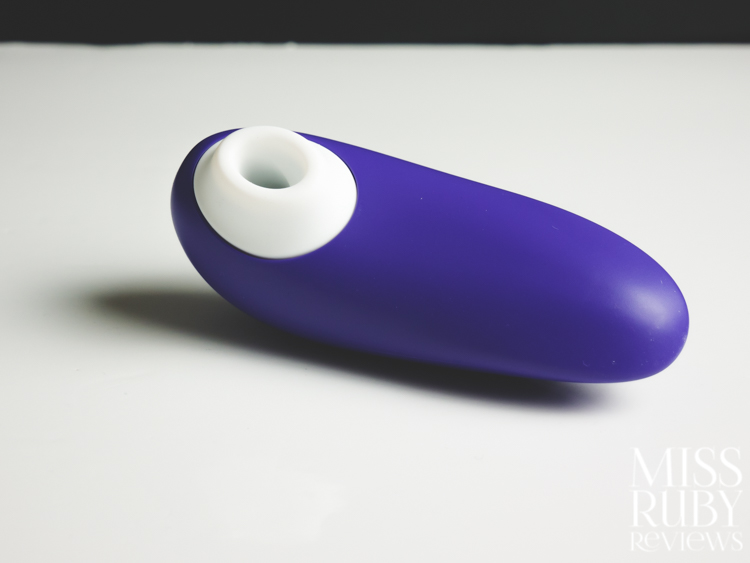 Womanizer's latest introductory model! How does it compare to its predecessor? Read on for my Womanizer Starlet 3 review!

Design | Accessibility | How to Use | Packaging | Material and Care | My Experience | Overall
Design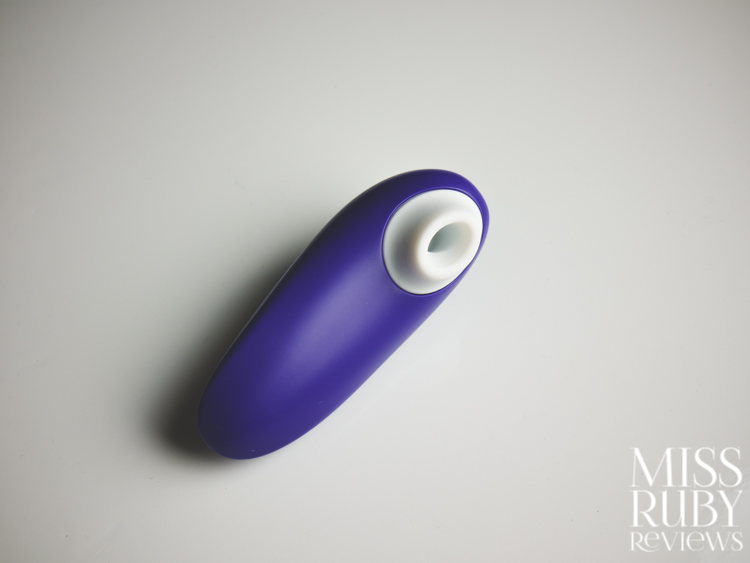 The Womanizer Starlet 3 is the latest generation in their Starlet range. From the beginning, Womanizer's Starlet products were designed to be basic, beginner-friendly, and budget-friendly. I wasn't a huge fan of the Starlet 1, but the Starlet 2 impressed me and I'm excited to test the Starlet 3.
The Womanizer Starlet 3 is a pressure wave clitoral stimulator.
---
WHAT IS PRESSURE WAVE TECHNOLOGY? Pressure wave technology provides touchless clitoral stimulation, which makes your clitoris feel like it's being sucked and massaged by air. This sex tech first emerged around 2016, and since then I've witnessed (and reviewed) the technology spread across the industry. I was skeptical at first, and the technology is pretty bizarre, but it can be SUPER effective if done well. Womanizer was the very first company to come out with this technology, and I'm constantly impressed with their products.
---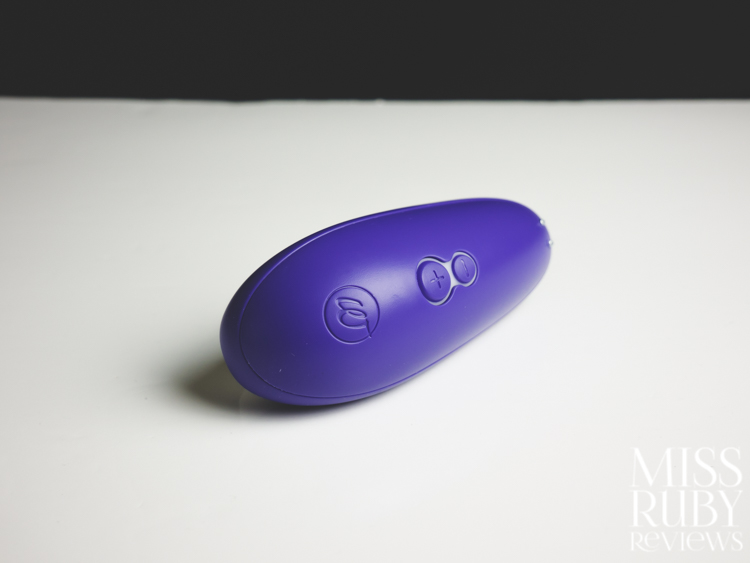 The Womanizer Starlet 3 has the same shaped body as its predecessor, the Starlet 2. It's a compact, vibrant sex toy with a comfortable, palm-sized handle. There are only two buttons, so controlling it is straightforward and easy. The stimulation head is made from silicone and is removable for easy cleaning.
The Starlet 3 comes in five new colours: Turquoise, Indigo, Violet, Pink, Gray. I got mine in Indigo and I love it. It's a slightly purplish blue and it's a gorgeous pop of colour in my bedroom.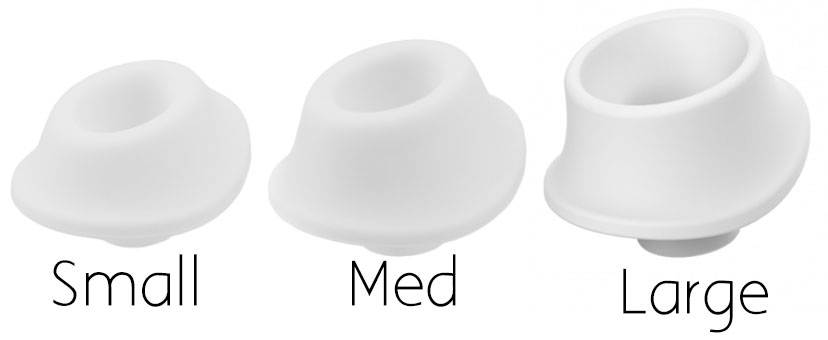 The Starlet 3 arrives packaged with a medium-sized stimulation head. Extra stimulation heads in different sizes and colours can be purchased from Womanizer here. Why might you want this? If you have a smaller clitoris, or just prefer a smaller, more focused stimulation area, you might enjoy the smaller head. If you want something that's larger and more encompassing, grab the large head.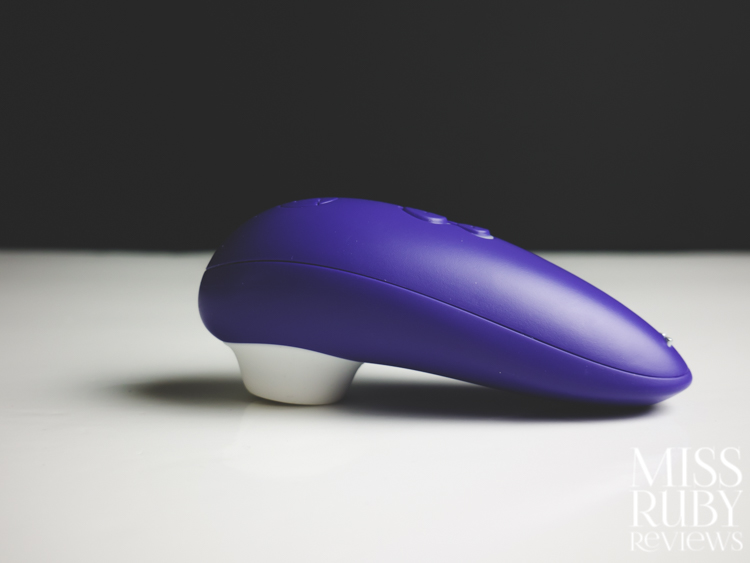 Accessibility
This section is to help folks determine if they might have any issues using/accessing this toy.
Size: The Womanizer Starlet 3 is a small pressure-wave clitoral toy. By my measurements, it's about 11.7 cm long and 4.5 cm wide. The opening of the head is 1.6×1.2cm. The lip around the opening is around 3mm.
Weight: At 75 grams, this is a lightweight toy.
Buttons: There are two round control buttons. The (+) button is 10 mm wide and sits flush with the surface. The (–) button is 7 mm wide and sits about 1mm above the surface. There's a 2mm gap between them. They require moderate pressure to press and barely make any 'click' sound.
Vibration transfer: As this is a pressure wave toy, there aren't any vibrations to travel down the handle, making it more accessible for people with joint issues such as Carpal Tunnel Syndrome and Arthritis.
Price: At $79 USD, this is on the higher end for a pressure-wave sex toy. But you're paying for a solid product with a good brand and 5-year warranty behind it. Compared to Womanizer's other toys, it's the most affordable option as this is considered one of their more basic lines.
How to Use the Womanizer Starlet 3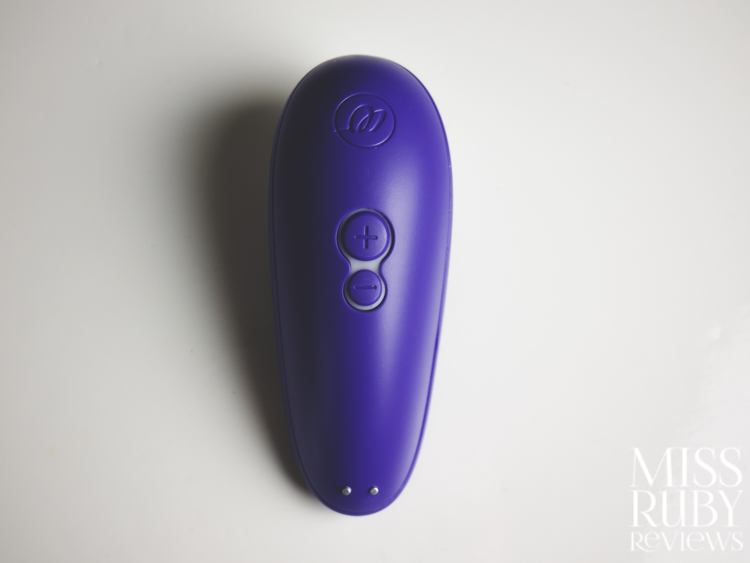 To turn on the Womanizer Starlet 3, press and hold the (+) button for 2 seconds.
Apply the nozzle to your clitoris. It's best if the stimulation head is totally over the clitoris (you may need to part your labia a bit so that your clitoris can rest inside the opening as much as possible).
To increase intensity, tap the (+) button.
To decrease intensity, tap the (–) button.
To turn it off, press and hold the (–) button for 2 seconds.
Packaging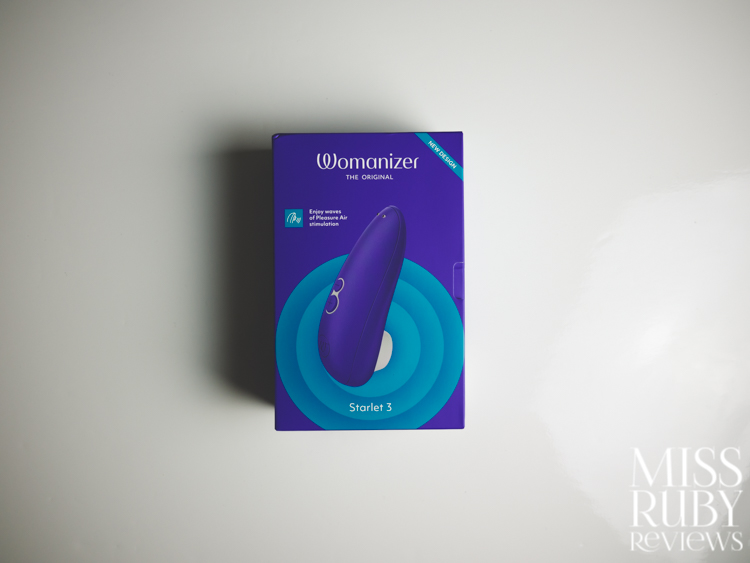 The Womanizer Starlet 3 is packaged in a colorful box. The colour will correspond to the toy colour you chose; in my case: indigo. The Starlet 3 can be seen on the cover.
Inside the box, the Starlet 3 is nestled in a cardboard cushion. The quality feels nice.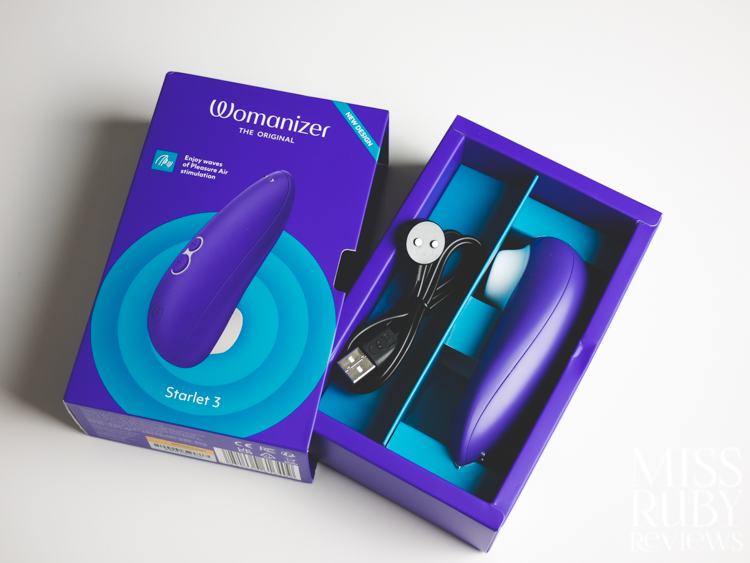 All in all, you receive the Starlet 3, a manual, some safety instructions, and the USB charging cord.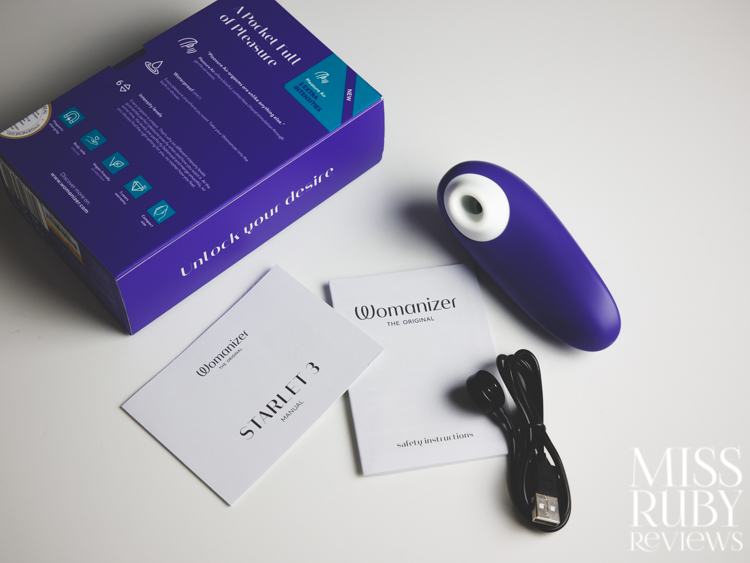 Material and Care
The Womanizer Starlet 3 is made from ABS plastic (the body) and silicone (the removable stimulation head). This makes it bodysafe. Silicone and ABS plastic are some of the best materials you could ask for in a sex toy; silicone, in particular, is nonporous (making it hygienic), non-toxic and hypoallergenic.
The Womanizer Starlet 3 is waterproof (to an IPX7 level, which generally means it can be submerged up to 1 meter in water for 30 minutes).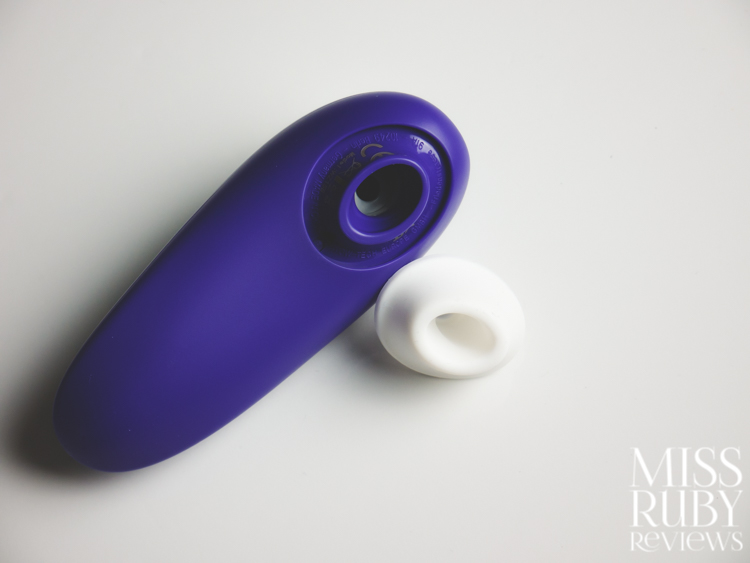 To clean, remove the stimulation head from the body. I wash the body in warm, soapy water after each use. Then I shake and pat it dry. To clean the stimulation head, I do the same thing.
If you'd like to use lubricant with this toy, choose a good quality water-based lube like my favourite, basic, paraben-free Sliquid H2O.
To recharge the Womanizer Starlet 3, use the included USB charging cable; attach the magnetic end against the two little metal dots at the base. Plug that cord into your computer or a USB wall adapter. A full charge takes about 30 minutes and gets you 30 minutes of playtime.
All of Womanizer's products come with a 5-year warranty, which is great. It's always comforting to have that extra protection.
My Experience with the Womanizer Starlet 3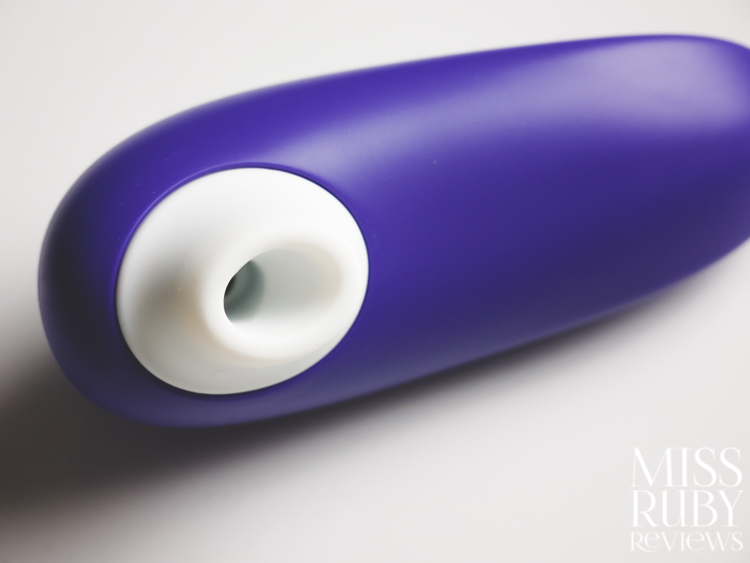 The Womanizer Starlet 3 continues the Starlet's tradition of being a solid entry-level Womanizer option.
First off, how is the Starlet 3 the same as the Starlet 2?
Same body shape and materials
Similar strength + noise
Same stimulation head shape
Controlled by 2 buttons
Charge and run time was the same (30 minutes)
Both waterproof
Both originally priced at $79 USD
How is the Starlet 3 different from the Starlet 2?
1. New colour choices. The Starlet 3 has five new colour choices: Turquoise, Indigo, Violet, Pink, and Gray. The Starlet 2 only had three choices (Coral, Sapphire Blue, and Cherry Red).
2. The packaging is more sustainable. While the Starlet 2 included plastic in its packaging, the Starlet 3 eliminates plastic packaging entirely and is more sustainable. The Starlet 3's production is also considered vegan-friendly.
3. TWO more intensity levels. The Starlet 2 offered four intensity levels. The Starlet 3 now comes with six. Why is this significant? This gives you greater precision and control over your level of stimulation.
Does the Womanizer Starlet 3 feel good?
Yup. The Womanizer Starlet 3 is another success. It performs about as strongly as the Starlet 2, but now there are two extra intensity levels within the overall range, so I get more control over my sensations. Womanizer's Pleasure Air Technology always feels amazing, and I personally find it easy to orgasm with. I love how pressure-wave technology pleasures you without any direct contact. I find that it doesn't give you the temporary desensitization that vibrators give, so you're able to go for several orgasms.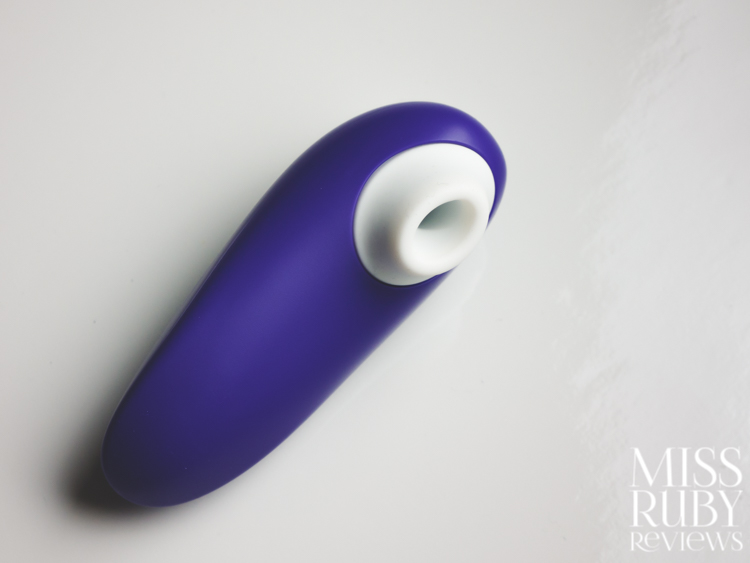 The Womanizer Starlet 3 is not as strong as Womanizer's other products, though. The Starlet 3 will be best suited to people who (a) know they're sensitive to this kind of stimulation; or (b) are trying out this technology for the first time and so are trying to stick to budget options. If you want something a little stronger, consider the Womanizer Classic 2 ($50 more) or the Womanizer Premium 2 ($120 more, and one of Womanizer's fanciest options).
Womanizer Starlet 3 Review – Overall Thoughts
The Starlet 3 is a solid budget/entry-level toy from Womanizer. It's considerably cheaper than Womanizer's other products and, as such, isn't quite as strong or fancy. But it's still a very well-built product and it's pleasurable. I suspect the Starlet 2 will be discontinued soon, so if you're deciding between v2 or v3, I'd opt for the Starlet 3 for those two extra intensities and the expanded colour range.
You can pick up your own Womanizer Starlet 3 at Womanizer.
Why do I like Womanizer? They ship internationally, they offer a 5-year warranty on their products, they only carry body-safe products, and this item will ship for free! Plus, by buying directly from Womanizer, you know you're not going to get a knock-off product. 

See below for my Womanizer Starlet 3 review breakdown.
Womanizer Starlet 3 Review Summary
Overall thoughts - 8.5
8.5
$79
PROS
Budget-friendly compared to other Womanizer products
Made of bodysafe materials
Waterproof and rechargeable
5-year warranty
CONS
Not as strong as other models
Only 30 min of playtime per charge
Shop Now
Last Updated on November 6, 2023 by Miss Ruby