Physical Details | Material and Care | Packaging | My Experience | Overall
Physical Details
The Product:
The Vibease is a wearable vibrator. Controlled by an iPhone or Android App via bluetooth, the Vibease is meant to be worn in public (or in private, if you prefer). It stays in place by slipping into your (lady) underwear. It might work if you're a female wearing boxer briefs, but probably not with boxers, as you need a sling of fabric sitting against your pubic bone to hold the Vibease in place.
The Vibease itself is a small, hooked-shape vibrator that sits against your vulva. The hooked tip is meant to fall over your clitoris <– A fact I totally missed until someone pointed this out to me. I originally assumed the hooked tip was supposed to fall around the vaginal entrance, something I picked up from a somewhat difficult-to-read picture manual. But no! It simply doesn't work that way, so don't try that. Instead, the hooked tip is meant to protrude enough to find your clitoris, and the flat end lies flat against your pubic bone.
In terms of noise levels, it's pretty decent.  When I'm sitting or standing, my partner can't hear it, even in a quiet room (unless my partner is standing right beside me). So I think this is definitely quiet enough for public wear, though I'd still want that public space to be pretty noisy just to be safe.
How strong does this get? I'd give the highest vibration strength a decent score of 6.5/10. It's not the strongest vibe out there, but it can definitely make me orgasm when I hold the hooked tip against my clitoris.
I asked for my Vibease to be sent in pink, which I see as the lesser of two evils (the other being purple). Pink and purple tend to be the most popular mainstream color choices, which is why soooo many brands offer their toys in pink and purple. I've been over-exposed to pink and purple sex toys for years now, and I really wish Vibease offered this in a different color as well. Turquoise to match their packaging/marketing scheme? Now I would dig that.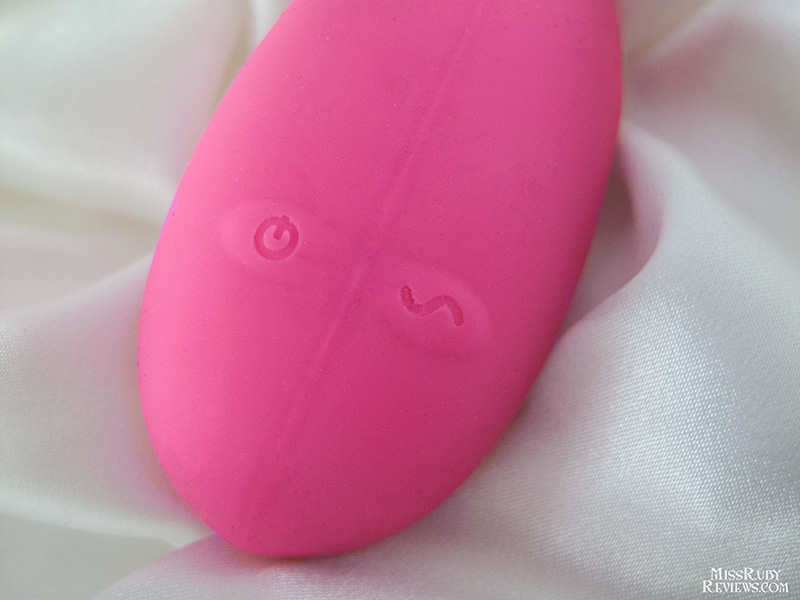 The App:
An interesting aspect of the Vibease is that it tries to bring in psychological arousal. First, it gives you the ability to have your long distance partner control your Vibease via the App. As long as you both have wireless internet or Data on your phones, your partner can control the intensity of the vibrations. At the same time, there's an in-app messaging feature, with picture messaging, that you can use to communicate with your partner.
Another way Vibease introduces psychological arousal is via the Fantasy Store. You can download erotic audiobooks and, while you listen to them, the Vibease will vibrate accordingly. The audiobooks are each a pretty good length (the ones I browsed were about 10-25 minutes.) Previously, I heard complaints that the audiobooks were all narrated by a female voice, which proved difficult to be arousing for heterosexual female users. The audiobooks I browsed through were narrated by males, so they've obviously introduced new audiobooks. I also spotted Japanese/anime stories and fantasy (shape-shifter, vampire, supernatural) stories. There's even one narrated by a "Cowboy" who apparently got bit by a snake and desperately needs your help to suck out the poison (yea, you can see where that one will go).
However, as I browsed through, I couldn't spot gay or lesbian storylines. They might be out there, but there's no way to filter storylines so I was just going on the cover images and audiosamples.
Material and Care
Made from silicone, the Vibease is totally non-porous, non-toxic, and bodysafe. Woohoo!
Though Vibease states that this is a waterproof vibrator, the manual outlines that this is actually water-resistant and not to be submerged. In other words, it's not waterproof. That being said, it's still okay to clean your Vibease by rinsing it with soap and warm water. Do this before and after each use. I would avoid dropping it in the bathtub though, seeing as it cannot be completely submerged. As an extra precaution, I would make sure it's totally dry before plugging it in to recharge it.
Speaking of charging, you get two USB chargers (one short and one long). Before the first-time use, charge it for about 3 hours. After that, charging it for 2 hours will do.
When it comes to storing your Vibease, you'll need to find your own storage pouch. This is one annoying drawback — there's no satin storage pouch included, and this is something I've come to expect of luxury vibrators. I really think Vibease should look into adding this for future models. I had a spare satin pouch that I could use for the Vibease, but not everyone will have this on hand.
Packaging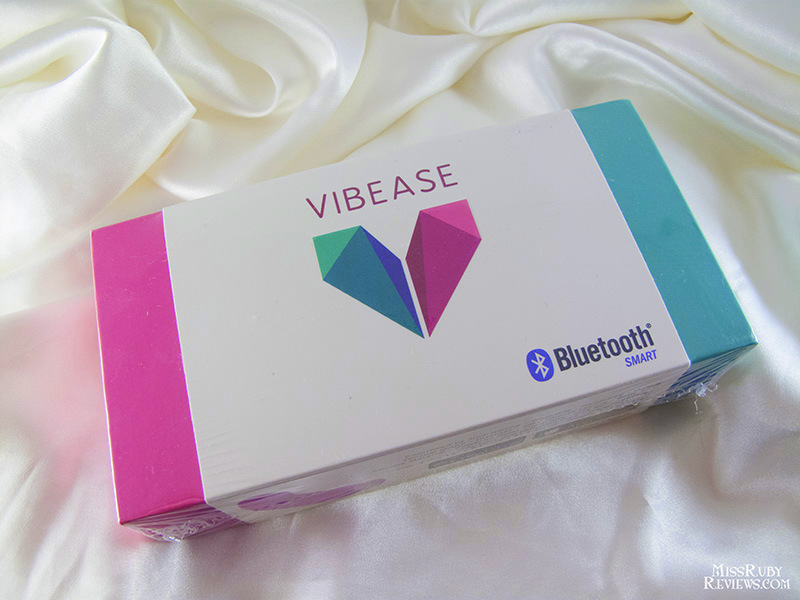 Vibease's packaging is cute and discreet. The outer box features simplistic turquoise and pink non-pornographic packaging. Inside, the Vibease lies in a cushioned black platform. All in all, you receive the Vibease, an instruction manual, and two USB charging cords.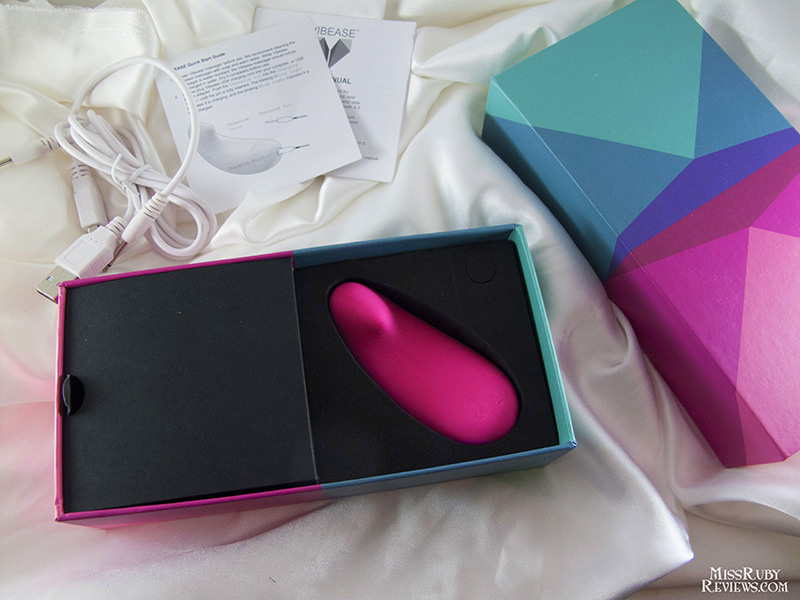 My Experience with the Vibease
The App (Audiobooks):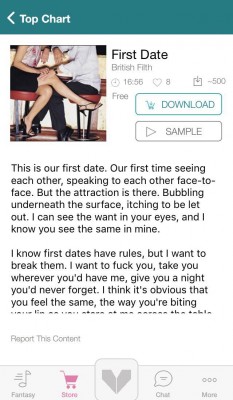 When you start up the app, you're asked to login via Facebook or sign up using your email address. It asks you to input your nickname, email address, gender ("Male" or "Female," grrrr) and offers you a chance to take a photo of yourself.
When you login, you can view your downloaded audiobooks. You start off with three short nature soundtracks (rain, beach, and forest). For audiobooks, you need to browse and download them.  Just to note, some of the audiobooks must be purchased using in-store credits (it works out to around $1-3 per download), but there are also several free options. I didn't purchase any audiobooks, but I browsed through a few free ones. A few of the voice actors are definitely cringe-worthy, but there are definitely a couple of decent ones.
Connecting via the App was simple (see the settings menu to be walked through it). During each audiobook, your Vibease starts to go through Pulse Phases (Pulse 1, Pulse 2, etc) according to the storyline. For those of you who need more control, you can also increase the vibration strength at will whenever you want to. You can even take this a step further and customize the patterns of each Pulse Phase in the settings. Personally, I love the amount of control this gives you.
And, overall, I actually quite like the app. I was worried about this app (especially given the disastrous experience my partner and I had with the IMTOY Piu app), but I find it to be intuitive and fun. If you're a heterosexual female, there's a ton of audiobooks for you to browse through, from everything from mainstream romantic couplings to more specialized fantasies, like Santa, Daddy's Girl, Vampire, and Shapeshifter fantasies.
All that being said, I wish the audiobook selection was more inclusive. I didn't spot anything out there for gay, lesbian, trans or queer users, which I hope Vibease works on into the future.
The App (Partner Chat):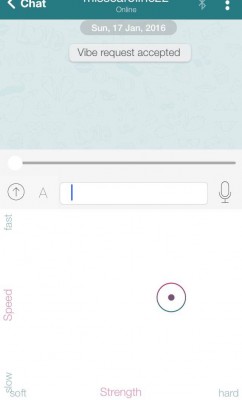 The partner chat is also easy to use. I connected my phone to my partner's iPad using the contact request features. Once this is in place, you can open up a chat line with your partner which enables your partner to take control of your Vibease. From there, you can send photos, share personal fantasies (a feature where you can record your own voice or music), and chat via text. Once given control, the partner can shift your Vibease through the pre-determined Pulse Phases or just go from slow-fast and soft-hard. I played around with this and the connection seems pretty secure and seamless.
My partner and I aren't in a long distance relationship, but I can see the appeal. While not as visually stimulating as camsex with your partner, it does add some degree of interactive intimacy that long distance couples wouldn't otherwise have. Of course, this only goes one way — if you have a male partner, there's nothing to accommodate his pleasure. However, if you're a lesbian couple, it does seem like you can set up two-way Vibease control.
The Vibease
So how does the Vibease itself actually feel? When the Vibease's hooked tip lie directly against my clitoris, I receive decent clitoral stimulation. I can walk around and it stays in place, so it does live up to its name as a wearable vibrator. I also noticed that, even it it wasn't making me have buckets of orgasms while wearing it, it did get the blood flowing to the region over time, enough to warm me up considerably for sex.
Personally, I think this toy works better as a non-wearable toy than a wearable toy. When I'm wearing it, I can't always get the firm pressure I need because my underwear can't hold it in place enough. But when I take it out of my underwear, I find it comfortable to hold in my hand and the hooked silicone tip provides decently-strong and rumbly pin-point clitoral stimulation. So when I use the Vibease, I'm have the urge to not use it as a wearable vibe. Instead, I want to just hold it in my hands and get firm-pressure clitoral stimulation. My partner can still control it via the app, or I can still enjoy the audiobooks during solo sessions, but this way my clitoris gets the attention it needs. For people who need this firm pressure, you might also find that your underwear just can't press the vibe firmly against your clitoris to orgasm.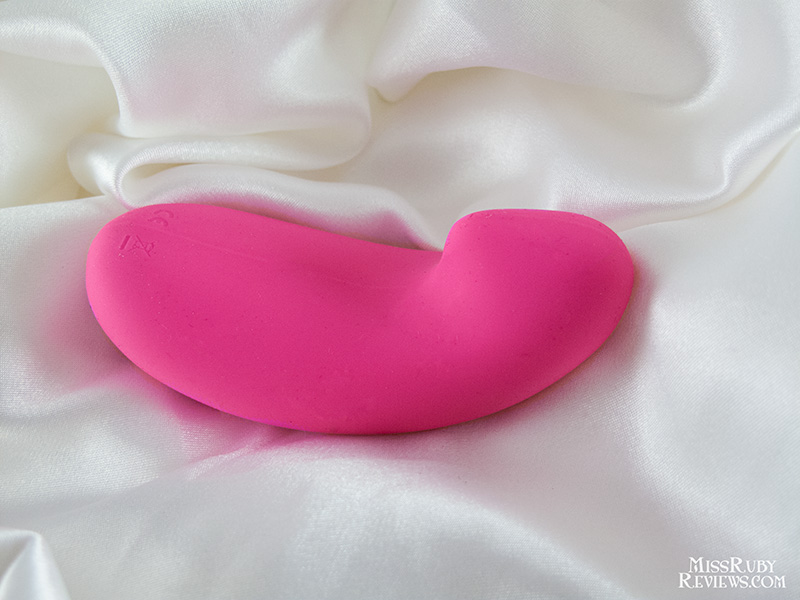 Overall
I like the Vibease, but not in ways I expected to. I expected to like this toy as a wearable product, but I find that I prefer to use this toy by holding it like any other clitoral vibrator, because then I can get the firm pressure I need. When it's just in my underwear, I can't get that firm pressure. I much prefer to use this toy as a regular clitoral stimulator though. It's comfortable to hold, provides me with great pin-point and firm stimulation, and it's strong enough to get me to orgasm. Using it as a regular clitoral stimulator, I can still access the benefits of it being a smart massager, such as controlling it (or having my partner control it) via the Vibease App.
That being said, it *does* work as a wearable vibrator, in that it stays in place and it's quiet enough to pass in public. However, personally, my clitoris can't get that firm pressure it needs by wearing it alone.
I also like the audiobooks available on the Fantasy Store, but I really think Vibease needs to work on diversifying their audience — I didn't see anything that might appeal specifically to LGBTQ users, which is disappointing.
If you'd like to purchase the Vibease, you can get a 10% off coupon using the code MISSRUBY.