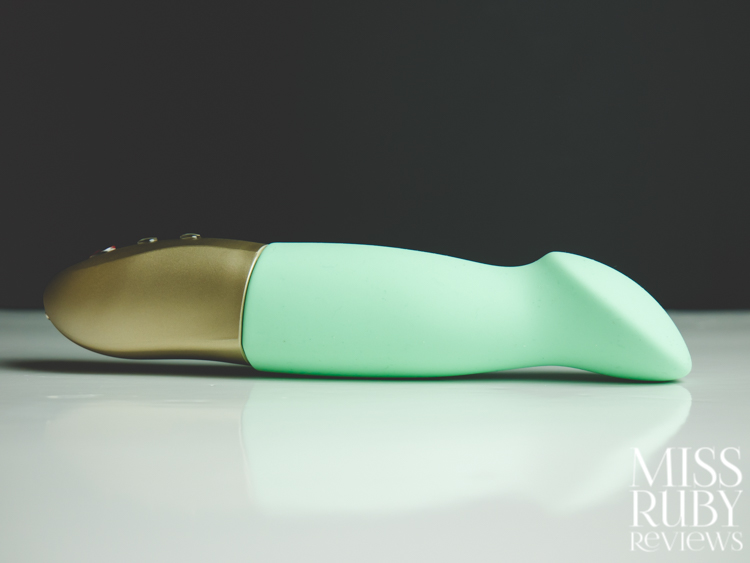 I haven't reviewed a Fun Factory pulsating toy in 3 years (WUT?), and I'm excited to jump back in the saddle. Read on for my Fun Factory Sundaze review!
Design | Accessibility | How to Use | Packaging | Material and Care | My Experience | Overall
Design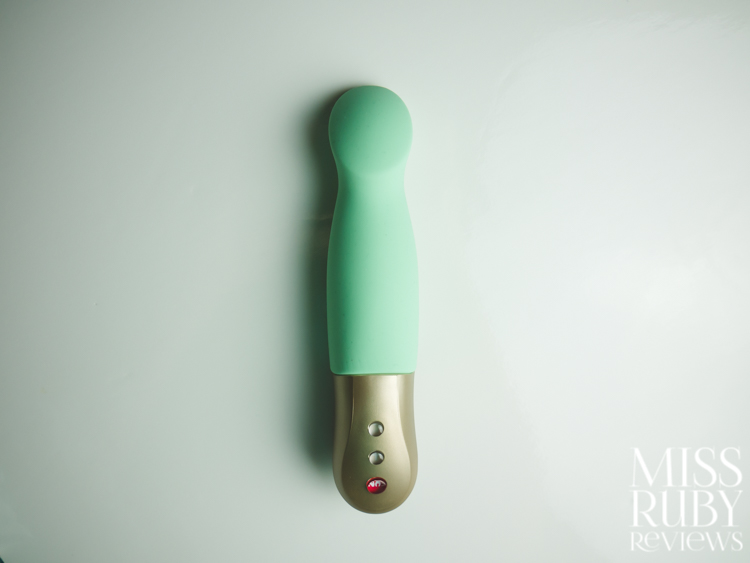 The Fun Factory Sundaze is Fun Factory's latest pulsating self-thrusting sex toy.
Fun Factory is the OG when it comes to portable, self-thrusting sex toys. When I first started blogging in 2015, they were the only company (that I knew of) that released toys like this. Bloggers like myself coveted them. Since 2015, though, many other brands have started releasing their own versions. I keep going back to Fun Factory's self-thrusters out of curiosity to see how they've changed and adapted over the years.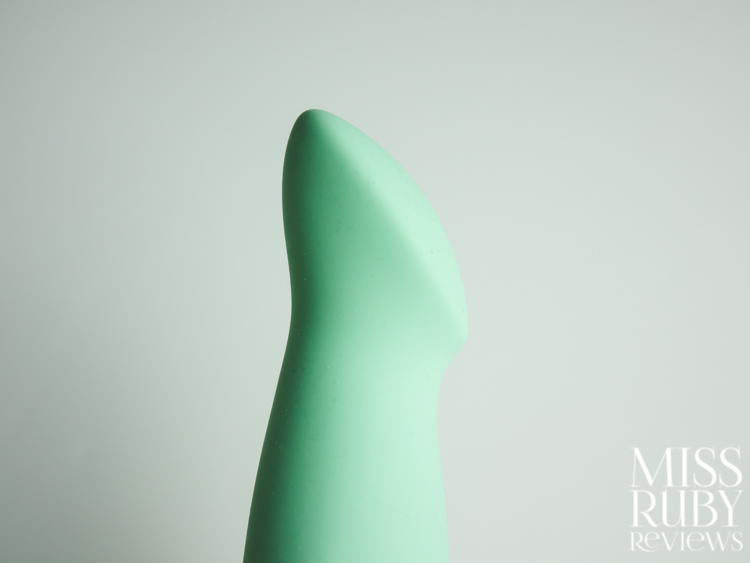 The Fun Factory Sundaze is one of Fun Factory's sleeker designs. The silicone shaft gently bulges, then tapers at the neck, then flares out at the head. The head is has a sharp, pointy angle (approx 50°) but is very flat and wide across. It also has a bit of a hooked head to really help target that G-spot. At the base, you have the plastic handle with 3 control buttons, as well as the charging pins.
The Sundaze is also one of Fun Factory's smaller designs. It has approx 1.25″ less insertable length than its predecessors like the Stronic G. It's also marketed as an oversized bullet vibrator for clitoral stimulation, but I didn't find it to have much use for that.
The design is aesthetically pleasing for sure, and it comes in two colours: Pistachio or Fuchsia Pink. I got my Fun Factory Sundaze in Pistachio, which is a lovely mint green.
See below for my video of the Fun Factory Sundaze thrusting.
The Fun Factory Sundaze is unique from previous models in that it adds vibration. This is why they call it a "Pulse Vibe." There are several modes (15, eep!) to play around with, ranging from vibration only to light thrusting and fast thrusting.
The Sundaze also boasts a memory function, which lets you save your favourite setting. This is useful because 15 modes are a lot to cycle through.
Accessibility
This section is to help folks determine if they might have any issues using/accessing this toy.
Size: The Fun Factory Sundaze is an average-sized G-spot toy. It's about 7″ long (total) and 1.5″ at the widest part. There's about 4.5″ of insertable length.
Weight: This toy is a bit heavier because of all the components inside. I weighed it to be 215 grams.
Buttons: There are three round control buttons: FUN (which functions as on/off), (+) and (–). The FUN button is 8mm wide and 6mm from the next button. The (+) and (–) buttons are 5mm wide, and 7mm away from each other. All three buttons are 1mm tall, take firm pressure to press, and make a quiet 'click' noise.
Vibration Transfer: The modes that incorporate vibration do transfer some vibrations into the handle (and your hand). If you're sensitive, you can try stick to the non-vibrating settings — your hand will still jostle from the thrusting movements but it's not the high frequency that vibrations have.
Visual notes: If you have visual difficulties, you will be able to feel the 3 buttons with your hands. The FUN button is red (contrasts against the gold handle) and is closest to the base. The (+) and (–) buttons follow; they're also gold-toned so difficult to see.
Price comparison: At $189 USD, this is on the higher end for toys with similar features. If you're on a budget, you may want to consider the Pillow Talk Feisty Thrusting Vibrator instead.
How to Use the Fun Factory Sundaze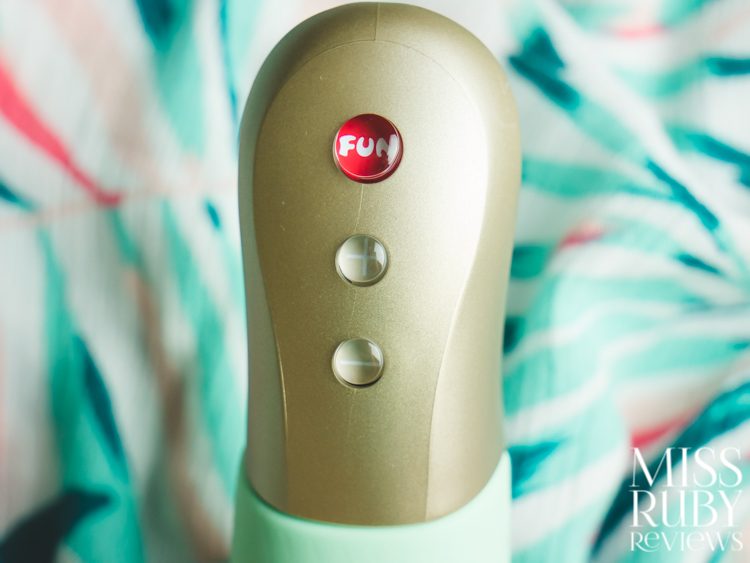 To turn on the Fun Factory Sundaze, press and hold the red FUN button.
Add some water-based lubricant and apply it to your body. Because this is a thrusting toy that's not safe for anal use (because of no flared base), this is best suited to people with vaginas.
Use the (+) and (–) buttons to cycle through the 15 patterns. Some of the patterns only vibrate, some only thrust, and some vibrate and thrust together.
If you accidentally switch the toy off, you can also press the FUN button again (within 15 seconds) to go back to the previous setting you were at.
To turn it off, tap the red FUN button again.
There's also a travel lock function when you don't want it to turn on accidentally. Simply press and hold the (+) button and the FUN button at the same time. Do the same to unlock it.
Packaging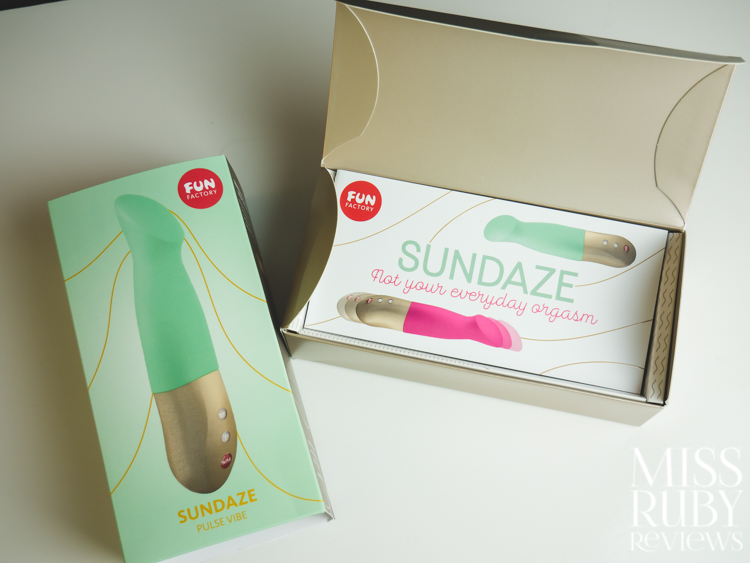 Fun Factory's packaging never disappoints. The Sundaze comes packaged in a beautiful pistachio green and gold coloured box. When you remove the sleeve and open the inner box, you find the manual, the Sundaze, a USB charging cord, and a  Fun Factory's awesome TOYBAG.
The Fun Factory TOYBAG is made from Tyvek, which is breathable, lint-free, washable, and resistant to water and bacteria. It's big enough to store everything.
I'm also a big fan of the USB charging cable that Fun Factory included with the Sundaze. It's a distinctive red colour with a ball at the end that reads "Fun Factory," so it'll be hard to lose this one.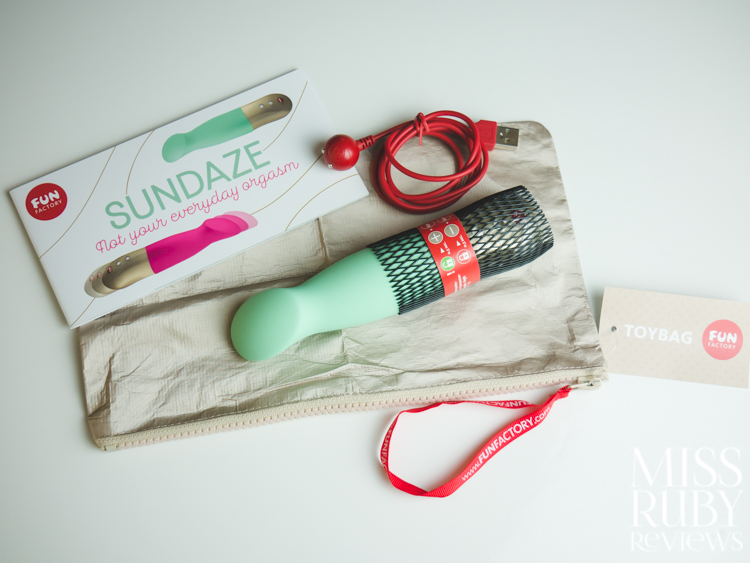 Material and Care
The Fun Factory Sundaze is made from silicone (the green insertable portion) and ABS plastic (the handle). This makes it bodysafe. This toy's particular silicone is matte and draggy. It attracts fine amounts of dust and lint, so you'll need to rinse before each use.
The Fun Factory Sundaze is 100% waterproof. To wash, I rinse with warm, soapy water before and after each use. If you'd like to add lubricant (which I recommend), try a good quality water-based lubricant like my favourite Sliquid H2O.
Because the Sundaze uses strong magnet technology, this product is not recommended for anyone with a pacemaker. I'd also keep it far from your computer as strong magnets can damage electronic devices (I charge mine through my computer, but I stretch the cord as far as possible so that the Sundaze isn't right on top of the computer). For those of you wondering about copper IUDs, I have one and there are no issues.
To charge, connect the magnetic USB charging cable (included) to the two metal pins at the base of the toy. Connect that to your computer or a USB wall adapter.
My Experience with the Fun Factory Sundaze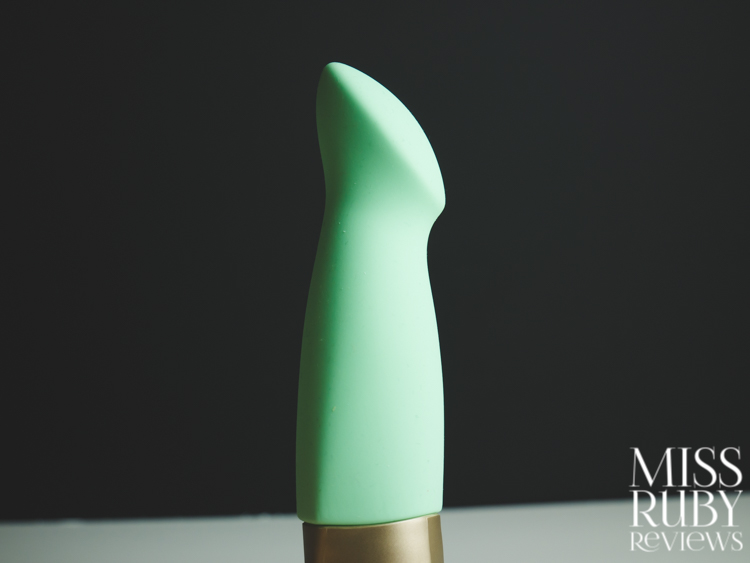 I was so curious to try Fun Factory's first "Pulse Vibe," a toy that should deliver great self-thrusting capabilities while also doubling as a clitoral vibrator.
Unfortunately, for me, the Fun Factory Sundaze doesn't live up to the hype.
Clitorally, it's extremely disappointing. The Sundaze includes clitoral stimulation in its marketing, so I expected decent vibrations. The vibrations are entirely focused in the handle. They are weak and don't travel to the head (which is the part you press against your clitoris). What does reach the head are tiny, very light, vibrational echoes. Clitoral orgasm wasn't possible for me using the Sundaze, and I suspect it'd also be impossible for many others.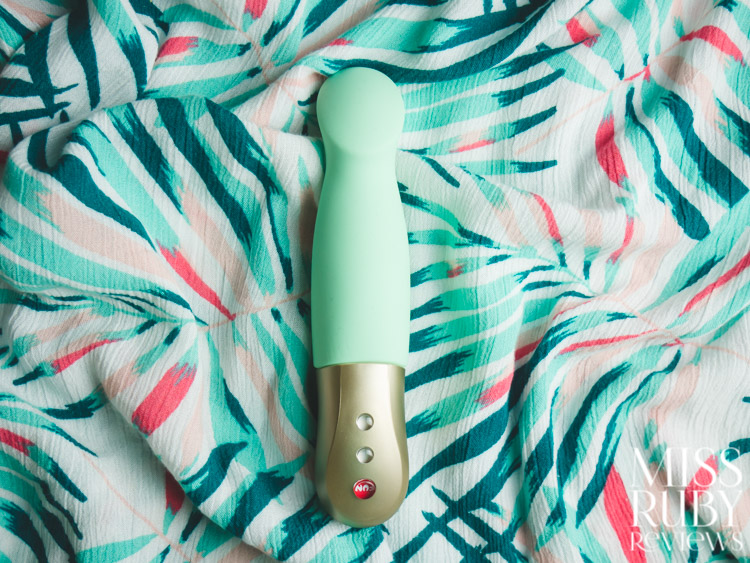 But okay — I didn't want this for clitoral stimulation anyway! Fun Factory's specialty is self-thrusting pulsators, so pulsating should be where this excels.
So how about thrusting power?
By my (eyeball) measurements, the Fun Factory Sundaze only seems to thrust forward about <3mm. Instead of a thrust, it's really more of a shudder or a tap, than any kind of proper thrust.
If I remember correctly, this is shallower than Fun Factory's Stronic line (I thought the Stronic G's thrusts were solid, for example). This is a great deal less than other notable thrusters on the market like the Velvet Thruster Teddy GS, which I found to thrust forward a whopping 2.3 inches.
During G-spot use, I honestly struggle to get any oomph feeling from this toy when I just hold it in place and let it do its thrusting thing. It's simply not enough depth to provide me with adequate pleasure.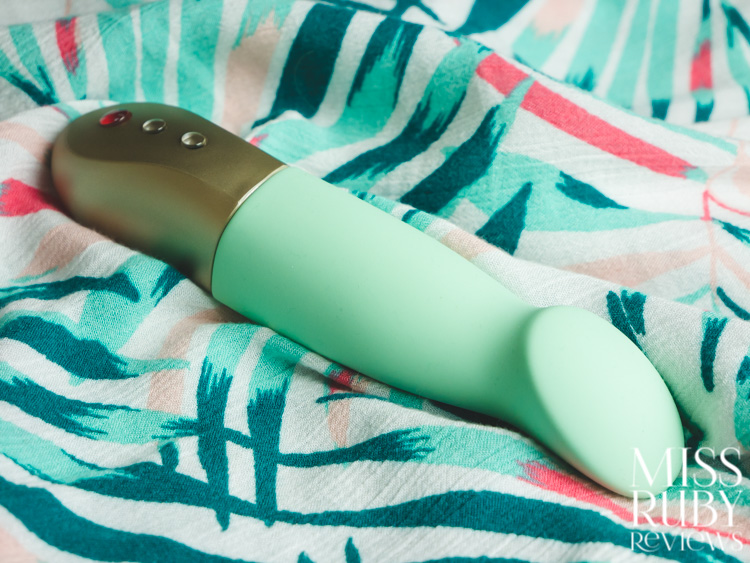 Is there anything I DO like about the Fun Factory Sundaze?
Well, I do love how high-quality the overall look and feel of this toy is. It looks stylish, it feels heavy, it feels luxurious.
I also love that shape. When I just thrust manually, I'm able to get some amazing G-spot stimulation. The shape is good. The motor, not so much.
For the rest, I'm not sure what went wrong, to be honest. Maybe by cramming a vibrating motor in there, the Sundaze was stripped of its full thrusting power? Whatever happened, I can't endorse my readers spending $189 USD on this.
Fun Factory Sundaze Review – Overall Thoughts
Sadly, the Fun Factory Sundaze was a flop for me. It's an expensive toy and I was disappointed by the very weak vibrations and the shallow "thrusts."
If you want to invest in a serious self-thrusting sex toy that delivers deep thrusts, purchase the Velvet Thruster Mini Tedder or Velvet Thruster Teddy GS instead. If you'd like to stick to Fun Factory, definitely opt for one of the Stronic toys instead like the cheaper Stronic G or the Stronic Real.
If I haven't dissuaded you, you can pick up your own Fun Factory Sundaze here! Why do I like Peepshow Toys? They ship internationally, only carry body-safe products, and you can get a 10% discount off your whole purchase with coupon code RUBY. 

See below for my Fun Factory Sundaze review breakdown.

Fun Factory Sundaze review
Overall thoughts - 3
3
$189
PROS
Beautiful look/feel
Great shape for manual thrusts
Quiet
CONS
Weak vibrations
Shallow forward motion
Expensive
Shop Now
Last Updated on March 18, 2023 by Miss Ruby