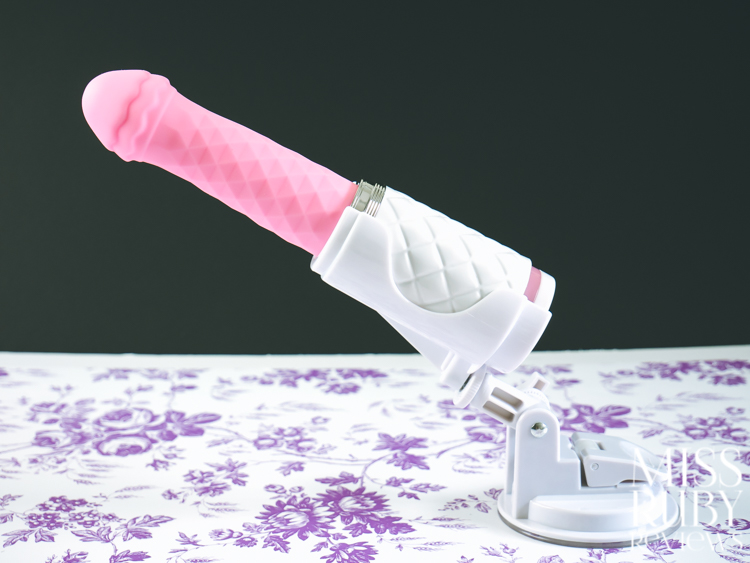 Finally! A budget-friendly self-thrusting sex toy. Read on for my Pillow Talk Feisty Thrusting Vibrator review!

Design | Accessibility | Color | How to Use | Packaging | Material & Care | Experience | Overall
Design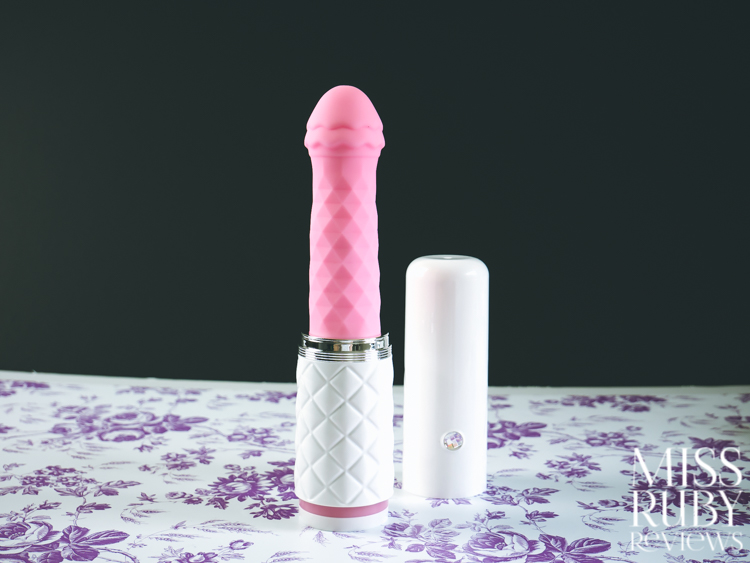 When I first started reviewing sex toys in 2015, self-thrusting sex toys were rare. Rare, incredibly expensive, and the genre was pretty well monopolized by Fun Factory's Stronic line. Over the years, while other brands have tried their hand at creating self-thrusting toys, prices generally stayed upwards of $150.
That's why when I saw the Pillow Talk Feisty Thrusting Vibrator by BMS Factory, I was pretty gobsmacked by the price. At only $70 USD, this is one of the least expensive self-thrusting sex toys on the market. I had to give it a try to see how it measures up.
See my video below for the Pillow Talk Feisty Thrusting Vibrator running at its top speed:
In terms of design, the Pillow Talk Feisty Thrusting Vibrator is quite joyful. The handle is plastic, shiny, and white, decorated with a criss-cross pattern. The shaft has a geometric diamond texture so that, when you turn the shaft, it catches the light beautifully. The head is tapered and decorated with playful scalloped ridges. The head is also deliciously squishy.
I opted for the pink color option. It's a pretty, pastel, strawberry ice-cream pink tone. If you're not a fan of pink, you can also purchase it in teal.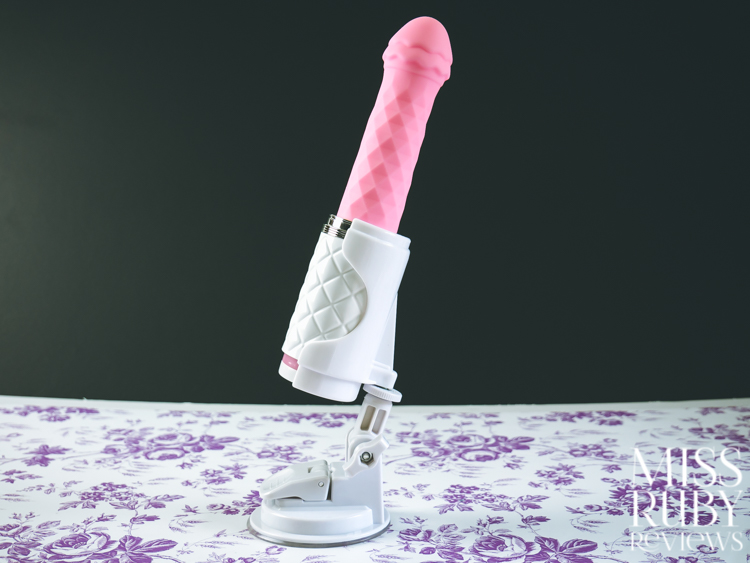 Though you could hold this in place with your hands, BMS Factory included an optional suction cup. It screws into a bracket that you clip around the toy's handle. The suction cup has an adjustable angle and is quite strong.
For storage or discretion, BMS Factory also included a plastic storage cap. This keeps the shaft dust-free. It's embedded with a gorgeous little Swarovski crystal.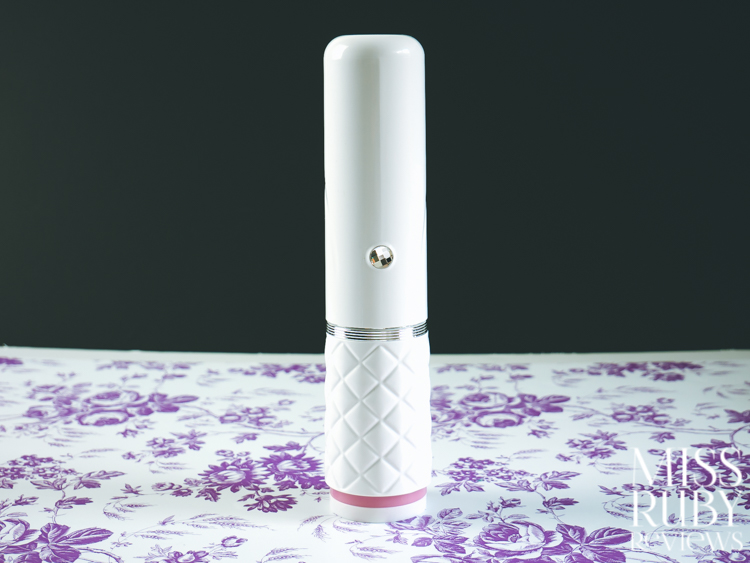 Accessibility
This section is to help folks determine if they might have any issues using/accessing these toys.
Size: The Pillow Talk Feisty Thrusting Vibrator is about 8 1/4″ long (total) and 4 3/4″ long (insertable).  The head is about 1.5″ wide, but it's very squishy. The shaft is just over 1″ wide and not very squishy.
Weight: At about 250 grams, this a medium-weight toy (fairly heavy, I'd say, in proportion to the size).
Buttons: The two control buttons are at the base. They're round, 8 mm wide, 2mm tall, and spaced 7.5 mm apart. They take a fair amount of pressure to press and make a clear "click" noise.
Other notes: While the suction cup may theoretically make this more accessible for some (hands-free playtime!), if you have mobility issues with your hands, you may need some help getting this onto the suction cup and configuring the angle.
Prices: At $70 USD, this is not a cheap toy. However, this is definitely one of the least expensive self-thrusting toys I've come across. Most self-thrusting toys are $150-$200 USD.
Tips on using the Pillow Talk Feisty Thrusting Vibrator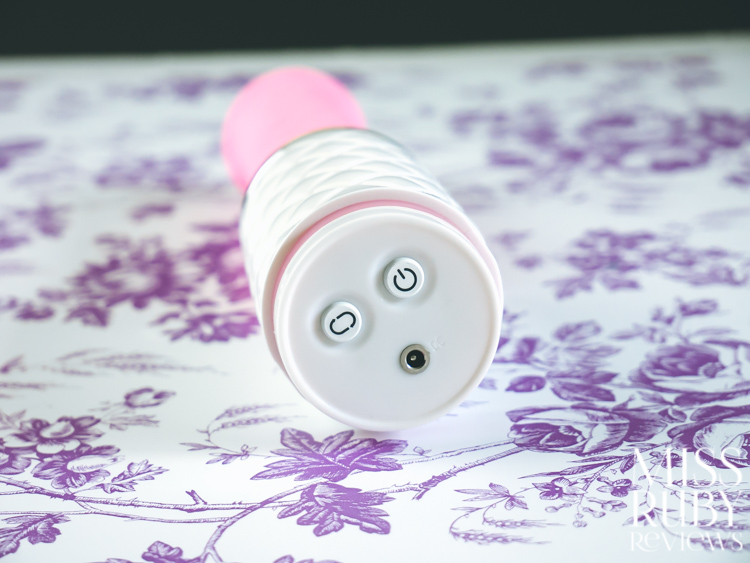 To turn on the Pillow Talk Feisty Thrusting Vibrator, tap the power button. It'll start thrusting.
To increase speed, press and hold the second 🔃 button (the icon looks like two arrows in the shape of an oval). There are 2 speeds and 3 patterns to cycle through.
To use the suction cup, snap on the suction cup adaptor (this fits around the white portion of the toy) and screw that onto your suction cup. Loosen and tighten the turn screw to position the angle you want, then suction it against a flat, smooth, clean surface (tile works best, but I have managed to get it to stick to my walls).
Apply water-based lubricant like Sliquid H2O. Even if you naturally produce lubricant, silicone tends to use up a lot so having some extra on hand is always a good idea to keep things gliding.
To turn it off, tap the power button again. It'll use its "wind-down" function to shorten the shaft to the correct length for fitting in the storage cap.
This can be travel locked. Simply press and the power button 3x to enable (and disable) the travel lock feature.
Packaging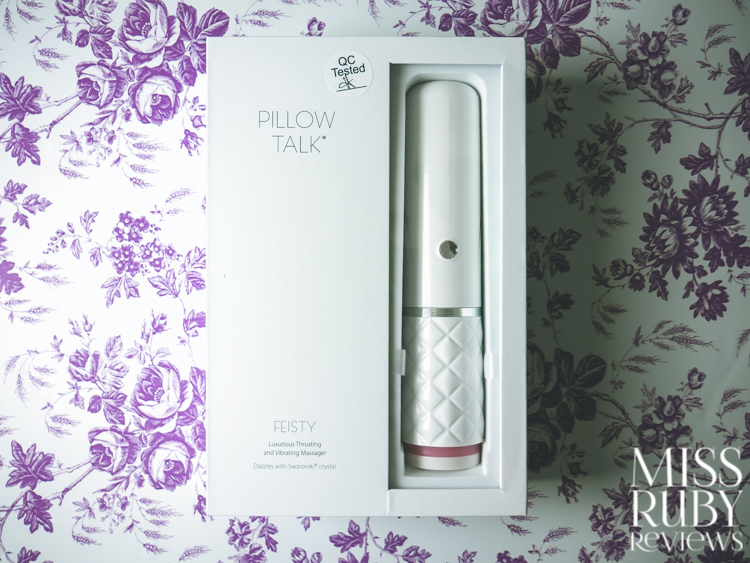 The Pillow Talk Feisty Thrusting Vibrator comes packaged simply in a clean, white box.
Inside the box, you receive the Feisty (plus storage cap), the manual, a note from the founder, the charging cable, a white brush for cleaning, a white satin storage pouch, and two parts that form the suction cup.  All items fit inside the storage pouch.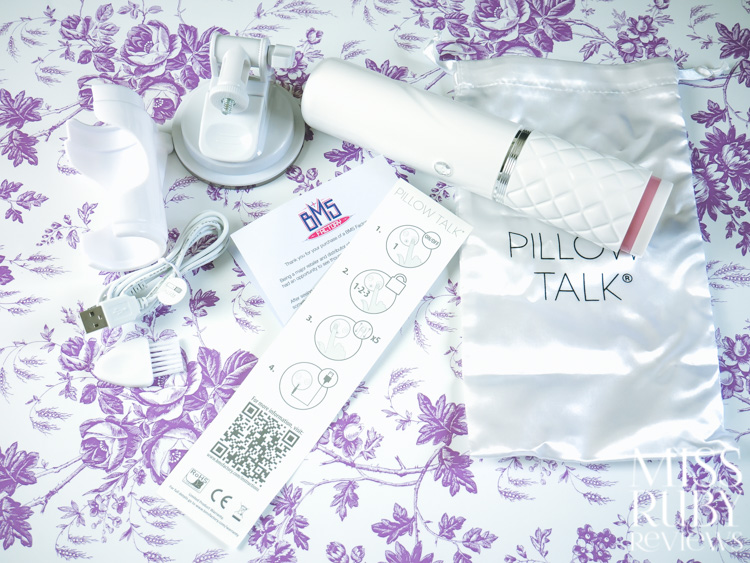 Material and Care
The Pillow Talk Feisty Thrusting Vibrator is made with ABS plastic (the white parts) and silicone (the pink insertable section), making it bodysafe (nontoxic, free of phthalates, etc). This particular silicone finish is very satin smooth to the touch.
This toy is NOT waterproof. To clean, carefully wash the pink silicone section in warm, soapy water before and after each use. Don't get anything under the silver rings wet. Wipe down the handle with a damp cloth and toy cleaner. Never submerge this toy underwater. BMS Factory also included a little white brush — this is for cleaning the grooves of the metallic band. Honestly, I just preferred to use a slightly damp facecloth.
To charge, insert the needle end of the charging cable (included) into the little hole at the base of the toy. Plug the other end into your computer or a USB wall adapter. It takes about 2 hours for a full charge, and that gets you up to 90 minutes of playtime. BMS Factory advises us to charge this toy every 3 months to prolong the life of the battery.
I recommend sticking to a good-quality water-based lubricant with silicone toys. Something like the paraben-free Sliquid H2O works well. Don't use a hybrid or silicone lubricant because they can ruin the silicone finish
My Experience with the Pillow Talk Feisty Thrusting Vibrator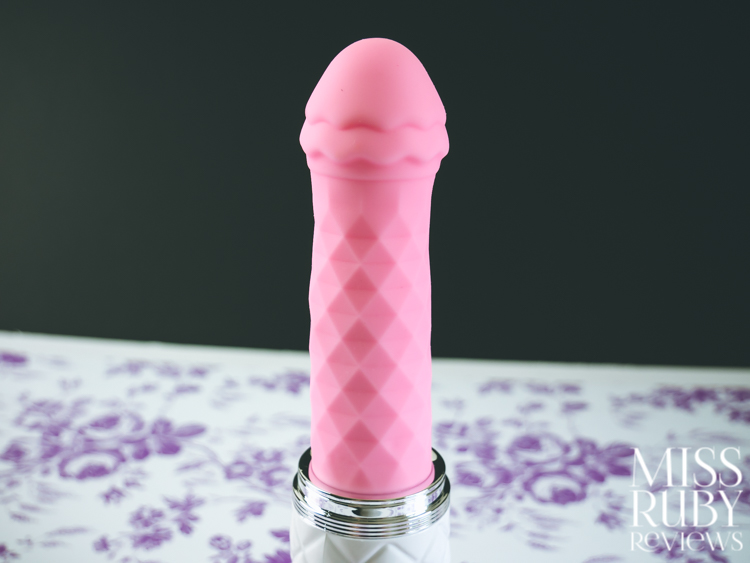 Thrust power
The Pillow Talk Feisty Thrusting Vibrator has a surprising amount of thrust power.
BMS Factory doesn't tell you the thrusting speed of this toy, so I measured it.
There are about 240 thrusts per minute, at a thrusting depth of 0.75″. That's a lot of thrusts!
During use, I find the experience to be similar to when I've used Fun Factory's Stronic line in the past (and those toys are 170% more expensive). The thrusts are fast and furious.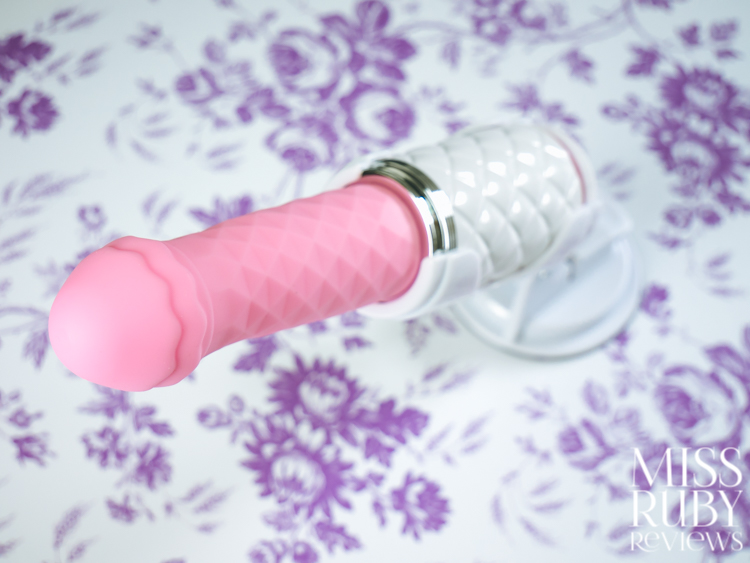 Two features set the Pillow Talk Feisty Thrusting Vibrator apart from Fun Factory's line.
The first is that squishy head. It's very soft and squashy and this is a GOOD thing. When you use any self-thrusting sex toy, you don't have as much precise control over its movement. It's easy to insert it slightly too deep, and then have it punch your cervix when it thrusts forward. I've always found this uncomfortable/painful. With a squishy head like this, there's no fear of that.
The second is that amazing suction cup. When I put this on the wall or floor, I can simulate doggy style (or missionary/cowgirl style), respectively. This kind of hands-free play is great for all sorts of good fantasies.
Overall, I thought this gave me decent pleasure. It can't thrust deeply, but aiming it against my G-spot was very pleasurable (especially when coupled with a good bullet vibrator).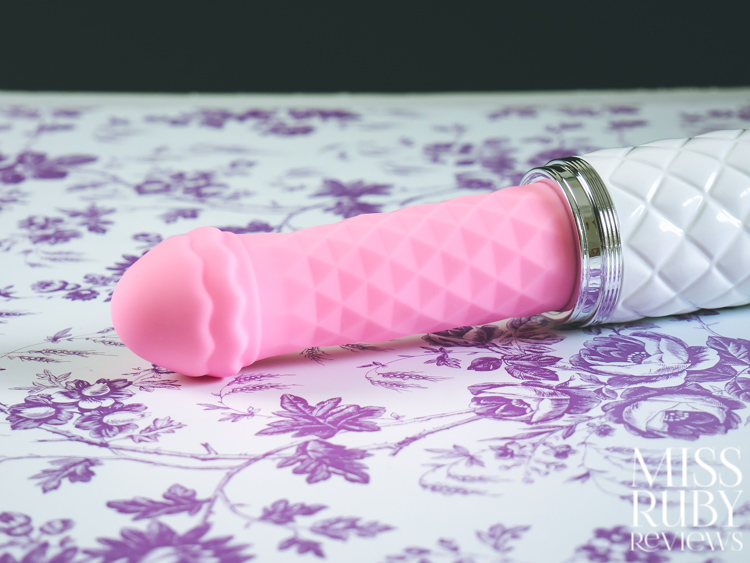 Downsides?
Vibrations: The Pillow Talk Feisty Thrusting Vibrator is, as it's named, a vibrator.  But if you're buying this for vibration strength, you'll be disappointed. The vibrations come on automatically and are extremely weak. Creating a self-thrusting sex toy is a complicated process, and props to BMS Factory for doing it; But I wish they would have just focused on that, rather than tack on vibrations.
Noise: This toy is definitely a little noisy! I'd wait until you have the house to yourself before enjoying this.
Don't clench! During testing, I noticed that when you clench your muscles, the grip from your vaginal walls makes the thrusts shallower and slower. This is a common problem in thrusting machines, but something to keep in mind.
Too much decor? I love a gorgeous design as much as anyone, but after a few tests, I got annoyed with having to clean so many crevices. The silver-colored plastic band around the middle, with all those bands and ridges, is annoying to clean… especially because you can't rinse that part underwater. Though I love how fun the overall design looks, I think it should have been toned down a bit for ease of cleaning.
Pillow Talk Feisty Thrusting Vibrator Review – Overall Thoughts
The Pillow Talk Feisty Thrusting Vibrator is a good budget-friendly option if you're looking to buy your first self-thrusting sex toy. It thrusts up to 240x per minute and I like that it's bodysafe, rechargeable, and pretty to look at.  It does have a few downsides, though. If you're looking for a higher quality self-thruster, you may want to instead try the Velvet Thruster Mini Teddy, which had deep thrusts and I absolutely adored.
You can pick up your own Pillow Talk Feisty Thrusting Vibrator here (pink) and here (teal) at SheVibe! Why do I like SheVibe? They ship internationally, carry a range of body-safe products, and feature some stunning original artwork all over their site! 

See below for my Pillow Talk Feisty Thrusting Vibrator review breakdown.
Review summary
Overall thoughts - 7.5
7.5
$70
PROS
240 thrusts per minute (0.75" thrusting depth). 
Budget-friendly option
Rechargable
Bodysafe
Cute design
Handy travel/storage cap
Two colour choices
CONS
Weak vibrations
Not waterproof
Harder to clean
Noisy
Shop Now