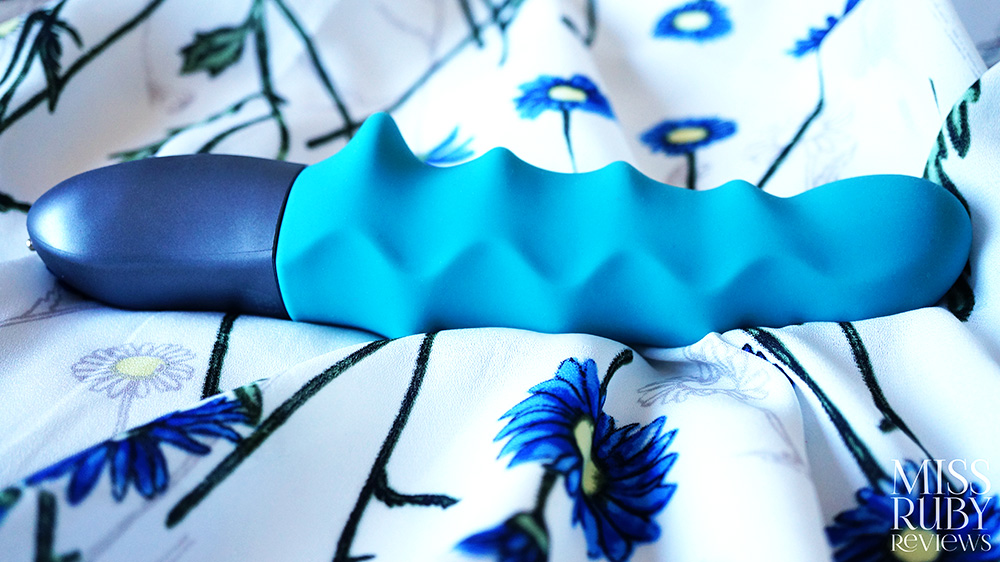 Have a weakness for texture? Fun Factory's iconic line of self-thrusting pulsators keeps getting bigger, this time with the brand new Fun Factory Stronic Surf. Read on for my Fun Factory Stronic Surf review!

Physical Details | How to Use | Packaging | Material and Care | My Experience | Overall
Physical Details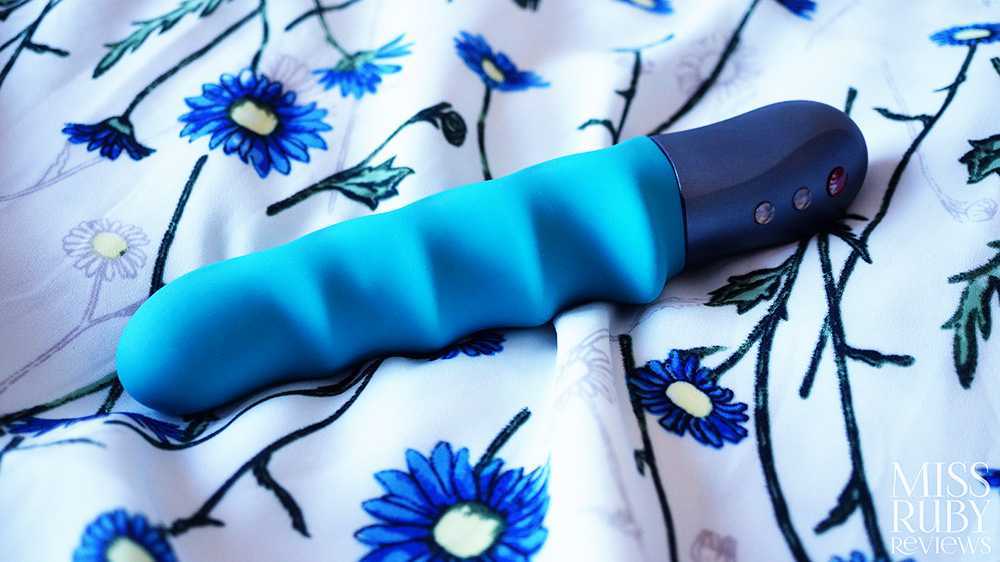 Design
The Fun Factory Stronic Surf gets serious with texture. Unlike the smooth Stronic G or the realistic Stronic Real, the Stronic Surf's appearance hits you like a ton of bricks. Undulations, ridges, and curves: the shaft gives you waves that get increasingly taller as you move towards the handle. There's no realism, no promise of a gentle ride — just some wild tempting texture.
Isn't this a stunning colour? Fun Factory first caught my attention years ago because their toys are bursts of colour: you often see bright oranges and reds and blues in their toys. With the Surf, it's no different: the "Petrol Blue" shade is an eye-catching deep azure turquoise. If you're a bit more conservative in your colour choices though, or just prefer something a little sleeker, it also comes in black.
Function
The Fun Factory Stronic Surf doesn't vibrate. Rather, it pulsates: it thrusts by itself using magnetic technology, without any help from you or manual stimulation. It's quite a novel and rare experience, and one of the few ways you can masturbate if you just want to lie back and not do too much work.
I recorded its movement below as it goes through one of the patterns:
(It sounds louder in the video than it actually is!)
Noise
Even at its top speeds, the Fun Factory Stronic Surf is really quiet (9/10). You won't be able to hear this through walls.
How to Use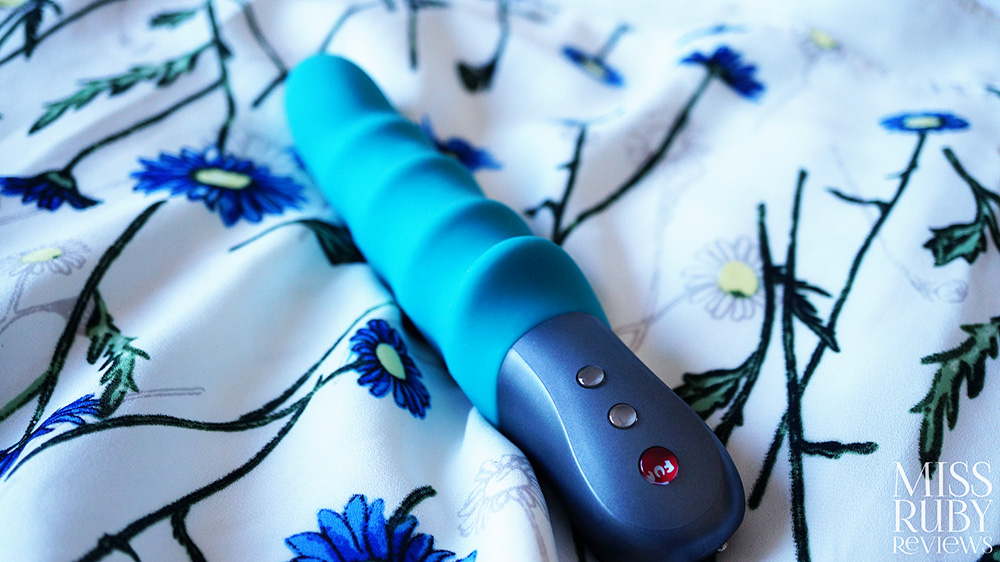 Unlock your Stronic Surf by pressing the red (FUN) and (+) button for about 5 seconds. To travel lock it later, press the (FUN) and (–) button for 5 seconds.
Once you've unlocked your pulsator, press the (FUN) button and click the (+) button to get to the first mode. To cycle through all ten speeds and patterns, press the (+) or  (–) buttons. To turn it off, simply press the (FUN) button.
The lights will give you a low-battery warning when the internal battery is running low. To recharge, simply attach the magnetic charging cable (included) and plug it into a USB dock or a USB wall adapter. A full charge should get you around 45 minutes of play on the top speed.
Packaging – Fun Factory Stronic Surf review

The Stronic Surf comes packaged in Fun Factory's signature packaging. The outer layer is a simple a grey sleeve box,. Inside this, there's a gold-toned box. Inside that box, you receive the Stronic Surf (in a protective fishnet plastic tube), a manual, a quickstart guide, a safety manual, and the charging cable. There is no included storage pouch, so you might want to consider grabbing one of these (I recommend black or red!).
Material and Care
The insertable portion of the Stronic Surf is made from premium silicone, making it bodysafe (inert, hypoallergenic, non-porous, and free of phthalates or any toxic materials). This particular silicone is matte and draggy to the touch. It attracts fine amounts of dust and lint, so you'll need to rinse before each use.
This toy is totally waterproof, so to wash I simply rinse with warm, soapy water before and after each use.  If you'd like to add lubricant (which I recommend), try a good quality water-based lubricant like my favourite Sliquid H2O.
Because the Stronic Surf uses strong magnet technology, this product is not recommended for anyone with a pacemaker. For those of you wondering about copper IUDs, I have one and there are no issues.
My Experience with the Fun Factory Stronic Surf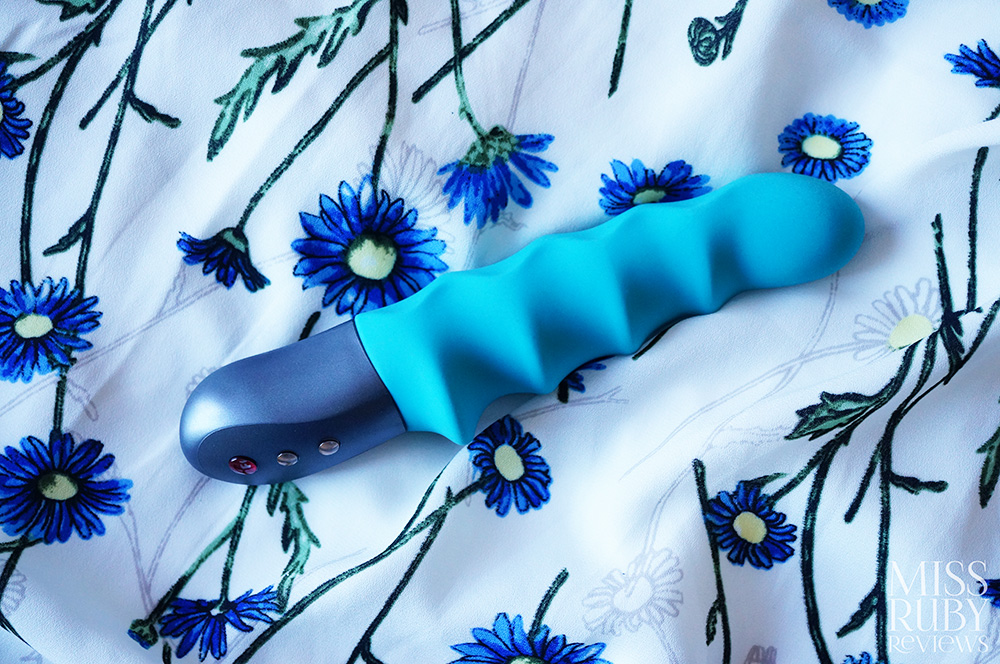 Yes, the Fun Factory Stronic Surf gives me the typical amazing self-thrusting experience I've come to expect from Fun Factory's line. The thrusts are short but firm, and this is one of the rare occasions that I actually like the patterns. With the patterns, having a hands-free toy makes me feel like I almost have an artificially intelligent sex toy (still yet to get to that bucket list item).
I keep saying this about Fun Factory's pulsators, but I still just can't get over the sensation and the novelty of a self-thrusting toy.  This is such a pricey toy, but… hands-free, people.
How does the experience compare to other pulsators like the Stronic Real or the Stronic G?
Those waves are awesome. The increasingly tall waves/ridges bump against the G-spot and feel delicious.  Sometimes I love a smooth, non-textured experience, but there's a lot to be said about a textured toy too. These ridges are sweeping, so they are gentle in a sense, but they also feel busy. It makes me pretty keenly aware of where the toy is, what ridges I'm feeling.
This toy feels big. It's 1.85 inches wide (bigger at that tallest ridge at the back). What's more, if I clench too much, I notice that I kind of "grip" the toy because there's so much to grip with those ridges. This can slow down the toy slightly. Clenching is involuntary, but I try keep my muscles relaxed as much as possible so I don't interrupt its movement.
Buy a bottle of lube. It's always a good idea to have a bottle of good quality water-based lubricant (like Sliquid H2O) for your silicone toys. Silicone can have a drag that skin doesn't, so when it's dry it feels dry super quick. But because this toy moves better when there's less friction, having extra lube on hand will help keep it moving easily.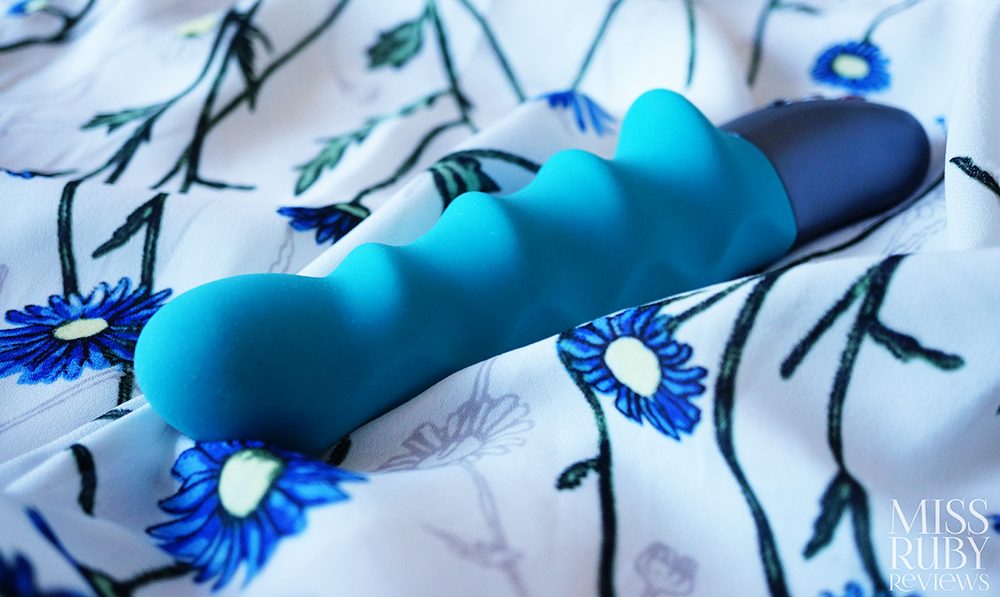 Which textured toy to buy? This isn't Fun Factory's first texture-heavy pulsator though. One of their first pulsators was the Stronic Drei, which also comes in a great turquoise colour. If you're torn between the Stronic Drei and the Stronic Surf, which do I recommend? Well, the Drei is from an older generation of pulsators. The Surf part of the Pulsator II generation, which is lighter than the first generation yet still just as powerful. The textures won't be as concentrated, mind you, and the Stronic Surf isn't advertised as safe for anal use, whereas the Drei is.
Fun Factory Stronic Surf review – Overall thoughts
The Fun Factory Stronic Surf is yet another winner in my heart/bed. This is a great toy for those of you who are curious about Fun Factory's new Pulsator II line, and for those of you who love texture. It's quiet, lets you masturbate hands-free, and I can't get enough of it.
If you were looking for a smoother, narrower experience though, perhaps check out the Stronic Real or Stronic G instead.
To purchase the Stronic Surf, head on over to Peepshow Toys. And you can get 10% off ($20 USD) with coupon code RUBY
See below for my Fun Factory Stronic Surf review summary.
Fun Factory Stronic Surf review summary
OVERALL - 9.5
9.5
$199
PROS
Great for texture lovers
Self-thrusting technology
Bodysafe
Rechargeable and waterproof
CONS
Shop Now