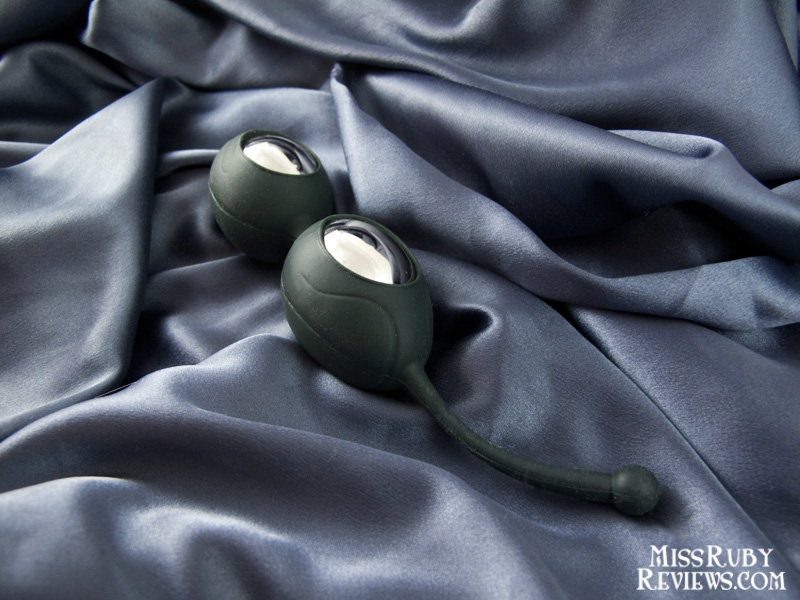 These things make the most satisfying sound when you jiggle them in your hand… Read on for my Fifty Shades of Grey Delicious Pleasure Silicone Ben Wa Balls review!
---
Physical Details | Packaging | My Experience | Overall
---
Physical Details
Design: 
The Fifty Shades of Grey Delicious Pleasure Silicone Ben Wa Balls are a set of 2 balls held by a harness. Like many Kegel exercisers, these balls consist of an internal free-roaming weight inside a shell. This means that, when you shake them, you'll hear a soft, deep, jiggle as they knock about the shell.
A black silicone harness holds two balls. Because it's made from silicone, the harness is flexible. This isn't a rigid set; the silicone harness bends with your body, allowing it to fit comfortably. At the bottom of the harness is a 2.5 inch withdrawal cord. This cord is meant to poke outside your vagina and lie in your underwear, much like the withdrawal cord of a tampon.
This harness is pretty neat-looking. If you look carefully at the pictures, you'll see that the harness is engraved with line designs, as well as the Fifty Shades title.
The two weighted balls are silver-colored plastic balls. The plastic shells themselves don't feel particularly hard or luxurious, but they are heavy. Weighing 32 grams each, this Kegel set offers a combined weight of 64 grams. These balls are totally removable for cleaning convenience. It's a bit tricky to get the balls in and out of their silicone harness, but once they're in, it's a watertight fit.
The balls are also egg-shaped. Having a tapered tip makes insertion a bunch easier for you.
The only downside to Fifty Shades of Grey Delicious Pleasure Silicone Ben Wa Balls's design is that there are two square holes in the plastic shell for the ball closest to the withdrawal cord (pictured above). They don't seem to have any purpose. I've tried probing the holes with thread and paperclips and I don't think that the hole is an entry to the whole inner part of the shell, but I can't be sure. The holes worry me because I don't want water or other fluids getting trapped inside the shell and sloshing about with the internal weight.
Material and Care:
Two materials are used in the Fifty Shades of Grey Delicious Pleasure Silicone Ben Wa Balls. The black harness is made from silicone, meaning that it is non-porous, non-toxic, and can be completely sterilized. To sterilize it, you can boil it for 5 minutes or wipe it down with a 10% bleach solution (making sure to thoroughly rinse it afterwards). For regular cleaning, simply wash it with warm water and anti-bacterial soap, and be sure to let it dry thoroughly before storing it.
On the other hand, the two silver Ben Wa balls are made from ABS plastic. You can't sterilize these (so don't share between people), but you can still keep it hygienic by washing it with warm soapy water before and after each use.
As always, be sure to clean these before and after each use. After leaving them to completely dry, place these in the silver satin pouch that came with.
Shipping and Packaging
Lovehoney excels in fast and discreet shipping. My order was placed on April 7th and I received it the following week on April 13th. The mailman delivered a plain brown box. "Lovehoney" wasn't listed anywhere on the package so, for those of you who need to be absolutely secretive about your purchases from Lovehoney, you can rest easy that the shipping package itself won't give you away.
These Ben Wa balls come packaged in the official Fifty Shades look. The exterior is a tasteful dark grey box. Inside, the ben wa balls are nestled on a plastic holder. You'll also receive a silver satin pouch and an information booklet.
My Experience with the Fifty Shades Delicious Pleasure Silicone Ben Wa Balls
The Fifty Shades of Grey Delicious Pleasure Silicone Ben Wa Balls are, as they're so concisely named, a set of balls to exercise your PC muscles. Ben Wa balls are balls which have an internal free-roaming weight inside them. They're inserted vaginally and, as you move, the little weights inside each ball jiggle around, hitting the sides of the shells they're in and knocking the vaginal walls. This causes your PC muscles to make small, involuntarily contractions, thereby keeping the balls inside you and preventing them from sliding out.
You can walk around the store with these in, you can go for a jog…you can keep them in until your PC muscles feel tired. Many cis women (not all) can generally feel these balls as they subtly knock against the vaginal walls. Over time, this works to strengthen the PC muscles, which in turn can fix things like urinary incontinence. It also improves the ability to orgasm, and having stronger PC muscles means (for me, anyway) that you can have stronger orgasms.
This is my second pair of Fifty Shades Kegel exercisers, the first being these awesome interchangeable kegel balls that I reviewed a few months ago. Compared to the previous set, these Ben Wa balls have the drawback of not having a customizable weight, but they have the benefit of the "jiggle" factor.
As far as insertin' goes, these balls are pretty hassle-free. Because they have that "egg" shape (tapered tip), I find that they're much easier to insert than perfectly spherical balls. That being said, I strongly recommend that you layer each ball with water-based lubricant before inserting them. These should NOT hurt going in, so if you feel any pain, it's likely that the silicone is dragging against your vaginal walls from friction. To avoid this, I use lubricant. When they're properly lubricated, they slide in pretty easily.  Then it's just a matter of pushing them in deeper until they settle to a good spot, so they don't feel like I'm sliding out before I even get up. I also recommend putting these in while lying on your back if you find that standing up just isn't working for you.
And, boy, are these fun to jiggle. During the first session that I wore them, I just wanted to hop up and down constantly. I definitely have a clear mental picture of where the inner weight is at any one point because any movement is really clearly felt against my walls. I was expecting a subtle feeling (like in the case of the Lelo Luna Beads), so I'm both impressed and surprised at how acutely I can feel the inner weight's movement.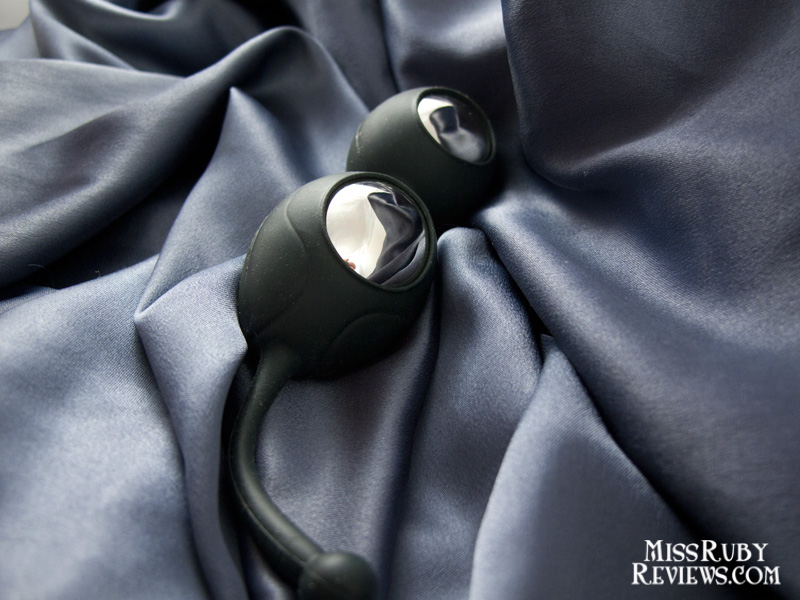 So if you want to feel them inside of you as you move about, you're in luck. Because I can feel the weights so well, I was worried that someone could actually hear them from…outside my body. I asked my partner (much to his delight) to listen to my pelvis as I jumped, and he couldn't hear a thing. So for those of you who worry about walking around the store and revealing your secret Ben Wa balls to those around you, you can rest assured that no one around you will be able to hear. (Oh man..I just thought of the perfect Christmas Kegel set. Noisy jingle bells acting as the free-roaming weight inside?? You could jingle along to Christmas songs in the stores just by jumping and freaking everyone out. Lovehoney, get on this one).
One reason I really like actually feeling them move about in me is that, every time the walls of my vagina feel tapping, I'm reminded that my PC muscles are clenching. In other words, these balls are doing their job: exercising my PC muscles without any focused concentration on my part. My PC muscles are actually pretty strong because I've been doing this for a while, so my PC muscles aren't as tired afterwards as they would be had I been a novice. Nonetheless, I can tell that, in terms of actual function, these balls do work.
After using these on and off for a couple of weeks, I've come to the conclusion that this is a solid Kegel set for people new to Kegel exercisers. The reason for this is three-fold. First, each individual egg is a large size. Large Kegel balls are easier to use than smaller Kegel balls because the PC muscles have to work much harder to keep something small in than something large. Secondly, these balls are fairly light. At a combined weight of 64 grams, they may post a fair challenge to people with weak (or even moderate) PC muscles, or people who are just brand new to Kegels and don't know where to begin. For people who are more advanced, I would suggest stepping it up to this set. Third, this set is fairly inexpensive at $30 USD. So, if you're new to Kegel exercisers and don't want to dish out gazillions without knowing if you even really like them, this is a good place to start.
Overall
The Fifty Shades of Grey Delicious Pleasure Silicone Ben Wa Balls is a solid Kegel set best suited to Kegel beginners. Because they're inexpensive, large, and light, this set is great for people who are pretty new to the Kegel scene. If you're not sure 100% convinced that these will suit your needs, you could always purchase these from Lovehoney, try them out for a few months and – if you're not feeling like they're working your PC muscles at all, exchange them through Lovehoney for a more advanced set.
 To buy the Fifty Shades of Grey Delicious Pleasure Silicone Ben Wa Balls, head on over to Lovehoney or Lovehoney UK.