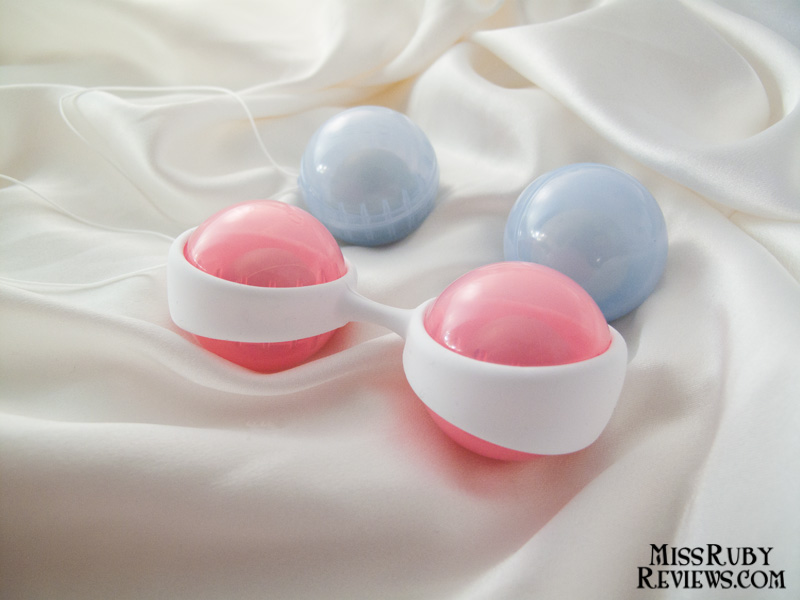 I'm horribly tempted to stick some googly eyes on these LELO LUNA Beads (Canadian readers head here). Read on for my LELO LUNA Beads review!
About the Store | Packaging| Physical Details| My Experience | Overall
About the Store: Betty's Toy Box
Betty's Toy Box is one of those up-and-comer stores to watch. They're cute, they're women-friendly, and they offer competitive pricing. Carolyn, their twitter manager, is super friendly and I was really happy to make their acquaintance! You can get 15% off your order with coupon code RUBY!
Shipping and Packaging
Shipping from Betty's Toy Box was extremely swift and discreet. My order was shipped out on a Friday and I received it the following Monday. I received a plain package with no indication of the nature of its contents.
Like with all LELO products, the LELO LUNA Beads are packaged beautifully. The exterior white box is tasteful. Inside this exterior box lies another hard, white box. You'll find the LUNA Beads resting on a pillow of white foam. Also included in the package is: a black satin storage pouch; a 1-year warranty card; an information booklet; and a sample of LELO's lubricant.
Physical Details
Design:
The LELO LUNA Beads Pleasure Bead System is an attractive Kegel ball set. It's composed of 4 interchangeable beads and one harness. The beads themselves are large (1.5″ x 1.5″) spherical shells. Inside each shell lies a small free-roaming weight. Two of the beads (1 pink and 1 blue) have a withdrawal cord attached to them. I love the colors of these beads! Petal pink and powder blue make for an adorable pair of spring-coloured items. Because they're light-coloured and translucent, I'm also able to clean them easily because I can see if there's anything on the surface.
This Kegel set lets you customize the weight you'd like to wear. The two pink beads are the lightest at 28 grams each. The two blue beads are considerably heavier at 37 grams each. This means that, granted you are wearing two beads at once, you have the options of wearing 56 grams, 65 grams, or 74 grams.
A white silicone harness carries the beads. The harness itself is fairly stiff and just flexible enough for you to pry each bead in and out.
How to Use the LELO LUNA Beads
Kegel balls are meant to be vaginally inserted and worn for extended periods of time. To insert the LELO LUNA Beads, I suggest applying water-based lubricant to the beads and then insert them in, starting with the bead without the string attached. Once inside, they should sit approximately where your tampon would sit. Let a bit of the withdrawal cord hang out so that, when you're ready to take them out, your finger can find the withdrawal cord easily enough.
To increase the strength in your pelvic floor, LELO suggests wearing these beads for at least 30 minutes every day for up to 12 weeks. Once they're in, you'll notice that the inner weights will be moving as you walk around, causing the balls to bump against the sides of your vaginal walls. This, along with the weight on your pelvic floor, will encourage your pelvic floor to automatically clench, thereby exercising these muscles and growing stronger over time.
It's easier to use the lighter weight beads because your PC muscle doesn't have to work as hard to carry lighter objects. So, if you're new at this, I suggest starting off with 56 grams (or two pink beads) and then work up to 74 grams (two blue beads).
Material and Care:
The LELO LUNA Beads's pink and blue bead shells are made from ABS plastic.  The harness is made from a white matte silicone.  This means that the Luna Beads are non-toxic. The shells are watertight, so you don't need to worry about trapping water or bacteria within the shells themselves. To clean, I rinse the beads and the harness with warm water and antibacterial soap before and after each use. To make sure that the beads remain hygienic, I make sure to separate the beads from the harness and wash each item individually. Only use water-based lubricant, as silicone-based lubricants can degrade the silicone harness over time. Between uses, I store my LUNA Beads in the black satin pouch that's included.
The 3 P's (Period/Pee/Poop):
Time for logistics. If you're wearing these for an extended period of time every day, you'll notice that you need to occasionally worry about dropping these in the toilet. When it comes to peeing, I can keep these in and I don't experience any issues. This probably depends on your specific PC muscle strength, but it works for me alright. I'm not courageous enough to, ya know, go have some bowel movements while wearing these. I'd be crushed if my Kegels failed me at such an inopportune time. If you try this, let me know how it goes! Wearing these on your period should be fine. I can't think of any issue, other than that the nylon cord might stain slightly.
My Experience with the LELO LUNA Beads
When I was a teen, I once had this super embarrassing moment where, after laughing hysterically for an hour straight, my bladder let out a bit of pee. Not much, mind you, but I was mortified. I immediately had visions of soon having complete urinary incontinence and wearing adult diapers by the time I was 18. As it turned out, my PC muscles just weren't very strong. At all.
At the time, I had no idea that weak PC muscles can lead to accidental pee moments (like when you're laughing hard or you're sneezing). But that's not all. During those younger years, I also had a lot of difficulties bringing myself to orgasm, and it took years to realize that my difficulty in achieving orgasms was due to my weak PC muscles. I don't know why I've always had weak PC muscles, but I do know that doing Kegel exercises has been the key to multiple, awesome, predictable orgasms (not to mention the end of accidental peeing).
Long story short: I'm no stranger to the importance of Kegel exercises. But I suck at them, truly I do, which is probably why my vagina can't yet crush boulders into fine sand (I'm working on it though). I struggle with staying in the habit of doing something as tedious as consciously clenching my PC muscles every day. So, when I heard about Kegel balls, I rejoiced because, finally, I could exercise my PC muscles without having to think about every single conscious clench.
I'd heard great things about the LELO LUNA Beads. Mostly, I'd just heard that basically everyone with a vagina has used them, or needs to use them, or wants to use them. So, naturally, this set was high on my wishlist.
So how did these go? I've worn them on and off for about 3 weeks now.
Well, first off, I tried putting the LELO LUNA Beads in when standing up, seeing as that's my go-to position for tampon insertin'. That didn't work at all, so I tried lying on my back. They're definitely much more comfortable to insert lying down on my back. During the first time I tried the Luna beads, they kept on feeling like they were about to fall out of me (which is the same feeling as a tampon that you know isn't pushed in as deep as it should be). So, I just kept on reinserting them and pushing them back deeper.  After a few tries, I got them to rest in the right place, and that feeling of "I'm gonna lay an egg, watch out!" passed. So, if you find that standing isn't comfortable, definitely try lying on your back. And definitely use lubricant!
When I move around, I'm definitely conscious of a subtle movement inside of me. This is due to the small inner weight knocking the sides of the shell. I originally expected to feel a vigorous tapping, but in reality, I get a subtle, light tapping. It's noticeable, but not distracting. When this happens, I don't feel my body massively clench or anything, but I'm content that my PC muscles are doing little micro-clenches on a regular basis. I know this because, when I take these balls out, my PC muscles are ready for a break.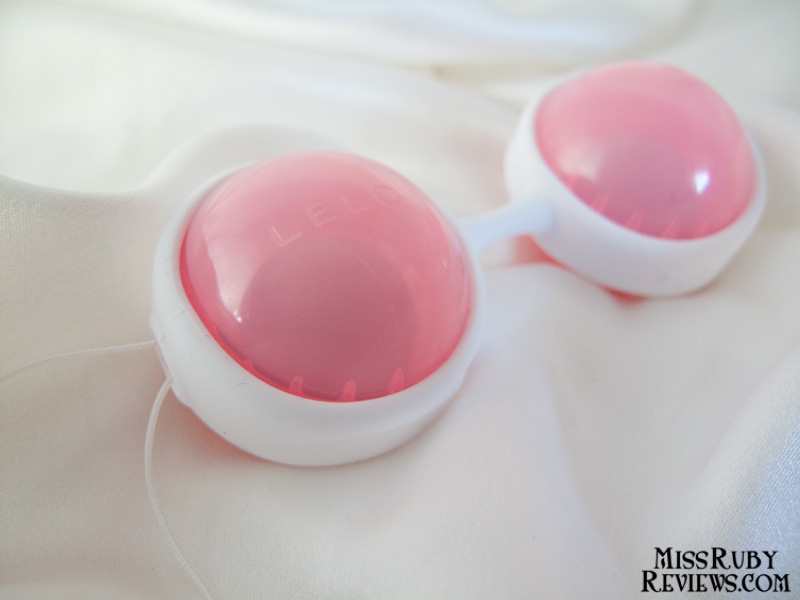 I find that the LELO LUNA Beads work best when I'm not sitting on my butt. I would LOOOOVE to be able to have these be super effective when I'm being a couch potato, but Kegel balls simply don't work that way. They require your body to move. The more you move, the more the inner weights knock about, and the more your PC muscles contract. For this reason, these Kegel balls are awesome for errands (yes, you may call them your "errand ballz"). I put them in for going to the shops, for walks in the park, for frantic house-cleaning rituals, etc. I've tried jogging with them in, at which point I REALLY feel them knocking about in there. And, I'm lucky that the mild movement inside of me gets my natural lubricant going a bit.
I like that these balls are customizable. The two pink beads (the lighter ones) are just a bit too light for me, so I would have been disappointed had these been my only option. Depending on your level of PC muscle championship, you may need to stick to the pink ones for a while until your PC muscles grow stronger. I'm happy with 1 blue bead and 1 pink bead. I'll continuously work towards wearing 2 blue beads.
Do these strengthen your PC muscles? Yes. To see results, though, you have use them when you're moving about. And on a consistent basis. Start with the two pink beads and work your way up to the two blue beads. I know that they're working when I take them out after a few hours of use and realize that my PC muscles are really fatigued.
LELO LUNA Beads review – Overall Thoughts
The LELO LUNA Beads are pretty awesome. They're pretty, they're customizable, they're body-safe, and they're functional. If you're guilty of peeing when you sneeze, or if you have trouble having orgasms, or if you want better/easier orgasms, or if you're just plain curious about Kegel balls, this set is a very solid choice.
To buy the LELO LUNA Beads, head on over to Betty's Toy Box (USA readers) or Naughty North (Canadian readers!)