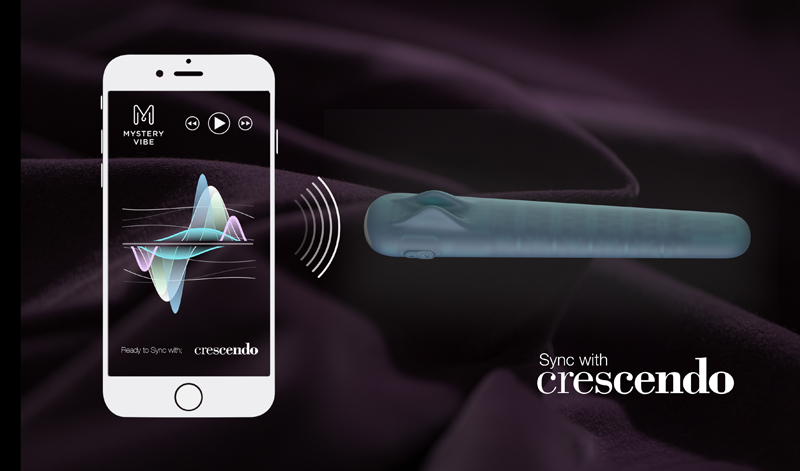 Once in a while, I need to shout at you about awesome people.
Who is MysteryVibe? | Why are they neat? | What are they making? | Get one
Who is MysteryVibe?
You may have heard the word "MysteryVibe" mentioned, either on other blogs, media outlets, or twitter. People are abuzz. This company caught my eye a couple of months ago. Obviously, with a name such as "MysteryVibe," I was curious.
MysteryVibe is a UK-based brand that designs and manufactures pleasure products. Their designs get rid the excessive frills and rabbit ears that dilute the market. Instead, their designs are neatly minimalistic while still retaining the features I expect from my sex toys.
But what I like about MysteryVibe is their passion and understanding. For 5 years, they've been figuring out how to design a vibrator that feels immersive, customizable, and adaptable. They want to crack down on stigmas around sex toys and show wider audiences that sex toys have a place in our everyday tech-filled lives.
Why They're Neat
MysteryVibe is taking bold steps to make sex toys less stigmatized; one way they've done this is by going to major non-sex-toy-industry conferences. These conferences generally showcase technological innovation start-ups but not sex toy start-ups. For example, they just pioneered sex toy history by presenting at the European Pioneers Festival in Vienna. They were the first sex toy company (ever) to present at this festival, and hearing about these "firsts" makes me excited. So they're like pioneers. But not the old-timey type with wagons and bonnets.
As a sex toy reviewer, I love hearing that pioneers are taking sex toys outside of the sex toy industry bubble, bringing their ideas about sexuality and sex toys to audiences and consumers outside of the sex toy industry. In other words, they're reaching people that aren't necessarily already inside the industry.
MysteryVibe is trying to show people that sex toys are a mainstream technology that has a place alongside everyday technology. Like a toaster. But sexy. For this, I applaud them. Stigma around sex toys certainly still exists.  Stigma is the reason why so many men hesitate before buying a sleeve. Stigma is why I run this blog anonymously. But by taking the steps to approach large mainstream audiences, MysteryVibe is slowly chipping away at those stigmas, showing larger audiences that sex toys are technological advances that can enhance our own sex lives.
What are they creating?
So, all this is nice and all that, but where does that leave us? In other words, what is MysteryVibe actually creating for us? As a sex toy reviewer, my first thought is, "so how exactly can this company get me off?"
MysteryVibe's first sex toy is a product called Crescendo. At first glance, I didn't think that it looked remarkably special, but then I saw what it can do:

It bends! This toy can be bent and re-bent and re-shaped without losing its functionality or hardness. Immediately, this makes me want to form the Crescendo into my own awesome rabbit vibe by shaping it into a C. It's infamously hard to find a rabbit vibe that works for you because bodies differ so much from each other, and this vibe might be exactly what us cis women – who so rarely find a perfect rabbit vibe – need. Suffice it to say, I'm really curious to play around with this bendable vibe.
It has six motors. Six motors in a vibrator is very unusual. I'm used to one, maybe two. Rarely 3. This has SIX. Generally speaking, more motors = more power. More power = orgasms. But it gets better. These motors can be individually programmed using their smartphone app, so you'll be able tell which motors you want to set to "high" or "low", etc.
Induction (wireless) charging.  Fancy charging technology! You don't need to clip it or plug it in. Just place it on a flat charging panel. I've never owned anything that uses an induction charger, and I want to. Because of this technology, this vibe is waterproof .
It's also a platform product, which means that you can run applications from it. In other words? You can program this thing to vibrate the way you want it to using its smartphone app. You can program patterns to ripple up and down the whole shaft. Or you could vibrate it to the Star Wars music theme, if that sort of thing floats your boat. The geek in me loves this.
This toy sounds awesome. How do I get one?

I'm excited about MysteryVibe's Crescendo because it sounds like an adaptable toy. This toy doesn't pretend that all cis women are built the same way, want the same thing, or orgasm the same way. The Crescendo understands that cis women need to adapt toys for their individual needs, and for these reasons, I'm pumped to see this hit the market.
Currently, the Crescendo is being crowdfunded on Born.com. If you want get this at half of the retail price, I encourage you to support this company and get one of these toys by grabbing it for €99 (as opposed to the eventual R.R.P. of €199). As of right now, there are only 161 of these models left and the crowdfunding campaign ends in 8 days so, if you're interested,  I'd get on this sooner rather than later.
This post was sponsored by MysteryVibe. All opinions are my own.