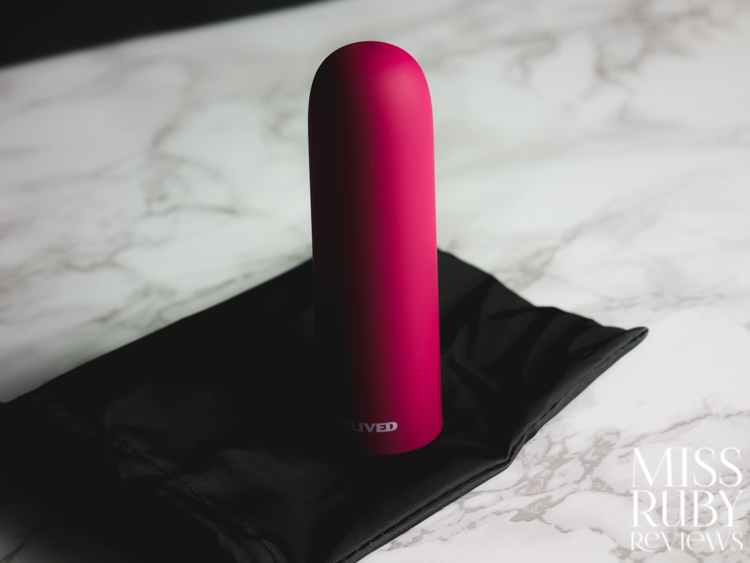 Another budget bullet vibe put to the test. Read on for my Evolved Mighty Thick Bullet Vibe review!

Design | Accessibility | How to Use | Packaging | Material and Care | My Experience | Overall
Design
The Mighty Thick Bullet Vibe is a very inexpensive ($29) bullet vibrator by Evolved. Evolved has been around since 2006, but only recently got on my radar. Almost every sex toy brand tries to offer a basic, powerful bullet vibrator in their lineup and I was curious to see how theirs holds up.
The Evolved Mighty Thick Bullet Vibe is a stout bullet vibrator. Unlike conventional lipstick-shaped bullets with a thin body (think We-Vibe Tango X), this vibe has a thick 1″ wide body with a rounded tip. That gives you slightly broader stimulation than most bullets.
It's still short (just over 3″ long) making it travel-friendly and very easy to store. There's just one control button at the base.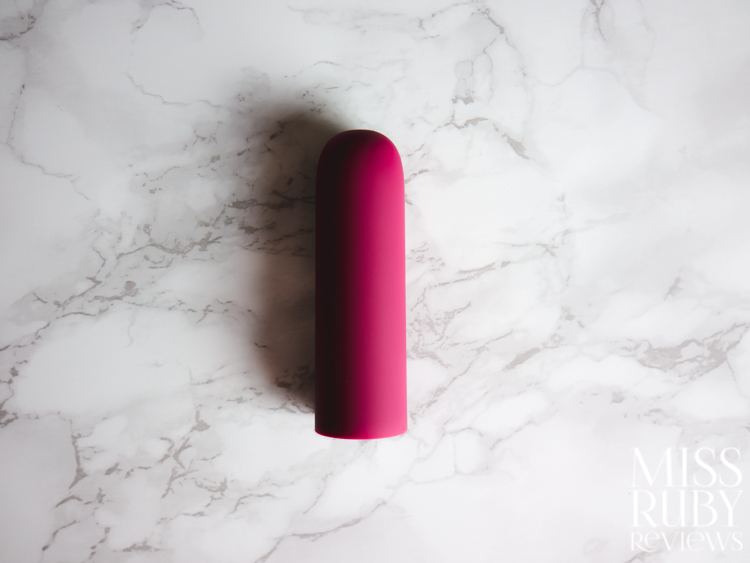 The Evolved Mighty Thick Bullet Vibe may be inexpensive, but it comes with a fair number of luxury features. It's totally waterproof and submersible, which makes cleaning a breeze and bathtime more fun. It's also USB rechargeable and gives you 9 preset vibration modes to choose from.
It's also made of ABS plastic with a silky luxe finish, making it bodysafe.
The Evolved Mighty Thick Bullet Vibe comes in one colour: plum. It's kind of a rich mulberry tone, which is quite elegant and dreamy.
Accessibility
This section is to help folks determine if they might have any issues using/accessing this toy.
Size: By my measurements, this is 8.8cm long and 2.6 cm thick.
Weight: At 54 grams, this is a very lightweight vibrator.
Buttons: There's a single, round button at the base of the toy. It's 1mm tall and 10 mm wide. It takes moderate pressure to press and makes a loud 'click' noise.
Vibration transfer: There is significant vibration transfer with this toy. Users who have sensitive joints should look elsewhere.
Price: At $29 USD, this is one of the more affordable options compared to vibrators with similar features.
How to Use the Evolved Mighty Thick Bullet Vibe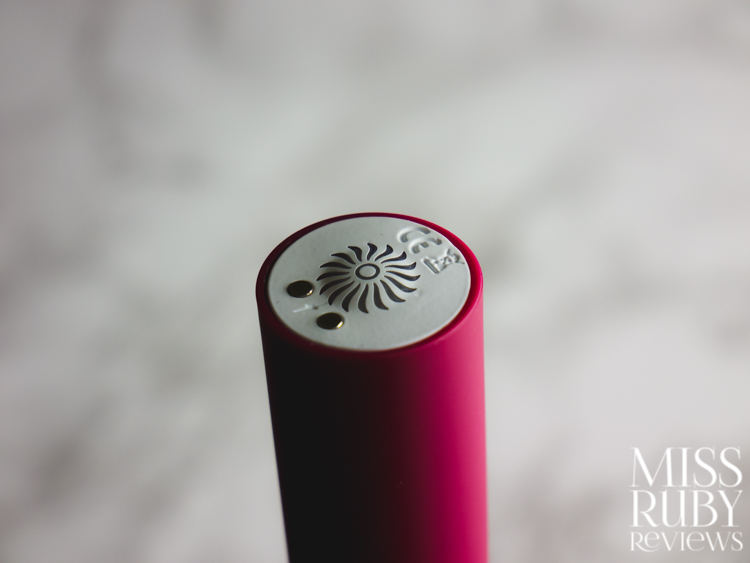 The Evolved Mighty Thick Bullet Vibe is controlled by a single button at the base.
To turn it on, press the power button for 2 seconds. It'll turn on at its lowest speed.
Apply to your body. Though designed for clitoral use, this could be used externally on nipples or the shaft of a penis. However, I don't recommend using this anally as there is no flared base.
Tap the Power Button again to cycle through the 3 steady speeds and 6 patterns.
To turn it off, press the Power Button for another 2 seconds.
Packaging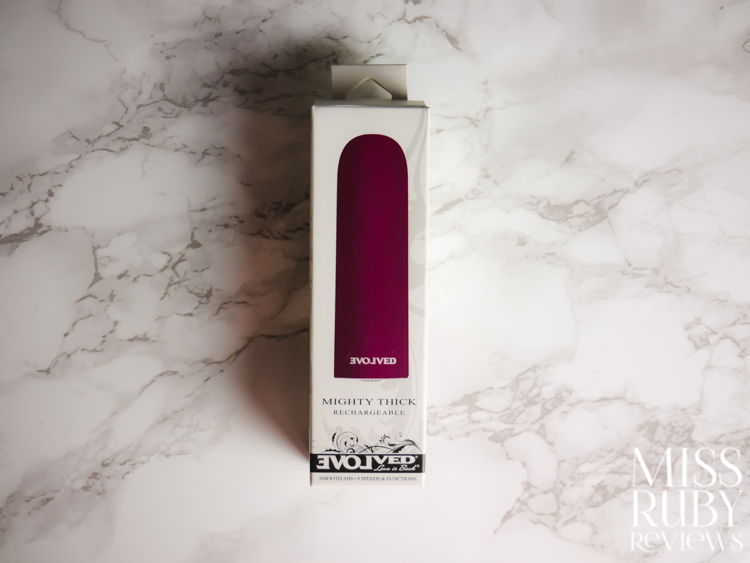 The Evolved Mighty Thick Bullet Vibe comes packaged in a simple box. The packaging isn't top-notch but, then again, this doesn't come with a luxury price tag so I'm hardly going to expect a gold leaf box.
Inside the box, you receive the bullet vibe, a small black drawstring pouch, the USB cord, a warranty card, and a card of instructions.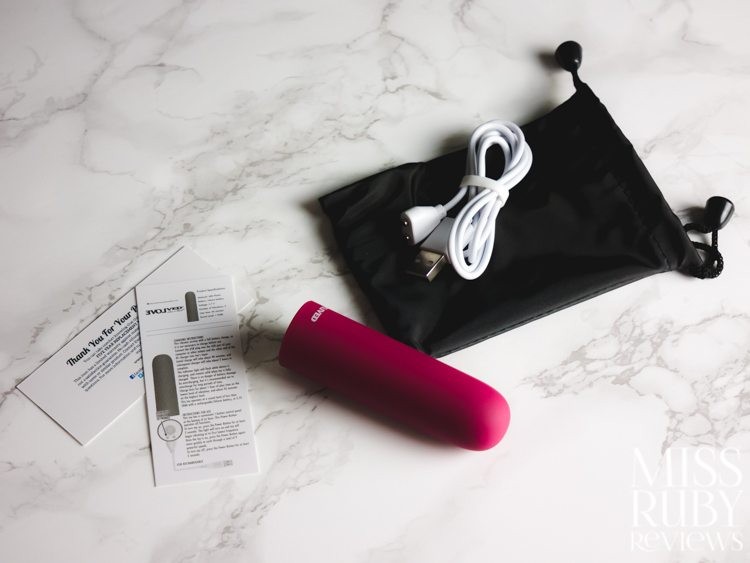 Material and Care
The Evolved Mighty Thick Bullet Vibe is made from ABS plastic with a creamy matte finish. This makes it bodysafe. It doesn't particularly attract nearby lint or dust, which is nice.
The Evolved Mighty Thick Bullet Vibe is waterproof and submersible (woohoo!). That's really amazing for this low price point.
To wash, I rinse the whole thing in warm, soapy water before and after each use. If you'd like to add lubricant (which I always recommend), try a good quality lube like my favourite Sliquid H2O.
To charge, connect the magnetic USB charging cable (included) to the two metal pins at the base of the toy. Connect that to your computer or a USB wall adapter. An LED light at the base blinks while it's charging and becomes solid when fully charged. A full charge takes about 2 hours and gives you 45-60 minutes of playtime (depending on the speed level you use).
This toy comes with a 5-year replacement warranty against material and mechanical defects. That's a pretty amazing warranty (possibly one of the best I've ever seen?) and shows me that Evolved is very confident about the quality of their products.
My Experience with the Evolved Mighty Thick Bullet Vibe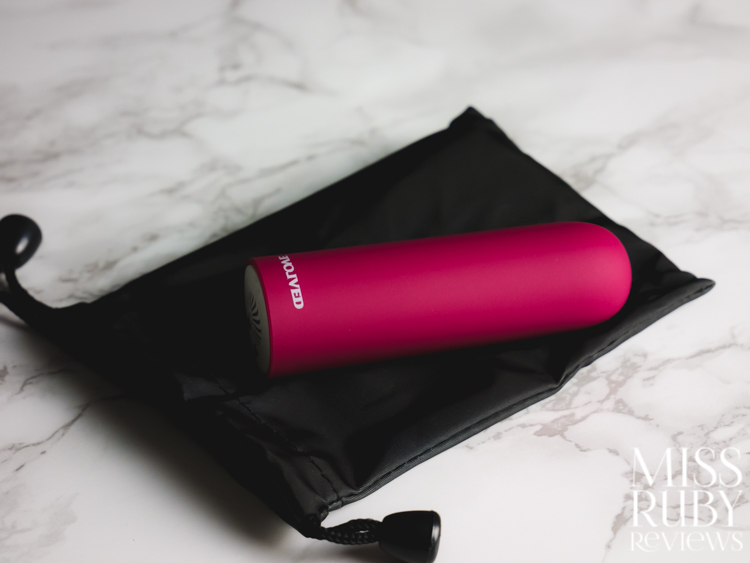 Confession: I may have a weakness for getting new bullet vibrators. I can't really help it — Once you've experienced the FemmeFunn Ultra Bullet or the We-Vibe Tango X, it's hard to not keep growing your bullet vibe collection, especially when a bullet vibe is so affordable.
After all, last year I reviewed this brand's more expensive Lady In Red bullet vibe, and found it too buzzy for my liking. So I was a bit skeptical about how great the Mighty Thick Bullet Vibe would be.
To my pleasant surprise, Evolved has done a great job with the Mighty Thick Bullet.
So great, that I had 3 very powerful orgasms within 3 minutes during my first test run. Only 3 minutes in, and it's already well enough made up for its $29 price tag.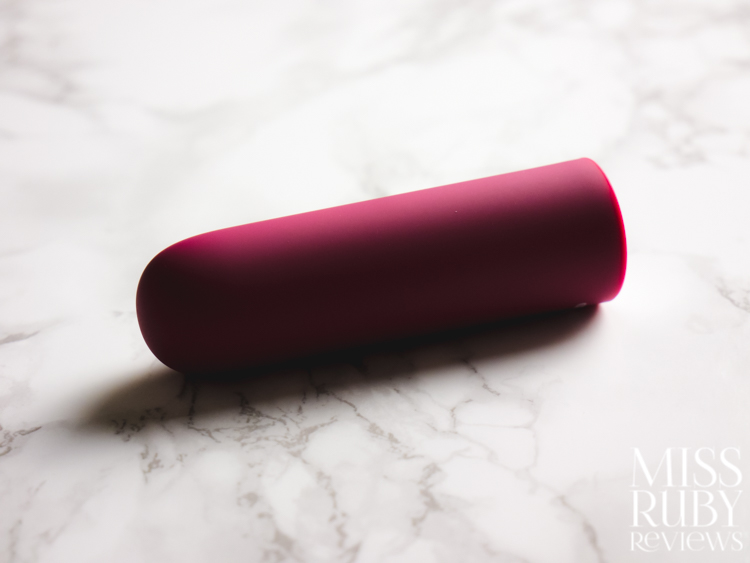 The secret to its success is a very powerful motor housed in an ABS plastic body.
In an ABS plastic body (vs a silicone body) the vibrations rattle a lot more and are purer. Silicone tends to muffle vibrations, but the vibrations transfer very well with this ABS plastic construction.
The vibrations are in the middle between buzzy and rumbly, but that doesn't bother me. The vibrations are strong enough that the buzz doesn't damper my experience and they're rumbly enough that they penetrate deeply.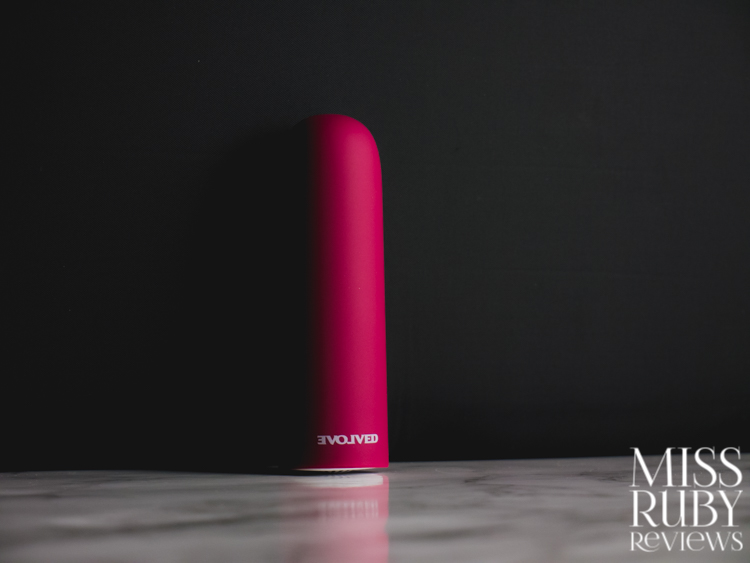 So that's pleasure, but how about ease of use?
The single-click button can get annoying — if you press past the one you meant to, you need to turn it off and start over. And this isn't a particularly quiet bullet vibrator. You'll definitely want to keep your bedroom door closed if you have roommates. But honestly, for this price tag and this strength, those are small nitpicks.
Evolved Mighty Thick Bullet Vibe Review – Overall Thoughts
The Evolved Mighty Thick Bullet Vibe is a steal. For $29, you're getting a bodysafe, waterproof, rechargeable and STRONG bullet vibrator. The design is aesthetically pleasing, the colour is nice, and the orgasms are great.
What more could I ask for?
You can pick up your own Evolved Mighty Thick Bullet Vibe here! Why do I like Peepshow Toys? They ship internationally, only carry body-safe products, and you can get a 10% discount off your whole purchase with coupon code RUBY. 

See below for my Evolved Mighty Thick Bullet Vibe review breakdown.

Evolved Mighty Thick Bullet Vibe Review
Overall thoughts - 9.5
9.5
$29
PROS
Strong
Waterproof
Bodysafe ABS plastic body
USB Rechargeable
Amazing 5 year warranty
CONS
A bit noisy
Single button design can annoy some users
Shop Now