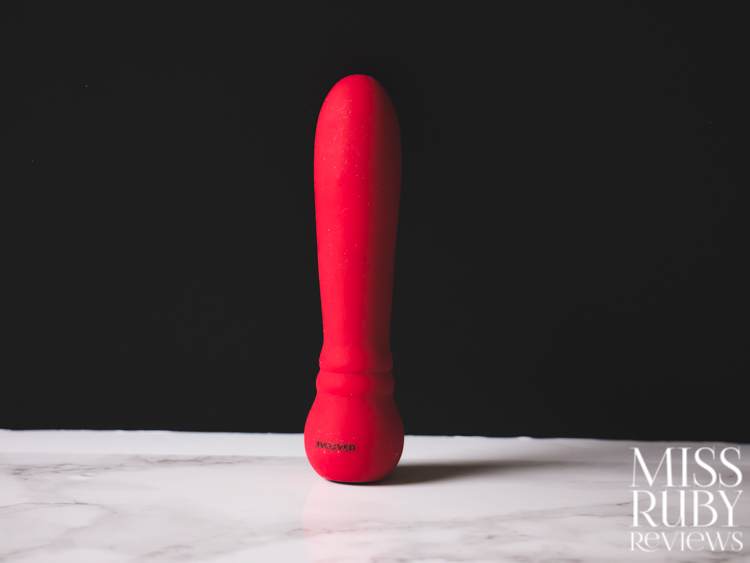 I'm putting another affordable bullet vibrator to the test. Read on for my Evolved Lady in Red review!

Design | Accessibility | How to Use | Packaging | Material and Care | My Experience | Overall
Design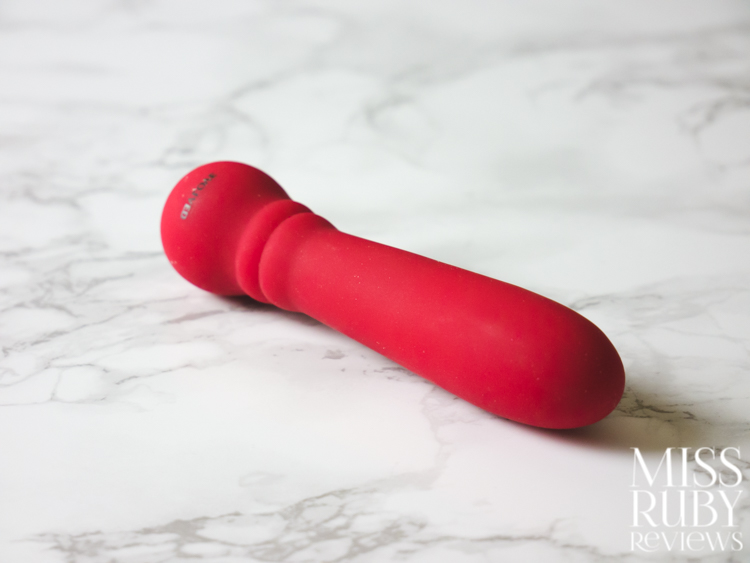 The Lady in Red is an eye-catching bullet vibrator from Evolved Novelties. It's silicone, waterproof, USB rechargeable, and comes with a 5-year warranty. More importantly, it's not over-the-top expensive; at $49 USD, this is a very reasonably priced sex toy considering all the features you get.
The Evolved Lady in Red's design is simple enough. The body tip is rounded but still fairly pin-point. The body is tapered and semi-flexible. The base is rounded for an easier grip and the single control button lies at the very bottom.
It's coated in a silky silicone finish and the colour is a beautiful deep red with black accents. The colour scheme gives me a Twilight vibe but apparently, I'm digging it.
To be honest, I wanted to get my hands on the Evolved Lady in Red because I thought it was a carbon copy of the FemmeFunn Ultra Bullet, which is one of my absolute favourites. I wanted to see if it would be just as good, and I like the Lady in Red's colour scheme more, so that's a bonus. And, asides from colour and branding, they do appear to be cast from very similar moulds. I'll discuss if they really are the same toy down below in My Experience.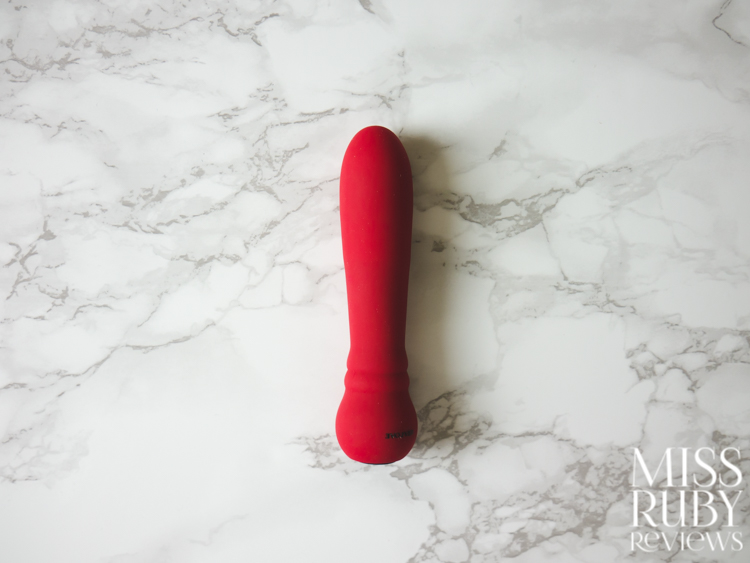 Accessibility
This section is to help folks determine if they might have any issues using/accessing this toy.
Size/Weight: The Evolved Lady in Red is a small clitoral vibrator. By my measurements, it's roughly 10.6cm long and 2.6cm at the widest point. It's a lightweight toy  (68 grams).
Buttons: There is 1 round button at the base of the toy. It's 1.4cm in diameter and about 1mm tall. It takes moderate pressure to click and makes a quiet click sound. The button is black against the red body, and the button lights up during use, so I consider this button high visibility.
Handle buzz: Many of the vibrations transfer to the handle. Your hand will buzz a lot when you hold it.
Price: At $49.99 USD, this is on the inexpensive end for a clitoral vibrator.
Other notes: You can operate this toy with one hand only. However, it would be difficult to insert the needle end of the charger without mobility of both hands because you need to hold the vibe with one hand and insert the charger with the other.
How to Use the Lady in Red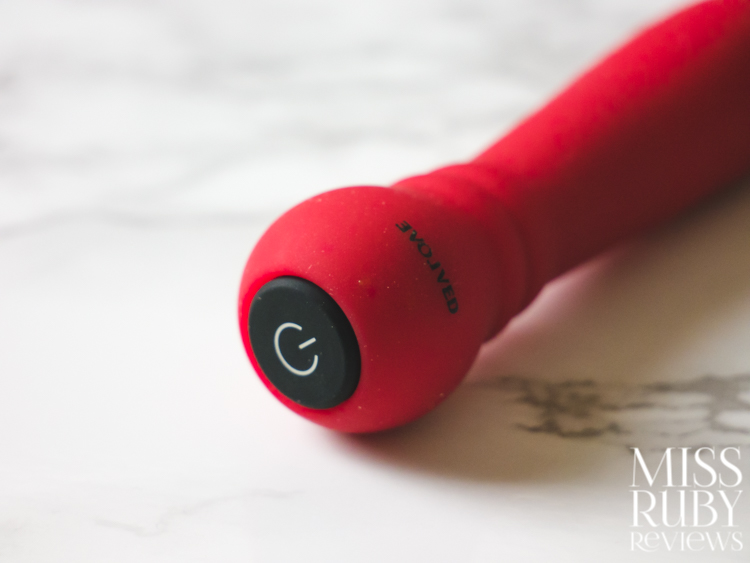 The Evolved Lady in Red has a single button located at the base of the toy.
To turn it on, press and hold the single button for 3 seconds. It'll turn on at its lowest mode.
Tap the button to cycle through the 3 vibration intensities and 14 patterns.
Apply to your body. Though designed for clitoral use, you can of course use this against other body parts like nipples or a penis. It can also be inserted up to 3.25″ for G-spot stimulation. However, don't use this anally as it doesn't have a flared base.
To turn it off, press and hold the button for another 3 seconds.
The next time it's turned on, it'll start on the last mode that you were on, then restart from the beginning.
Packaging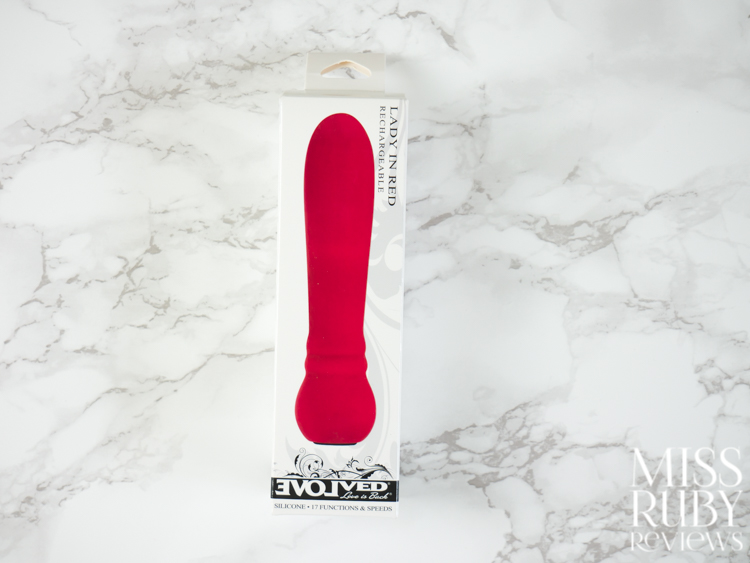 The Evolved Lady in Red is packaged in a simple black and white box. The packaging is not at all fancy but, then again, the price is low.
Inside the box, you receive the Lady in Red vibrator, a USB charging cord, instructions, and a 5-year warranty card.
No storage pouch is included. If you'd like a specific toy bag/case for it (not necessary, but always nice), you can browse for some here.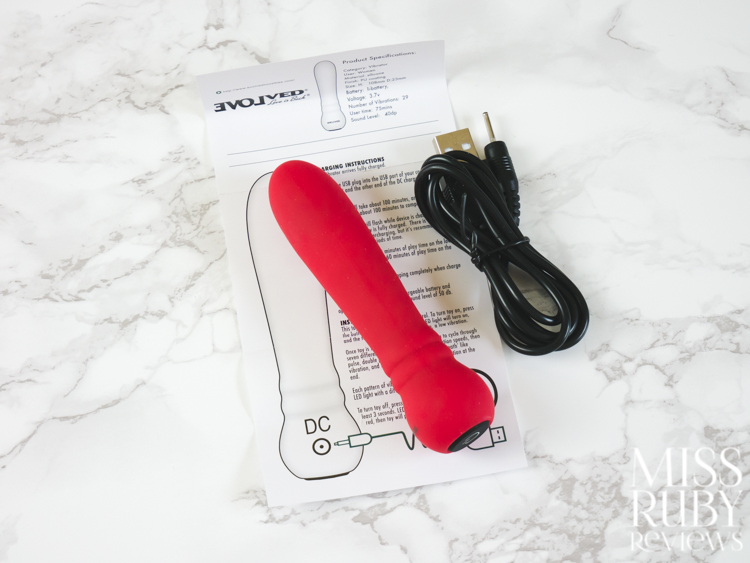 Material and Care
The Evolved Lady in Red is coated in silicone, making it bodysafe. This particular silicone finish is matte and silky to the touch.
The Evolved Lady in Red is fully waterproof and submersible. To clean, I rinse in warm, soapy water before and after each use. You could also add a dedicated sex toy cleaner if you want. Allow to air dry before storing it away.
If you'd like to use lubricant with this toy, choose a good quality water-based lube like my favourite basic Sliquid H2O or vegan Wicked Simply Aqua.
To recharge the Evolved Lady in Red, use the needle end of the charging cable (included) and plug that into the hole on the side near the bottom. Plug that cord into your computer or a USB wall adapter. This toy takes about 100 minutes to fully charge and you get 60-75 minutes of playtime from that (depending on intensity level).
My Experience with the Evolved Lady in Red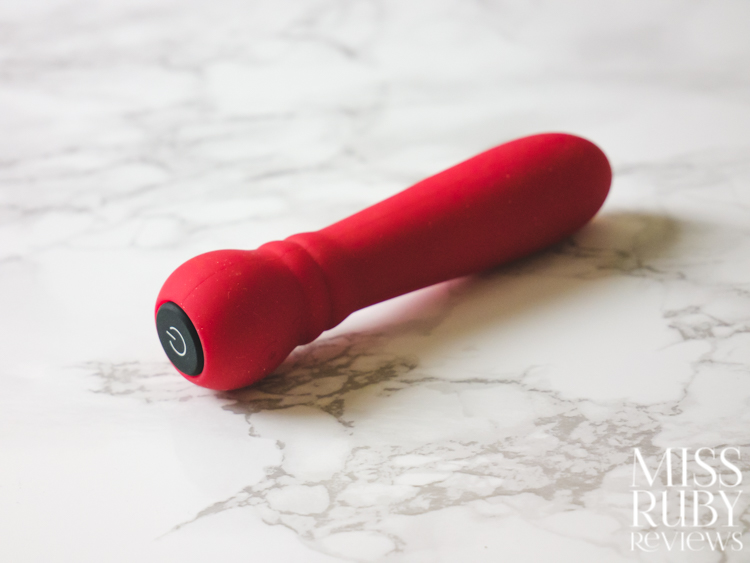 The Evolved Lady in Red has a lot of things going for it — for $49, it's an attractive, bodysafe, waterproof and rechargeable bullet vibe.
That's its on-paper specs — but how does it hold up in real life?
The Evolved Lady in Red is decently strong, especially at its top level. I rate it at about 7/10 for strength. The vibration quality, though, is quite buzzy instead of rumbly. While this is good enough for my clitoris, my hands aren't a fan — they feel overly-buzzed after only a few minutes of holding it (if you have arthritis or Carpal Tunnel issues, you will want to stay away from this one).
There are 17 vibration modes in total (3 steady states and 14 patterns). I have to say, so many modes never work well on a single-button design. If there's a particular pattern you like somewhere in the middle there, there's a lot of clicking to get to it, and you can't go backwards if you pass by it accidentally. Any single-button vibrator with lots of patterns has this issue, so this isn't a problem specific to this toy — but it can be annoying.
I do appreciate that it's a fairly quiet toy, though — it won't be heard through closed doors, so it's very discreet if you have roommates.
Evolved Lady in Red vs FemmeFunn Ultra Bullet
I got the Evolved Lady in Red ($49) in the hopes that it would be similar in amazingness to the FemmeFunn Ultra Bullet (also $49, and I reviewed it here). I'd read on another blog that they were essentially the same toy, so that got me pumped.
In my experience, they are not particularly similar. Their exterior shape is the same (although the Lady in Red is a couple of millimetres smaller). But the similarity stops there.
Compared to the FemmeFunn Ultra Bullet, the Evolved Lady in Red has a much higher vibration frequency. This means that it's buzzier and its vibrations are surface level and shallow in comparison to the Ultra Bullet. This has real drawbacks when it comes to pleasure — the shape of the body works for me because of its pinpointed tip, but I personally find that orgasms with the Evolved Lady in Red are a lot harder to get, and aren't nearly as powerful, as with the FemmeFunn Ultra Bullet.
This is frustrating. They're the same price and look so similar. And I'm always worried that the FemmeFunn Ultra Bullet will be discontinued (because, like TV, independent gems are always cancelled too soon) so I was hoping this would be an adequate replacement. But it really isn't.
That isn't to say that the Evolved Lady in Red is a bad bullet vibrator. It isn't. It's just hard for me to recommend it when I know that better alternatives are available.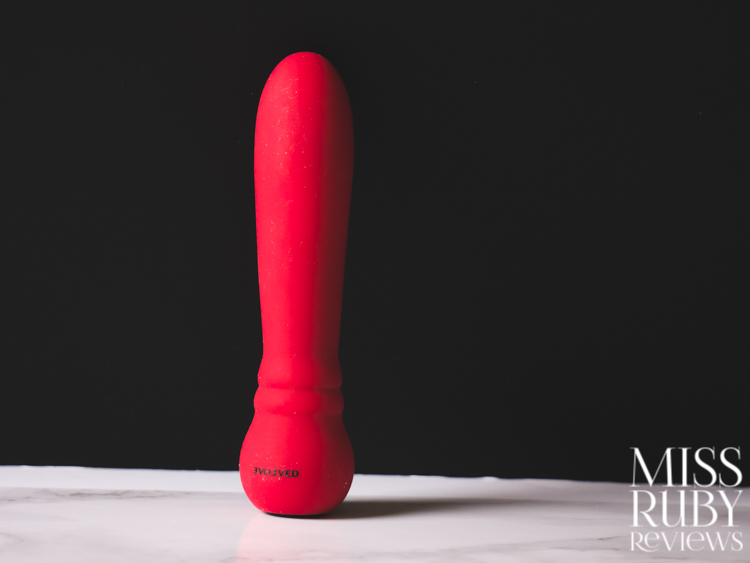 Evolved Lady In Red Review – Overall Thoughts
The Evolved Lady in Red is one of those bullet vibrators that sounds great on paper, and even delivers decent strength, but that I still find hard to recommend.
Yes, it's silicone, waterproof, USB rechargeable, and has an amazing 5-year warranty. But, while it does have strength, it really will only be best suited to people who prefer buzzier sensations. If you're a rumble queen, opt for the FemmeFunn Ultra Bullet or We-Vibe Tango X instead.
You can pick up your own Evolved Lady in Red here! Why do I like Peepshow Toys? They ship internationally, only carry body-safe products, and you can get a 10% discount off your whole purchase with coupon code RUBY. 

See below for my Evolved Lady in Red review breakdown.

Evolved Lady in Red Bullet Review Summary
Overall thoughts - 6
6
$49
PROS
Moderately strong
Silicone
Waterproof
Rechargeable
5 year warranty
CONS
Buzzy motor
Buzzy vibrations transfer throughout handle
One button design can get annoying when cycling through all 17 modes
Shop Now