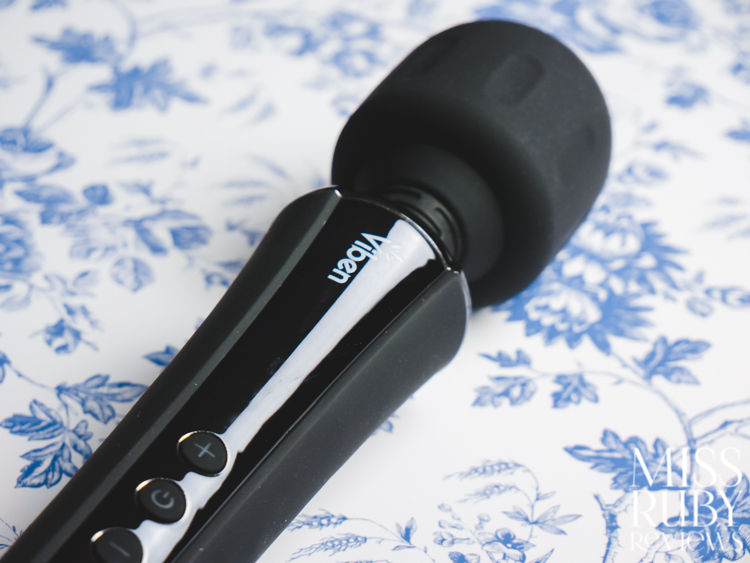 A full-size, cordless, rechargeable wand for only $84.99! Read on for my Viben Obsession Wand review!

Design | Accessibility | How to Use | Packaging | Material and Care | My Experience | Overall
Design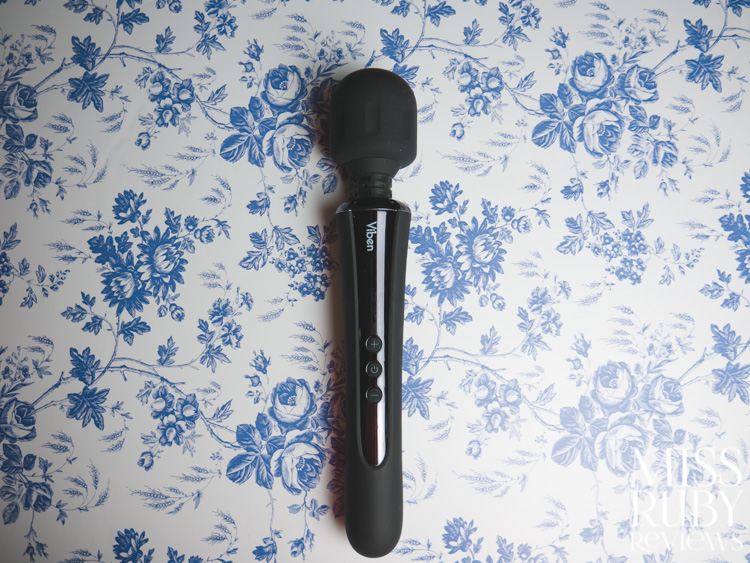 The Viben Obsession Wand is a full-size cordless wand that snagged my attention due to its price. At $84.99 (plus 10% off when you use my coupon RUBY at this store), it's one of the most inexpensive finds I've come across. It's big, cordless, rechargeable, water-resistant and comes with a bodysafe silicone head.
It's also from a brand I'd never heard of, Viben, so my interest was piqued.
The Viben Obsession Wand is just over 12″ long, making it just a smidge shorter than the Magic Wand Rechargeable (a solid gold standard to compare any wand to).
The head is a classical oblong, wide and spacious for broad-style stimulation. A flexible neck lies below the head, bending and flexing during use. The body is long and slim and mostly plain, save for the shiny black strip down the middle that holds the control buttons.
I opted for the elegant black colour, though the Viben also comes in purple. The mixture of matte and shiny black is really sleek and stunning.
Overall, it's an aesthetically pleasing design.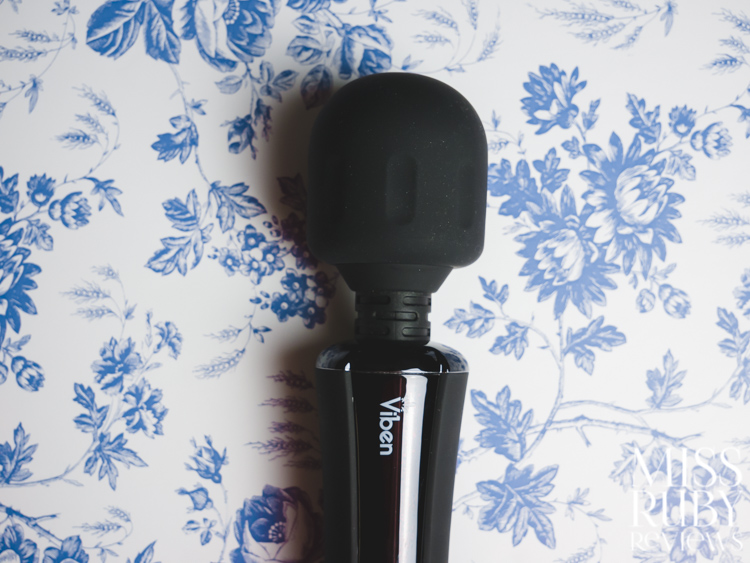 Accessibility
This section is to help folks determine if they might have any issues using/accessing the Viben Obsession Wand.
Size: The Viben Obsession Wand is a full-sized cordless wand. It's just over 12″ long (total). The head is 6cm wide and 6.5cm tall.
Weight: My scale says this is 420 grams. It's not particularly heavy for a full size wand.
Buttons: There are three round control buttons: (+), (Power) and (–). The buttons are 10mm wide, 1mm tall, and sit 6mm away from each other. All three buttons take moderate pressure to press and make a nice loud 'click' noise.
Vibration Transfer: Relatively few vibrations transfer to the bottom of the handle. Viben states that there are no vibrations that transfer to the handle, but there are some. It's a minor amount, but my hands do eventually feel a bit numb when holding it.
Visual notes: On my black model, the black control buttons sit against a black surface, so they're not in high contrast visually. However, sensation-wise, they contrast strongly against the shiny smooth ABS plastic below them.
Price comparison: At $84.99 USD, this is a great price for a full-sized, cordless wand.
How to Use the Viben Obsession Wand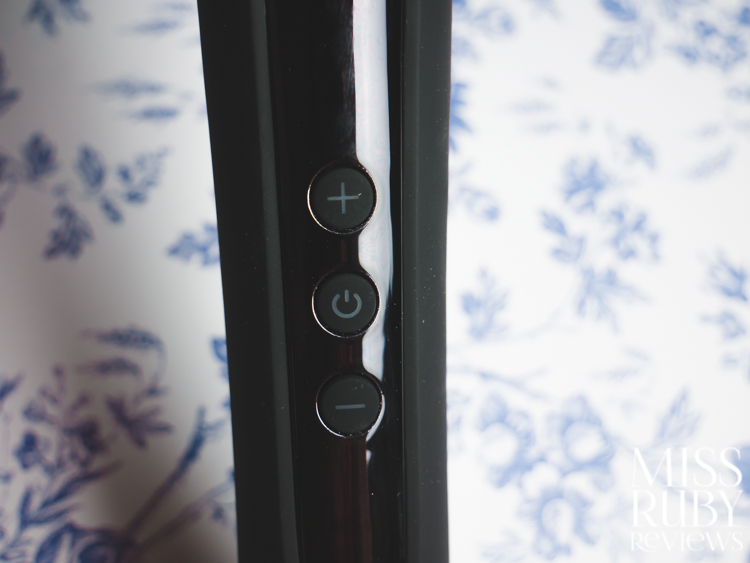 The Viben Obsession Wand is a wand-style vibrator designed for external use (i.e., on the clitoris, vulva, or penis).
To turn it on, press the middle Power button. It'll start on its lowest mode.
Press the + and — buttons to cycle through the 8 functions.
There are 3 steady states and 5 patterns. All patterns vibrate in the top strength, and once you reach the 8th function you need to power off and on again to get back to the first mode.
To turn it off, tap the middle power button again.
Packaging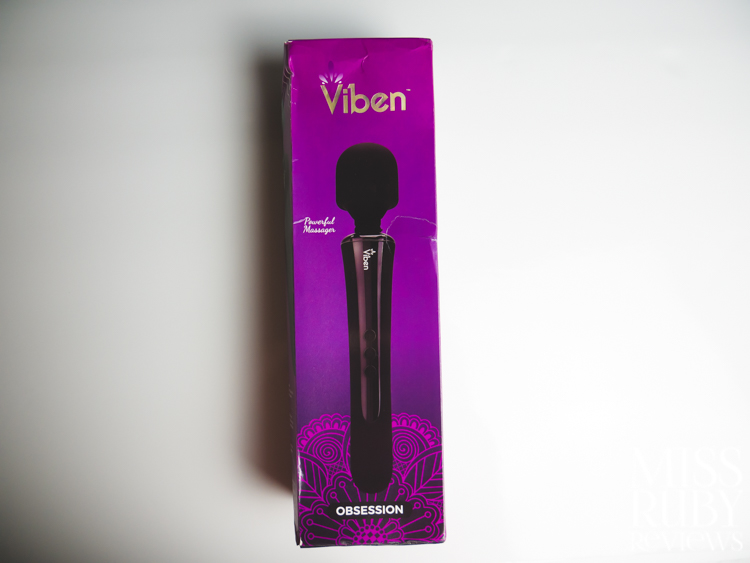 The Viben Obsession Wand arrives packaged in a purple box. The packaging seems to be on the lower end of quality — my box arrived a little damaged (although the contents were fine).
Inside the box, you receive the wand, a sheet of instructions, and the USB charging cable.
Complaint: the sheet of the instructions was confusing. It mentioned that you can "Remove Obsession's silicone massage head covering and clean in-between use". It also suggested you "Use the storage pouch provided." Neither appears possible. These instructions appear to be in error (?). The head is stuck on and no storage pouch is included.
If you'd like dedicated storage, check out Peepshow Toy's toy storage options.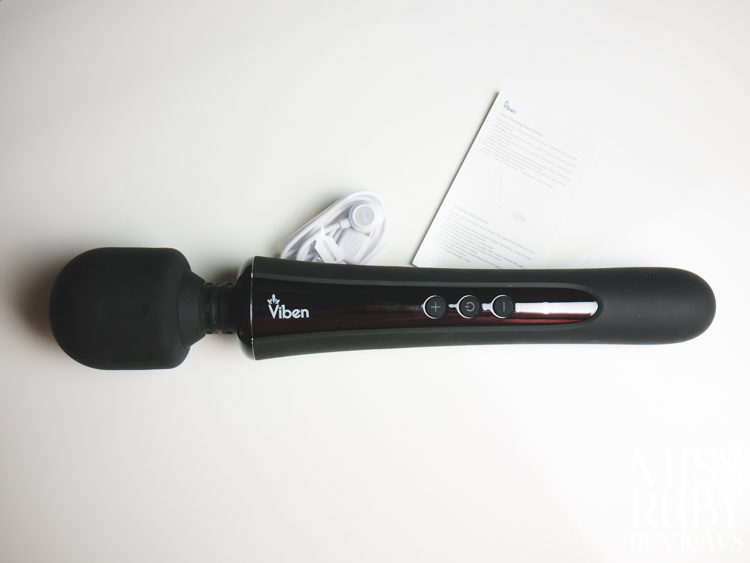 Material and Care
The Viben Obsession Wand is made from silicone (the head and most of the body) and ABS plastic (the decorative strip down the body). This makes it bodysafe. This toy's silicone (like many) is matte and draggy. It attracts fine amounts of dust and lint, so you'll need to rinse before each use.
The Viben Obsession Wand is water-resistant, not waterproof. Do not submerge it.
To wash, I rinse the head carefully with warm, soapy water before and after each use. If you'd like to add lubricant (which I recommend), try a good quality water-based lubricant like my favourite Sliquid H2O.
To charge, connect the magnetic USB charging cable (included) to the two metal pins at the base of the toy. Connect that to your computer or a USB wall adapter. A full charge takes about 3 hours and gives you about 1 hour of playtime. The instructions say that the wand is supposed to blink while charging, but mine didn't.
My Experience with the Viben Obsession Wand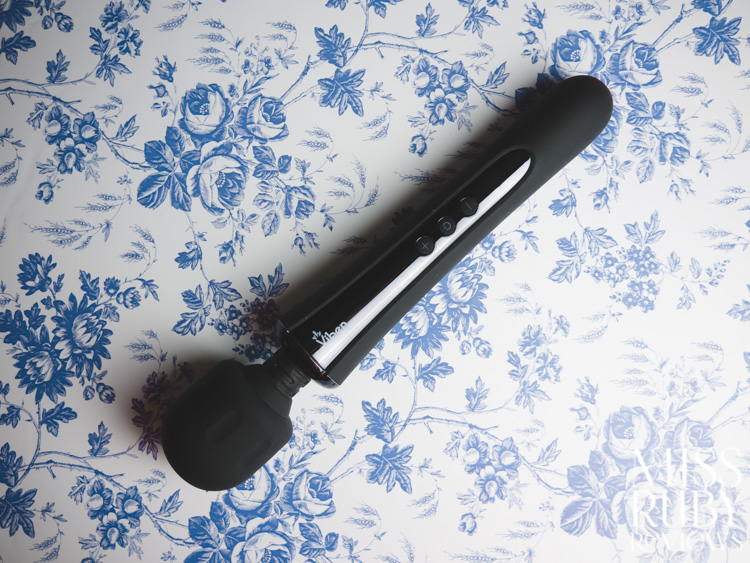 The Viben Obsession Wand is good for its price, but it's not without its caveats.
When it comes to this particular list of features, this toy is one of the cheapest wands out there. It's full size, which usually comes with a HUGE price tag, but here you get a full broad-style stimulation experience at a lower price point. It's also cordless and rechargeable, which still (to this day) is somewhat uncommon for full-sized wands. And it's silicone. All for $84.99.
A price this low is pretty rare. To put things in perspective, the We-Vibe Wand (an amazing wand with a waterproof body) is a whopping $180, well over 2x the price of this one. The Magic Wand Rechargeable (also amazing, but not waterproof) is $130. So $84.99 is really a great option for those on a budget.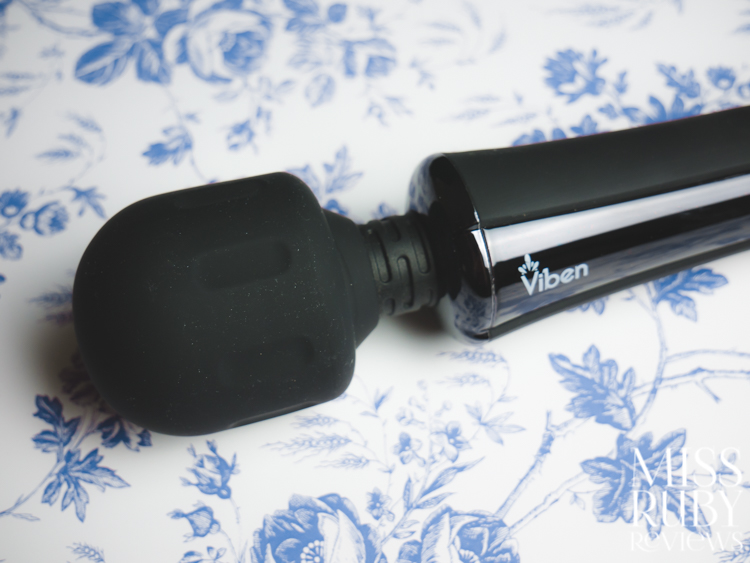 So the price is right, but how does it perform?
The Viben Obsession Wand performs great. It's powerful and can easily bring me to orgasm. The broad style head takes no prisoners: it's fantastic for covering large areas of the vulva at once. This is great if you like your vulva stimulated at the same time as your clitoris; just use the longer side of the head (yes please!).
The vibrations are quite rumbly too, better than I was expecting. I'd say it's a pinch rumblier than the MWR, though buzzier than the We-Vibe Wand or Doxy.
It's not AS powerful as more expensive options like the MWR or the We-Vibe Wand, but it's damn close.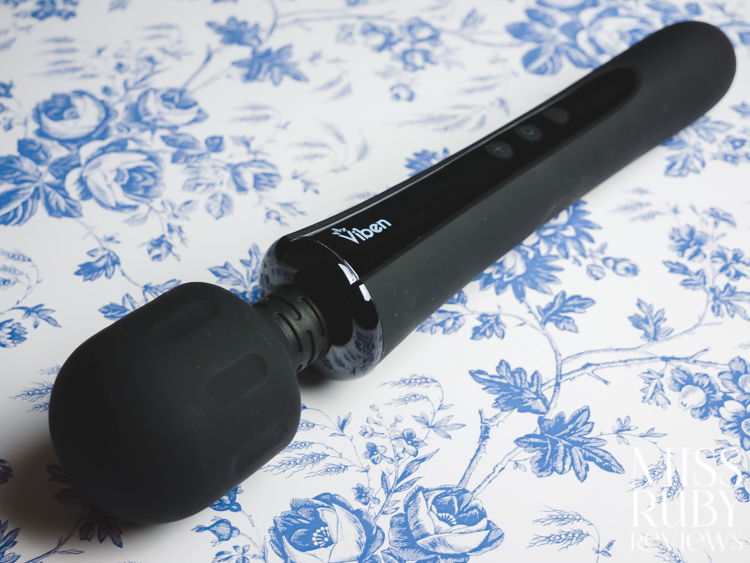 So what's the catch? What are the downsides?
#1. The silicone on head is SO hard. There's really no give or squish, which is something I do truly adore in vibrators. So this is giving you a sheer FIRM, strong experience. Nothing cuddly or squishy about this.
#2. If you have a very sensitive clitoris, there's a good chance that the lowest level will be too strong for you. (In that case, I recommend the We-Vibe Wand for you, which has a wider range of strength).
#3. It's fairly noisy. If you have flatmates, you'll want to wait until they're either asleep or you have a lot of background noise going to muffle the sound. It's not unusual for wands to be noisy, but this can be a concern for some people so heads up.
#4. And, again, in case you missed it above, the instructions have some incorrect information which may be confusing. Just to be clear: (1) The head does not come off; (2) There's no storage pouch included; and (3) No light blinks when it's charging.
Viben Obsession Wand Review – Overall Thoughts
The Viben Obsession Wand is amazing for its price. For $84.99, you get a strong, cordless, full size rechargeable wand. It looks discreet and it feels amazing.
There are some caveats — if you have a very sensitive clitoris, this might just be too strong and hard for you. It's also fairly noisy (which is fairly normal for a big wand), which might put you off.
….BUT for this price, it's hard to be too nitpicky here. This is a great way to leap into the world of big wands without breaking your bank.
You can pick up your own Viben Obsession Wand here! Why do I like Peepshow Toys? They ship internationally, only carry body-safe products, and you can get a 10% discount off your whole purchase with coupon code RUBY. 

See below for my Viben Obsession Wand review breakdown.

Viben Obsession Wand Review Summary
Overall thoughts - 8.5
8.5
$84.99
PROS
Full sized wand
Rechargeable/Cordless
Strong & Rumbly
Inexpensive for this type of toy
Pretty design
CONS
Noisy
Water-resistant, not waterproof
No soft speeds
Inaccurate instruction manual
Shop Now