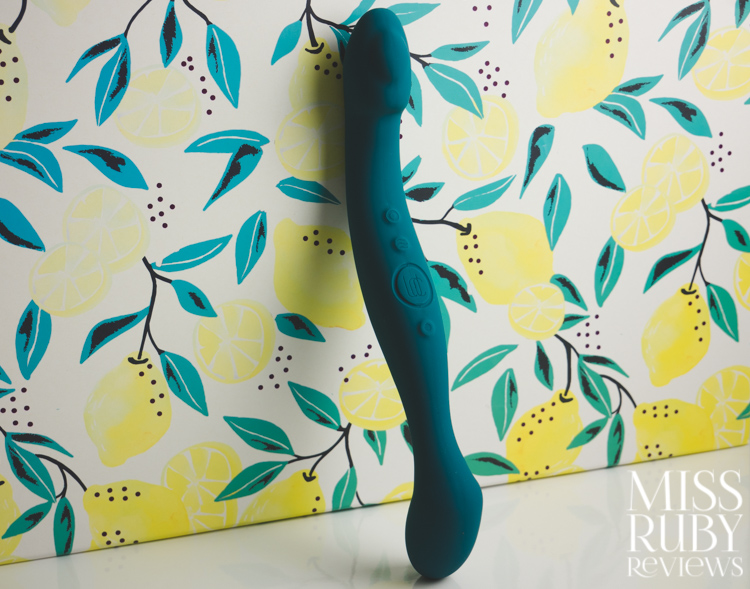 One of the most versatile vibrators I've ever come across. Read on for my Lora DiCarlo Sway Warming Vibrator review!

Design | Accessibility | How to Use | Packaging | Material and Care | My Experience | Overall
Design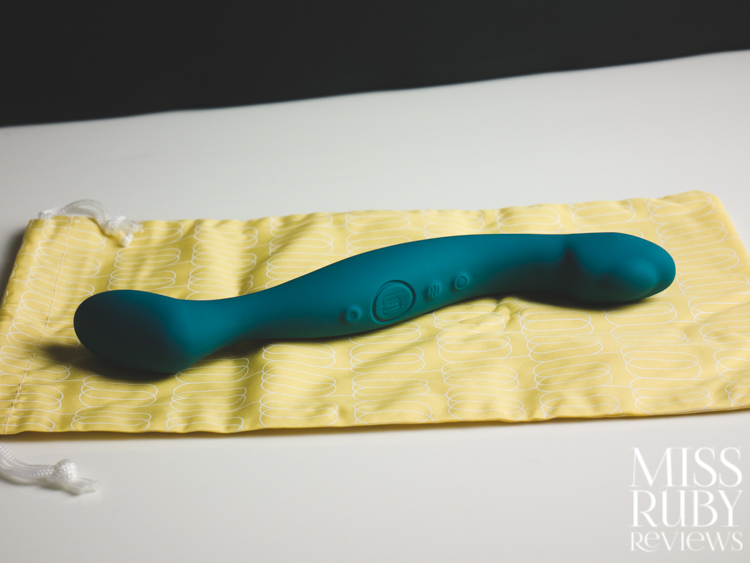 Sometimes vibrators attempt to do too much and they fail to impress. A bit surprisingly, this one succeeds.
The Lora DiCarlo Sway Warming Vibrator is a dual-ended, dual-motor, warming vibrator. That's a bit of a mouthful. Let's break this toy down:
Two rumbly motors (one at each end).
Two distinct heads for targeted stimulation (one at each end).
Two warming zones (one at each end).
This S-shaped vibrator has a gender-neutral, non-phallic, and discreet design that doesn't immediately scream "sex toy." You can use each end upwards or downwards (just flip it around to find the side/angle that feels best), making this a 360° toy.
It boasts a rigid, firm body (no bendiness anywhere, thank goodness!) and the versatile ability to pleasure the G-spot, clitoris, perineum, and prostate.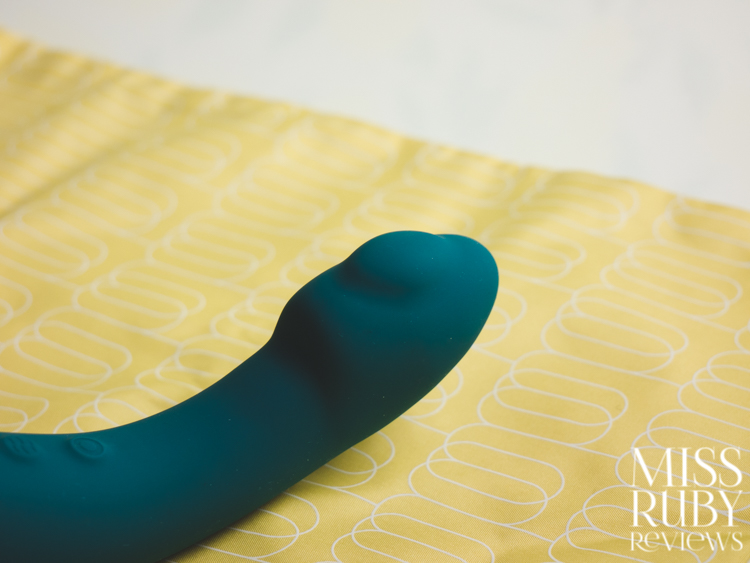 Let's talk about those different ends.
One end is long and oval (and shaped specifically for anal/prostate stimulation, though it also works for G-spot or clitoral). This end gives about 4″ of insertable length.
The other end is shorter with a firm, raised, almond-sized nub; this is great for pinpoint clitoral stimulation. This end gives about 3″ of insertable length.
Both ends are curved/hooked, which makes them much better at targeting the G-spot and prostate.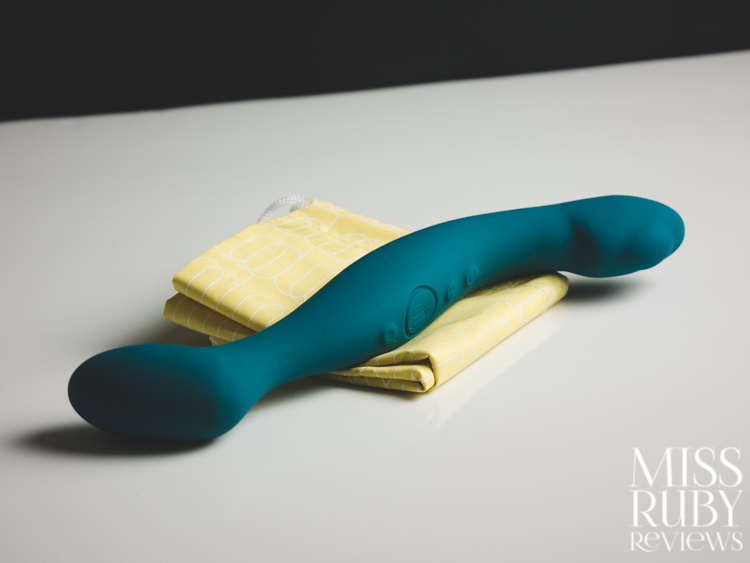 The Lora DiCarlo Sway Warming Vibrator comes in one shade. It's a beautiful, deep peacock blue colour. It's gender-neutral, eye-catching, and I'm so glad that this brand didn't opt for the typical Pink/Purple/Black options.
Accessibility
This section is to help folks determine if they might have any issues using/accessing the Lora DiCarlo Sway Warming Vibrator.
Size: The Lora DiCarlo Sway Warming Vibrator is a long, slim vibrator. By my measurements, it's 23 cm long and 3cm wide (at the widest point of the body). The long head is 5cm long and the short head is 4cm long. You get about 3-4 inches of insertable length, depending on what end you're using.
Weight: At 173 grams, this is a fairly lightweight toy.
Buttons: There are 4 control buttons. The power button is large (18mm) and sits flush against the surface. The remaining three buttons are small (7mm wide and 1 mm tall). The buttons are spaced about 4mm away from each other. All 4 buttons take little pressure to press and make a nice loud "click" noise.
Visual Notes: The buttons are the same colour as the rest of the body, so they're not in visual high-contrast. The largest button is the power button, and the inner small button is the warming button. The two small buttons at opposite ends of each other control the motors (the buttons control the motor farthest away from them, so that when you're inserting the ends the button is in a better spot).
Price: At $226 CAD, this is one of the more expensive vibrators on the market. This is a high-quality vibrator, but it'll certainly take a big chunk of change from your pocket.
How to Use the Lora DiCarlo Sway
The Lora DiCarlo Sway Warming Vibrator is controlled by 4 buttons on the body.
To turn Sway on, press and hold the largest power button. The ring about this button will light up and pulse.
To start warming, press and hold the wavy button (the one just above the Power button). A light will pulse as the Sway begins warming and go solid when it's warm.
Press one or both of the far buttons to start vibrating. The Sway has two motors (one in each end) that are controlled independently.
Keep tapping the vibration buttons to cycle through the 7 intensities and 3 patterns.
If you want to quickly get to the lowest mode, just tap the big Power button again.
To travel lock this toy, press and hold the Power button and a vibration button for 3 seconds. Do the same to unlock it.
The Lora DiCarlo Sway is designed to be used vaginally, clitorally, or anally. Of course, you can also use it to massage nipples or the shaft of a penis.
As there's no flared base, be careful not to insert this anally too deeply (though the S curve does certainly make it safer). If you do plan to use this anally and vaginally over time, Lora DiCarlo recommends using a condom over it for each use.
Packaging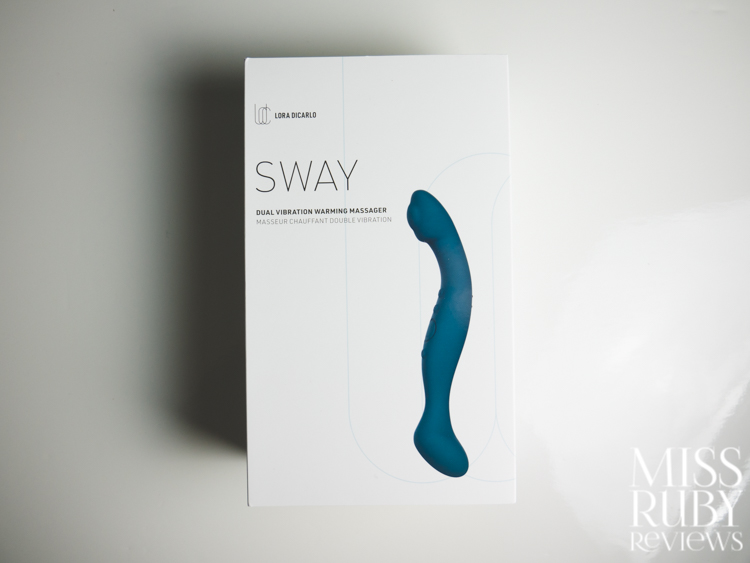 The Lora DiCarlo Sway Warming Vibrator arrives in some of the most exquisite packaging I've ever seen. The outer portion is basic– just a white, simple sleeve. But when you slip the sleeve off, you're greeted with a beautiful yellow box that folds open like a book. The packaging is here is very thick, sturdy, with a high-quality finish and feel.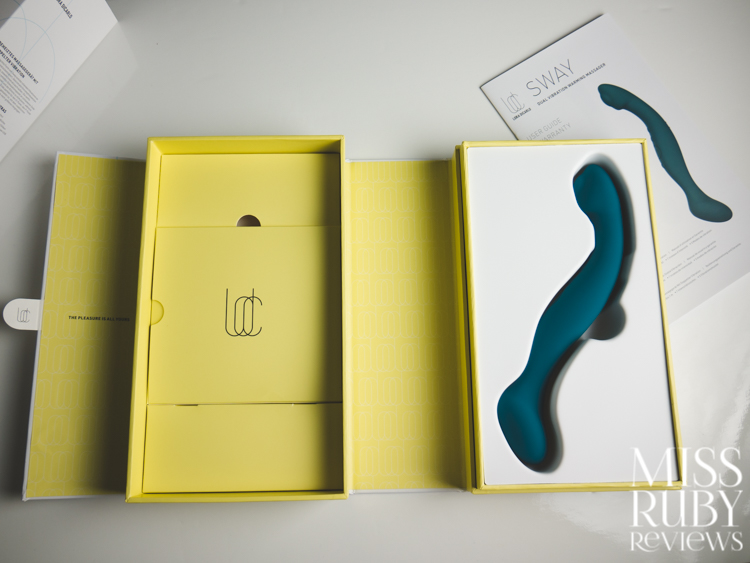 Inside the box, you receive the Sway, a user guide, a warranty card, the white USB charging cable, and a spacious drawstring pouch to store all of it.
I'm a sucker for high-quality packaging, and this packaging makes the Sway very gift-worthy.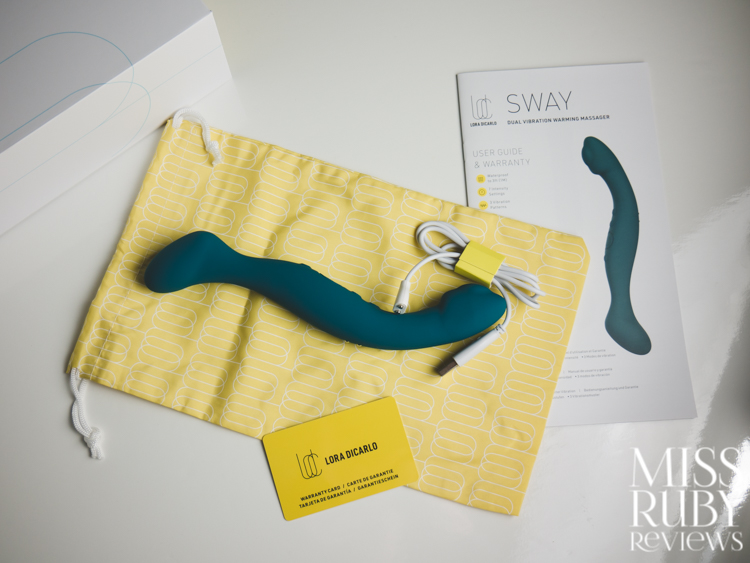 Material and Care
The Lora DiCarlo Sway Warming Vibrator is a bodysafe vibrator coated with medical-grade silicone. Silicone is nonporous and hypoallergenic, making it the best option for a sex toy. This particular silicone has a silky, smooth finish that attracts minimal lint/dust.
This toy is waterproof (IPX7 grade), which means it's fully waterproof and submersible. (Generally speaking, grade IPX7 means up to 30 minutes and a water depth of less than one meter).
To clean the Lora DiCarlo Sway Warming Vibrator, I rinse with warm, soapy water before and after each use. You can also use a silicone-safe toy cleaner, though I'm a fan of just normal, mild bar soap. Lora DiCarlo recommends then wiping it dry with a lint-free cloth, but I just let mine air dry for a couple of hours before I store it in its storage pouch.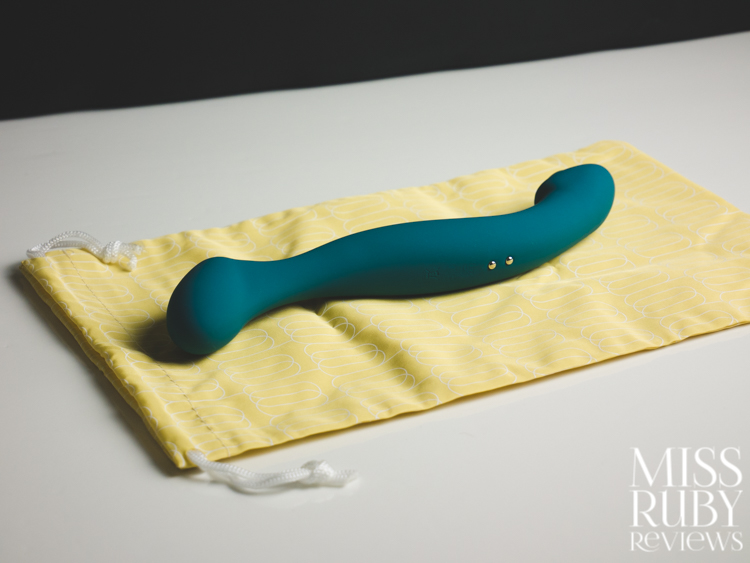 To charge your Lora DiCarlo Sway Warming Vibrator, connect the magnetic USB charging cord (included) to the 2 metal pins at the back of the body; plug that into your computer or a USB wall adaptor. A full charge takes about 2 hours and gets you up to 1 hour of playtime. If you want to quickly test to see how charged it is, just plug it in and look at the circular ring that lights up around the main button; only a quarter of the ring lights up when it's 25% charged, with more of the ring lighting up towards 100%. I've never seen that before and thought that was neat.
This toy will also give you a low power warning if the toy only has <5 minutes of playtime left. The light ring will flutter a bit as a warning.
If you're worried about the safety of the warming function, Lora DiCarlo included a safety auto-shut-off.  When the warming feature is turned out without any vibration, the motor will assume it was in error and turn off within 15 minutes.
If you'd like to use lubricant, I suggest opting for a water-based lubricant (I particularly like the ones by Sliquid).
Lastly, this toy comes with a 1-year warranty against defects. Be sure to register your product using the included warranty card.
My Experience with the Lora DiCarlo Sway Warming Vibrator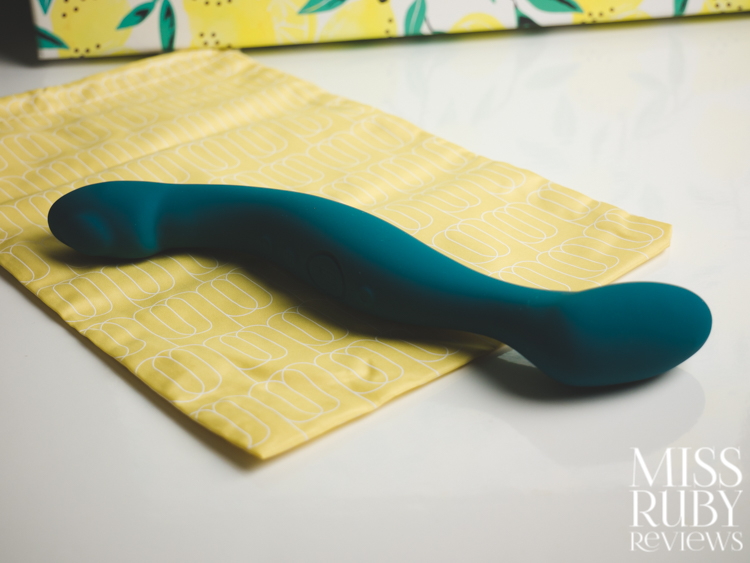 I have a confession: when I first noticed the Lora DiCarlo Sway Warming Vibrator at xoxtoys.ca, I was a bit skeptical that this would be any good. When sex toys are this expensive (over $200 CAD!), I get suspicious and fairly critical. I know that this brand has garnered some hype in the past, but how could a vibrator be good or special enough to be that pricey?
To my pleasant surprise, the Lora DiCarlo Sway Warming Vibrator has totally knocked my socks off.
For me, it's like 4 sex toys in one. 
First, the Lora DiCarlo Sway Warming Vibrator acts like two clitoral vibrators. The pin-point end gives me the narrow, focused vibrations of a lipstick bullet vibrator. That nub is the perfect size and shape to zero in on the clitoris and deliver firm, unrelenting stimulation. The opposite end gives my clitoris the wide, broad stimulation of a petite wand. So clitorally, it's a 2-in-1 toy already, and clitoral orgasms come so fast.
When it comes to vaginal stimulation, I am SO in love with those ends.
The nubby, pinpoint end is curved and hooked enough to find my G-spot and dig right in. I don't even have to thrust too hard to get the stimulation I need.
The longer, broader end is great for G-spot stimulation when it's turned upwards, and great for A-spot stimulation when it's flipped downwards. The A-spot stimulation with this end is shockingly good.
This toy is deliciously firm and rigid, so I can get VERY firm pressure when I want it. It feels amazing.
For those of you who enjoy anal stimulation, you'll get all of these plus anal pleasure, so it'll be even more versatile for you.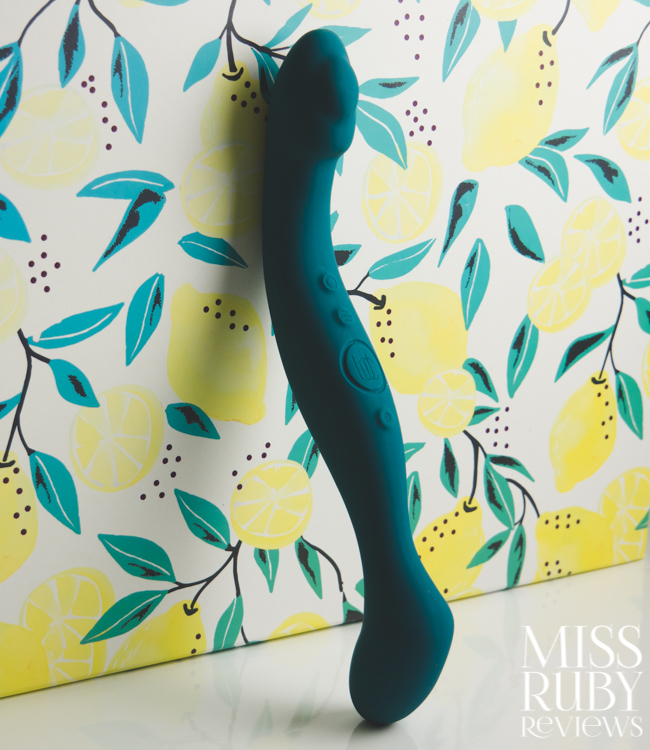 Vibrations and Sound
The quality of the vibrations is good. You get 7 levels of strength for each end. I'd say the max power level is moderately strong. You're not going to get We-Vibe Wand strength levels here, but you're still getting a lot of oomph and they're a lot stronger than I expected from such a slim toy.
The vibrations are certainly strong enough for me to orgasm quite quickly, and I think they'll even appease most power queens.
Sound-wise, there's not much to worry about. Even with both ends on at max strength, you can't hear this through a closed door.
A note about the Warming function
I adore a sex toy with a good warming feature, and the Lora DiCarlo Sway Warming Vibrator gives me two warming ends! The ends warm up completely in a mere 3 minutes and maintain that temperature for as long as you want. They warm to  40°C / 104° F, which is delicious toasty.
Why is a warming vibrator so appealing? Well, not only does it feel cozy, but it increases pleasure as well. Warmth means more blood can rush to the area, which (I find) increases the speed in which I can reach orgasm.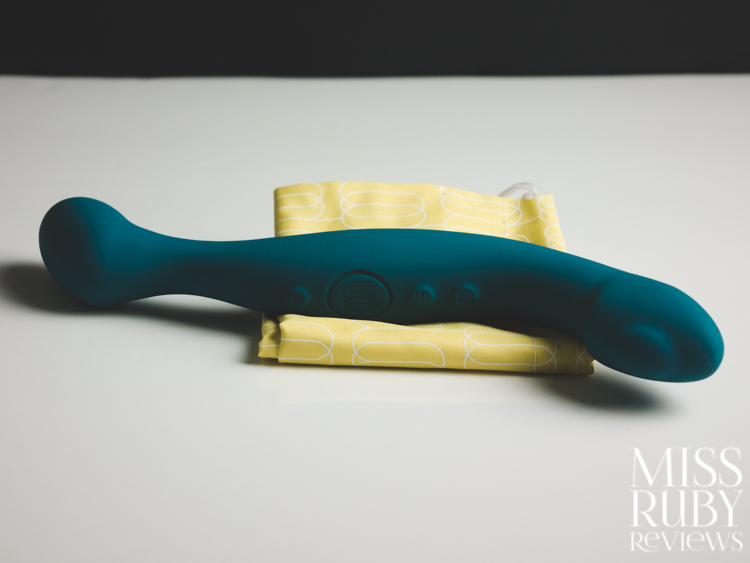 Lora DiCarlo Sway Warming Vibrator Review – Overall Thoughts
The Lora DiCarlo Sway Warming Vibrator is an amazing vibrator that just keeps giving. It offers multiple kinds of clitoral, vaginal, and anal stimulation, two powerful motors, and a great warming system. I love the discreet design and peacock blue colour.
This toy is expensive, but it's a good one and is likely to be one of my top favourite sex toys of the year. I don't say that every day!
You can pick up your own Lora DiCarlo Sway Warming Vibrator here! Why do I like XOXToys? There's free shipping in Canada/USA when you spend $49+, all orders are shipped and billed discreetly, and they have an XOX Cash Rewards Program so you can earn coupons for your next order!

See below for my Lora DiCarlo Sway Warming Vibrator review breakdown.
https://www.xoxtoys.ca/products/lora-dicarlo-sway-warming-massager
Overall thoughts - 9.6
9.6
$226
PROS
Strong vibrations
Warming feature is fantastic
Two heads give you pin-point and broad stimulation
Can be used clitorally, vaginally, and anally
Waterproof
Rechargeable
Comes with 1-year warranty
Beautiful design and colour
Bodysafe silicone construction
CONS
Shop Now