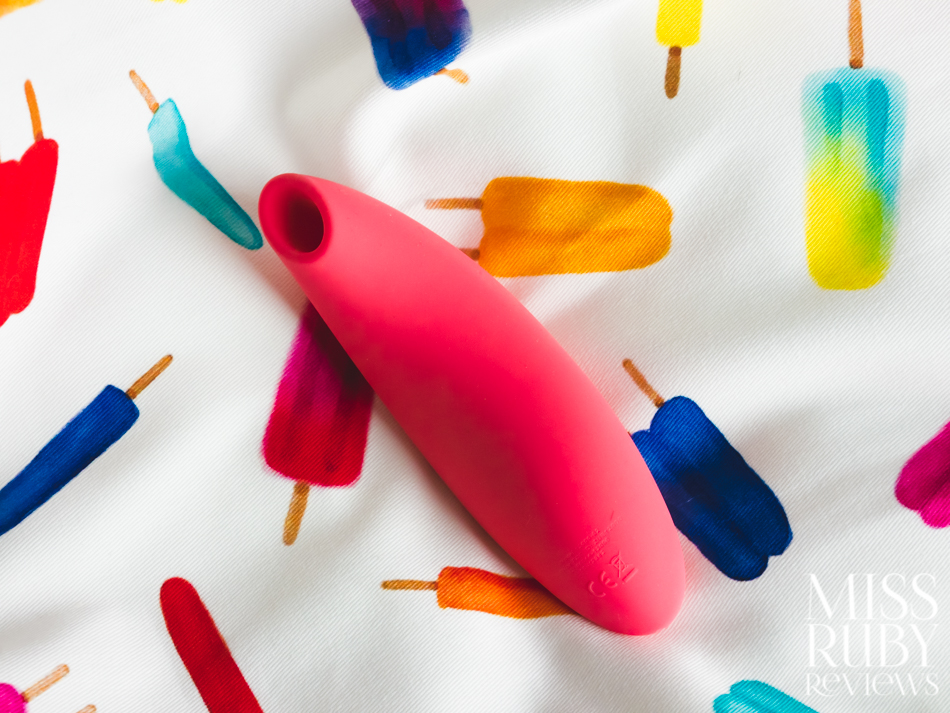 We-Vibe has successfully broken into the pressure-wave market! Read on for my We-Vibe Melt review!

Design | 360° View | How to Use | Packaging | Material and Care | My Experience | Overall
Design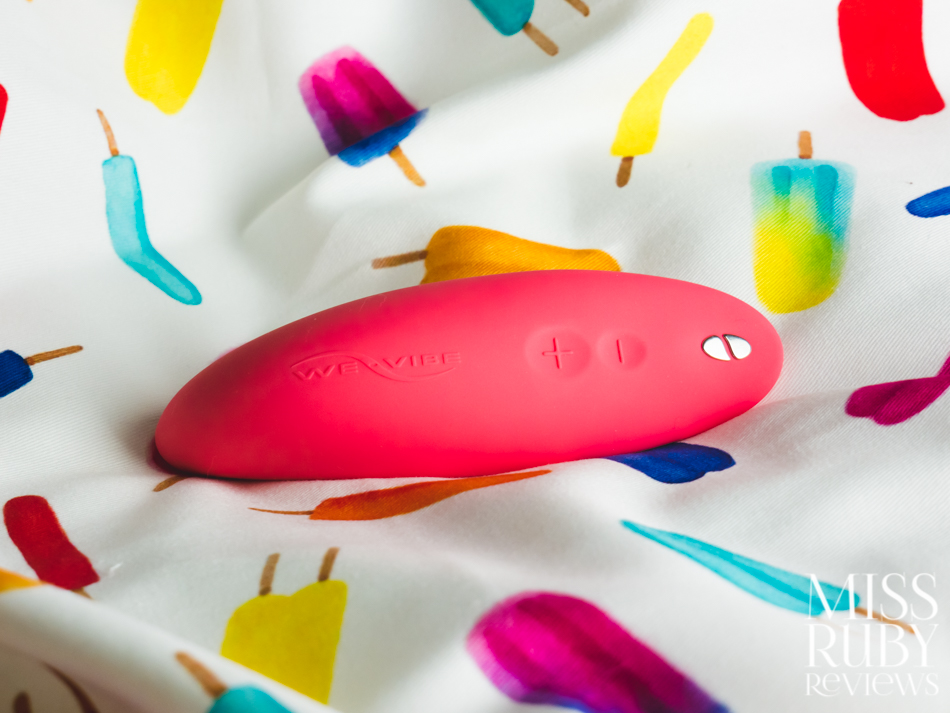 The stunning Melt is We-Vibe's first dedicated pressure-wave / suction toy. Usually, as a company, We-Vibe deals solely in strong, thuddy vibrators like the We-Vibe Tango, Rave, or Sync. The Melt is We-Vibe's first step into the world of pressure-wave toys. This isn't surprising, seeing as they're related (through their parent company) to Womanizer, the successful original brand of suction toys.
The We-Vibe Melt pleasures the clitoris without any direct contact. The rim of the hollow opening encircles the clitoris, so the clitoris touches nothing but air. A pressure chamber inside the toy then creates a series of rapid pressure waves (tiny little micro-suctions) to create a suction sensation.
At first, mostly all you feel is warmth as the suction increases your circulation and encourages your clitoris to engorge, but then orgasms start flipping out of nowhere (at least they do for me). Because there's no physical contract, the clitoris can recuperate pretty quickly and keep going to more orgasms, without any desensitization that can happen with conventional vibrators. Sound wonky? Maybe. But it works.
This technology isn't brand new, but We-Vibe certainly has prettified things.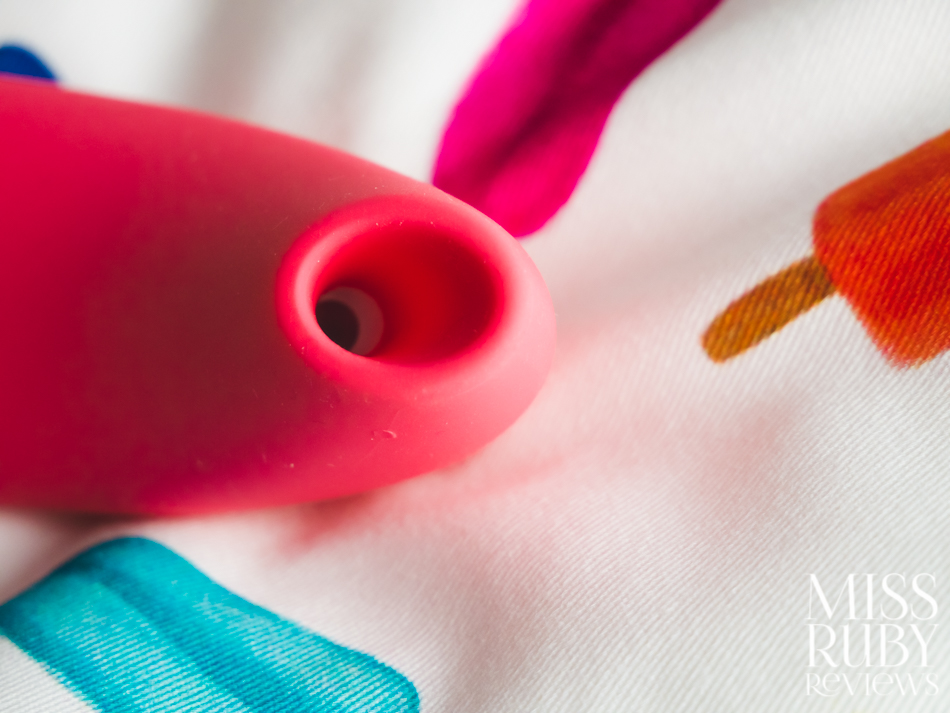 Above: The We-Vibe Melt's stimulation tip, which provides touchless stimulation. 
The We-Vibe Melt is seamless, streamlined, and slender. It's a beautiful peachy pink colour (reminds me of the colour of grapefruit), and it sits comfortably in your hand.
While the body itself is firm, the rim around the hollow opening is squishy and bendable, which is great for a comfortable fit.
It's also waterproof and rechargeable and screams quality. There's nothing flimsy or cheap about it — this thing looks and feels like it's made to last.
Though the name suggests that this toy might heat up as some other products can, the We-Vibe Melt does not have a heating function.
360° View
Click and hold the image above to move it around.
How to Use the We-Vibe Melt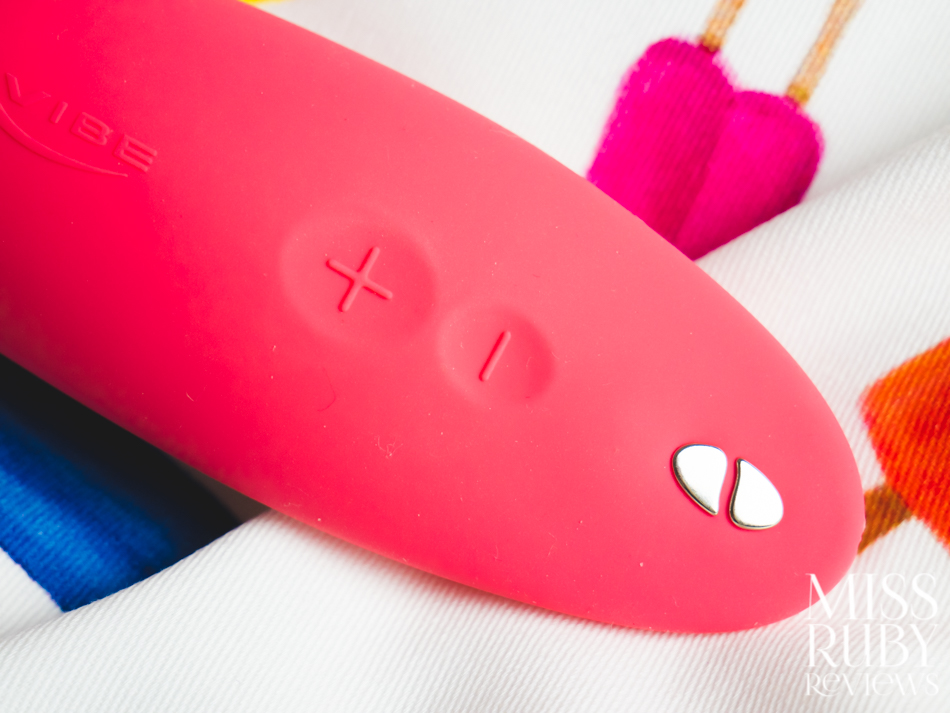 Above: The Melt's + and — buttons and its metal charging point
Touch controls:
Place the We-Vibe Melt so that your clitoris is nestled inside the hollow opening. The more airtight the fit, the better.
To turn on the We-Vibe Melt, tap the + button. The Melt will turn on at its lowest strength.
To increase speed and cycle through the 12 intensities, tap the + button again or hold it down to ramp up to full speed.
To reduce speed, hit the — button.
To turn off, press the — button for a few seconds.
We-Connect App control:
Download the We-Connect app on your smartphone and follow the on-screen instructions to pair.
The App lets you have touch-screen control and a wide range of intensity levels.
You'll need to keep within BlueTooth range (30 ft of direct line of sight and 20 ft of 360-degree range)
If you want your partner to control your Melt, they'll also need the We-Connect App on their smartphone — connect with them from anywhere around the world by sending them an invitation.
Packaging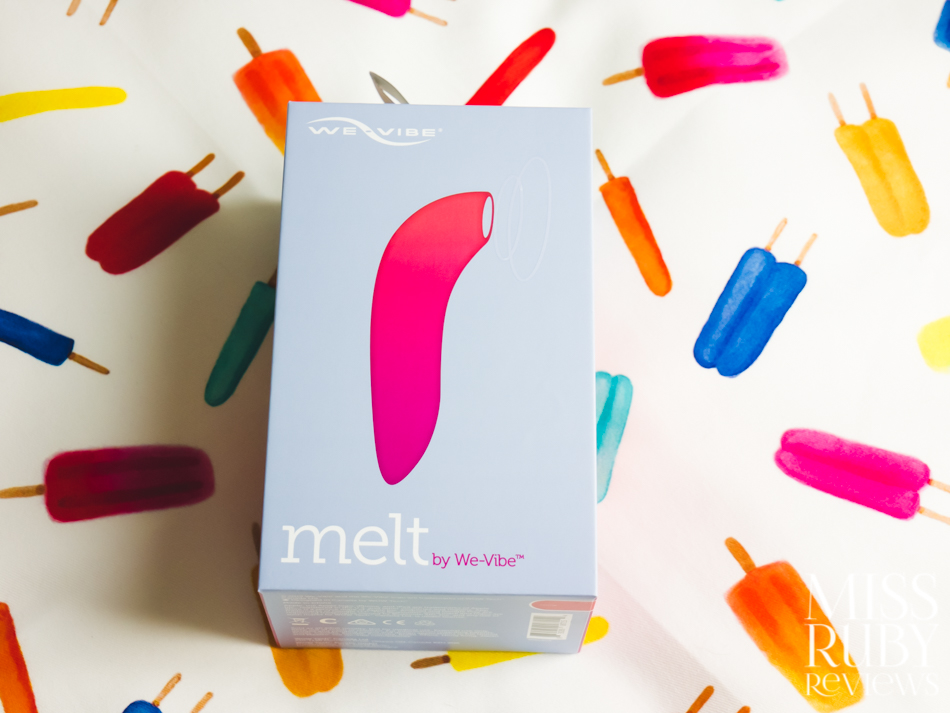 Above: The packaging of the We-Vibe Melt
The We-Vibe Melt comes packaged in a pale periwinkle blue and peachy pink box. It's simple, yet fun and perky and I'm a fan.
Inside the box, you receive the Melt, a sample packet of We-Vibe's lubricant, a USB charging cable, a short instruction manual, and a white satin storage pouch to house everything.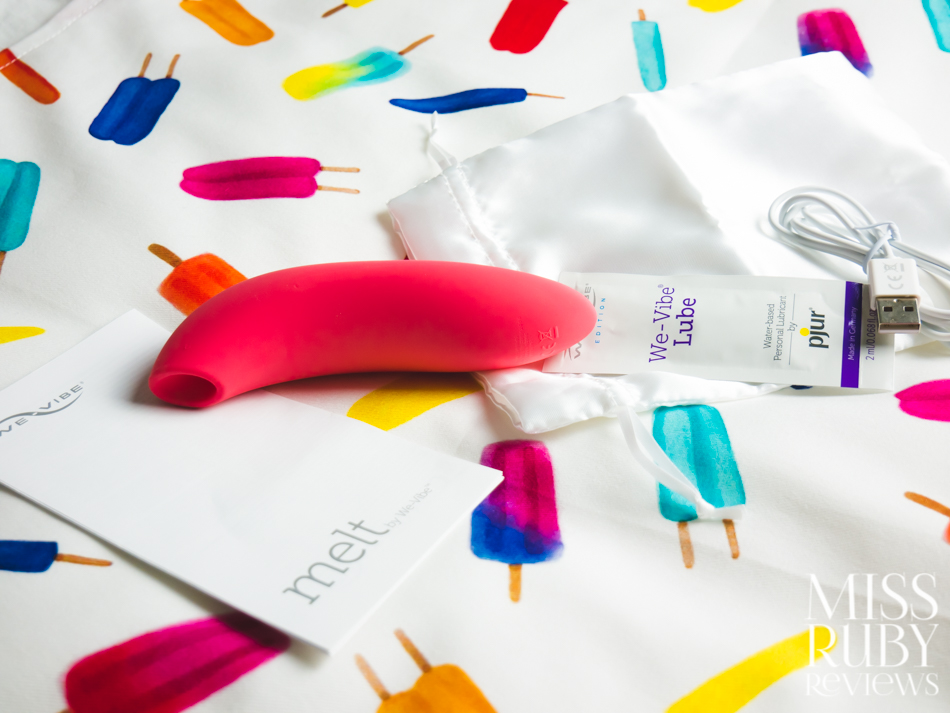 Above: The We-Vibe Melt's box contents
Material and Care
The We-Vibe Melt is made of premium silicone, making it non-porous, non-toxic, and an ideal material for a sex toy.
For normal, everyday cleaning, I just wash mine in warm, soapy water before and after each use. You can also use a dedicated sex toy cleaner if you have one on hand.
To charge your We-Vibe Melt, use the included USB charging cable. Connect it magnetically to the metal plates at the base of the Melt. A full charge can take up to 2 hours.
I highly recommend you use a good quality water-based lubricant with this toy, such as my favourite Sliquid H2O.
There's a 2-year warranty against manufacturing defects, which is fantastic.
My Experience with the We-Vibe Melt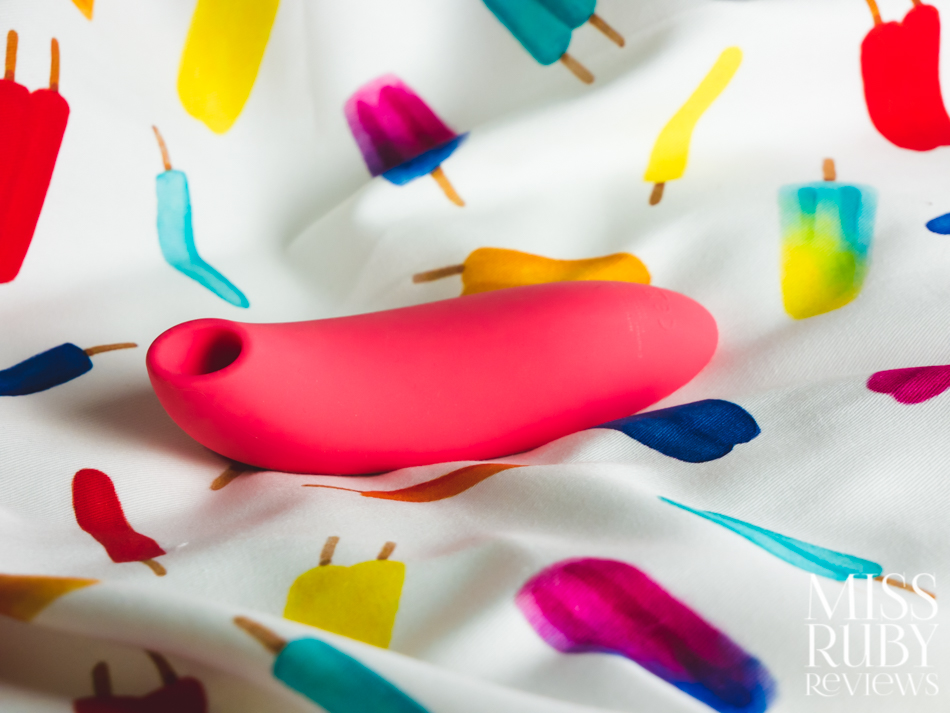 On principle, I try to get my hands on everything We-Vibe releases. They're arguably my favourite brand. Their product history is nearly flawless in terms of amazing, pleasurable, strong toys, so I knew I wanted to try the new Melt out.
In terms of strength, the We-Vibe Melt doesn't disappoint. Even its most gentle levels are attention-grabbing, and the highest speeds are incredibly strong. We-Vibe has managed to bring their trusty "thuddy" abilities to suction toys —  each pulse feels like a satisfying thud.
It's also amazingly quiet. At full speed and once it's pressed against you, any noise is mostly muffled. No one can hear this through a closed door or walls, so this is fine to use if you have roommates.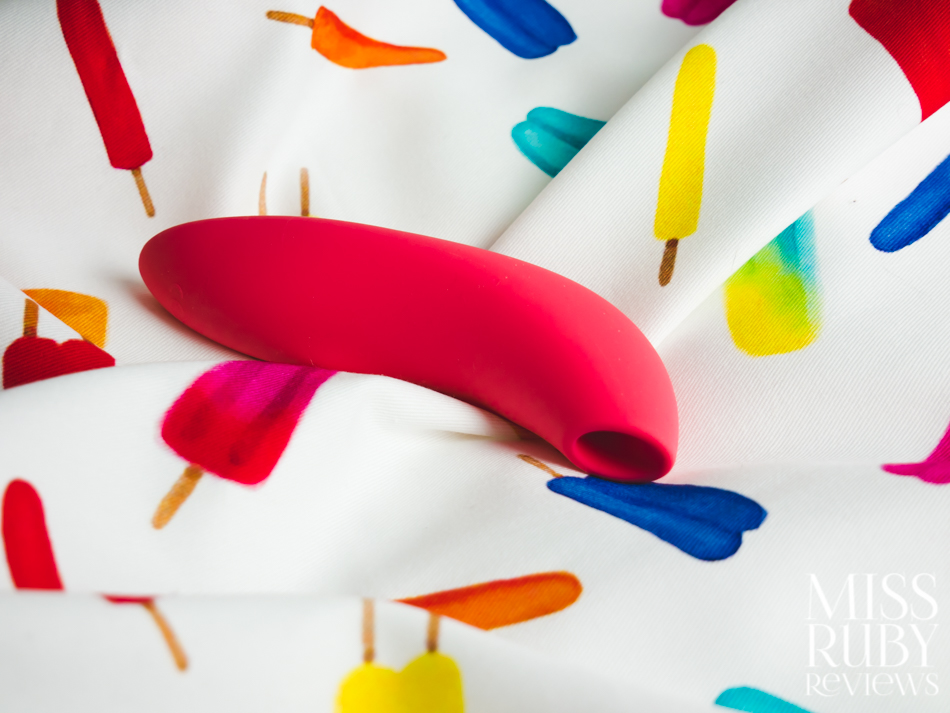 We-Vibe has tried to set the Melt apart from other pressure-wave toys by marketing this as a "couple's toy." But honestly, there's nothing stopping you from using this without a partner. I repeat, you do NOT need a partner to buy this toy. This, like any toy, can be used solo. The first time I tested it, I had 4 body-rocking orgasms in 5 minutes, all by my happy lonesome self, so don't let not having a partner prevent you from considering this toy.
Is this toy's marketing as a "couple's toy" gimmicky?
Well, yes, because any pressure-wave toy can be used during PIV sex. I've used other pressure-wave toys (Womanizer and Satisfyer models) during PIV sex with no problem. They never got in the way with most positions (though missionary can be tough). And while the Melt is sleek and visually streamlined, it takes up roughly as much space as other brands of toys during PIV sex. So shape/design alone doesn't warrant any special "couples" designation, in my opinion.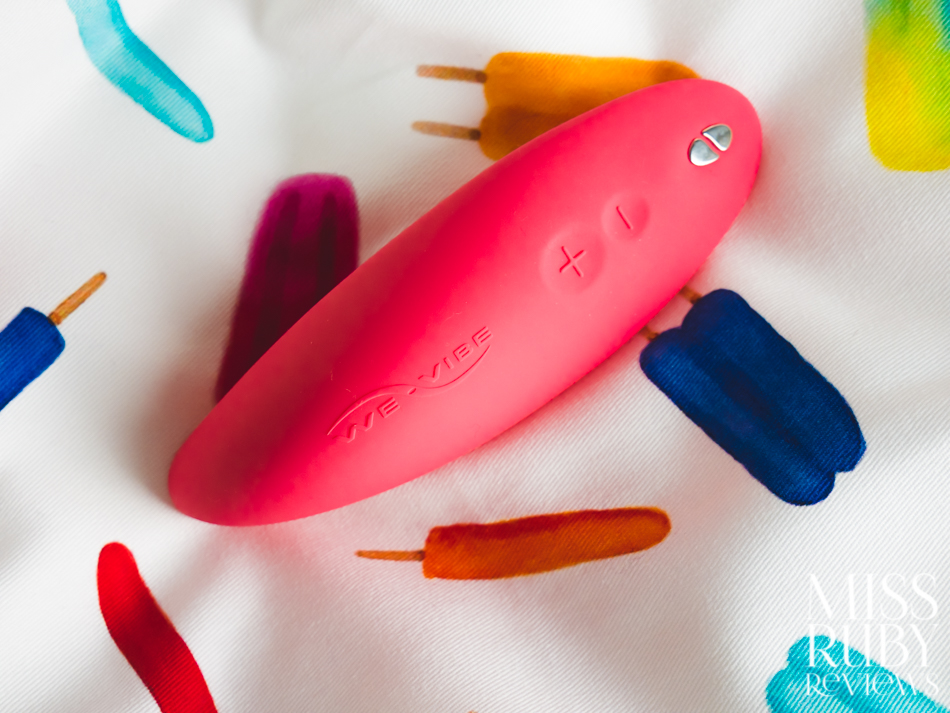 Where the We-Vibe Melt does shine as a partner toy is in its We-Connect App. The app syncs with the Melt via Bluetooth and your partner can control your toy from anywhere around the world. So, if you're in the long-distance relationship, or just want your partner to tease you from across the room, you can do that here. In my opinion, this alone sets the Melt apart from other pressure-wave toys. So, if you specifically want to experience suction AND you have a partner who wants to control the device, whether from next to you in bed or in a different country, the Melt is a good option to consider.
Overall thoughts – We-Vibe Melt review
Has my We-Vibe Melt review convinced you yet? I'm struggling to find flaws with We-Vibe's new Melt suction pressure-wave toy. It's gorgeous, strong, quiet, rechargeable, bodysafe, and even comes with a 2-year warranty.
I guess one drawback is that it only comes in one colour, this peachy pink shade, rather than a more neutral tone. Still, that's just the way We-Vibe rolls – most of their toys come in only one colour. It's also fairly pricey — at $149 USD, it's more expensive than other popular models like the Womanizer Liberty. You're paying for quality though, and a reputable brand, so I'd argue it's worth it.
In short, I love the We-Vibe Melt, and it's one of my favourite pressure-wave products. You can pick up your own We-Vibe Melt at Peepshow Toys. Why do I like Peepshow Toys? They ship internationally, only carry body-safe products, and you can get a 10% discount off your whole purchase with coupon code RUBY. 

See below for my We-Vibe Melt review summary.
We-Vibe Melt review summary
Overall Thoughts - 9.9
9.9
$149
PROS
Strong
Quiet
Waterproof
Rechargeable
Bodysafe
CONS
Shop Now

Last Updated on March 18, 2023 by Miss Ruby