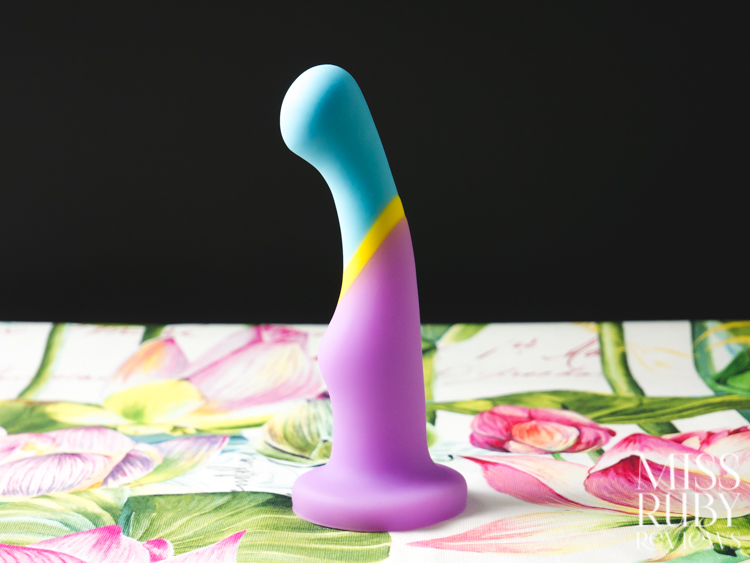 Such a cute, cheap silicone dildo. Who could resist? Read on for my Blush Avant D14 review!

Design | Accessibility | How to Use | Packaging | Material and Care | My Experience | Overall
Design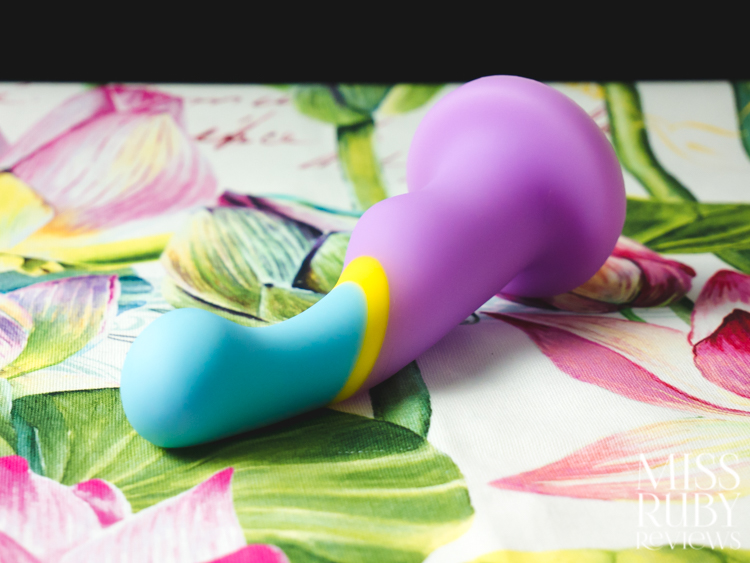 The Blush Avant D14 dildo is a new eye-catching unrealistic dildo by Blush Novelties. A big draw for this toy is its price — at only $29 USD, it's an amazing deal for a high-quality silicone dildo, even at full cost.
In terms of size, the Blush Avant D14 is a small dildo. You have just over 5″ of insertable length, but it's quite narrow (about 0.75″ at the narrow segment of shaft below the head). The widest part is the bump above the base, about 1.3″, before narrowing back into 1.25″ towards the base.  The base is hollowed out to form a suction cup.
This makes the D14 fairly easy to insert, and a great option for those of you who find huge dildos a bit intimidating.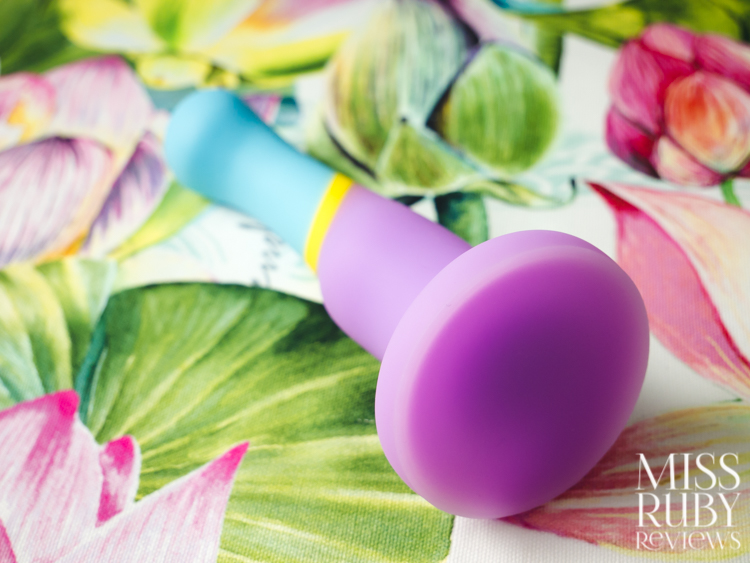 The Blush Avant D14 features a fun, hooked design. The shaft tapers inward before curving out into a bulbous head. The head is slightly flattened at the top.
The whole point of this design is to target the G-spot (or P-spot). Curved, hooked shafts with a bulbous head are basically a sure-fire way to find the G-spot.
Keep in mind, the entire dildo is very bendy. This isn't a rigid toy.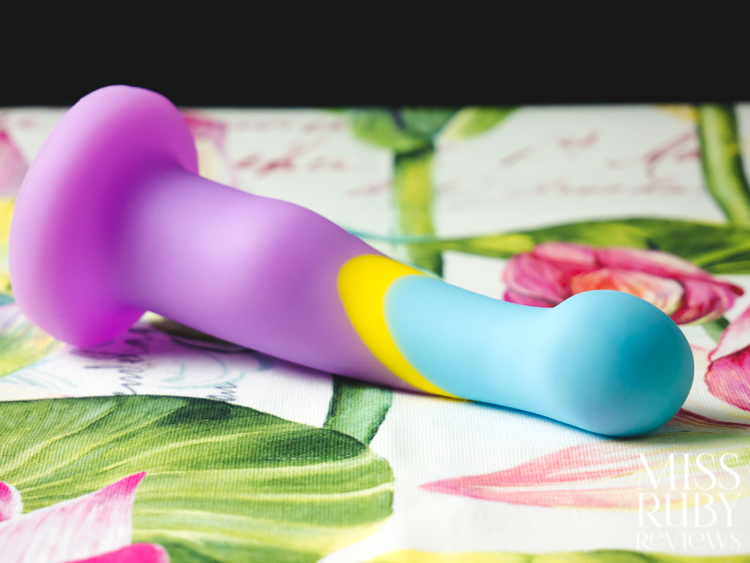 The Blush Avant D14 comes in a gorgeous colour combination: lavender purple, sunny gold, and pastel blue.  I love the little golden ring around the mid-shaft; Blush calls this design the "Heart of Gold" for that reason.
If you love the shape but don't love the colours, there's other options for you. This shape also comes in two Pride versions – Pride P1 (rainbow flag) and Pride P2 (transgender flag colors), pictured below.
Accessibility
This section is to help folks determine if they might have any issues using/accessing the Blush Avant D14.
Size: 6″ long (5.25″ insertable) x 1.4″ wide (shaft portion at the base). Overall, this is small toy.
Weight: My scale says this is 125 grams. This is a very light toy.
Handling: Like most dildos, there's no dedicated "handle" section to hold onto. You're left holding onto the floppy flared base, which measures 6cm diameter x 1cm tall. The entire dildo is very bendy, which may or may not make things easier for you.
Other notes: This features a strong suction cup, so you can go hands-free if you have a smooth flat surface.
Price: At $29 USD, this is one of the least expensive silicone dildos on the market.
How to Use the Blush Avant D14
Apply water-based lubricant like some Wicked Simply Aqua or Sliquid H2O. Even if you naturally produce lubricant, silicone tends to use up a lot so having some extra on hand is always a good idea to keep things gliding.
This can be safely used vaginally or anally.
If you'd like to use this with a strap-on harness, I recommend something with an O-ring of 1.25″ or 1.5″. The base is 2.3″ diameter (but it's super bendable and can be squished temporarily) and shaft at the base is around 1.4″. A 1.25″ O-ring might be pretty tight, but it'll be secure. I think something like this or this could work.
See below for cleaning.
Packaging
The Blush Avant D14 comes packaged simply in a clear and white box. The sides of the box are coloured purple, gold, and blue.
Inside the box, you receive only the dildo. No other accessories are included. If you'd like a specific toy bag/case for it (not necessary, but always nice), you can browse for some here.
Material and Care
The Blush Avant D14 is made from platinum cured silicone. This makes it bodysafe (nonporous, nontoxic, free of phthalates, etc). This particular silicone finish is matte and silky to the touch, and does a great job at not attracting lint/dust.
To clean it, I wash mine in warm, soapy water before and after each use. Because this is silicone, you can also toss it in the dishwasher or boil it to sterilize it.
If you'd like to add some lubricant (highly recommended), opt for a good quality water-based option like Wicked Simply Aqua or Sliquid H2O. Avoid silicone lubricants; those will bond with the silicone in this toy and degrade the surface.
This comes with a 5-year manufacturer's warranty, which is pretty superb. It's valid only in the USA and Canada.
My Experience with the Blush Avant D14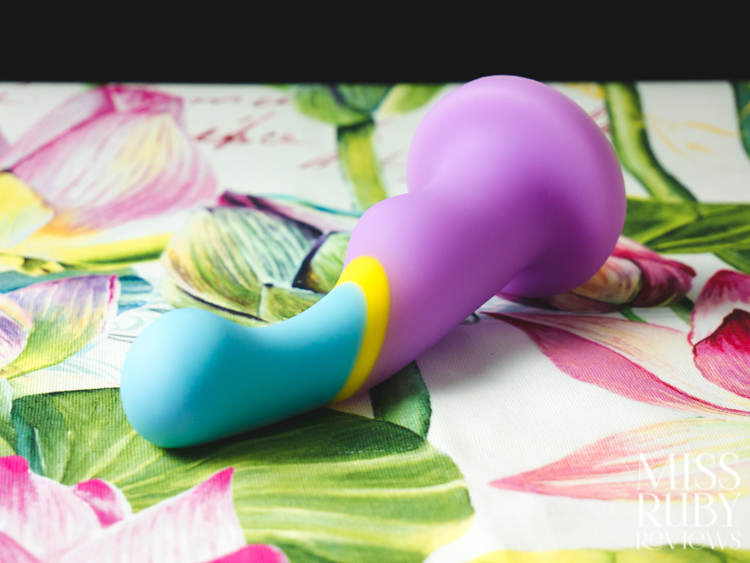 In use, the Blush Avant D14 tends to provide a relaxing pleasure experience. With its small shape, it's a breeze to insert; there's no need to spend an hour warming up (as is sometimes the case for me with huge dildos). It's all just stress-free sunshine and daisies with this one. The head kind of pops in, and then there's a segment of skinny shaft before it rises to a deliciously girthy base.
While it does find my G-spot pretty quickly thanks to the hooked shape, there's little I can do to increase pressure on the G-spot (and so intensity). The bendy nature of the shaft means it's very hard to get super intense sensations.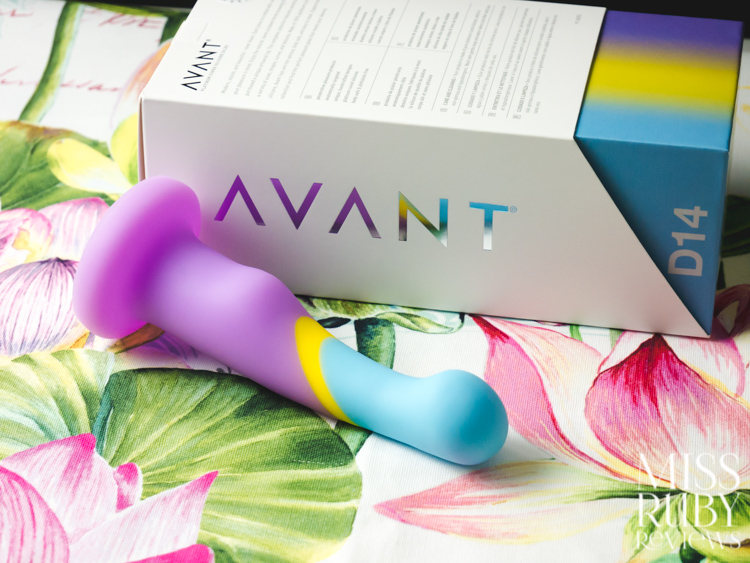 For example, in comparison, the stainless steel Njoy Pure Wand gives super intense G-spot stimulation because it's completely rigid, which lets you dig it deeper and deeper into your G-spot. But with the Blush Avant D14, when you try to angle it deeper against your body, it's floppy and offers no resistance.
It's not a design flaw, per say… Some people might genuinely prefer their dildos this way. And, when I couple this up with a strong clitoral vibe like the FemmeFunn Ultra or the We-Vibe Tango, the Blush Avant D14 gives me lovely stimulation to really push me over the edge.
For people who are used to much more intense G-spot stimulation, though, it'll be a problem. If you can't afford to upgrade to the Njoy Pure Wand (which is the holy grail of G-spot dildos), try a slightly rigid, curved dildo (like this one) or, if you have a bigger budget, the amazing totally-rigid Jopen Comet II.
Suction cup
I adore dildos that have a strong suction cup, and the Blush Avant D14 certainly does. As long as you have a smooth, flat surface, it'll stick. I've stuck this to my wooden furniture, my fridge, my wall, and my bathtub tiles. Zero problems with the suction cup.
If you want to doggy-style mount the Blush Avant D14 while it's suctioned to your wall, definitely turn it upside down (so that the hook curves downward, the opposite of what is shown above). This will help you target the G-spot during play.
Blush Avant D14 Review – Overall Thoughts
The Blush Avant D14 is an impressively affordable bodysafe dildo. It's pretty, unrealistic, and comes in a lovely pastel colour combination of lavender, yellow, and blue.
I love the suction cup and the hooked shaft, which helps it target the G-spot. But it's a very bendy toy, and this will limit the amount of pressure you can get against your G-spot. Still, for this unbeatable price, it's a pretty amazing deal.
You can pick up your own Blush Avant D14 at Peepshow Toys! Why do I like Peepshow Toys? They ship internationally, only carry body-safe products, and you can get a 10% discount off your whole purchase with coupon code RUBY. 

See below for my Blush Avant D14 review summary.
Blush Avant D14 Review Summary
Overall thoughts - 8.2
8.2
$29 USD
PROS
Hooked shape can target G-spot/P-spot
Inexpensive (<$30)
Strong suction cup
Handmade bodysafe silicone construction
O-ring harness compatible
Safe for vaginal and anal use
5-year warranty
CONS
Floppy body limits G-spot stimulation intensity
Won't be large enough for size queens
Shop Now

Last Updated on March 18, 2023 by Miss Ruby