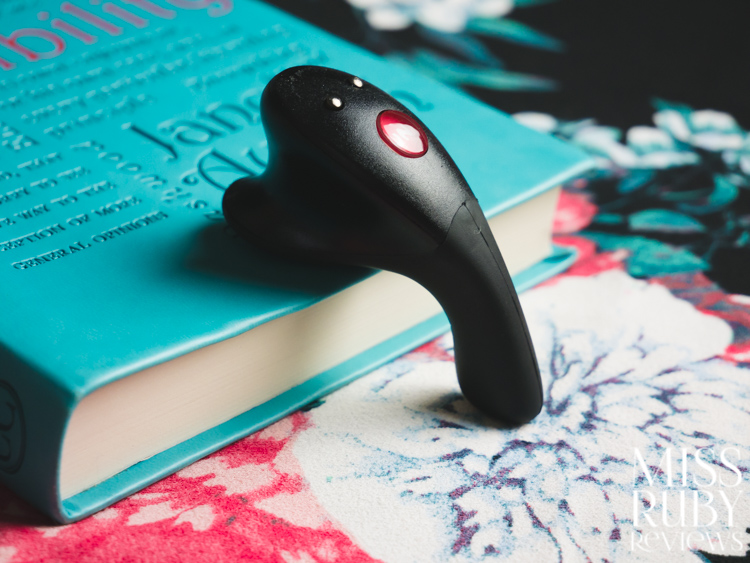 A great concept, but does it succeed in practice? Read on for my Fun Factory Be-One Finger Vibrator review!

Design | Accessibility | How to Use | Packaging | Material and Care | My Experience | Overall
Design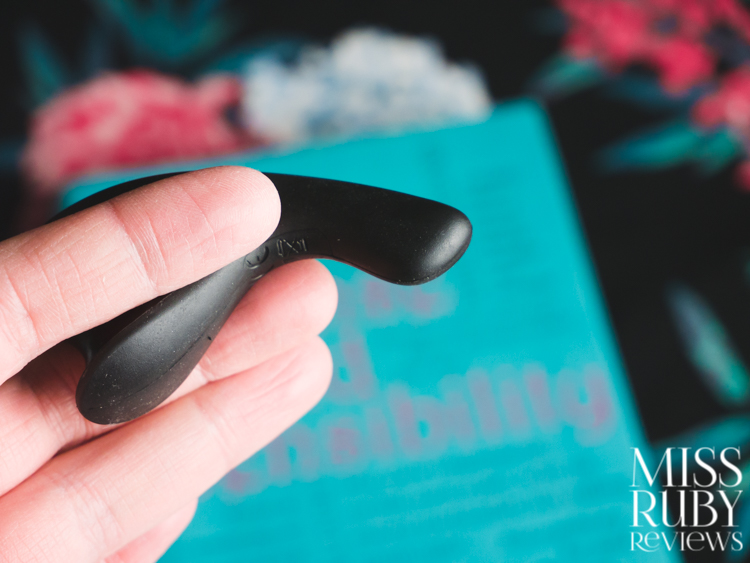 The Fun Factory Be-One is a finger vibrator. As such, it's designed to slip between your fingers and become a vibrating extension of your finger.
You can see the appeal of this idea — whether for solo masturbation or for pleasuring your partner, a vibrator that discreetly and seamlessly expands your hand's capabilities sounds like a fabulous addition.
Fun Factory calls this a "couples" vibrator because, although finger vibrators are usually designed for clitoral pleasure, there's nothing stopping you from using this on other parts! Here are Fun Factory's suggestions:
Though finger vibrators typically some with some kind of loop or strap to shackle it to your finger, the Be-One relies on a simple, comfortable groove along the base. My fingers fit very comfortably in the groove and it gives me plenty of control without the constrictions of a loop.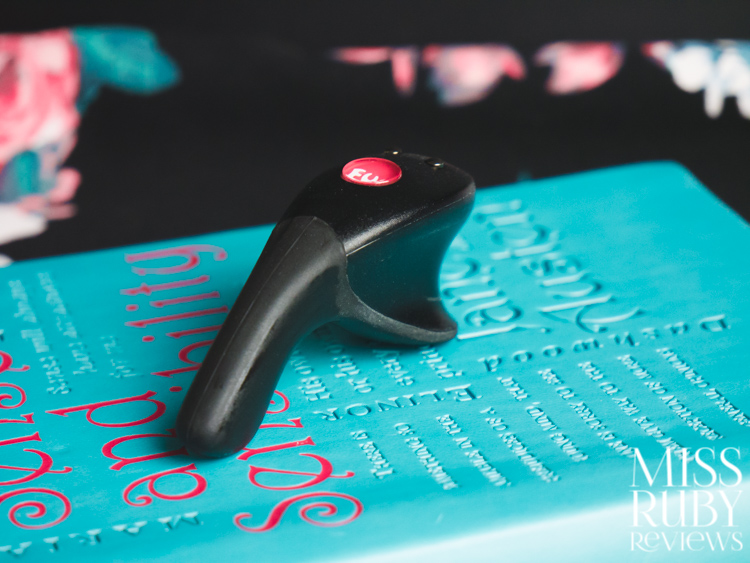 The vibrating portion is a silicone, finger-shaped digit. It's somewhat flexible at the joint where it meets the body, which limits any firm pressure but lends itself to soft, swirling, gliding stimulation.
It's a very nimble device — small and so light that you barely notice you're holding it.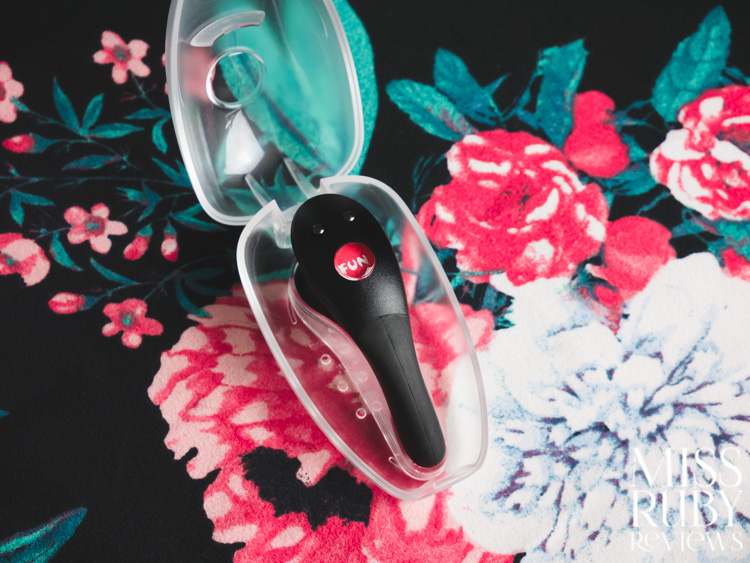 The Fun Factory Be-One Finger Vibrator comes in a black colour. It's fully rechargeable and waterproof. It also comes with this snazzy clear plastic case that holds it perfectly.
Accessibility
This section is to help folks determine if they might have any issues using/accessing the Fun Factory Be-One Finger Vibrator.
Size: The Fun Factory Be-One Finger Vibrator is a small, lightweight clitoral vibrator. It's 7.4 cm long. The inside width of the finger grip is 1.9 cm thin. The actual silicone finger is about 3cm by 1.5cm.
Weight: My scale says this is only 23 grams, which must make it one of the lightest vibrators I've ever owned.
Buttons: There is one round button on the body, about 10mm wide and 1mm tall. It doesn't take much pressure to press. The button presses down silently.
Visual Notes: The control button is red, against a black body, so it's high contrast.
Price: At $79 USD, this is a bit pricier than some other finger vibrators I've seen on the market.
How to Use the Fun Factory Be-One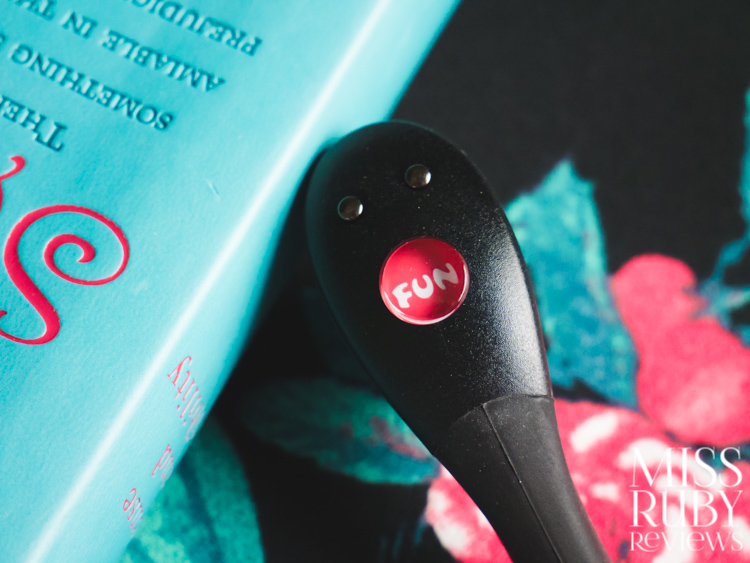 This toy is entirely controlled by one button: the FUN red button on the body.
To turn on the Fun Factory Be-One Finger Vibrator, tap the FUN button.
Keep tapping the FUN button to cycle through the 4 speeds and 1 pattern.
Insert this between your fingers and hold it with the sides of your fingers. Alternatively, place this against your vulva so that the "finger" end is pointing towards your clitoris.
This can be used against a clitoris, vulva, penis, nipples, or frenulum; however, don't use this anally.
To turn it off, cycle through all the modes or press and hold the button for a second.
Packaging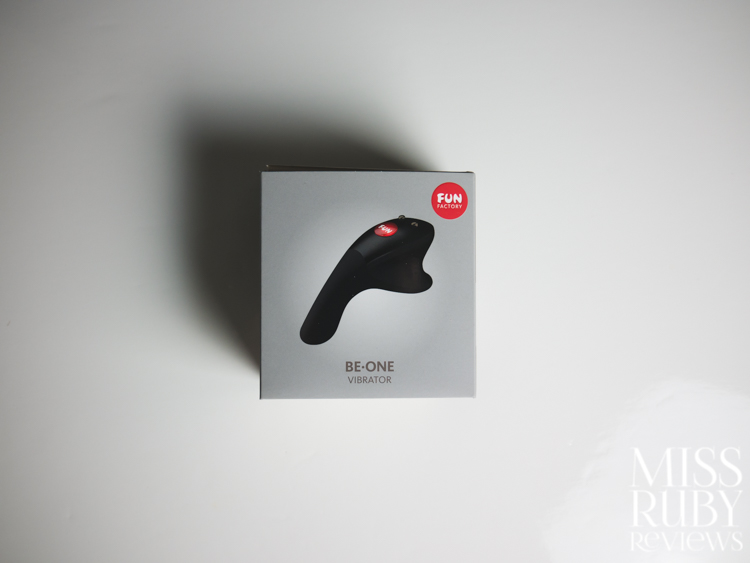 Fun Factory's packaging always impresses me. The Fun Factory Be-One Finger Vibrator is packaged in an exquisite grey box. When you remove the outer sleeve, you're greeted by Fun Factory's classic gold packaging.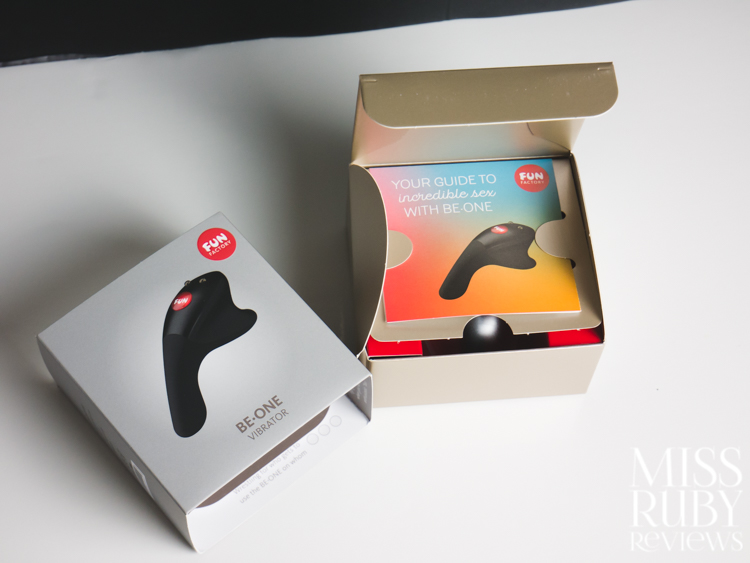 All in all, you receive the Be-One vibrator, a clear case, a USB charging cord, a quick guide and a booklet with more detailed specs.  I love the clear case, but there's no room in it for anything other than the vibe, so you'll have to store your charging cord and instructions elsewhere.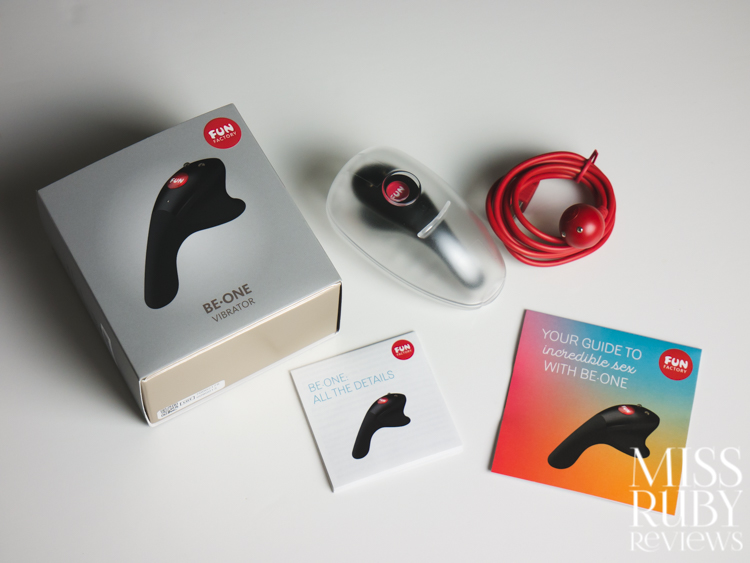 Material and Care
The Fun Factory Be-One Finger Vibrator is made from silicone and ABS plastic, making it bodysafe. This particular silicone finish is matte and grabby to the touch, which does attract lint/dust so you'll want to rinse before use.
The Fun Factory Be-One Finger Vibrator is totally waterproof. To clean, I rinse it in warm, soapy water before and after each use. You could also add a dedicated sex toy cleaner (I personally like this one). I allow it to air dry inside its plastic case before packing it away.
If you'd like to use lubricant with this toy, choose a good quality water-based lube like my favourite basic Sliquid H2O or Wicked Aqua.
To recharge the Fun Factory Be-One Finger Vibrator, attach the magnetic ball-end of the red charger (included) to the two metal pins below the FUN button. Plug that cord into your computer or a USB wall adapter. When charging, the button will blink. Two hours of charging will get you about 1 hour of playtime.
This toy comes with a travel lock function so it doesn't accidentally turn on when you don't want it to. To activate the travel lock, press and hold the FUN button for 4 seconds. Do the same to disable it.
My Experience with the Fun Factory Be-One Finger Vibrator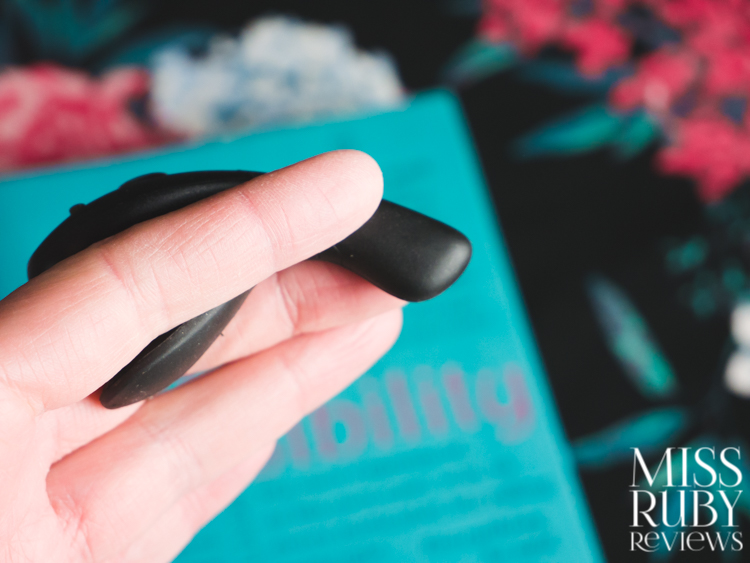 On paper, the Fun Factory Be-One Finger Vibrator sounds like it's all set for success. But when it actually slips between your fingers, how does it perform?
Let's first talk about the good.
I love how comfortable it is to hold. This takes no effort to slip between my fingers. Its ergonomics are on point. It's as light as a feather and I had no trouble controlling or directing it during my tests.
It's versatile. While most finger vibrators are marketed specifically for clitoral pleasure, the Be-One opens things up a bit. This can be used on you or your partner, whether you have a penis or a vulva. If you do have a vulva, you don't just have to try clitoral stimulation; the handle is designed to jut out so that you can slip it against your vaginal opening while the pointy bit rests at your clitoris, thereby buzzing against both. I can even use this as a panty vibrator — it's comfortable and small enough that it works as one.
It's so quiet. This is definitely one of the quieter vibrators out there. You won't need to worry about being overheard.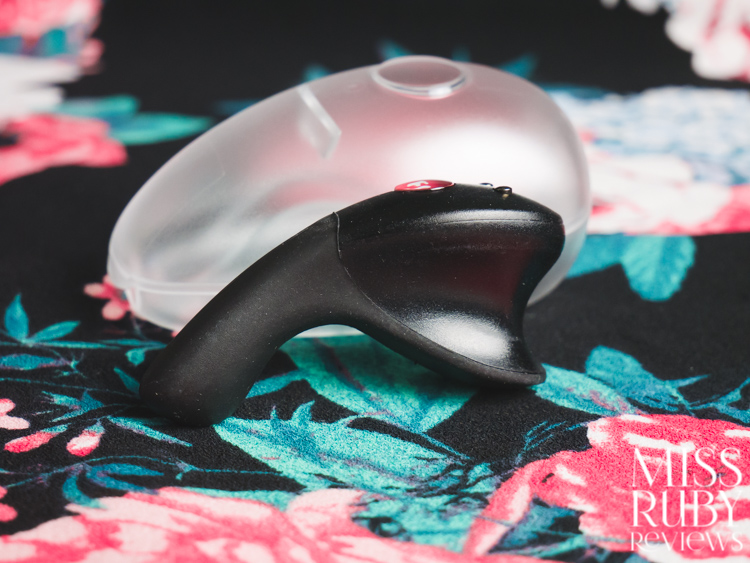 What don't I like?
Okay, now for the bad news…
The Be-One's vibrations are weak. Very weak. I thought, at first, that I hadn't charged it long enough. It's considerably weaker than the last finger vibe I tried (the Hot Octopuss DiGit). The vibrations are also buzzy, dampening quickly against the surface of my skin so that they can't penetrate.
With vibrations so soft, I have a hard time recommending it. I wasn't able to orgasm (not even close), and I suspect most users would have a similar experience.
I get that Fun Factory is trying to keep this small and light — both things that make it hard to have a strong vibrator. But their marketing promised strong vibrations, and these are anything but. This alone makes this a dealbreaker for me.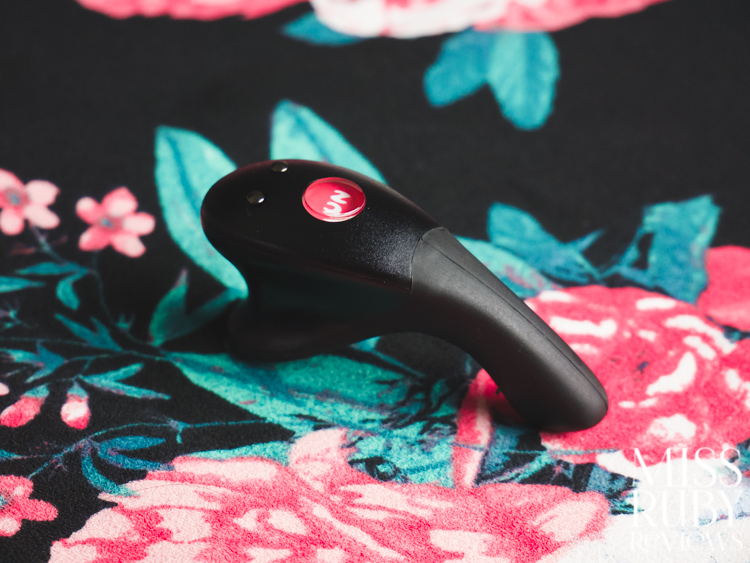 At the end of the day, you could just use a bullet vibrator. There are plenty of excellent, bodysafe, petite bullet vibrators out there, that are only a little larger than the Be-One. For just $20 more, you could pick up the famous We-Vibe Tango X instead (or its predecessor, the We-Vibe Tango). I've also tried the NU Sensuelle Point Plus, which I found to be ridiculously strong. Those options don't have a dedicated slot to hold between your fingers, but they'll deliver much more pleasure.
If you're really committed to specifically using a finger vibrator, then I definitely recommend the Hot Octopuss DiGit over the Be-One.
Fun Factory Be-One Finger Vibrator Review – Overall Thoughts
With its luxury features and sleek design, the Fun Factory Be-One Finger Vibrator sounded like it'd be a success. But its vibrations were its downfall; I can't in good faith recommend something with such a weak motor. If you really want a finger vibe, opt for this Hot Octopuss one instead. If all you really need is a petite vibrator that packs a punch, just stick to tried-and-true bullet vibrators like the famous We-Vibe Tango X!
If I haven't dissuaded you, you can pick up your own Fun Factory Be-One Finger Vibrator here! Why do I like XOXToys? There's free shipping in Canada/USA when you spend $49+, all orders are shipped and billed discreetly, and they have an XOX Cash Rewards Program so you can earn coupons for your next order!

See below for my Fun Factory Be-One Finger Vibrator review breakdown.
Fun Factory Be-One Finger Vibrator Review
Overall thoughts - 4
4
$79
PROS
Petite and lightweight design
For use on or by all bodies
Comfortable to hold between your fingers
Bodysafe materials used
Rechargeable
Fully waterproof
CONS
Shop Now