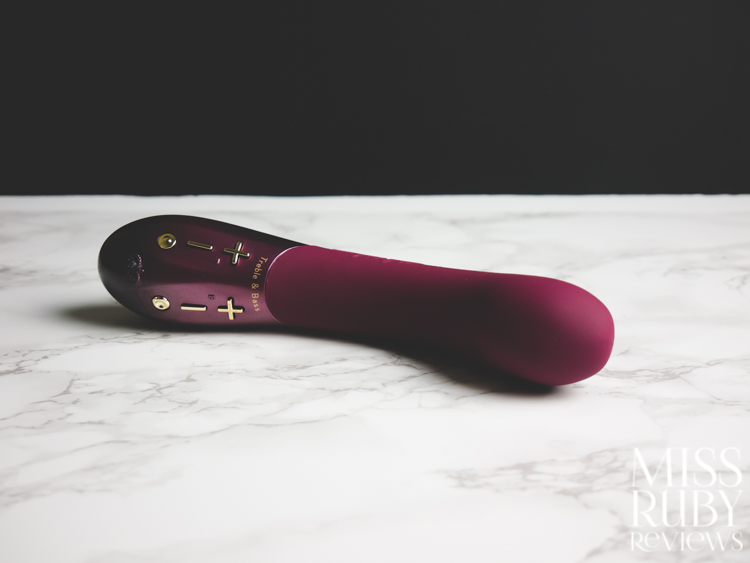 Customize your level of Rumble or Buzz? Okay, I'm listening. Read on for my Hot Octopuss Kurve review!

Design | Accessibility | How to Use | Packaging | Material and Care | My Experience | Overall
Design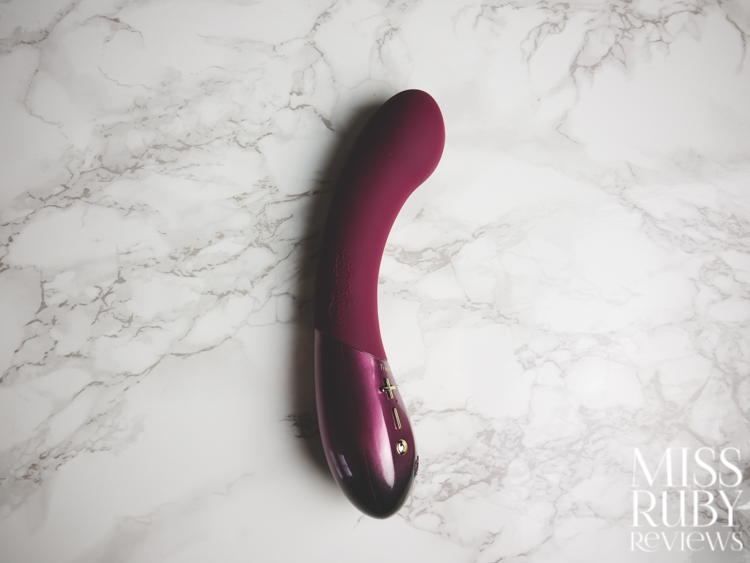 The Hot Octopuss Kurve is a G-spot vibrator with a twist. Most G-spot vibrators have a single motor somewhere in their shaft, but the Kurve has two.
Hot Octopuss calls this their Treble and Bass technology.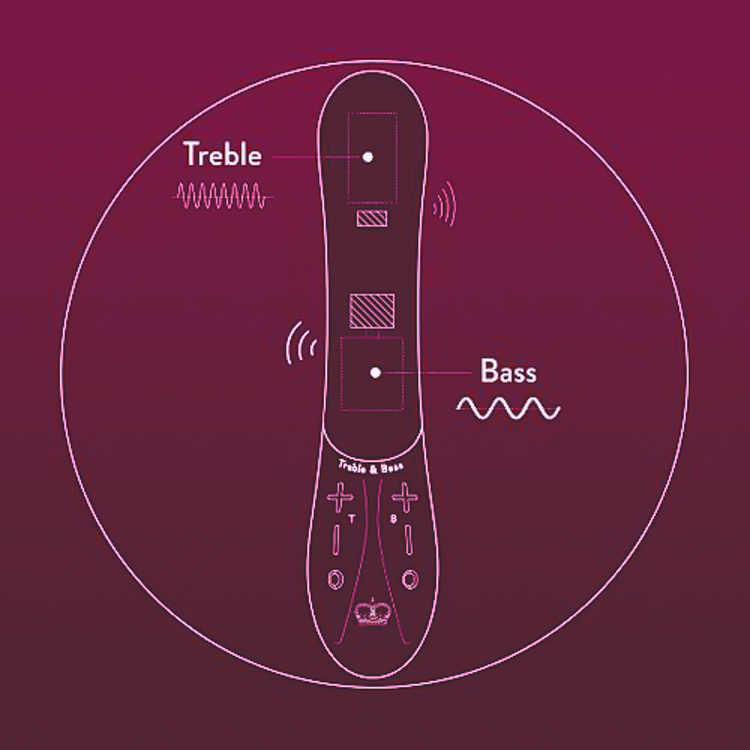 Here's how it works:
The Treble motor lies buried in the soft, spongy head. This has a higher-pitched frequency that's focused in the head but transfers across the shaft too.
In the shaft, there's the "Bass" motor, which gives off a deeper, lower frequency rumble. This is focused on the underside of the shaft, but transfers around the shaft and up to the head.
Each motor is independently controlled with its own set of buttons. Each motor features 5 intensity levels and 5 patterns.
When used together, you get a customizable mixture and blend of both types of vibrations, essentially letting you customize your vibration type.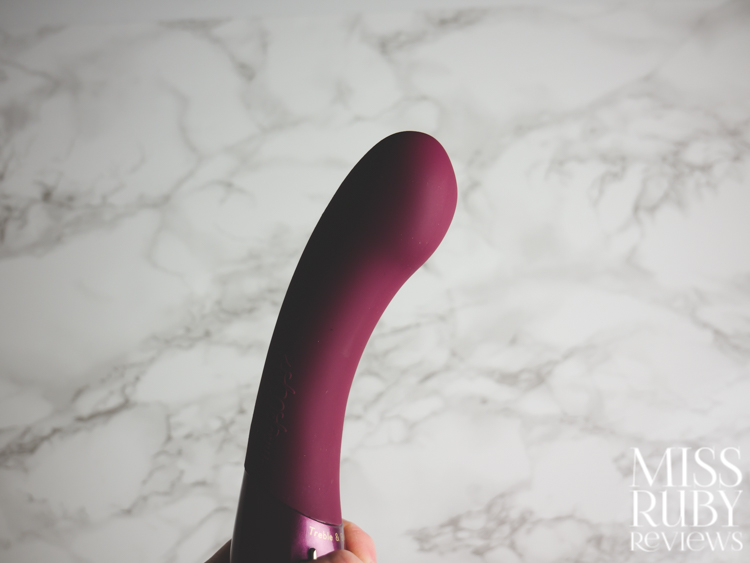 Structurally, the Hot Octopuss Kurve is designed to deliver intense G-spot stimulation. It has a curved, rigid body with a slightly hooked tip. The curve makes it MUCH easier for you to locate your G-spot and dig deep. I was so relieved to see that the body is rigid, not flexible. The firmer the body, the harder you can press into your G-spot.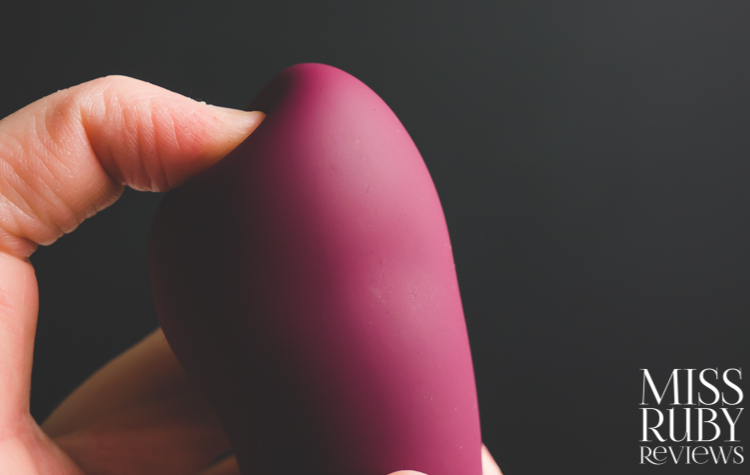 It's not all hard though. The tip of the head is deliciously squishy. This jelly-like surface feels lovely and squishy against the vulva and it's handy for internal stimulation too — the soft head cushions any impact against your cervix if you're using this for deeper penetration. The soft, squishy surface is also great for vibrations transfer, letting those Trebel vibrations transfer evenly across the head.
The Hot Octopuss Kurve comes in a Plum colour. I always like this colour on sex toys. It's a deep, serious shade that feels elegant. The plastic handle has a plum-to-black ombre with gold buttons.
The Hot Octopuss Kurve is also 100% waterproof, USB rechargeable, and comes with a 1-year manufacturer's warranty against defects.
Accessibility
This section is to help folks determine if they might have any issues using/accessing this toy.
Size: The Hot Octopuss Kurve is an average-sized G-spot vibrator. its total length is 19.5cm (12.5cm is insertable). It's 4.25 cm at its widest point (the tip).
Weight: The Kurve is 190 grams.
Buttons: There are six (6) buttons on the Kurve, which I think is the most I've ever seen on a vibrator, in two identical columns of 3. There are two circular buttons, two (–) buttons, and two (+) buttons. The circular buttons are 6mm wide and the (–) and (+) buttons are 9mm wide. In each column of 3, the buttons are 4mm apart. The columns are 13-18mm apart.
Vibration transfer: A lot of the vibrations transfer to the plastic handle. If you have arthritis or carpal tunnel, you may find this irritates your hands a lot.
Price: At $129 USD, this vibrator is fairly pricey for a G-spot vibrator, though the price likely reflects that there are TWO motors in here versus the usual single motor design.
How to Use the Hot Octopuss Kurve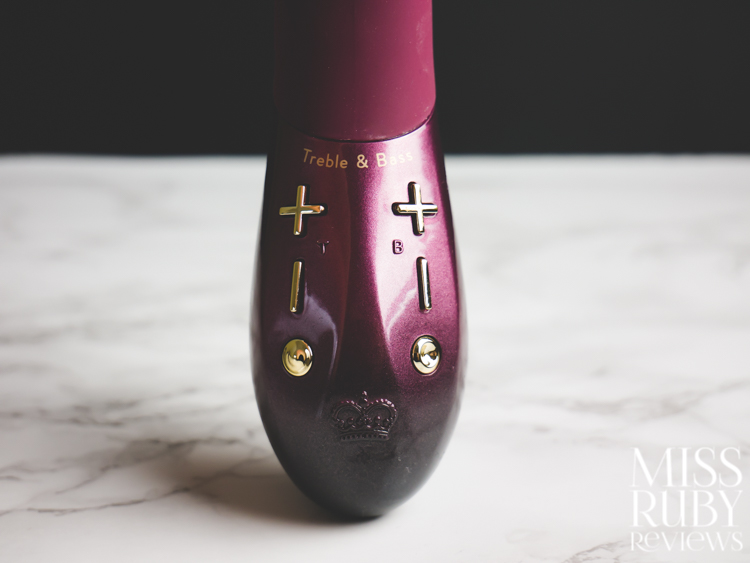 The Hot Octopuss Kurve is controlled by 6 buttons.
There are two columns of buttons ((O), (–), and (+)).
One column is labelled T (for Treble, which controls the motor closest to the head) and the other is labelled B for Bass, which controls the motor in the shaft.
To turn on either motor, press and hold the corresponding (+) button for 2 seconds.
Press the (+) and (–) buttons to cycle through the 5 intensities.
Press the (O) buttons to cycle through the 5 patterns.
To turn each motor off, press and hold the (–) buttons for 2 seconds
To turn off both motors at once, hold the Treble (O) button for 2 seconds.
If this seems complicated, it's because it is. In my opinion, there are just too many buttons.
Packaging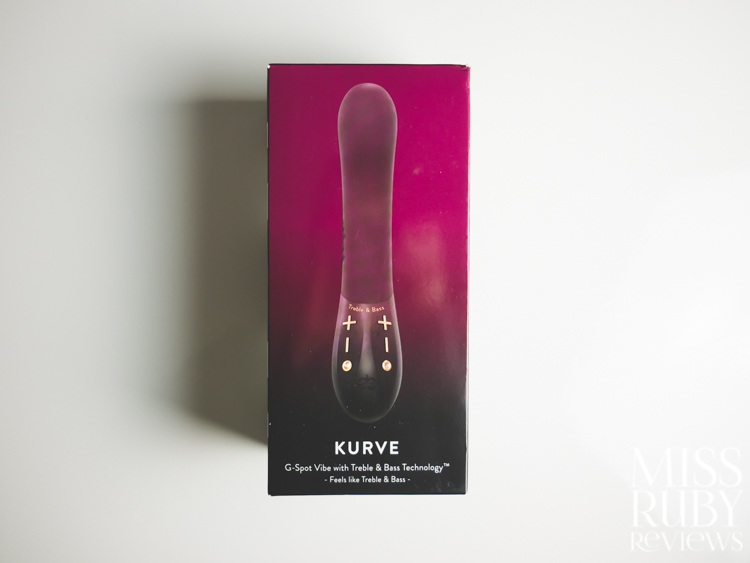 The Hot Octopuss Kurve comes in a purplish box with the Kurve pictured on it. The quality of the packaging is standard — it's not exceptionally designer or giftworthy, but it gets the job done.
Inside the box, you receive the Kurve, a pictorial instruction manual, a booklet on technical information, a USB charging cord, and a large black satin storage pouch.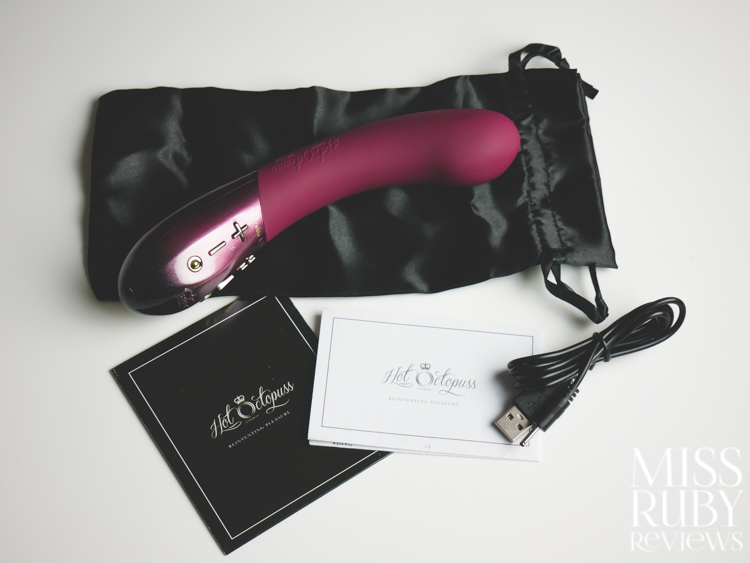 Material and Care
The Hot Octopuss Kurve is made from ABS plastic (the shiny base) and Silicone (insertable portion), making this a bodysafe toy. The silicone portion has a creamy, matte finish that feels nice to the touch.
The Hot Octopuss Kurve is waterproof, so you can take it into the shower with you and clean it easily.
To clean, I rinse the whole thing in warm, soapy water before and after each use. There's a seam between the silicone body and the plastic handle, and I hate seams. Take extra good care when cleaning that part. Thankfully, it's waterproof so I can really get in there without worrying about damage.
If you'd like to add lubricant (which I always recommend), try a good quality lube like my favourite Sliquid H2O.
To charge, insert the needle end of the USB charging cable (included) into the hole at the back/base of the toy. Connect that to your computer or a USB wall adapter. A red LED light at the base turns on to indicate it's charging (and turns green when it's fully charged). A full charge takes <2 hours and gives you <2 hours of playtime.
This toy comes with a 1-year manufacturer's warranty against defects, so keep your original receipt.
My Experience with the Hot Octopuss Kurve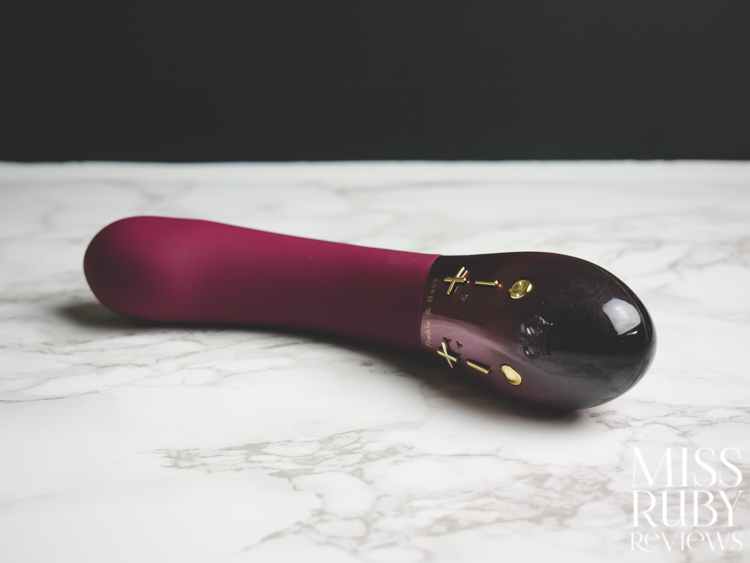 The Hot Octopuss Kurve gives me a unique sex toy experience (which, given how long I've been testing sex toys, isn't something I say often!).
If you're used to reading sex toy reviews, you'll find reviewers talking about the "buzziness" or "rumbliness" of any particular motor. Buzzy vibrators are higher-pitched, and rumbly vibrators are lower-pitched. Everyone prefers different pitches, so if you personally enjoy buzzy vibrators, a rumbly one might not work for you, and vice versa. I personally need rumbly vibrations with a pinch of powerful buzz.
The Hot Octopuss Kurve gives you the unique chance to customize how rumbly or buzzy your vibrations are. I like lots of rumble with a bit of buzz, so I ramp up the Bass motor to Level 5 and add in a bit of Treble (to Level 1 or Level 2).
Yes, the motors are in different sections of the shaft, but they transfer so well throughout that, when blended, feel like a single harmony. This is pretty amazing. By getting a custom level of Buzz vs Rumble, I've been able to have some incredible orgasms and pleasure with this toy.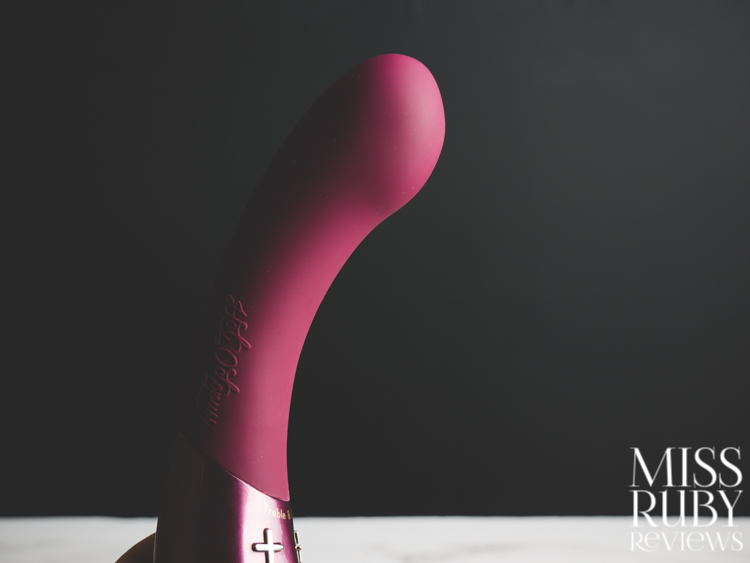 If you like broad, squishy stimulation on your clitoris, the squishy head will be your friend. It feels lovely and jelly-like on your vulva. Because I like firm pressure on my clitoris, I did find myself wishing that the head was slightly less squishy. Still, that's just me. The squish really shines internally though, and has no problem compacting against your G-spot for that much-needed firm stimulation.
The curve itself is a winner for the G-spot. It finds the G-spot easily and glides into it nicely. Nice work, Hot Octopuss.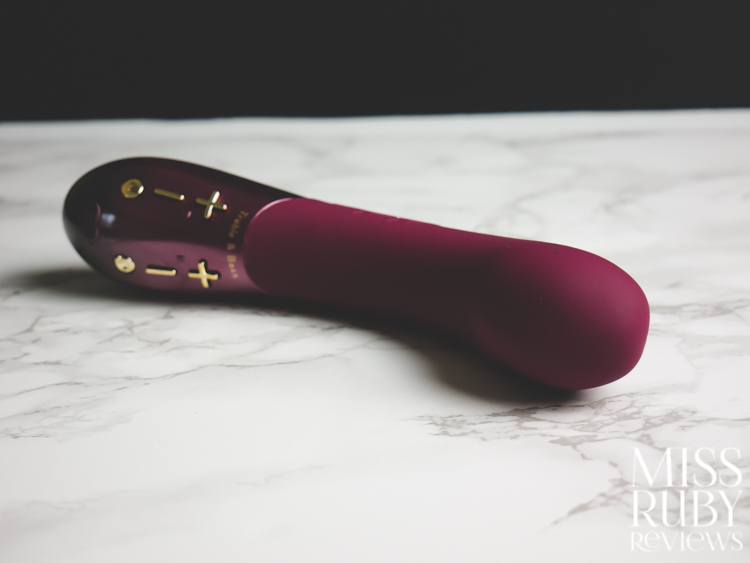 Do I have any complaints?
Well, the Bass (rumblier) motor focuses its vibrations on the underside of the shaft. That means, when you're using this as a G-spot toy, the strongest Bass vibrations are hitting the opposite wall. The vibrations transfer well, but I'm left wishing the strongest, most focused side was the side that hits your G-spot.
I also wish that both motors could give even more power. Maybe it's not a fair request, but I still want more.
Also, there are too many buttons. Surely there must have been a way to reduce them. Six is too many. Maybe a dial for each motor would have been simpler?
Hot Octopuss Kurve Review – Overall Thoughts
The Hot Octopuss Kurve is an effective G-spot vibrator that lets you customize your level of Buzz and Rumble. By blending a buzzy motor and a rumbly motor, you're able to get a vibration harmony that works best for your body. Motors aside, the lovely curved shape is also just very effective for G-spot stimulation. And that squishy tip is sure to please.
You can pick up your own Hot Octopuss Kurve here! Why do I like Peepshow Toys? They ship internationally, only carry body-safe products, and you can get a 10% discount off your whole purchase with coupon code RUBY. 

See below for my Hot Octopuss Kurve review breakdown.

Hot Octopuss Kurve Review Breakdown
Overall thoughts - 8.7
8.7
$129
PROS
Customize your vibration experience
Lovely curved shaft
Rigid body for firm G-spot stimulation
Squishy tip
Waterproof
Bodysafe silicone and ABS plastic
Rechargeable
Comes with 1-year warranty
CONS
Pricey
So many (6!) buttons
Motors are capped at moderate strength
Seam between body and handle is annoying to clean
Shop Now